U.S. & Israel Have a Duty to Fund Gaza Reconstruction
Defend Palestine's Right to Be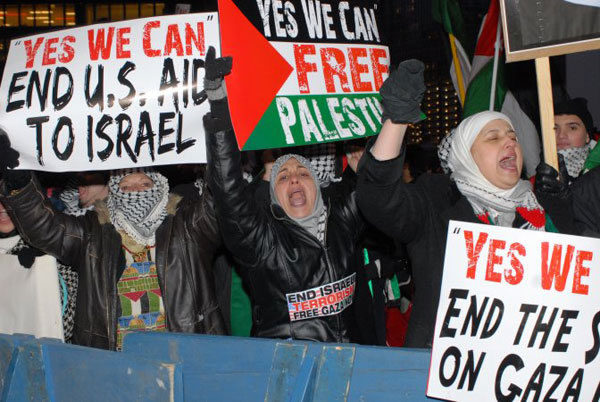 The people of Palestine are stepping up their efforts to defend their right to be despite every effort of the U.S. and Israel to divide them. The Palestinians are organizing to strengthen their resistance and choose their own path. This was reflected in recent meetings of the Palestinians in Egypt, which secured united efforts to address five main problems: developing the national unity government, the security apparatuses, the rebuilding of the Palestine Liberation Organization (PLO), national reconciliation and elections. The term of current President Mahmoud Abbas ended January 9, 2009. It is also reflected in the determined stand of Palestinians that international aid for the reconstruction of Gaza be delivered with no strings attached. Hamas, the elected government in Gaza, said that rebuilding is a humanitarian mission that should not be politicized or exploited at the expense of the Palestinian people's national rights. They emphasized that Israel, as an occupying and aggressive power, has a duty to shoulder all the expenses for the rebuilding.
Peoples worldwide continue to stand together with the Palestinians in demanding that the U.S.-Israeli siege of Gaza be ended now, that aid be delivered quickly and with no strings attached, and that the most important necessity for peace is an end to the occupation. Defending Palestine is an integral part of demonstrations in the U.S. March 21 and worldwide marking the sixth anniversary of the U.S. invasion of Iraq. March 1-6 saw a week of actions against Israeli Apartheid, in Palestine, the U.S., Canada and elsewhere. These and the many -actions during the U.S.-Israeli bombings and massacre of Gaza make clear: the will of the peoples that the U.S.-Israeli occupation is criminal and the source of problems, and the Palestinians have the right to decide their own affairs free from occupation and all use of force. And now, free from efforts to use humanitarian aid to achieve what the siege and occupation have not — forcing the Palestinians to abandon their just resistance.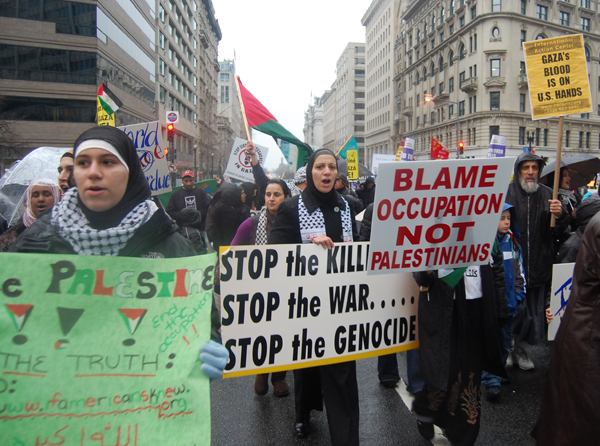 Secretary of State Hillary Clinton, participating at the recent international conference on aid for the rebuilding of Gaza, rejected this stand of the Palestinians and all the world's peoples. Speaking at the conference in Sharm el-Sheik, Egypt, she took no responsibility for the U.S.-Israeli war crimes and genocide against Palestine and Gaza in particular. She said nothing about the -occupation and Israel's continued refusal to renounce violence against civilians and submit to United Nations resolutions and international law requiring Israel to end the occupation and respect the right of return. The issue of the rights of the Palestinians and duties of the U.S. and Israel as occupiers and war criminals, is not to be addressed. Instead, as has been the case of previous U.S. administrations, the U.S. is now attempting to use humanitarian aid to, as Clinton put it, "turn this crisis into an opportunity that moves us closer to our shared goals." And those "shared goals" are for the U.S. and Israel to decide who can and cannot be elected in Palestine, which political parties can and cannot run for office, and who will and will not receive aid. Clinton emphasized that U.S. funds of $900 million, and indeed any of the almost $5 billion committed by various countries for Gaza can only be delivered by individuals the U.S. government recognizes as "legitimate." The U.S. is demanding that the U.S. and Israel decide what a "Palestinian state" will look like and what its relations with other countries will be.
The U.S. and Israel have no right to interfere, whether using humanitarian aid or military force. This is not the time of kings, where might makes right and whoever the king so designates is permitted to live. Who can imagine the Americans fighting against British occupation renouncing the use of violence and accepting that the British decide the government and relations with Britain or France or anyone else!
It is the right of the Palestinians to resist occupation and drive all foreign aggressors out. It is the right of the Palestinians to decide their government, their elections and political institutions, for themselves. As with any people, this is vital to defending their right to be. It is the resistance by Palestinian in defense of their rights that is the source of peace and security, a resistance that is supported and defended by all democratic peoples.
[TOP]
---
Palestinian Forces Organizing to Develop Unity Government
Palestinian Forces Organizing to Develop Unity Government
Palestine Information Center March 1, 2009
The Palestinian factions meeting in Cairo, Egypt, concluded their meetings by establishing five committees for further work on: developing a national unity government; security apparatuses; the rebuilding of the Palestine Liberation organization (PLO); national reconciliation; and elections.
According to a statement issued by the Palestinian factions which was received by the government, the new government is a transitional government, lasting until the end of the Palestinian Legislative Council's (PLC) mandate and determining its assignments. The national unity government committee will also be working on settling the question of the charities and institutions which have been impounded or shut down and will take the actions necessary for the reunification of the national Palestine Authority institutions in Gaza and the West Bank and the resumption of the PLC's work in accordance with the law.
The committee on security has been assigned to determine the number of the security apparatuses, its tasks, its security doctrine and its referential authority and work on the rebuilding of the specified apparatuses.
The committee on the PLO will work on the formation of a broader committee to follow up the steps of reactivating and developing the PLO according to foundations agreed upon by the Palestinian factions.
The committee on the elections will set the date for holding the legislative and presidential elections, specify the mechanisms to oversee the elections, re-form the central election commission and revise the electoral law.
The national reconciliation committee will address all the issues related to the rights of citizens and the issues of Palestinian families and clans.
The Palestinian factions agreed to nominate their representatives and the independent national personalities who will be in these committees, which will start their mission on March 10 and finish before the end of the month.
The various forces present also agreed to immediately release political prisoners in both the West Bank and Gaza and to stop all forms of restrictions on freedoms as well as media campaigns.
The head of the Hamas political bureau, Khaled Mashaal, said that his Movement moves forward in this national reconciliation project in order to achieve reconciliation that preserves the unity of Gaza and the West Bank and protects the resistance project and Palestinian rights without compromise.
He said that resistance is the strategic choice of his Movement and it is an obligation until the liberation of every inch of Palestine, highlighting that Hamas seeks a reconciliation preserving the unity of the Palestinian people, their resistance and national rights.
[TOP]
---
Hamas:
Rebuilding Gaza Is a Humanitarian Mission and Should Not Be Politicized
Hamas said on March 2 that the rebuilding of the Gaza Strip is a humanitarian mission that should not be politicized or exploited at the expense of the Palestinian people's national rights.
The movement held the oppressive Zionist occupation responsible for the killing and destruction in the Gaza Strip, stressing that the occupiers should shoulder all the expenses of rebuilding the Strip.
Fawzi Barhoum, the Hamas spokesman in the Gaza Strip, commenting on the Sharm al-Shaikh conference to rebuild the Gaza Strip, said that his movement rejects any political exploitation of the need to rebuild the Gaza Strip stressing that his movement will not allow the occupation to achieve through this process what it has failed to achieve through force.
He further stressed that his movement welcomes any Arab or International efforts toward the rebuilding of the Gaza Strip to provide a dignified life for the citizens who have suffered greatly as a result of the U.S.-Israeli occupation and aggression.
He called on the participants in the conference to find a mechanism that insures quick support for the suffering Palestinians without delving into the Palestinian internal political differences as these will be sorted during the national reconciliation talks that have already started in Cairo, Egypt.
He also called on them to deal with the legitimate government in Gaza to expedite the rebuilding process to mitigate the suffering of the victims.
[TOP]
---
UN Envoy Says Gaza Borders Must Open
On his first visit to the Occupied Palestinian Territories, the United Nations Secretary-General's Special Humanitarian Envoy, Abdul Aziz Arrukban, met with aid agency officials to discuss better ways of bringing in relief supplies and with Gaza residents to assess how much aid they were actually receiving.
"The borders are still closed and goods and building materials still can't enter," said Arrukban, a Saudi national who reports directly to UN Secretary-General Ban Ki-moon and Under Secretary-General for Humanitarian Affairs, John Holmes.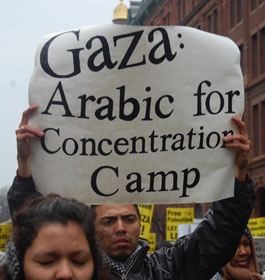 Since Israel's 23-day military campaign in Gaza ended on January 18, Arrukban has brokered more than $50 million in humanitarian aid from two Gulf countries, channeled via UN agencies, for Gaza. Qatar donated $40 million, of which $30 million went directly to UN agencies in Gaza and $10 million to the Central Emergency Response Fund (CERF), a stand-by UN fund established to enable the delivery of humanitarian assistance to those affected by natural disasters and armed conflicts. Gaza received $8 million in aid from the CERF immediately after the conflict.
Saudi Arabia donated $10.5 million, of which the UN agency for Palestine refugees (UNRWA) received $6 million for emergency food assistance and $500,000 for fuel; and $4 million went to the World Food Program (WFP).
Acting as a bridge between UN humanitarian agencies and donors, governments and the private sector in the Middle East and North Africa, Arrukban toured Gaza to see for himself the extent of the damage in the enclave and to ensure that relief supplies were actually reaching the most vulnerable people in the Strip.
Regular Border Closures
The most pressing issue, aid officials told him, was Israel's regular closure of border crossings into Gaza. "Aid cannot be delivered unless the crossings are opened," Christina Blunt, head of the UN Office for the Coordination of Humanitarian Affairs (OCHA) in Gaza, said during a briefing for Arrukban by heads of UN agencies in the enclave.
Over the past few weeks, about 120 trucks a day have been allowed to enter Gaza by the Israeli authorities, OCHA estimated, with about half that number for the private sector. In May 2007, before Hamas took control over the Gaza Strip and a subsequent embargo was placed on the enclave, about 475 trucks entered daily.
The UN envoy held meetings with officials from the Egyptian Red Crescent to discuss a mechanism to facilitate the entry of approximately 9,000 metric tons of what a recent Logistics Cluster report described as "unsolicited bilateral donations" to the people of Gaza. The aid, a large portion lacking documentation and designated recipient organizations in Gaza, has been denied entry into Israel and is being held in al-Arish, Egypt.
The Egyptian government has mandated the Egyptian Red Crescent to take custody of these donations, which originate from a number of Middle Eastern countries, such as Egypt, Saudi Arabia, Qatar, Kuwait, Jordan, Yemen, and Libya.
While some aid has entered Gaza, 1,700 pallets of humanitarian items are also stuck in Israel, according to the Logistics Cluster report.
Residents desperate
Aid is desperately needed by some of the 1.5 million residents of the 365 square- kilometer Strip, the twelfth most densely populated place on earth. In torrential rain, Arrukban visited displaced residents in the Abed Rabbo area of Jabaliya.
"I am afraid to rebuild my home again," Henan Salah, a 40-year-old mother, said. She and her six children are now living in the one room still standing after an Israeli missile struck her home. Salah said that just eight months ago she had rebuilt her home after it was destroyed by Israeli forces in an incursion then. Unable to buy cooking gas, she had to break up the remains of her furniture to use as firewood.
Tented communities have sprung up in areas where Israeli tanks inflicted heavy damage in densely populated areas.
"The cold is killing us," Khalil al-Gharabli said, pointing at his wife and six children sitting on a donkey cart beside their demolished home. Al-Gharabli, now unemployed, used to work as an agricultural laborer in Israel.
(Source: IRIN, a UN humanitarian news and information service. It is a project of the UN Office for the Coordination of Humanitarian Affairs.)
[TOP]
---
Oppose Israeli Apartheid
Standing United with the People of Gaza
The fifth international Israeli Apartheid Week (IAW) — occurring in more than 40 cities in Palestine and worldwide — will be held from March 1-8, with additional activities throughout the month. Campus and refugee camp boycott campaigns will be launched and developed during the week, in the lead-up to the March 30 (Land Day) Boycotts, Divestment and Sanctions global day of action. The theme of this year's IAW is "Standing United with the People of Gaza" a focus which comes in the wake of the brutal U.S.-Israeli military attacks on the people of Gaza in early 2009, which killed over 1,400 Palestinians (at least half civilians), and sparked widespread protests and indignation worldwide.
This is the second year of IAW in the West Bank. It features lectures, film screenings, art and photography exhibits, cultural events and demonstrations aimed at deepening the apartheid analysis of Israel, and to gather support for the growing Palestinian and international movement for boycotts, divestment and sanctions (BDS) until Israel complies with international law.
Attending IAW is important for anyone interested connecting with the rising student and youth movement in the West Bank that has taken a pivotal role in organizing and mobilizing against Israeli apartheid and occupation.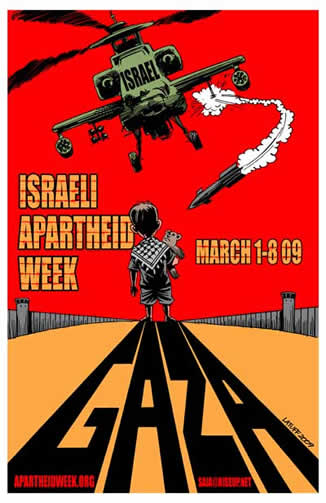 Locations in Palestine includes:
Jerusalem: al-Quds University (Abu Dis), Shu'fat Refugee Camp
Ramallah: Birzeit University, Jalazon Refugee Camp
Bethlehem: Beit Sahour and 'Aida Refugee Camp
Hebron: Fawwar Refugee Camp
Jenin: Arab-American University, Jenin Refugee Camp
Jericho: al-Quds Open University, Aqabat Jabr Refugee Camp
Nablus: al-Najah University, Balata Refugee Camp
Tulkarem: al-Quds Open Unversity, al-Khadouri College, Nur Shams Refugee Camp
Tubas: Far'a Refugee Camp
History of Israeli Apartheid Week
Since it was launched in 2005, IAW has grown as an important global event. Last year, more than 25 cities around the world participated in the week's activities, which also commemorated 60 years since the expulsion of the Palestinian people from their homes and land in 1947-1948. This uear will be the fifth consecutive year. The week's events include lectures, multimedia events, cultural performance, film screenings, demonstrations, and more.
The past few years have seen a sharp increase of literature and analysis that documents and challenges Israeli apartheid, including reports issued by major international bodies and human rights organizations and findings published by political leaders, thinkers, academics, and activists.
Prominent Palestinians, Jewish anti-Zionists, and South Africans have been at the forefront of this struggle. At the same time, an international divestment campaign has gained momentum in response to a statement issued in July 2005 by over 170 Palestinian civil society organizations calling for boycotts, divestments and sanctions (BDS) against apartheid Israel (see p.10). Important gains have recently been made in this campaign in countries like South Africa, Britain, Canada and the United States.
The aim of IAW is to contribute to this chorus of international opposition to Israeli apartheid and to bolster support for the BDS campaign in accordance with the demands outlined in the July 2005 Statement: Full equality for Arab-Palestinian citizens of Israel, an end to the occupation and colonization of all Arab lands dismantling the Wall, and defending refugees' right to return.
In previous years IAW played an important role in disseminating information about Zionism, the Palestinian liberation struggle and its similarities with the indigenous sovereignty struggle in North America and the South African anti-Apartheid movement. Join us in making this a year of struggle against apartheid and for justice, equality, and peace. In addition to actions in Palestine, the following cities worldwide will also have events: Atlanta • Berkeley • Boston • Chicago • New York City • Oakland • San Francisco • In Canada: Edmonton • Fredericton • Halifax • Hamilton • Kingston • Montréal • Ottawa • Peterborough • Toronto • Vancouver • Waterloo • and Caracas, Venezuela, • Copenhagen, Denmark • London & Oxford, England • Pisa, Italy • Johannesburg, South Africa
[TOP]
---
Bil'in Residents and International Activists Oppose Apartheid Wall
The residents of Bil'in, near the central West Bank city of Ramallah, gathered for the regular actions to demonstrate against the Apartheid Wall and illegal settlement building by the Israeli government. The protest included Israelis opposing the Wall and other international activists. Protesters carried Palestinian flags and banners condemning the Israeli policies of building the wall and settlements, especially the recent plan to build 75 new housing units. Protesters also condemned the recent house demolitions in Al-Bustan and Ras Khamis in Jerusalem.
The protest called for national unity, resistance to the occupation and also encouraged the international community to continue defending Palestine. Protesters demanded that Israeli top government officials be brought before an international court for war crimes. These include former Prime Minister Ehud Olmert, Defense Minister Ehud Barak and Foreign Minister Tzipi Livni.
An Israeli army unit was stationed behind the wall and prevented the crowd from going through the gate. The army fired tear gas and rubber bullets, injuring many.
Bil'in residents also defended a house they have built that serves as a center for social activities and sports and aims to encourage farmers to feel safe going to their land and harvesting their crops. It was built on land they fought to secure and which was returned to Bil'in by the Israeli Supreme Court just over one year ago. Israel is still attempting to block the residents from using the house and land and repeatedly attack those who defend it. The Israeli army invaded the village and again fired sound grenades, tear gas and rubber bullets at the youth who confronted them. The army set up a checkpoint near the center of the village and stopped traffic for about one hour. These attacks aim to create fear among residents and stop them from resisting the wall and settlement building. But as is the case everywhere across Palestine, the Palestinians continue to defend their lands and denounce U.S.-Israeli occupation.
[TOP]
---
Jerusalem
General Strike Opposes Planned Evictions
A general strike was in place throughout the Palestinian territories, including east Jerusalem on February 28 to protest the Israeli decision to evict 1,500 people from their homes in Silwan. The decision was announced on February 22 by the Israeli Jerusalem municipality and has caused outrage among Palestinians everywhere. The 90 homes, which will ultimately be demolished, are all in the Bustan neighborhood of Silwan. Homes, Israel's Jerusalem municipality says were built without the proper licensing. Subsequently, the municipality declared the quarter a "green area" where building is prohibited and which will eventually be transformed into a public park. Palestinians are calling it one of the largest mass expulsions since 1967. Some of the homes slated for demolition were built prior to Israel's capture of the eastern part of the city in the 1967 war.
On February 27, hundreds of Palestinian Muslims conducted noon prayers in the Bustan Quarter in solidarity with the people whose homes are threatened with demolition.
[TOP]
---
Defending Palestinian Homes in Jerusalem
There are some people whose faces betray the difficulties they have encountered throughout their lives. Salah Shweiki is one of them. Sitting under the large tent set up in Silwan's Bustan Quarter, seeking warmth from the wood burning in an old wheelbarrow, Shweiki emanates the aura of an elderly sage. In his 56 years of life, he has seen a lot, maybe too much, but today, he is focused, his face determined and his will iron solid.
Salah Shweiki is one of approximately 1,500 people who are being threatened with expulsion from their homes by the Israeli Jerusalem municipality. According to the eviction order distributed among the residents of the Bustan neighborhood, the demolitions are being carried out under the pretext of lack of proper licensing. Once the homes are torn down, Israel plans to construct a national park in its place, a park, its archeological experts say, is part of the ancient City of David.
Shweiki disregards any and all of these claims, saying the eviction order falls under a larger scheme for Jerusalem, which is to expel as many Palestinians from the city as possible. Looking at Israel's recent activity in Jerusalem, I would say Shweiki hit the nail right on the head. Silwan has been plagued with Israeli demolition orders for years, many of this latest group having been handed orders back in 2005. The residents of Silwan say the claim that their homes are built without the proper Israeli licensing is preposterous since most of them were built even before Israel captured the city in 1967.
Shweiki, for example, says he has deeds to his house and land that date back to the British Mandate, which in turn prove that the house was built even before that. "Besides," he says, "This is Waqf land," he said, in reference to the Islamic Endowment that handles the administrative affairs of Jerusalem's Muslim areas. "Wafq lands can neither be bought nor sold," he adds, thus discrediting any claims that Palestinians sold their lands to settlers who have taken up residence in the heart of Silwan.
If these demolition orders are put into effect, Israel claims it would relocate the residents in other areas of east Jerusalem, mainly in the suburbs of Beit Hanina and Shufat. The people of Silwan's Bustan neighborhood are not having any of it, though, saying they will fight the Israeli order tooth and nail. "Before they take our land, they will take our lives," Shweiki says defiantly.
He is not the only one who feels this way. Sitting with him in the tent are at least ten other men all huddled around the fire drinking coffee and tea. One man, Abed Shaloudi, says the residents have set up the Public Committee for the Defense of Silwan's Bustan Quarter in order to attract as much media and international attention as possible to their situation.
Shaloudi himself is no stranger to hardship. He served 10 years in an Israeli prison back in the nineties during which Jewish settlers made a claim on his home. He is still in his house but admits he does not know when the day will come when settlers will try and force him out with a court order.
In Silwan, Jabal Al Mukabber and the Old City, claims of original ownership by Jews almost always trumps years of ownership and family inheritance by Palestinians. The problem with this logic is manifold, first and foremost the fact that it is one-sided. As recent as 1948, Palestinians owned and lived in homes in what is now west Jerusalem, passed down to them by their parents and grandparents. The fact that they hold original and authentic documentation to these homes just across the city's seam line is completely irrelevant to Israel, which disregards any Palestinian claim to what is now Israel.
Israel has systematically refused to accept the principle of the right of return on the basis that any major influx of Palestinian refugees into Israel would alter the Jewish character of the state. In the West Bank and east Jerusalem, Israel has built tens of illegal settlements in the heart of occupied Palestinian land and has filled them with half a million settlers. In Jerusalem, the thorniest of all final status issues, Israel continues to impinge on Palestinian land and residency rights in a bid to vacate the city of as many of its Palestinian residents as possible.
Shaloudi's remains passionate in his convictions. He says representatives from various media outlets have visited them, emissaries from the Egyptian embassy and European groups have all come to their tent. He has a guest book he asks all to sign as evidence of those who came in solidarity. His hopes are high that their activities will make a difference. "We are planning a march from Sheikh Jarrah to Al Bustan," he says, referring to another east Jerusalem neighborhood under constant attack and confiscation by Israeli settlers. "We also hope to form a human chain of children around Silwan." [He remains firm in fighting for his rights.
Joharah Baker is a Writer for the Media and Information Program at the Palestinian Initiative for the Promotion of Global Dialogue and Democracy (MIFTAH). She can be contacted at mip@miftah.org. Originally published in MIFTAH, www.miftah.org.
[TOP]
---
U.S. Trade Unionists Support South African and Australian Dockers' Boycott of Israeli Cargo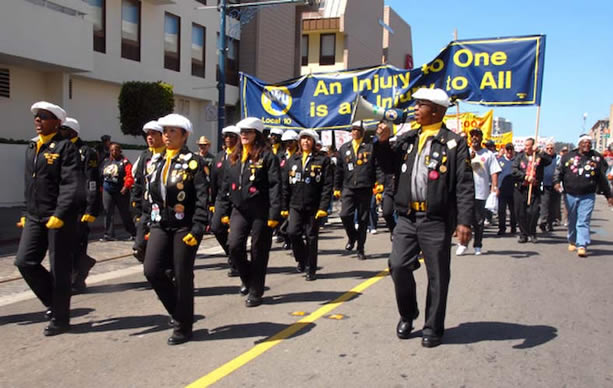 "For the sake of the hundreds of thousands trembling under our violence, I cannot be silent." —Martin Luther King Jr., Beyond Vietnam, April 4, 1967
We salute the South African Transport and Allied Workers Union (SATAWU) in Durban, and Western Australian dock worker members of the Maritime Union of Australia (MUA), for refusing to handle Israeli cargo. Theirs is a courageous response to Israel's attack on Palestinians in Gaza that, since December 27 alone, have left some 1,400 dead and 5,000 wounded — nearly all of them civilians.
This action is in the best tradition of dock workers in Denmark and Sweden (1963), the San Francisco Bay Area (1984) and Liverpool (1988), who refused to handle shipping for apartheid South Africa; Oakland dock workers' refusal to load bombs for the Pinochet dictatorship in Chile (1978); and West Coast dock workers' strike against the wars in Iraq and Afghanistan (2008).
The Congress of South African Trade Unions (COSATU) rightly "calls on other workers and unions to follow suit and to do all that is necessary to ensure that they boycott all goods to and from Israel until Palestine is free." COSATU's appeal is particularly relevant for workers in the United States, whose government stands behind Israel's war against the Palestinians, and without which Israeli apartheid cannot continue.
In the past ten years alone, U.S. military aid to Israel was $17 billion; over the next decade, it will be $30 billion. As in Afghanistan and Iraq, it is U.S. aircraft, white phosphorous and bullets that kill and maim on behalf of the occupiers. Both the Democratic and Republican parties condone the slaughter in Gaza. Such support bolsters Israel's longstanding role as watchdog and junior partner for U.S. domination over the oil-rich Middle East — and beyond. In that capacity, Israel was apartheid South Africa's closest ally.
As with the wars in Iraq and Afghanistan, workers in the United States pay a staggering human and financial price, including deepening economic crisis, for U.S.-Israeli war and occupation. Yet, in contrast to trade union bodies in South Africa, Australia, Denmark, Britain, Canada and elsewhere, most of labor officialdom in this country — often without the knowledge or consent of union members — is a main accomplice of Israeli apartheid.
For more than sixty years, it has closely collaborated with the Histadrut, the Zionist labor federation that has spearheaded — and whitewashed — apartheid, dispossession and ethnic cleansing of the Palestinians since the 1920s.
U.S. labor leaders have plowed at least $5 billion of our union pension funds and retirement plans into State of Israel Bonds. In April 2002, while Israel butchered Palestinian refugees at Jenin in the West Bank, AFL-CIO President John Sweeney was a featured speaker at a belligerent "National Solidarity Rally for Israel." In July 2007, the Jewish Labor Committee, a Histadrut mouthpiece, enlisted top officials of the AFL-CIO and Change to Win to condemn British union support for Boycott, Divestment and Sanctions against Israel.
Now, by their silence, these same leaders are complicit in Israel's massacre in Gaza.
These policies echo infamous "AFL-CIA" support for U.S. war and dictatorship in Vietnam, Latin America, Gulf War I, Afghanistan and elsewhere. It strengthens the U.S.-Israel war machine and labor's corporate enemies, reinforces racism and Islamophobia, and makes a mockery of international solidarity.
For all these reasons, we join COSATU in supporting the growing international campaign of Boycott, Divestment and Sanctions, which demands Palestinian self-determination, including an end to Israeli military occupation, the right of Palestinian refugees to return, and elimination of apartheid throughout historic Palestine.
Join us in publicizing the example of South African and Australian dock workers, and working toward the same kind of labor solidarity here at home.
Join us in demanding immediate and total:
1. End to U.S. aid for Israel.
2. Divestment of business and labor investments in Israel.
3. Labor boycott of Israel.
4. Withdrawal of U.S. and allied forces from the M iddle East.
Initial Signers: Various trade unionists and anti war activists, Black Workers for Justice (North Carolina); Arab American Union Members Council; Million Worker March Movement; San Francisco May 1st Organizing Committee; and others.
[TOP]
---
U.S. Divide and Conquer Efforts
U.S. Military Training Palestinians in West Bank
A recent New York Times article reported that the U.S. is doing more than sending billions for the Israeli military and backing the crime of the Israeli siege of Gaza. Under U.S. Lieutenant General Keith Dayton, the U.S. is also training an army — the Presidential Guard — inside the West Bank. 1800 Palestinians train and live on a $10 million base. So the U.S. is directly training Palestinians to collaborate with the Israeli military to have a joint occupation force to control Palestine. This is much like U.S. efforts in Iraq and before that in Vietnam, referred to then as the Vietnamization of the war. The U.S. organizes to arm and train local forces to do their bidding. It has failed in every instance, as the peoples under occupation refuse to be occupied.
Israeli Defense officials, who direct movements of the guard, were open about this effort. They said the more the guard does, the less Israel will have to do. U.S. Lieutenant General Dayton said that the guard battalions would be based in eight West Bank cities.
President Barack Obama's envoy to the Middle East, George Mitchell, asked Dayton to stay on for two more years to strengthen the Presidential Guard. So the question is: How can pitting Palestinians against each other help in the peace process? How is this U.S.-organized military force consistent with Mitchell's supposed mission to work out a peace process?
The U.S. must remove its military forces and stop all funding and backing of Israel. It is up to the Palestinians to decide their future, and the path to peace begins by ending the U.S.-Israeli occupation now.
[TOP]
---
Did Clinton Sabotage a Palestinian Reconciliation?
Still reeling from the Israeli massacres in the occupied Gaza Strip, Palestinians have lately had little to celebrate. So the strong start to intra-Palestinian reconciliation talks in Cairo last week provided a glimmer of hope.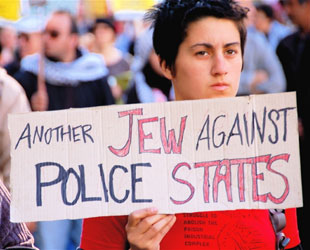 An end to the schism between the elected Hamas government on the one hand, and the Western-backed Fatah faction on the other, seemed within reach. But the good feeling came to a sudden end after what looked like a coordinated assault by United States Secretary of State Hillary Clinton, European Union High Representative Javier Solana, and Fatah leader Mahmoud Abbas whose term as president of the Palestinian Authority (PA) expired on January 9.
On Friday, February 27 leaders of 13 Palestinian factions, principal among them Hamas and Fatah, announced they had set out a framework for reconciliation. In talks chaired by Egypt's powerful intelligence chief Omar Suleiman, the Palestinians established committees to discuss forming a "national unity government," reforming the Palestine Liberation Organization (PLO) to include all factions, legislative and presidential elections, reorganizing security forces on a nonpolitical basis, and a steering group comprised of all faction leaders. Amid a jubilant mood, the talks were adjourned until March 10.
Then the blows began to strike the fragile Palestinian body politic. The first came from Clinton just before she boarded her plane to attend a summit in the Egyptian resort of Sharm al-Sheikh ostensibly about pledging billions in aid to rebuild Gaza.
Clinton was asked by Voice of America (VOA) whether she was encouraged by the Cairo unity talks. She responded that in any reconciliation or "move toward a unified [Palestinian] Authority," Hamas must be bound by "the conditions that have been set forth by the Quartet," the self-appointed group comprising representatives of the U.S., European Union (EU), United Nations and Russia. These conditions, Clinton stated, require that Hamas "must renounce violence, recognize Israel, and abide by previous commitments." Otherwise, the secretary warned, "I don't think it will result in the kind of positive step forward either for the Palestinian people or as a vehicle for a reinvigorated effort to obtain peace that leads to a Palestinian state."
The next strikes came from Ramallah. With the EU's top diplomat Solana standing next to him, Abbas insisted that any national unity government would have to adhere to the "two-state vision" and abide by "international conditions and signed agreements." He then demanded that Gaza reconstruction aid be channeled exclusively through the Western-backed, but financially bankrupt and politically depleted PA. Solana affirmed, "I would like to insist in agreement with [Abbas] that the mechanism used to deploy the money is the one that represents the Palestinian Authority." Solana fully endorsed the campaign waged by Abbas ever since the destruction of Gaza that the PA, plagued by endemic corruption, and which only pays salaries of workers deemed politically loyal, be in sole charge of the funds, rather than neutral international organizations as Hamas and others have suggested.
Was the Sharm al-Sheikh summit then really about helping the people of Gaza or was it about exploiting their suffering to continue the long war against Hamas by other means? Indeed, Clinton had already confirmed the politicization of reconstruction aid when she told VOA, "We want to strengthen a Palestinian partner willing to accept the conditions outlined by the Quartet," and, "our aid dollars will flow based on these principles."
Hamas warned that Clinton's and Abbas's statements set Palestinian reconciliation efforts back to square one. "Hamas will not recognize Israel or the Quartet's conditions," said one spokesman Ismail Radwan, while another, Ayman Taha, said Hamas would "reject any preconditions in the formation of the unity government." Khaled Meshal, head of the movement's political bureau, insisted that the basis for national unity must remain "protecting the resistance and the rights of the Palestinian people."
Such statements will of course be used to paint Hamas as extremist, intransigent and anti-peace. After all, what could be more reasonable than demanding that any party involved in a peace process commit itself to renouncing violence, recognizing its enemy, and abiding by pre-existing agreements? The problem is that the Quartet conditions are designed to eliminate the Palestinians' few bargaining chips and render them defenseless before continuous Israeli occupation, colonization, blockade and armed attacks.
None of the Western diplomats imposing conditions on Hamas have demanded that Israel renounce its aggressive violence. Indeed, as Amnesty International reported on February 20, the weapons Israel used to kill or wound civilians in Gaza were largely supplied by the U.S. In a vivid illustration, Amnesty reported that its field researchers "found fragments and components from munitions used by the Israeli army — including many that are U.S.-made —littering school playgrounds, in hospitals and in people's homes."
For Palestinians to "renounce violence" under these conditions is to renounce the right to self-defense, something no occupied people can do. Palestinians will certainly note that while Abbas stands impotently by, neither the U.S. nor the EU have rushed to the defense of the peaceful, unarmed Palestinians shot at daily by Israeli occupation forces as they try to protect their land from seizure in the West Bank. Nor has Abbas' renunciation of resistance helped the 1,500 residents in the East Jerusalem neighborhood of Silwan whose homes are slated to be demolished to make way for a park. A cessation of violence must be mutual, total and reciprocal — something Hamas has repeatedly offered and Israel has stubbornly rejected.
While Israeli violence is tolerated or applauded, Israel's leaders are not held to any political preconditions. Prime Minister-designate Benjamin Netanyahu emphatically rejects a sovereign Palestinian state and, like his predecessors, rejects all other Palestinian rights enshrined in international law and UN resolutions. When told to stop building illegal settlements on occupied land, Israel responds simply that this is a matter for negotiation and to prove the point it revealed plans in February to add thousands of Jewish-only homes to its West Bank colonies.
Yet Quartet envoy Tony Blair, asked by Al-Jazeera International on March 1 how his masters would deal with a rejectionist Israeli government, said, "We have to work with whoever the Israeli people elect, let's test it out not just assume it won't work." Unless Palestinians are considered an inferior race, the same logic ought to apply to their elected leaders, but they were never given a chance.
It is ludicrous to demand that the stateless Palestinian people unconditionally recognize the legitimacy of the entity that dispossessed them and occupies them, that itself has no declared borders and that continues to violently expand its territory at their expense. If Palestinians are ever to recognize Israel in any form, that can only be an outcome of negotiations in which Palestinian rights are fully recognized, not a precondition for them.
During last year's US election campaign, Clinton claimed she helped bring peace to Northern Ireland during her husband's administration. Yet the conditions she now imposes on Hamas are exactly like those that the British long imposed on the Irish nationalist party Sinn Fein, thereby blocking peace negotiations. President Bill Clinton — against strenuous British objections — helped overturn these obstacles by among other things granting a U.S. visa to Sinn Fein president Gerry Adams, whose party the British once demonized as Israel now demonizes Hamas. Like Tony Blair, who as British prime minister first authorized public talks with Sinn Fein, Hillary Clinton knows that the negotiations in Ireland could not have succeeded if any party had been forced to submit to the political preconditions of its adversaries.
Former British and Irish peace negotiators including Nobel Peace Prize winner John Hume, and former Israeli foreign minister Shlomo Ben-Ami made similar points in a February 26 letter they co-signed in London Times. "Whether we like it or not," the letter states, "Hamas will not go away. Since its victory in democratic elections in 2006, Hamas has sustained its support in Palestinian society despite attempts to destroy it through economic blockades, political boycotts and military incursions." The signatories called for engagement with the movement, affirming that "The Quartet conditions imposed on Hamas set an unworkable threshold from which to commence negotiations."
Those who claim to be peacemakers should heed this advice. They should allow Palestinians to form a national consensus without external interference and blackmail. They should respect democratic mandates. They should stop imposing grossly unfair conditions on the weaker side while cowering in fear of offending the strong, and they should stop the cynical exploitation of humanitarian aid for political manipulation and subversion.
There are many in the region that were encouraged by U.S. President Barack Obama's appointment of former Northern Ireland mediator Senator George Mitchell as Middle East envoy. But in all other respects the new president has continued the Bush administration's disastrous policies. It is not too late to change course, for persisting in these errors will guarantee only more failure and bloodshed.
Hasan Abu Nimah is the former permanent representative of Jordan at the UN. Ali Abunimah, co-founder of The Electronic Intifada, is author of One Country: A Bold Proposal to End the Israeli-Palestinian Impasse (, 2006). A version of this article first appeared in The Jordan Times.