Actions Across the Country and Worldwide Demand U.S. End Wars and Occupations Now!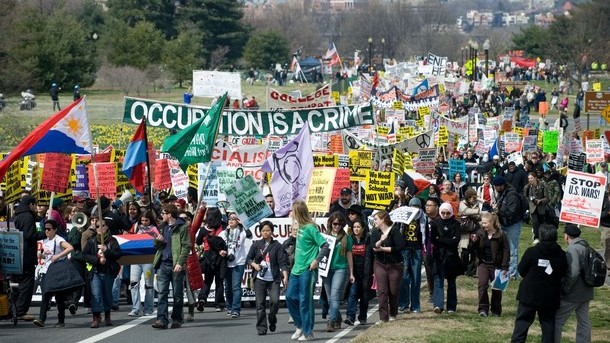 From March 19-21 thousands of demonstrators across the country took their stand demanding: All U.S. Troops Home Now! End U.S. Imperialist Wars and Occupations Now! Actions from coast to coast marked the sixth anniversary of the U.S. invasion of Iraq. In DC, Chicago, San Francisco and LA, from Daytona and Gainesville, Florida to Farmington, Maine, from Rutland, Vermont to Salem, Oregon, the stand was united and firm: Troops Home Now, Not Tomorrow! Stop Funding War! Fund Human Needs Now! Everywhere youth made up the majority of demonstrators, coming out in contingents representing their universities, colleges a nd high schools. Iraq and Afghanistan war veterans and many participants from the Arab and Muslim communities had contingents from coast to coast. As people marched they chanted: Hey, Obama, yes, we can. Troops out of Afghanistan! and Barack, Barack, Barack, Afghanistan is the same as Iraq! Occupation is a Crime! and other slogans. In DC the march filled the streets and the militant spirit marked the entire day.
Chicago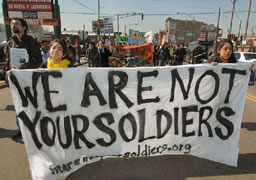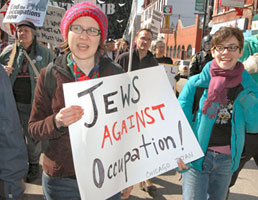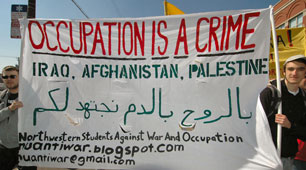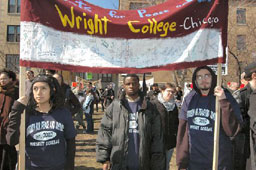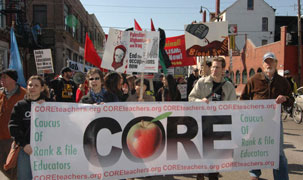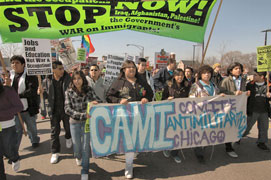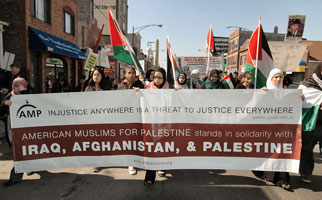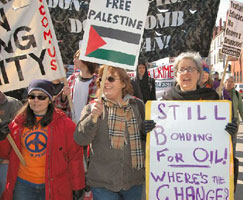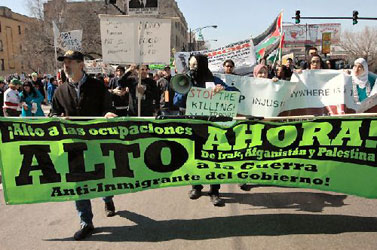 Chicago organized a local action March 14 as well as sending a busload to DC. The local action marched through the Pilsen area, home to many immigrants who have faced brutal government raids and deportation. The march embodied the rejection of imperialist war and U.S. interference and oppression worldwide, which wrecks the economies of many countries and forces large numbers of people to come to the U.S. Marchers opposed criminalization of youth and immigrants and defended the rights of all. Many youth participated and took their stand against the military, declaring, "We Are Not Your Soldiers!"
St. Paul Minnesota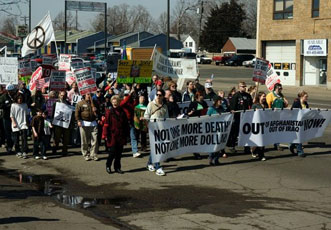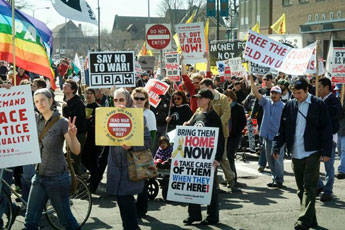 Los Angeles
Los Angeles also saw thousands of people join the march along Hollywood Boulevard, shouting "Occupation Is a Crime!" and holding banners such as "Bring All the Troops Home Now!" A symbolic "die-in" led by veterans, students and children was held as demonstrators reached the busiest corner in Hollywood — Hollywood Blvd. and Highland Ave — representing the mass destruction wrought by the U.S. A group of veterans carried about 40 cardboard coffins draped with the flags of the United States, Iraq, Afghanistan and Palestine during the march, which they delivered to the Armed Forces Recruiting Center nearby.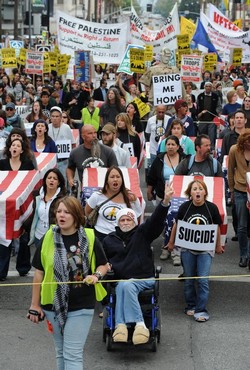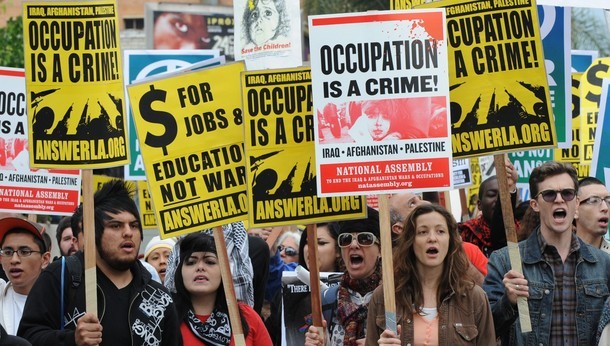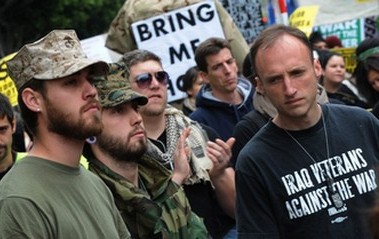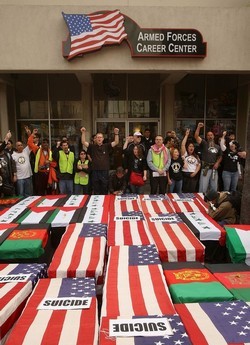 San Francisco
Thousands demonstrated in San Francisco, where police carried out unprovoked attacks on demonstrators, injuring at least seven and arresting numerous others. Participant Umayyah Cable, writing for GlobalComment, reported: "The chaos broke out after a boy who was probably between 8 and 10 years old was detained under suspicion of carrying rocks in his backpack. I never saw a rock in anyone's hand, for that matter.
"I did not actually see what happened that caused the police to single the boy out, but I watched as he stood crying between two police officers and several A.N.S.W.E.R. organizers who were arguing about whether or not he was going to be arrested. Then, suddenly and without cause, the police began charging the crowd with their batons."
Cable points out that the location where the assault by police took place "was directly across the street from the Zionist counter-protest. Given the outrageously large number of police officers stationed in front of the counter-protest, I cannot help but wonder if this violent attack by the police was instigated by a local Zionist lobby.
"Earlier during the event, when several Arab American youths made their way over to the counter protest, the police pushed and shoved them back to the other side of the street. But when a counter-protester made his way into the A.N.S.W.E.R. rally and began taunting people, the police stood by and did nothing. The blatantly hypocritical stance of the police was despicable. This, coupled with the outright police brutality against Arab American youths, is evidence of systematic bigotry within the San Francisco Police Department.
"[...]How are we supposed to feel safe when the people who are responsible for our safety are intimidating and hurting us? How are we supposed to exercise our constitutional rights to freedom of speech and freedom of assembly when there is a government police force standing by to punish us for it?"
Despite the police attacks, protesters carried forward and raised their demands to End U.S. Wars and Occupations Now! Many youth participated alongside contingents of Filipinos, Jews opposing U.S.-Israeli aggression against Palestine and many other organizations.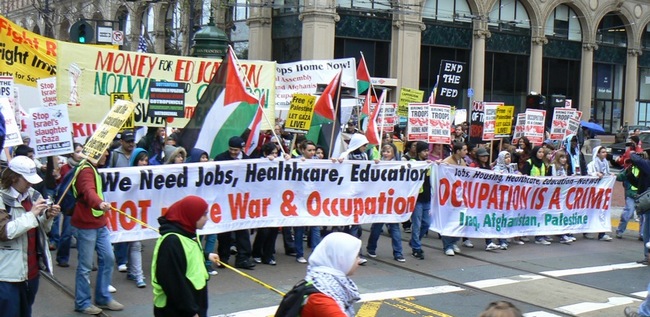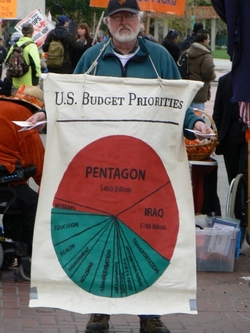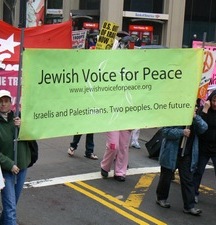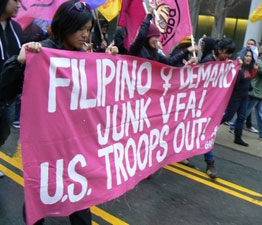 Fresno, California & Salem, Oregon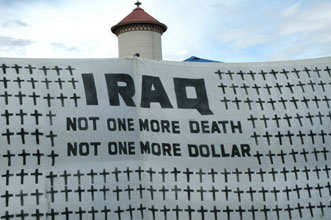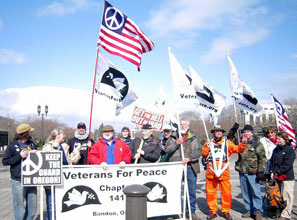 Tempe, Arizona & Oklahoma City, Oklahoma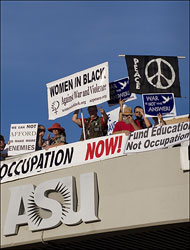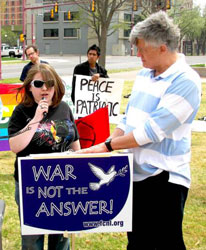 Miami, Florida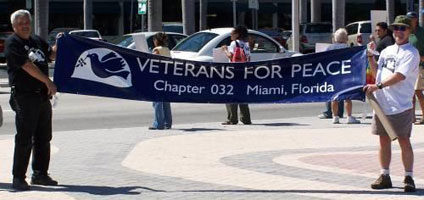 New York City & Rochester, New York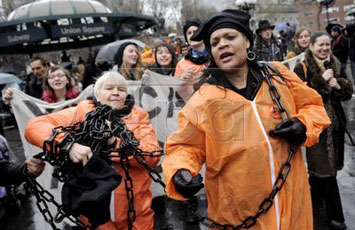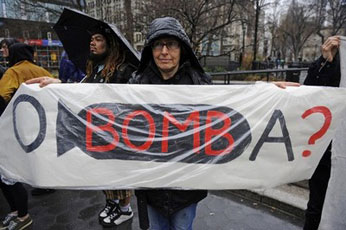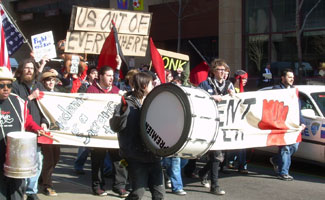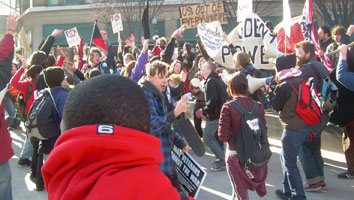 Worldwide Actions
Canada
Iraq and Romania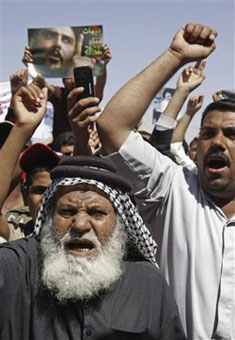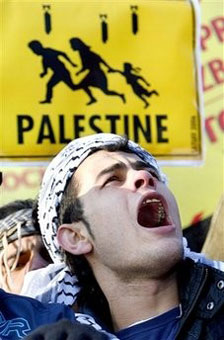 England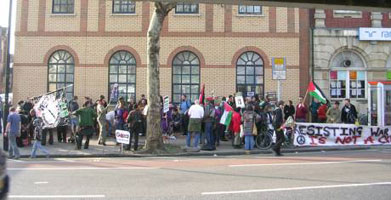 Korea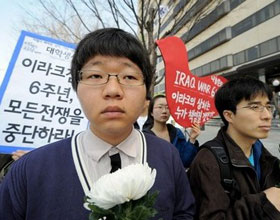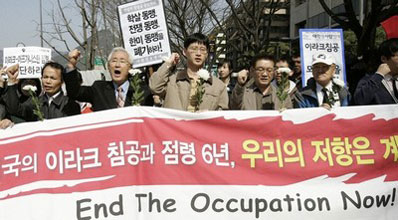 Japan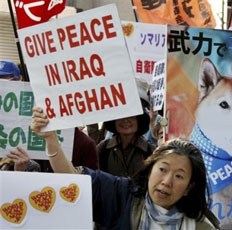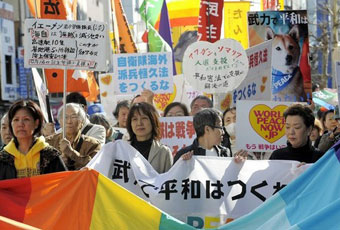 Australia