Thirty-Third Land Day Anniversary Marked Worldwide
Land Day 2009: Palestinians Rooted and Resisting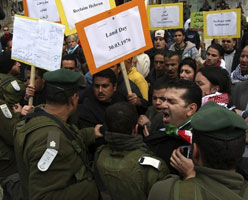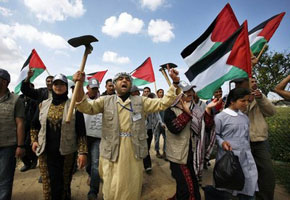 Left: Demonstration to mark Land Day and to demand opening of blocked roads in the West Bank city
of Hebron March 28, 2009. Israeli soldiers attacked protesting Palestinians, Israelis and international
peace activists using tear gas and concussion grenades. Right: Land Day demonstration at the
Erez Crossing in the Gaza Strip, March 30, 2009.

On March 30, Palestinians and their supporters all around the world celebrate the thirty-third anniversary of Land Day, Yaoum al-Ardh in Arabic. Land Day has become a national day for Palestinians inside Israel, in the West Bank, Gaza and the diaspora to emphasize the importance of land in the Palestinian struggle against US-Israeli aggression and occupation. Land Day commemorates the persistence of the Palestinian resistance against occupation, no matter where Palestinians are and no matter what form this occupation takes. It yearly gives expression to the affirmation of Palestinian rights to the land and to self-determination, as well as defending their identity as a people. Voice of Revolution salutes the Palestinian people and joins in demanding the U.S. act to End the Occupation Now! Defend the Right to Return! End All U.S. Funding and Backing of Israel Now!
The state of Israel began with the expropriation of Palestinian lands and driving millions of Palestinians from their homes and continues today to seize Palestinian land, using illegal settlements, the Apartheid Wall and other means. Land Day rejects this occupation and demands the return Palestinian lands and the right to return for the refugees driven from their homes, in 1948 and since. It also specifically commemorates the unified action that the Palestinian community inside Israel organized in March 1976, when the Israeli campaign to further colonize the Galilee reached its peak. (The Galilee is part of occupied Palestine, located in the northern part of Israel, which borders Lebanon). The Palestinians organized a general strike and demonstrations to reject the efforts of the Zionists to further drive them from their lands.
This year, Palestinian Land Day comes at a time when the US-backed Zionist attacks on Palestinian lands and rights have reached a new height. The latest war crimes in Gaza left thousands dead and injured, and the majority of the infrastructure destroyed. Illegal confiscation of land continues inside Israel and in the West Bank. The Palestinian community inside Israel today, close to 1.5 million, or almost 20 percent of Israel's population according to the Israeli Central Bureau of Statistics, is confined to only 3 percent of the land, one third of which has been declared a no-building agrarian zone by the State of Israel. Electronic Intifada estimates that more than 80 percent of the land owned by Palestinian Israelis has been confiscated.
Land Day actions are affirming the right of Palestinians to their lands and rejects the continued U.S.-Israeli efforts to annex yet more Palestinian land. The leaders of the Palestinian community in Israel have decided to mark this year's Land Day as a day against "Zionist fascism and racism" to protest the intensified targeting of Palestinian citizens, especially with reactionaries such as Benjamin Netanyahu and Avigdor Lieberman holding leading positions in the new Israeli cabinet. There is a central rally planned in the village of Deir Hanna, which came under curfew and military occupation 33 years ago. There are activities planned in support of Palestinians in East Jerusalem whose houses Israel wants to demolish as part of its attempts to force Arabs out of the city. The National Democratic Assembly party of the Palestinian community in Israel is organizing a series of lectures under the banner "We Fight Racism by Defending our Land and Homes." The event will oppose the racism and discrimination imposed by the Zionists, using zoning laws and other means to steal more Palestinian land. Palestinians in the West Bank and Gaza will also hold rallies and activities to celebrate Palestinian resistance and commitment to holding on to the land as a vital part of winning liberation and ending the occupation.
The focus on racism is part of the resistance to current Israeli efforts to organize racist and fascist attacks against the Palestinians inside Israel and to divide resistance, by Palestinians and Israelis to the occupation. On March 24, 2009, the Israeli authorities had a fascist Zionist gang stage a provocative march into the Palestinian town of Umm al-Fahm. The group came out of the banned, racist Kach party, and advocates the forced "transfer" of Israel's Palestinian community outside of Israel. The Palestinians resisted this state-organized racist attack, demonstrating with Palestinian flags. The Israeli police protected the fascist gang and used the opportunity to attack the demonstrators, much like police in the U.S. do when people oppose state-organized gangs like the KKK.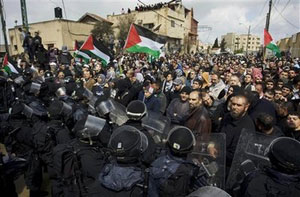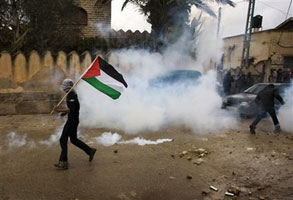 Umm al-Fahm demonstrations oppose fascist Zionist gang and police, March 24, 2009
Around the world, peoples are marking Land Day with demonstrations, meetings and other activities, taking their stand against occupation and demanding the end to the siege of Gaza and all attacks on Palestinians. Peoples worldwide stand with the Palestinian resistance and their rights to their land and natural resources. They stand as one with the heroic fight of the Palestinians, who refuse to give up in the face of the US-Israeli war machinery and continue to advance the fight to achieve their national and social rights.
History of Land Day
Control of the land of historical Palestine, known in Zionist literature as "redeeming" the land, has been a cornerstone of the colonization of Palestine and the continuous effort to deny Palestinians their most fundamental rights — including self-determination, resistance to occupation, and viable statehood. The Zionists have attempted to achieve their goal of "more land, less Arabs" using the crimes of collective punishment and ethnic cleansing. The British-trained Zionist militias committed these crimes against Palestinians in the months preceding May 1948, when the State of Israel was declared, well into the summer of 1949. About 85 percent of historical Palestine was colonized in those months. Close to 800,000 Palestinians were displaced following a systematic campaign of depopulation using intimidation, killing, destruction of towns and villages, and preventing the displaced from returning to their homes and lands.
The 150,000 Palestinians who remained in the parts of Palestine that Israel, backed by the U.S., had declared belong to it, were subject to military rule. This included confining their movement, placing many in forced labor camps, confiscating their lands, and continuing to displace them internally.
In the 1970s, the Galilee area, which is said to have kept its Palestinian character more than other parts of Palestine annexed by the state of Israel, became the target of a fierce Zionist campaign. A land-grab was organized in order to expand illegal settlements and further force Palestinians out of the Galilee. In early 1976, Israel declared its intention to appropriate 15,000 acres of Palestinian lands in the Galilee and Negev. And on the last day of February 5,500 acres that belonged to the Palestinian villages of Sakhnin, Arabeh and Deir Hanna were declared a "closed military zone."
In the first major mass mobilization of Palestinians inside Israel against Zionist occupation and oppression, a one day general strike was called for March 30. Israeli police and military tried to foil the strike by violently crushing peaceful demonstrations that broke out on March 29 and 30. The Israelis killed 6 unarmed Palestinians: Khayer Yassin of Arabeh, Raja Abu Raya, Khouder Khalayleh and Khadija Shawahneh of Sakhnin, Muhsin Taha of Kafr Kana, and Ra'fat Zuheri of Nur Shams. Close to 100 Palestinian Israelis were injured, and 300 others were arrested. Ever since, on March 30, Palestinians and their supporters commemorate this mass resistance against Zionist colonization. Land Day ensures that the collective memory of the martyrs and the just struggle of Palestinian lands and the right of return remains vibrant.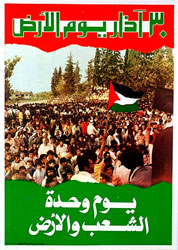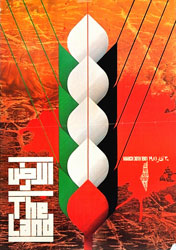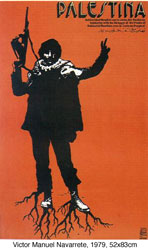 Land Day posters over the years
Palestinian Land Day has helped to forge a national identity for Palestinian Israelis in solidarity with their brothers and sisters in the West Bank, Gaza and the diaspora. This demonstrated itself again in October 2000, when Palestinians inside Israel mobilized against the US-backed Zionist aggression against Palestinians during the Second Intifada. Thirteen Palestinian citizens of Israel were shot dead, some 1000 others were injured and 400 were arrested.
Israel today continues to steal Palestinian lands. In East Jerusalem, for instance, Palestinian residents and their Israeli supporters have been fighting against Zionist plans to demolish more Arab houses and displace more Palestinians from their neighborhoods. Palestinians in the West Bank continue to suffer from the consequences of the Zionist theft of land and water, and the building of illegal settlements, bypass roads and the Apartheid Wall, which has confined them to only 12 percent of the area of historical Palestine.
Israeli attempts to dispossess Palestinians are not confined to territorial theft and expansionism. Israel maintains its siege of Gaza, funded and backed by the U.S. The U.S.-Israeli siege prevents essential items such as food and medicine from entering the Strip to aid Palestinians afflicted by the recent war crimes and massacres of Gazans.
The Israeli authorities in East Jerusalem have banned by force the inauguration of festivities to mark Jerusalem as Capital of Arab Culture for the year 2009. Palestinian organizers are determined to carry on with the planned activities despite Zionist threats, since, as with the land, affirming Palestinian culture is an integral part of the struggle against the occupation and affirming the true history of Palestinians and the region as a whole.
Despite decades of land confiscation, institutional discrimination, military rule, internal displacement, attempts to rewrite the history and geography of their homeland, Palestinians inside Israel continue to fight for their rights 33 years after the general strike and mass mobilization that gave birth to Land Day. In this, they have marched along the same path of persisting in the resistance that their fellow Palestinians in the West Bank, Gaza and the diaspora have consciously chosen as the only means to achieve dignity, justice and self-determination. The undaunted resistance is inseparable from the fact that Palestinians everywhere are rooted in their commitment to their land as an essential right.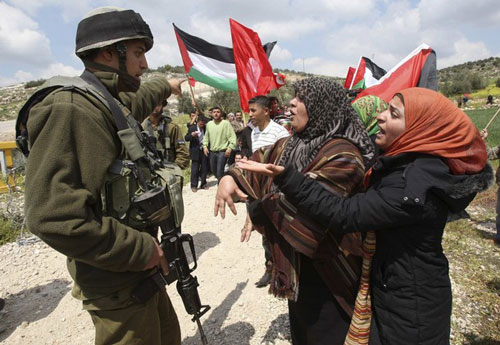 March 30, 2009: Palestinian protesters confront Israeli Occupation Forces' soldier during a
Land Day demonstration near the West Bank town of Idna, west of Hebron.

[TOP]
---
A Doctor from Galilee Speaks to Significance of Land Day
Palestinians across the Middle East commemorate Land Day March 30, marking the anniversary of clashes in 1976 in which six unarmed Palestinians were shot dead by the Israeli army as it tried to break up a general strike.
Although Land Day is one of the most important anniversaries in the Palestinian calendar, sometimes referred to as the Palestinians' national day, the historical event it marks is little spoken of and rarely studied. "Maybe its significance is surprising given the magnitude of other events in Palestinian history," said Hatim Kanaaneh, 71, a doctor, who witnessed the military invasion of his village. "But what makes Land Day resonate with Palestinians everywhere is that it was the first time Palestinians inside Israel stood together and successfully resisted Israel's goal of confiscating their land."
The confrontation took place between the army and a group usually referred to as "Israeli Arabs," the small minority of Palestinians who managed to remain in their homes during the 1948 war that led to the founding of Israel. Today they number 1.2 million, or nearly one-fifth of Israel's population. "We were given citizenship by Israel, but have always been treated as an enemy, perceived of as a threat to the state's Jewishness," said Dr. Kanaaneh, who last year published his memoir, "A Doctor in Galilee," which offers an account in English of Palestinian life inside Israel during the Land Day period.
In 1976, Dr. Kanaaneh, having completed his medical studies at Harvard University in the United States, was the only physician in Arrabeh. Israel crushed organized political activity among Israel's Palestinian citizens between 1948 and 1966, Dr. Kanaaneh said. Nonetheless, popular frustration had mounted as the state expropriated privately-owned Palestinian land to build new communities for Jewish citizens, many of them recent immigrants.
During military rule, historians have noted, vast swathes of land were taken from Palestinians, both from refugees in exile and from Israel's own citizens. Jews had bought only six per cent of Palestine by the time of the 1948 war, but today the state has nationalized 93 percent of Israel's territory. "Government policy was explicitly to make the land Jewish — or Judaize it, as it was called," Dr. Kanaaneh said.
The announcement in the mid-1970s of the confiscation of [17,000 acres of land] and a further 5,000 acres [for a "military zone] led to the creation of a new body, the National Committee for the Defense of Arab Lands, which provided a more assertive political leadership.
The minority's decision to strike, Dr. Kanaaneh said, shocked the Israeli authorities, which were not used to challenges to official policy. "Both sides understood the significance of the strike. For the first time we were acting as a national minority, and Israel was very sensitive to anything that suggested we had a national identity or a unified agenda, especially over a key resource like land."
The strike was strictly observed by Palestinians throughout Israel, while the focus of the protest were three villages in the central Galilee that faced the loss of a large area of prime agricultural land: Arrabeh, Sakhnin and Deir Hanna.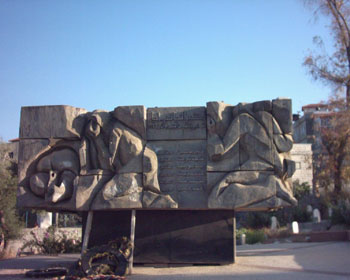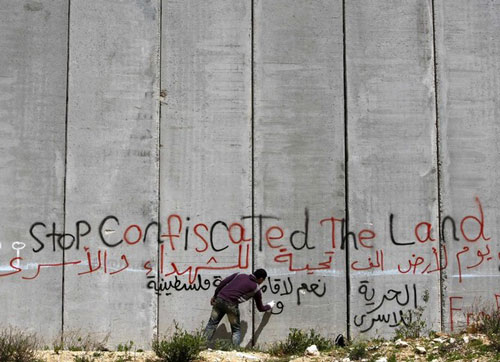 Land Day Memorial in Sakhnin, Galilee (left) and resistance to Apartheid Wall in Bethlehem, March 30, 2009 (right)
Prime Minister, Yitzhak Rabin, and his Defense Minster, Shimon Peres, acted on the eve of the strike. "What was surprising was that they didn't send in the police, as you'd expect when dealing with citizens of a country, but the army," Dr. Kanaaneh said.
The government's original plan, he said, was to break the strike and force employees to go to work, but when villagers began throwing stones, the army imposed a curfew. "When a neighbor called me to attend to his wife who had gone into labor, I walked out of my house towards an armored vehicle waving my stethoscope," Dr. Kanaaneh said. "A soldier aimed his rifle straight at me and I hurried back inside."
Ahmed Khalaila, who was 18 and living in Sakhnin, remembered being woken early by loudspeakers. "Soldiers were calling out that we must not leave the house ... We couldn't even look out of the windows," he said. When a neighbor stepped outside her house, she was shot and injured, Khalaila said. He and his older brother, Khader, tried to help the woman. When they were about 50 meters from her, Khader was shot in the head. "He was still breathing and we hoped he could be saved, but there were checkpoints at all the entrances to the village. We knew no ambulance would be coming for him."
Eventually the family managed to get him into a car and drove towards the nearest hospital. Held at a checkpoint, Khalaila said, the family watched as Khader bled to death as he lay across his younger brother's legs on the back seat. Khader was 24 and had recently married. In addition to the six deaths, hundreds more Palestinians were injured and sweeping arrests were made of political activists.
No one ever came to investigate what had happened, or offered the family compensation. "It was as if a bird had died," he said. "No one was interested; no questions were asked in the parliament. Nothing."
Dr. Kanaaneh said the stiff resistance mounted by the villagers eventually forced the government to revoke the expropriation order.
Jonathan Cook is a writer and journalist based in Nazareth, Israel.
[TOP]
---
Below is an excerpt from a poem by Palestinian Israeli poet and political activist Tawfiq Zayyad. It speaks to how rooted Palestinians are in their land and their struggle for self-determination, against all forms of silencing and oppression.
As if we were an impossible multitude.

In al-Ludd, in Ramla, in the Galilee
we shall remain
like a wall upon your chest,
and in your throat
like a shard of glass,
a cactus thorn,
and in your eyes
a sandstorm.
We shall remain

a wall upon your chests,
cleaning dishes in your restaurants,
serving drinks in your bars,
filling up glasses for the masters,
sweeping the floors of dark kitchens
to snatch a bite for our children
from your blue fangs.
Here we shall stay,

a wall upon your chests
hungry, naked, but defiant,
singing our songs,
taking to the angry streets,
filling your jails with dignity,
giving birth to one rebelling generation after another,

as if we were an impossible multitude.




كأننا عشرون مستحيل

في اللد , والرملة , والجليل

هنا .. غلى صدوركم , باقون كالجدار

وفي حلوقكم

كقطعة الزجاج , كالصبار

وفي عيونكم

زوبعة من نار

هنا .. على صدوركم , باقون كالجدار

ننظف الصحون في الحانات

ونملأالكؤوس للسادات

ونمسح البلاط في المطابخ السوداء

حتى نسل لقمة الصغار

من بين أنيابكم الزرقاء

هنا غلى صدوركم باقون , كالجدار

نجوع .. نعرى .. نتحدى

ننشد الأشعار

ونملأ الشوارع الغضاب بالمظاهرات

ونملأ السجون كبرياء

ونصنع الأطفال .. جيلا ثائرا .. وراء جيل

كأننا عشرون مستحيل
Land Day Video
The following link provides a 2009 Land Day video: http://desertpeace.wordpress.com/2009/03/29/palestine-live-land-day-2009/
The translation of the song in Arabic on the video is approximately:
From the darkness of shelters,
From the heart of the battle,
The pigeons flew high
To tell a story
To write a verse
About a people committed to the land of truth
A people who refused humiliation and rose up.
They have become the roaring voice
The able promise
The liberating hand
The hand that builds.
Their voice is loud and proud
After the pitch darkness
The sun will rise
They are the blooming flowers
They are the bright light.
[TOP]
---
Deir Hanna Commemorates Land Day
Arab residents of Deir Hanna village located inside the Green Line, commemorated Land Day today, demanding an end to Israeli apartheid and racism as part of protests throughout villages in the Galilee and other Arab villages and cities.
The Higher Follow-up Committee had announced Deir Hanna village as one of the main locations for the protests to commemorate the 33rd anniversary of Land Day. The Committee issued a statement calling that the day be marked with greater determination and steadfastness especially while extremist parties are coming to power in Israel.
"It seems that racism and fascism became the center point of Israeli politics. This year we will mark Land Day with steadfastness and determination to counter racism in Israel," the Committee said in its release.
The committee added that Israel increased its illegal attacks and demolitions against Arab villages, and is continuing with demolishing more homes in the Negev, Jerusalem, and in Arab areas that Israel considers 'unrecognized villages.'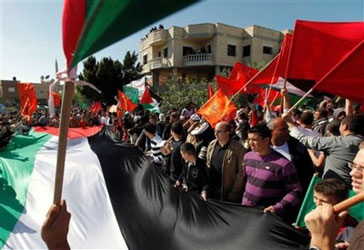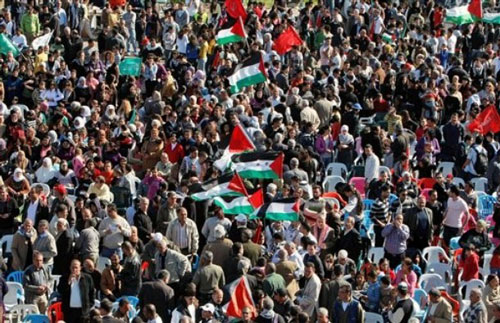 "The Israeli attacks are targeting Arab and Bedouin villages, in the Negev and in mixed towns along the coast. This is happening while incitement against the Arabs and Arab leaders is on the rise, while unemployment and poverty is gradually increasing due to Israeli apartheid polices," the committee said.
Furthermore, the Committee called on the Palestinian factions to end their difference and unite in order to counter the Israeli expansion plans in the Palestinian territories.
The committee also demanded prosecuting Israeli officials at international courts for war crimes against the Palestinians, especially the war crimes in Gaza, and for war crimes and collective punishment against the Palestinian political detainees in Israeli prisons.
(Source: International Middle East Media Center)
[TOP]
---
Israelis, Internationals Join Palestinian Protest Against Jerusalem Home Demolitions
Approximately 150 Jewish Israelis and international peace activists joined Arab residents on March 28 in their protest against Israel's demolition of Palestinian homes in the Silwan neighborhood of East Jerusalem. The protesters called their rally "Jews and Arabs against house demolitions," the Israeli website Ynet News reported.
During their protest, the demonstrators stopped by the ruins of a Palestinian house razed by Israel two weeks ago. One of the protesters said that the family who lived in the house had no other place to live, and added that even their furniture remained buried under the rubble.
Abdul-Khailq Shaludi, one of the protesters, said that after the Jerusalem municipality issued demolition orders against 88 Palestinian homes in 2005, a protest tent was set up. The previous mayor of Jerusalem agreed to sit with the protesters and asked them to prepare a master plan. "We prepared the plan, we paid $77,000 out of our own pockets, but 40 days ago the Israeli Interior Ministry met with us and said it rejects the plan," Shaludi said. "The ministry claimed that plan contradicts the policy of the municipality, and [so] we installed our protest tent again." Another activist said current Jerusalem mayor Nir Barkat is adopting the plans of Israeli settlers who want to take over the neighborhood.
Israel continues to demolish Palestinian homes in Jerusalem, while its municipality continues to issue demolition orders against Palestinian homes and settlers continue to occupy Arab homes in the city. Demonstrations continue to be organized as part of Palestinian defense of their rights.
(Source: International Middle East Media Center)
[TOP]
---
Israeli Committee Calls for an Immediate End to House Demolitions
One can only describe Israel's obsession with demolishing Palestinian homes in light of the exclusive Jewish claim to the entire Land of Israel harking back a century or more. It is not a policy specific to any particular time or place, nor is it confined to the Occupied Territories. In 1948 and for years after, Israeli governments systematically demolished more than 500 entire villages, towns, urban centers and neighborhoods, both to prevent the return of the Palestinian refugees and to take their lands and properties. Since the Occupation began in 1967, another 24,000 Palestinian homes have been demolished, including 4000 in the latest attack on Gaza. And in 2004, the Israeli government announced the establishment of a Demolition Administration within the Ministry of Interior; targeted for destruction are 20-40,000 homes of Israeli (Arab) citizens classified as "unrecognized villages." (One Bedouin village in the Negev, Jarwal abu Twail, has been demolished 18 times.)
It must be stressed that Israel has never explained or justified its long-standing practice of demolishing Palestinian homes by security. For the most part it has offered no explanations at all, treating the phenomenon as a purely internal matter. Occasionally it justifies the wholesale destruction of homes in military operations as "collateral damage." According to Ha'aretz (February 15, 2009), "Israel Defense Forces investigations into last month's offensive in the Gaza Strip indicate the army could face significant difficulties justifying the scale of destruction of civilian homes during the fighting. A military source involved in the investigation told Ha'aretz, "It is clear to us that in a small portion of the combat sectors immeasurable damage was caused, and that is very difficult to justify from a legal perspective, particularly if such justifications are called for in legal proceedings with international organizations." As for the thousands of homes demolished due to a lack of building permits, which Israel justifies using a "legal" basis, it neglects to say that its explicit policy since 1967 has been to deny permits to Palestinians, or to restrict them severely.
When one surveys the consequences of Israel's house demolition policy from 1948 until the present, the conclusion is inescapable: a systematic and ongoing campaign is being waged to either rid the country of its Palestinian population or, failing that, to confine the remaining Palestinians to tiny, delimited, disconnected and impoverished enclaves, in Israel as well as in the Occupied Territories.
At this very moment, together with the "routine" demolitions that are the Palestinians' daily fare, 88 homes in the Silwan neighborhood of Jerusalem – the entire al Bustan quarter – are threatened with immediate destruction, as are two apartment buildings housing 34 families in the adjacent al Abbasiyya quarter. House demolitions in occupied East Jerusalem are illegal under international law, serve no purpose, have severe humanitarian effects and fuel bitterness and extremism. They also violate the first phase of the Road Map. The Israeli Committee Against House Demolitions (ICAHD) calls on the international community to enforce its stated opposition to this cruel policy and end it immediately.
[TOP]
---
Los Angeles
Activists Confront AIPAC Donors with Checkpoint Outside Fundraiser
Dozens of Los Angeles-area Jews, Palestinians and other allies erected a mock checkpoint at the American Israel Public Affairs Committee's (AIPAC) annual Valley Fundraiser in protest of AIPAC's attempt to steer US policy makers to ignore recent Israeli war crimes in Gaza and the illegal Israeli occupation of Palestinian land. Cars were confronted by people dressed as Israeli soldiers and those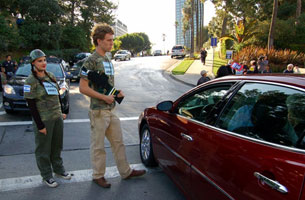 attending the event were "allowed to pass through" after receiving a new program for the event that exposes AIPAC support for Israeli policies which contravene international law. A boisterous crowd also chanted, "Angelenos choose a side, human rights or Apartheid!" at AIPAC donors as they approached the hotel entrance. "As a Jewish American, I am particularly appalled that my tax dollars are funding Israel's apartheid policies," said Julie Hey, a graduate student.
AIPAC is self-described as "America's leading pro-Israel lobby," and as such has supported Israel's occupation of Palestinian land, including the use of military checkpoints and the erection of a 450-mile-long wall that has encircled entire communities, leaving Palestinians prisoners in their own land. The South African apartheid regime broke the country into 10 noncontiguous Bantustans made up of 13 percent of the total land — "homelands" for the black population. Israel's "separation wall" and settlements have broken the Palestinian territories into 12 noncontiguous cantons representing only 12 percent of the West Bank, Gaza Strip and East Jerusalem.
"Tonight we are exposing AIPAC's support of Israel's Apartheid system and are letting the high-donors and political leaders of Los Angeles know that is it unacceptable to support Israel's separate and unequal treatment of Palestinians," said Lisa Adler, an LA-based community organizer and Jewish leader. "Just as the movement to end South African apartheid required boycott, divestment and sanctions, people of conscience around the world are increasingly supporting the Palestinian struggle for freedom and self-determination by boycotting all things Israeli."
AIPAC also supported Israel's recent offensive in Gaza, which killed more than 1,300 Palestinians and wounded more than 5,000, the vast majority civilians. "We found strong evidence that Israel committed war crimes during its 22-day offensive," said human rights attorney Radhika Sainath, who recently returned from a fact-finding mission to the Gaza Strip. "Israeli forces repeatedly violated international law by targeting civilians, blocking medical access to the wounded, and using weapons that cause needless suffering."
AIPAC wants President Barack Obama to agree to almost $3 billion in new military aid to Israel. U.S. law forbids assistance to governments that engage in a consistent pattern of gross violations of internationally recognized human rights.
Mostly recently, AIPAC praised the Obama Administration's decision to boycott the World Conference Against Racism in Geneva next month, unless its final document drops all references to Israel and reparations for slavery. In 2001, Bush administration diplomats walked out of the conference in Durban, South Africa after delegates proposed a resolution likening Zionism to racism.
Many of the same participants in today's demonstration also were part of an ad-hoc group of Los Angeles Jews that shut down the Israeli consulate for three hours on 14 January 2008 during Israel's invasion of Gaza (see http://www.ijsn.net/263 for video, scroll down).
[TOP]
---
Call to Action Against Israel's War on Palestine
American Jews for a Just Peace (AJJP) is an alliance of progressive and predominantly Jewish activists in the United States working to ensure equal rights, safety, and dignity for all the people of historic Palestine. We believe that the illegal occupation of the West Bank, Gaza and East Jerusalem must end immediately, and that a just peace requires the international community to honor the national aspirations and human rights of the Palestinian people in the occupied Palestinian Territories, within Israel, and in the Diaspora, as defined by international law and recognized principles of human rights.
Israel's recent War on Gaza resulted in worldwide, popular condemnation. Perhaps this marks an important turning point in the relationship between Israel and the world community. We will not stand by while Israel instigates a war, annihilates civilian infrastructure, targets civilian shelters, blocks medical teams from reaching victims, uses chemical weapons, such as white phosphorous, on civilians, prevents medical equipment from entering the war zone, cuts off fuel, electricity and running water, and forcibly prevents civilians including children from escaping their carnage. These are only the latest in a long and shameful history of violent, illegal and immoral actions taken by the government of Israel against the Palestinian people over the last 61 years. They are not the actions of a state that respects international laws or norms. On the contrary, they represent the actions of a rogue state that flouts international law while justifying its atrocities by invoking the suffering of our forebears.
These atrocities have been fully supported by the U.S. government, which, in this last war, ran diplomatic interference for Israel. This allowed Israel to destroy as much of Gazan society as it could before the new U.S. administration took office.
In the wake of this illegal war, AJJP expresses our outrage and pledges to support all efforts that are aimed at ending Israel's Occupation and undoing the apartheid system that it has constructed. The ongoing illegal occupation and ever-expanding illegal settlements of now some 450,000 Jews in the West Bank and East Jerusalem is a clear violation of the 4th Geneva Convention. This Occupation is an obstacle to peace, as is the apartheid system of separation and oppression that is the organizing structure of life and resources in Israel/Palestine. U.S. tax dollars and foreign policy goals continue to support what is fundamentally an undemocratic and racist system of government that serves to sustain and deepen the ongoing ethnic cleansing of historic Palestine.
For all of these reasons, as Jews of conscience, we reach out to all other activists in the United States and around the world to work together to end, once and for all, these atrocities, which Israel claims to commit in our names.
Dedicated to working with all like-minded groups to build an effective, worldwide movement, American Jews for a Just Peace calls for:
• immediate suspension of all U.S. military aid to Israel pursuant to the Arms Export Control Act;
• the U.S. Congress to open an investigation into possible war crimes as well as violations of the Arms Export Control and Foreign Assistance Acts in the war on Gaza;
• businesses and individuals to refuse to purchase Israeli-made products that originate in or support Jewish settlements in Occupied Palestine and the apartheid system of racial separation and oppression in Israel/Palestine;
• the Israeli government to sign the International Convention on the Suppression and Punishment of the Crime of Apartheid that was adopted by the United Nations in 1973, or explain its refusal to do so to the world community;
• the Israeli government to sign the International Convention on the Suppression and Punishment of the Crime of Apartheid that was adopted by the United Nations in 1973, or explain its refusal to do so to the world community;
• efforts by all activists to promote awareness of and resistance to the ethnic cleansing of Palestine, which continues through the ongoing blockade, siege, displacement, annexation, and Israeli state-sponsored terror.
Toward these ends, AJJP calls on the human rights and global justice community to engage in coordinated actions to bring the apartheid policies and criminal activities of the Israeli government to an end. We support all strategies, up to and including, acts of non-violent civil disobedience. We will continue to support Palestinian civil society groups. AJJP activists will sponsor teach-ins, write op-ed articles, engage in viral outreach campaigns, ask businesses and individuals to join our boycott, visit our legislators, contact U.S. officials, place paid advertisements, sponsor public demonstrations and vigils, show films, present speakers and exhibits and poetry readings and street theater, and otherwise pledge to be widely and creatively visible and vocal in building the international movement for justice and peace in Israel/Palestine.
[TOP]
---
The Haverford Campaign Calls for Divestment from Israel
"Do you notice that, even among educated people, there is general recognition of the fact that the modern state of Israel was founded as a symbol of the suffering of humanity…but almost no awareness that this has been at the expense of another people who were innocent of guilt?" These are the words of Harry Saul, a member of Haverford College's Class of 1972. Saul is a member of a group of Haverford alumni that have started The Haverford Campaign to demand that Haverford divest fully from any entity that contributes to or supports what he calls "the apartheid" in Gaza, the West Bank, and Israel.
Saul was inspired to start this campaign by his son, a member of the Students for Justice in Palestine group at Hampshire College, who recently helped convince the school's administration to completely divest. "The goals of the campaign are twofold," Saul said. "First to get the college to completely divest…second…to [help in] raising awareness."
According to Saul, one of the major challenges is educating people about the role that the United States plays in the conflict. "People in this country need to first know about what their government is doing," said Saul. "There is little awareness that the weapons…being used to inflict suffering…are made by American companies and largely paid for by tax dollars from Americans."
Although as Saul acknowledges, "it is notoriously difficult to get information about investments from private colleges," he is confident that Haverford must be investing in at least some of the companies that provide support to Israel, such as Caterpillar, United Technologies, General Electric, ITT Corporation, Motorola, and Terex.
[TOP]
---
Palestinian Land Day Celebrated as Part of March 30 Global Action Day to Boycott, Divest and Sanction Israel
Palestine has today become the test of our indispensable morality and our common humanity. We call on all to unite our different capacities and struggles in a Global Day of Action in Solidarity with the Palestinian people and for Boycott, Divestment and Sanctions (BDS) against Israel on March 30.
The mobilization coincides with Palestinian Land Day, the annual commemoration of the 1976 Israeli massacre of Palestinians in the Galilee in struggle against massive land expropriation, and forms part of the Global Week of Action against the Crises and War from March 28 to April 4. The week includes mobilization against war and crisis on March 30, anti-G20 demonstrations on March 28, and actions opposing NATO on April 4.
We urge people and their organizations around the globe to mobilize in visible BDS actions to make this day a step in this new anti-apartheid movement and for the fulfillment of the rights and dignity of the people and the accountability of the powerful. In our March 30 BDS actions, we will particularly focus on:
• Boycotts and divestment from Israeli corporations and international corporations that sustain Israeli apartheid and occupation.
• Legal action to end Israel's impunity and prosecute its war criminals through national court cases and international tribunals.
• Canceling and blocking free trade and other preferential agreements with Israel and imposing an arms embargo as the first steps toward fully fledged sanctions against Israel.
The time for the world to fully adopt and implement the Palestinian call for boycotts, divestment and sanctions is NOW. This campaign has to become an urgent part of every struggle for justice and humanity, by adopting widespread action against Israeli products, companies, academic and cultural institutions, sports groups, international corporations supporting Israeli policies of racism, ethnic cleansing and military occupation and pressuring governments for sanctions. It must be sustained until Israel provides free access to Gaza, dismantles the Apartheid Wall and ends its occupation and colonization of all Arab lands; recognizes the right of the Arab Palestinian citizens of Israel to full equality; and respects, protects and promotes the rights of the Palestinian refugees to return to their homes and properties.
For more information see: www.bdsmovement.net
* * *
List of Global Actions

United States
New York
New York City, March 30: New York Campaign for the Boycott of Israel (NYCBI) launch of a city-wide boycott Motorola campaign.
March 28: Commemorate Yom al-Ard with Palestinian Musical Folkloric band Hanin and Al-Awda Dabeh Troop and support Palestinian culture and identity!
New Jersey
Newark, March 30: Street action to support the March 30 Day of Global Action on Boycott Divest and Sanction Israel. Meet at Corner George & Albany St from 5 to 7 pm.
Kentucky
Louisville, March 28: 'What Really Happened in Gaza?' The Louisville Committee for Peace in the Middle East organizes an afternoon with plays, spoken word and testimonies on the siege and attack on Gaza.
California
Los Angeles, March 30: "From la Frontera to Gaza: Chicano-Palestinian Connections." Focuses on links between Mexico and Palestine, History of Palestine, Boycott as a Non-Violent Tool, and The Right to Education. USACBI event sponsored by the USC Department of American Studies and Ethnicity, Chicano and Latino American Studies, and USC Students for Justice in Palestine.
Santa Cruz, March 29: "We are all Gazans" The program includes screening "Dispatches: The Killing Zone," speakers recently returned from Gaza, and discussion of BDS actions in Santa Cruz.
San Diego, March 30: Commemoration of Land Day and film screening of "Wounds of the Heart: An Artist and Her Nation" sponsored by San Diego Coalition for Justice in Palestine and the San Diego Chapter of the American-Arab Anti-Discrimination Committee.
San Francisco, March 30: Boycott tabling and awareness raising organized by Break the Siege.
April 2: Educational event focusing on BDS strategy organized by Break the Siege and others.
Argentina
Buenos Aires, March 30: Commemoration of Land Day as a shared history of land confiscation in both Argentina and Palestine and film screenings organized by Ya Basta! association.
Australia
Melbourne, March 28: "Dump Connex" Campaign action. Also, a Palestine film festival will be held in Footscray. Both events are sponsored by International Women's Peace Service in Palestine and Direct Action.
Melbourne, March 30: The launch of the "The Sack Connex, Boycott Israel" campaign will be launched by the Coalition of Palestine support groups.
Across Australia, March 30: Beginning on March 30 and running until 3 April, Students for Palestine is organizing a week of activities on campuses' across the country.
Belgium
The Hague – Brussels, March 28 – 31: Cycling event calling for suspension of the European Union (EU) – Israel Association Agreement. Bicyclists will begin at the International Courts of Justice at The Hague on the 28th and arrive at European Parliament in Brussels on the 31st to deliver petition to European MPs. Organized by The Peace Cycle.
Brazil
Across Brazil, March 30: Various BDS actions and demonstrations
Britain
Across Britain March 30: Mass call to Waitrose and Tesco supermarkets' customer service to complain about the sale of Israeli products
Canada
Toronto, March 30: "Resisting War from Gaza to Kandahar" George Galloway talk organized by the Toronto Coalition to Stop the War (note: Galloway has been banned by Canadian authorities from entering the country).
Toronto, March 30: Boycott flyering outside Chapters/Indigo to educate about the majority shareholders funding of the Heseg Foundation.
Montreal, March 30: Demonstration in front of the Israeli consulate organized by CJPP
Ecuador
Quito, March 30: Mass demonstration and the inauguration of three panels discussing Palestinian identity. Panel 1, "Imperialism and phases of global domination"
March 31: Panel 2, "Resistance of the Palestinian People and International Solidarity"
April 1: Panel 3, "History and solidarity actions in Ecuador"
April 2: Video Forum on the current situation of the Palestinians
France
Le Mans, March 28: Day of solidarity with the Palestinian People organized by AFPS
Lille, March 28: Demonstration at 3:30pm at Euralille organized by Association France Palestine Solidarité (AFPS)
Manosque, March 28: Conference for Land Day with Nidal Shiwani and Rene Brackman organized by AFPS
Marseille, March 30: Panel discussion at 7 pm with Speakers: Mme Alima Boumediene-Thiery, Maitre Gilles-Devers, spokesperson of the NGO coalition that has brought a case against Israel before the International Criminal Court, M.Nabil El Haggar, vice president of the university in Lille. Press conference with the speakers at 5 pm.
Paris, March 28: Demonstration at 2 pm, Place du Chatelet organized by a coalition of organizations; Concert at 7.30 pm at the Palais des Congrès de Paris, organized by AFPS
St Brieuc, March 28: Film screening of "The Iron Wall" and debate organized by AFPS
St Denis (near Paris), March 28/29: Conference on the Right to Return
Germany
Frankfurt, March 30: Vigil for Gaza organized by AK Palaestina-israel/Frankfurt
Hamburg, March 30: Demonstration through the city center, gathering at 5 pm in front of the train station
Greece
Crete, April 2: Demonstration in support of sports boycott and protest of the Greece – Israel soccer match in Heraclion.
India
Bombay, March 30: Land Day and BDS demonstration targeting the Israel - India arms trade organized by various social movements and political parties.
Delhi, March 30: Exhibition, poetry reading and the film screening.
Italy
Cagliari, March 30: "Boycott Israel: How and Why?" talk and discussion held by Group Falastin and Friendship Association Sardinia-Palestine
Florence, March 28: Sit-ins in front of numerous supermarkets in the city organized by Forum Palestina
Milan, March 30: Sit-in and demonstration at the Milan municipality building protesting a twinning initiative as well as the training of local police in Milan by the Israeli military forces. Organized by Forum Palestina and Milan Network to Boycott Israel.
Paltermo, March 30: A march from the faculty of Political Sciences at the University of Palermo to Auchan.
Pesaro, Jesi, Civitanova Marche, Macerata, March 30: Conference, film screening and cultural events organized by Ya Basta!, Campagna Palestina Solidarietà, and Comunità Resistenti
Pisa, March 29: Palestinian dinner and concert with the Palestinian band Maram
Rome, March 28: Picket and flyering at an Italian supermarket chain organized by Forum Palestina; March 30: Palestine contingent joining trade union demonstration; April 3: Sit-in at the Finmeccanica (Piazza Montegrappa), from 11 am to 1 pm to call for investigation into arms trade between the state owned company and Israel. The initiative is launched by FIOM, the Italain union of metal workers.
Verona, March 29: Boycott event at Teatro Stigmata and conference on BDS organized by Comitato Stop alla Guerra
Netherlands
The Hague, March 28: Start of The Peace Cycle in The Hague at the International Court of Justice, cycling past the International Criminal Court. The cycling event from The Hague to Brussels calls for suspension of the EU – Israel Association Agreement.
Utrecht, March 28: Conference from Friends of Sabeel, March 30: Political debate held by the GreenLeft Party.
Vlaardingen (near Rotterdam), March 29: Memorial meeting from Al Awda, Netherlands Palestine Committee and others.
Norway
Kristiansand, March 30: Debate, "How to sanction Israeli human rights violations? Boycott, divestment, sanctions and other mechanisms." Organized by the Socialist Youth of Norway at the University of Agder.
Oslo, March 30: The Norwegian Association of NGO's for Palestine (FuP) will hold a debate and workshop entitled, "Boycott, divestment and sanctions – which tools can we use to pressure Israel?" In selected neighborhoods of Oslo, the Socialist Youth will engage in a face to face boycott action, going door to door and informing inhabitants about the BDS campaign, which products to boycott, and how they can get involved. The Palestine Committee and others will hold a joint BDS demonstration at the Israeli embassy in Oslo. Palestine activists at the University of Oslo will have a direct action confronting stores at campus selling Israeli goods.
Trondheim, March 30: Activists with Friends of Palestine will visit food shops in the town, dressed in black T-shirts, with a letter on each, that together spells: BOIKOTT ISRAEL.
Scotland
Glasglow, March 29: Supermarket boycott action organized by the Palestine Solidarity Campaign (PSC).
Edinburgh, March 30: Supermarket boycott action organized by the PSC.
Spain
Cuenca, March 26 - April 2: Exhibitions "Artistas en Palestina" and "Las otras voces de Israel y Palestina" organized by ACCP organization
Madrid, March 27: Panel discussion "Palestine and Arab Resistance"
Torrelavega, April 5: "Teatro por Palestina" organized by Red Cantabra de Solidaridad con Palestina
Tunisia
Tunis, March 30: BDS conference is planned to discuss anti-normalisation with Israel as well as BDS education and action.
Uruguay
Montevideo, March 30: Commemoration of Land Day and talk organized by the Ya Basta! association.
Venezuela
Caracas, March 30: Global action day activity will be held in the Teatro Municipal, Caracas, with music, film and speeches. The event will show solidarity with peoples oppressed by war and imperialism, particularly in Iraq and Palestine, and promote the Global BDS Palestinian call in Venezuela. Organized by the local solidarity movement with Palestinian people's struggle.