All Out for May Day 2009
Step Up the Fight for Alternatives
that Defend Rights
The U.S. Marxist-Leninist Organization (USMLO) salutes all the workers and peoples worldwide organizing to defend rights and bring about another world. We salute all the battles being waged for change that favors the people. We applaud the many May Day actions taking place across the U.S., as workers here take their stand together with workers everywhere fighting for the new. It is the working class that embodies and represents that new, with both the ability and duty to bring it into being. On this May Day 2009, let all join in stepping up the fight for alternatives, for a new economic model and political system that puts the rights of all at the center!
Everywhere this battle is engaged, as working people oppose efforts to make them pay for the global economic crisis and demand instead that it is the rights of the people that must be put center stage. In many forms, whether defending schools, opposing layoffs and plant closures, defending hospitals, demanding pensions, opposing raids and deportations, rejecting the border death wall and efforts to divide the workers, standing up against police brutality and state organized racism, protecting the environment, calling for the end to U.S. wars of aggression, running anti-war candidates, together people are saying they want change that favors the people and they want it now.
Instead government is acting to defend monopoly right to savage the earth and put humanity in peril. With the recent G20 and NATO Summits, as well as the Summit of the Americas, it was crystal clear that even after causing the worst economic crisis in modern memory, U.S. imperialism refuses to accept responsibility. There is no plan to guarantee an end to hunger and poverty, no plan to end the massive waste and destruction of war funding, no plan to block the monopolies from imposing yet more ruin. On the contrary, the U.S. and their imperialist rivals are insisting that the same failed institutions that contributed to the crisis, like the International Monetary Fund (IMF) and Wall Street financiers, must be given yet more public funds. And this despite the fact that the monopolies do not use the public funds to benefit the economy and workers that produce the wealth, but necessarily use them for war-making and gaining more profits.
The workers and peoples worldwide are saying NO! Stop paying the rich! Invest in Social Program NOW! Livelihoods, pensions, food, housing, healthcare and education for all now! These are rights of the people, not privileges, rights the government is duty bound to uphold. These rights cannot be given or taken away. The rights of the workers belong to the workers as workers, and the rights of the people belong to them as human beings.
The U.S. rulers are acting contrary to this modern conception of rights and the modern conception of democracy that goes with it — that it is the right of the people themselves to govern and decide and yes they can do so!
It is a backward medieval notion that government can rule like Kings and consider the rights of the people as privileges. Such negation of the people's rights is not acceptable and is a further indication that the current economic and political model must go. As it was put at the Summit of the Bolivarian Alternative for the Peoples' of Our Americas (ALBA), capitalism is putting an end to humanity and the planet. What is needed is a new economic and political model, one that is human-centered, putting the rights of all at the center.
It is the social responsibility of government in this modern age of socialized economies capable of providing for all, to guarantee rights. Indeed, guaranteeing the rights to a livelihood, pensions, housing, education and healthcare are the minimum responsibilities of modern government. These rights are not dreams, they are not promises, they are rights that belong to the people as human beings.
It is the social responsibility of government to block the monopolies as they trample on the rights of the peoples. And if the government refuses, they must be replaced. This is the reality that is coming ever sharper to the fore. And it is the working class that must organize and lead this battle for a new economy and new democracy, for government where the people themselves govern and decide.
This fight today is being advanced in the struggle to defend rights and in advancing the efforts to block the dictate of the monopolies and advance the role of the people in deciding all matters. It is being advanced through building up the organized forces fighting on the basis of the working class outlook and aims for a new society. The USMLO is one such force and we call on all to join the work to build the new in the here and now. Join USMLO in building our collectives that empower members to decide and together implement decisions, in building and strengthening news media like Voice of Revolution that provide the stands, information and analysis needed to make our battles more effective. Join the work to unite all to win the change required.
Step Up the Fight for Alternatives that Defend Rights!
Organize for the People to Govern and Decide!
The Working Class Can and Must Do It!
Workers of All Countries Unite!
[TOP]
---
We Are All Human Beings! No One Is Illegal!
We are joining May Day actions, a day of multi-ethnic unity with youth, labor, peace and justice communities in solidarity with immigrant workers and organizing to build the immigrant rights and civil rights movement!
Wear a white T-shirt, organize local actions to support immigrant worker rights!
1) No to the criminalization of the immigrant communities and anti-immigrant legislation
2) No to militarization of the border
3) No to detentions and deportation
4) No to the guest worker program
5) No to employer sanctions and "no match" letters.
6) Yes to legalization without condition for undocumented immigrants NOW.
7) Yes to speedy family reunification
8) Yes to civil rights and humane immigration law
9) Yes to labor rights and living wages for all workers
10) Yes to education and LGBTQ immigrant legislation
We encourage everyone to actively link our issues with different struggles: wars in Africa, the Americas, Asia, Iraq, Afghanistan, Palestine and Korea with sweatshop exploitation in Asia as well as in Los Angeles, New York; international arm sales and WTO, FTAA, NAFTA and CAFTA with AIDS, hunger, child labor; as well as multinational corporations and economic exploitation with racism and poverty at home — so that we can win the struggle together at this May Day 2009!
Please send your May Day 2009 reports to: info@ImmigrantSolidarity.org
[TOP]
---
Come Out for Worker and Immigrant Rights May 1
On the 100th day of President Barack Obama's administration, join the movement to come out for worker and immigrant rights on May 1!
Working people here and worldwide are facing a growing -crisis. Unemployment is reaching record levels. Nearly 20 million people are unemployed or underemployed. Tens of thousands of people have been thrown out of their homes as the foreclosure and eviction crisis grows. State and local budgets are being slashed, with draconian cuts in education, housing, and healthcare, while tuition, and transit fares increase. Every day we hear news of a new round of layoffs. What is often not reported is the growing movement among working people to demand immediate relief for the people — not handouts to wealthy CEOs.
Since 2006, workers have marched on May 1 to commemorate May Day, International Workers Day, even as the crisis is growing among immigrant workers. Department of Homeland Security and Immigration and Customs Enforcement (ICE) raids are on the rise. Families are being ripped apart as parents are hauled away to detention centers without legal rights or due process. Children are often left stranded at school when their parents are swept up in this terror campaign.
The horrific raids and deportations, the criminalizing of workers, the beatings and killings are meant not just to terrorize immigrant workers but to divide us. There is now a great opportunity for working and progressive people to help continue to revive the legacy of May Day in the spirit of unity and common interests. As all workers face a growing crisis, now is the time to unite and organize in our own name and for our own interests.
New York City: Assemble in Union Square
14th Street & Broadway
Friday, May 1, 12 noon, music and cultural festival
Rally at 4:00pm, March at 5:30pm to Federal Plaza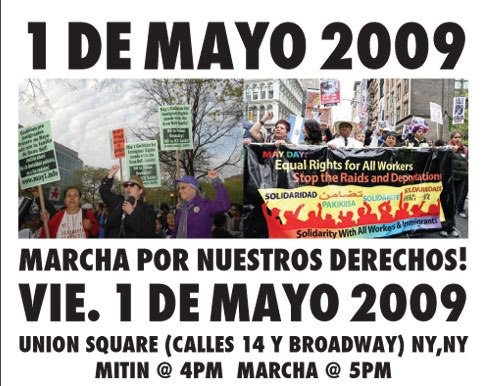 [TOP]
---
Workers, Youth, Immigrants, Community Groups and Organizers Hold Press Conference
Street vendors, day laborers, students, union and other progressive activists along with many others will held a press conference Monday, April 27 at 12 noon at Union Square to announce final plans for May Day 2009.
Filipino activists and immigrants brought a 6-foot letter addressed to President Barack Obama urging him to pass just and humane comprehensive immigration reform this year. Ecuadorian activists announced plans for a hunger strike to begin soon to oppose raids and deportations. Street vendors demanded more vending licenses and opposed permit caps as well as police harassment. Day laborers from Queens and New Jersey talked about police harassment and the demand for workers centers not ICE detention centers.
Members of the May 1st coalition provided more details and final plans for May Day 2009. Thousands of people are expected to gather this May Day and all are calling on President Obama to pass immigration reform with immediate and full legalization for all now.
Demonstrations are taking place May 1 in cities around the country including Los Angeles, Detroit, Madison, Tucson, Houston, San Francisco, San Antonio, Boston and many other cities.
The New York City rally and march will begin at Union Square at 12 noon with music and culture. The rally will begin at 4pm and demonstrators will leave Union Square at 5:30pm to march to Federal Plaza.
For More Information Contact Press Coordinators:Tatiana Bejar-917-597-6941 • Sergio Aguirre 347-998-4338 • Daniel Vila 718-414-9558
[TOP]
---
Fourth Grand May Day March
March in Defense of Human Rights
Stop Home Foreclosures, Evictions & Utility Shutoffs!
Stop Raids & Deportations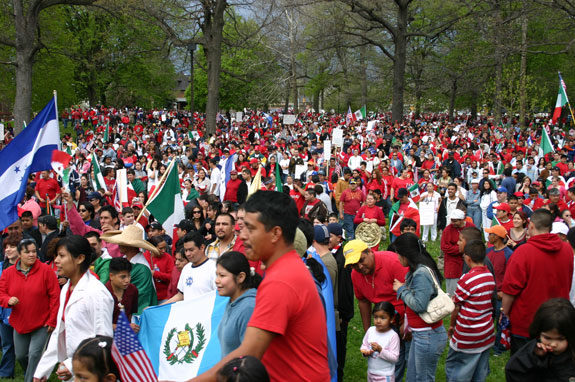 Separating children from their parents is a Human Rights Violation. We demand that the inhumane detention centers for immigrant families be closed now. We want Legalization for all, including immigrant youth. We say NO to a "Guest Worker" Program, which is equivalent to indentured servitude, Slavery! Down with the U.S.- Mexico Border Wall!
We Demand Immigration Reform Now. President Barack Obama was elected to the presidency with 70 percent of the Latino Vote. Mr. Obama promised that if elected, he would approve pro-immigrant reform in 2009. The current situation is not adequate for immigrant families and the needs of our economy. Immediate Legalization for All!
10am: MEET at W. Vernor & Woodmere
12 noon: RALLY, Clark Park
Join Latinos Unidos, We need you!
For Additional Information please call or write:
Rosendo 313-580-5474 • rosendo@luum.org • www.luum.org
or Ignacio 313-575-4933 • Evelyn 313-258-2486 • Eusebia 313-342-4028 • Hector 313-585-9768 • Benjamin 908-868-5523
[TOP]
---
May Day March and Rally for Rights
Attention All Workers, Students and those who believe in Human Rights For All! This May 1, 2009 march for the rights of all to work, organize, study, and live without fear; for an end to raids and deportations; and for the legalization of the more than 12,000 undocumented immigrants living and working in the United States. On May 1st, International Worker's Day, march for rights! Stand together and reject all efforts to divide the workers and blame them for the crisis.
Press Conference, April 30, Haymarket Memorial
Chicago May Day organizers defied city pressures to cancel their May Day march amidst fears of a possible influenza outbreak. Immigrants and workers together with their allies will go forward with their May Day march for equality, labor rights, legalization and just immigration laws.

Using the fear surrounding the swine flu outbreak, anti-immigrant groups, including those in city government, called for a cancellation of the workers' and immigrants' rights demonstration. Immigrants and workers resolved to hold fast and rally with the slogan "Without legalization there can be no equal labor rights" despite targeted attacks from the government. Father Jose Landaverde said "I was directly contacted by city officials. They wanted to know if we were canceling the march, they wanted us to agree to wear masks if the march was going to happen."

Margarita Klein, Staff Director of Workers United, states: "If people are not allowed to march on May Day because of health concerns, then similar precautions must be taken in other crowded events taking place in Chicago. We will cancel the march when every sporting event, movie showing, church service and class is cancelled."

While aware of the situation in Mexico City, march organizers wish to express their demands without being singled out because of their country of origin. May Day is a traditional day to raise grievances dating back over 100 years. Workers and immigrants are under attack and city officials can not discourage May Day organizers from exercising their rights to raise issues that affect millions of people.
Media Contact:
Jorge Mujica (773) 852-8815
Chris Mahin (773) 726-1284
Northeastern Students, Faculty, and Staff Walk Out on May Day
Walk Out for immigrant and workers rights, for the right to education and to oppose the closing of Chicago Public Schools, to oppose the war on Iraq, Afghanistan, Africa, Palestine, & Korea, oppose the militarization of our borders, international arm sales, WTO, FTAA, NAFTA & CAFTA, Plan Columbia & Plan Mexico. Saying no to "guest" worker programs, ICE and immigration detentions centers, raids, deportations. Say No to anti-immigration legislation and the criminalization of immigrant communities, WALK OUT to support legalization for undocumented immigrants now!
[TOP]
---
Stop the ICE Raids Now! Full Legalization for All!
[TOP]
---
May Day Actions Across the Country
Below are some of the many actions taking place on May Day, Friday May 1 across the country. For additional information go to www.immigrantsolidarity.org/calendar
Washington State
Seattle: 9th Annual May 1 March & Rally
3:30pm Rally at Judkins Playfield (behind St. Marys Church - 611 20th Ave S); March 4pm
We marched, we voted, we continue to mobilize!
This May 1 we call on President Obama to Renew Justice and Guarantee Rights for All!
Contact: Helene Lustan • helene@wsjwj.org • 206-388-7474
Oregon
Salem: Unity March and Rally at the Oregon State Capitol to demand just immigration reform.
11am: Oregon State Capitol, 900 Court St. NE.
Contact: Francisco Lopez, 503.269.5694 • www.causaoregon.org
California
Calexico: All day, Bi-national immigration symposium on rights, San Diego State University
Imperial Valley Campus, 720 Heber Ave.
For more information, contact Rogelio Reyes (rreyes@mail.sdsu.edu, tel. 760-768-5532).
Oakland: Students/Youth March to City Hall! Day Of Action to Boycott, Rally, and March: Stop the Raids and Deportations! Full and Equal Rights for All Immigrants!
10am: Gather at High St. and International Blvd.
March to City Hall!

Santa Cruz: Join us for a March and Rally for Justice and Human Rights!
4pm: Watsonville Plaza, Main Street and Beach Street.
Demand comprehensive immigration reform with pathways to citizenship! Activities in the Watsonville Plaza with Speakers, Free Consultations with Lawyers, Films, & More!
Contact: brownberets@msn.com
San Diego: MAY 1 Immigrant Rights March
Marcha por los Derechos de los y las Immigrantes
2:30pm: San Diego City College, 1313 Park Blvd.
March to Chicano Park for Rally. Now is the Time to:
• End ICE Raids, Detentions & Deportations
• Legalization & The Right to Migrate
• Dignified Work for All
• Equal Access to Education
• End to Wasteful Spending on Border Fences
Sponsored by: May Day Coalition
Nevada
Las Vegas: March and rally for immigrant rights.
3:30pm: Meet-up Commercial Center Sahara and Eastern
5:00pm: March to Federal Courthouse
We demand: Stop the Raids, Comprehensive Immigration Reform Now
Contact: Vicenta Montoya • sisepuededcsn@aol.com • 702-386-5705
Texas
Austin: May Day March
6pm: Rally in front of Capitol and march to City Hall
We demand a just immigration reform and protest the Hutto Detention Center and ICE presence in Travis County Jails.
Contact: www.austinirc.org

San Antonio: International Workers Day March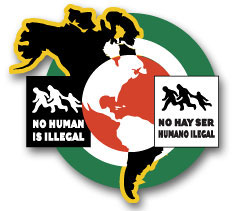 6pm: Milam Park, in Front of Santa Rosa Hospital
PEOPLE DEMAND:
NO Wall on the Border
STOP Deportations & Raids
NO Military on the US/Mexico Border
NO Bailout for the Rich People
STOP the War in Iraq

Sponsored by: Southwest Workers Union, Fuerza Unida, Cesar Chavez Committee, Esperanza Peace and Justice, May 1st Coalition, MACC, Guadalupe Church, IUE, LULAC, Zapatista Council, Indigenous Council, UNITE, MECHA, Mucisians Coalition, Brown Berets, Migrantes Unidos; call 210-299-2666

Kansas
Wichita: May Day March
6pm: City Hall, 455 N. Main Street.
Hosted by Sunflower Community Action • www.sunfloweract.org
Contact: Emira Palacios • emira@sunfloweract.org • 316-264-9972 x17
Minnesota
Minneapolis: May 1st 2009 - United for International Workers Day since 1886
Street Festival and March
4pm March: Lake Street & 13th Ave
5-8pm Street Festival: Nicollet Ave & 29th Street
Demand:
• Stop the Raids & Deportations
• Immediate & Unconditional Legalization for All
Minnesota Immigrant Rights Action Coalition • tcmay1solidarity@gmail.com • 651-389-9174
Wisconsin
Madison: March for the poor, immigrants & workers
11am: Gathering at Brittingham Park 11:45am. Depart Park to the Capitol
Demand:
• Universal health care now
• Mandatory paid sick leave
• A living wage
• Halt foreclosures and evictions
• Real funding for public schools
• Immigrant access to identification and drivers licenses
• Amnesty for immigrant workers
Madison May Day Committee • info@immigrantworkers.org
Milwaukee: Immigrant & Labor Rights March
12 noon: March will begin on 5th and Washington Streets and go to Veteran's Park
Demand:
• Legalization Now
• An End To The Raids
• Access To Higher Education
• Good Jobs
• Paid Sick Days
Voces de la Frontera • 414-643-1620
Kentucky
Louisville: May Day Rally
11:30 a.m. Gather at Courthouse for March (Broadway & 6th) Noon: Rally at Jefferson & 6th
Join the May Day Coalition on May 1 in Louisville! Come out and Help Make the Changes We Urgently Need! Demand Comprehensive Immigration Reform with legalization for undocumented workers, no more raids, detentions and deportations! No more deaths and warehousing of immigrant detainees! Fight for labor right, immigrant right, civil rights and economic justice!
Contact: Vivian Marin, UFCW 227 • sbartlett@ag-missions.org • 502-582-3508 X112
Florida
Immokalee: Student Farmworker Alliance "Dine with Dignity" Campus actions
www.sfalliance.org
Gainesville: Mayday Rally and March
4:30 pm at the Kirby Smith Community Center, 620 East University Ave.
Education activists in Gainesville, Florida are organizing a rally and march whose focus will be on the education funding crisis in our state. Local labor unions, including the NEA local, have endorsed this event.
Contact: Skeet Surrency - Coalition Save our Schools • ufcoalitionsos@gmail.com • 941-374-2841
Miami: Come out and march for May Day 2009! Si Se Puede!
4pm: Downtown Miami, 100 Chopin Plaza
Legalization for Immigrants NOW! End the raids, detentions & deportations! Temporary Protected Status (TPS) for Haitians! We say: Provide public services — these are our rights: Housing! Education! Health care! Bring all troops home, from everywhere and end U.S. militarism & intervention around the world! Use our taxes to serve human needs, not to kill and destroy. We demand: Extend Unemployment Benefits, Stop Foreclosures, Use Public Works to Create Jobs, and Double the Minimum Wage!
Miami May Day Alliance • maikolmg@hotmail.com • 786-985-9048
Washington, DC
May 1st Mobilization & Rally
3pm: Malcolm X Park, Corners of W St. NW, and 16th St. NW
Join us at Malcolm X Park for a march to the White House to show that immigration reform still matters, that we want an end to immigration raids that separate families and we want an end to collaborations between immigration and local police.
National Capital Immigrant Coalition • egarces@ncicmetro.org • 888-624-2001
Pennsylvania
Pittsburgh: Vigil and March for Rights. On May Day Take A Stand for Immigrant Rights.
4pm Vigil in front of the Allegheny County Jail, 2nd Ave. (near 10th street bridge). March at 5pm
All united for respect and dignity for the working class! We are indignant about current anti-immigrant laws that are punishing and terrorizing our communities with raids and deportations. We support immigration reform that protects all immigrants in this country and stops racism. Immigrants are not criminals, they are workers!
Rhode Island
Providence: Immigrant Rights March
1pm: Rally at ICE headquarters downtown
Contact: Wally Sillanpoa: 401-351-1434
Massachusetts
Boston: May Day March
Marches leaving from two locations:
2pm: March from Central Square, East Boston
3pm: March from Chelsea City Hall, gathering time 3:00pm
4:40pm: Rally at Glendale Park, Elm St., Everett
We demand:
Stop the Raids and Deportations. Amnesty now!
Immediate Permanent Residency for All Who Live Here!
Jobs and Equal Rights for All Workers NOW!

We say:
No Human Being is Illegal!
No to border walls and the criminalization of migrants!

This event is organized by the May 1 Coalition of Chelsea, East Boston & Everett and supported by the Boston May Day Committee.
Contact Sergio Reyes 617-290-5614
Boston May Day Committee • bostonmayday.org
Vermont
Montpelier: Join thousands of Vermonters from every corner of the state to demand healthcare as a basic human right for everybody.
12 noon: Rally at Vermont Statehouse, 111 State St
Vermont Workers Center • james@workerscenter.org • 802-861-2877
[TOP]
---
Immigrant Rights Activists Oppose Traffic Checkpoints
The Pomona Police Department (California) has conducted two checkpoints in just one week. The police arbitrarily stop people, demanding a driver's license and/or testing for driving under the influence of alcohol (DUI). They target areas where there are large numbers of workers and national minorities.
Pomona is the fifth largest city in Los Angeles County and is located in the eastern fringe, bordering San Bernardino County. It has a population that is about 71 percent Latino and 36.1 percent foreign born (according to the U.S. Census American Community Survey 3-Yr Estimate, 2005-2007.)
These local traffic checkpoints have a strong negative impact on thousands of poor immigrants, including many families. Police impound the car and court fees usually total up to about $1,500. The work, school, and daily-living routines of families involved are severely impacted by the loss of their vehicle and funds. As well, using traffic violations to entangle immigrants in the legal system is another means to terrorize those who are undocumented and deport them. California refuses to allow undocumented workers to get a driver's license, so these workers are being criminalized based on unjust discrimination by the state.
The fact that the state-level government is behind these actions can be seen in the funding for the checkpoints, which comes from grants awarded to the city of Pomona by the California Office of Traffic Safety. The administrators of the grants are the University of California's Traffic Safety Center based at UC Berkeley's Institute of Transportation Studies.
Many also consider the arbitrary checkpoints, set up without cause and targeting any the police see fit, are against the Fourth Amendment protection against unreasonable searches and seizures. The racism involved can also be seen from the excessive and arbitrary use of the checkpoints in Ponoma and neighboring Clarence, where the majority of the population is national minorities.
Activists are demanding an end to the checkpoints. They have protested at the checkpoints and alerted drivers to their rights. They are demanding that the Ponoma City Council take action to end the unjust policy of checkpoints.
For more information contact, Juan C. Garcia • jcgarcia91768@hotmail.com
or the Pomona Habla hotline: 909-922-0440
[TOP]
---
Religious Activists Prepare to Block ICE Detention Center
Sister of Mercy Pat Murphy just celebrated her 80th Birthday but she is not slowing down! For the last 2 and a half years she and Sister Jo Ann have prayed every Friday morning at 7:15am in front of the Broadview Federal Immigrant Detention Center, near Chicago, Illinois. They pray outside because Immigration and Customs Enforcement (ICE) will not let them pray inside with the detainees. The prayer sessions are part of opposition to the unjust detention and deportation of immigrants. More than 11,000 immigrants have been deported from this facility in the past year.
Sister Pat, Sister Jo Ann, and a group of priests, pastors, rabbis, imams, and allies including Joshua Hoyt, ICIRR's Director have announced that they are willing to block the driveway of the Broadview Center with 15 minutes of prayer. Their demand is simple: Allow religious workers in to provide pastoral care to the detainees! Stop unjust deportations!
The Broadview facility, in west suburban Chicago, is where immigrants arrested by ICE throughout the Midwest and beyond are brought for initial processing before moving them to county jails to be detained. ICE also brings detainees back to Broadview for processing before transporting them to area airports for deportation.
The pace of detention and deportation has accelerated over the past few years — and with it the human toll. During the past federal fiscal year, ICE deported 357,000 immigrants, a 50 percent jump from three years before.
In January, the Department of Homeland Security Inspector General estimated that from 1998 to 2007, the U.S. has deported more than 108,000 immigrants whose children have U.S. citizenship. ICE's detention capacity has increased to a record-high 33,400, having added 10,450 detention beds during the past two years.
At least 100 detainees have died while in ICE custody since 2003. In 2005, Hassiba Belbachir, an Algerian asylum seeker hung herself while held at McHenry County Jail after expressing suicidal feelings to jail personnel.
Please join us at Broadview in solidarity with Sister Pat, Sister Jo Ann, and with the immigrant detainees:
Thursday, April 30, 2009
10:30-11:30am
1930 Beach St, Broadview (Just west of Oak Park, Illinois)
We also ask everyone to send a fax to ICE Detention Director Ricardo Wong, to allow the Sisters to provide pastoral care to detainees.
[TOP]
---
Demand for Labor Law to Cover
Farm and Domestic Workers
Labor organizers are demanding that the government end the exclusion of farmworkers and domestics from the rights and protections of the National Labor Relations Act, in place since 1935. Many if not most of the workers involved are immigrants, many undocumented. Activists sent a letter recently to Labor Secretary Hilda Solis, calling for the rights of farm and domestic workers to be affirmed by the new Barack Obama administration. Activists circulated the letter among labor organizers and received broad support.
On Cesar Chavez Day this year, March 31, a national initiative to reverse 74 years of government-sanctioned racial and economic discrimination directed at farmworkers and domestics was launched. Organizers for the initiative, known as Labor Justice report, "We are not alone — the National Domestic Workers Alliance (NDWA), the Farm Labor Organizing Committee, AFL-CIO (FLOC) and Teamster Local 890 (Salinas) are co-sponsors of the effort. In addition, 222 like-minded and committed people from 25 states have written to us asking to be included as founding members of Labor Justice.
"We are not naïve. Calling for a national initiative to erase racial discrimination and bring justice to farmworkers and domestics is easy, but as Martin Luther King, Jr. wrote from his jail cell in Birmingham, the work of developing the constructive and nonviolent tension which is necessary for growth to right these wrongs will be difficult, but it can be done!
"Empowered by the words of Dr. King, "The arc of the moral universe is long but it bends toward justice," we look forward to the day when this last vestige of slavery and segregation will forever be erased from our nation's history. ¡Si Se Puede!
Organizers are striving to get 1000 Founding Members for Labor Justice and have already secured 222. They urge all concerned to join in speaking out against this government-organized racial discrimination directed at farmworkers and domestic workers. The urge all to support their Mission Statement: "The 1935 exclusion of farmworkers and domestics from the protections of the National Labor Relations Act is one of our nation's last vestiges of slavery and segregation. Now is the time to bring labor justice to farmworkers and domestics by including them in a reformed, fair and workable Act."
[TOP]
---
Non-violent Civil Disobedience Planned to Shut Down ICE Headquarters
In an open letter to President Obama, community members have announced that if the Obama administration does not sign an executive order declaring a moratorium on immigration raids and deportations, they will take matters into their own hands through non-violent civil disobedience aimed at shutting down Immigration and Customs Enforcement (ICE) headquarters.
This action is in response to the raids and deportations which have torn families and communities apart, and resulted in numerous human rights abuses as detailed in Amnesty International's recently released report: "Jailed Without Justice: Immigration Detention in the USA." Over the past several years, the immigrant rights movement has organized marches, hunger strikes, petitions, and voter turnout, all with the goal of ending these human rights abuses; yet the raids and deportations continue.
President Obama has said, "Change will not come if we wait for some other person or some other time. We are the ones we've been waiting for. We are the change that we seek." Community members are ready to realize this message. Phillip Lickteig, one of the dozens of community members participating in this action, states, "President Obama, we take you at your word. If an executive order declaring a moratorium on ICE raids is not signed within the first hundred days of your administration, we will use non-violent civil disobedience to shut down ICE detention centers. We are non-violent because we wish, through contrast, to expose the system of violence and fear that pervades the communities, workplaces, schools, and homes of the undocumented and their children. We are disobedient because the law is unjust."
Our demand is simple: We demand that President Obama sign an executive order declaring an immediate moratorium on raids and deportations until a just immigration law is passed.
On May 6, at 7am, we will conduct a non-violent civil disobedience action at ICE Headquarters to prevent ICE from deporting members of our families and communities. On May 1, following our May Day march at 4pm, we will conduct training for the May 6 action at 6pm.
The Minnesota Immigrant Rights Action coalition (MIRAc) organizes the immigrant community and their allies to try to win legalization for all and equality in all aspects of life. We struggle for legalization, for a moratorium on raids and deportations, and for driver's licenses for all regardless of immigration status. MIRAc was formed in Spring 2006 out of the huge immigrant rights marches. We have organized many protests, marches and other activities for immigrant rights in Minnesota since then.
Contact: Nick Espinosa, 612-432-8888, Espinosa.Nick@gmail.com
Amnesty International's report: www.amnestyusa.org/uploads/JailedWithoutJustice.pdf