End Colonization of Puerto Rico Now!
Free All Political Prisoners Now!
The U.S. invaded Puerto Rico on July 25, 1898 and has occupied it as a colony ever since. The world's peoples repeatedly rose up against colonialism and through their struggles established in international law that colonialism is a crime against humanity. And that those oppressed by colonization have the right to resist and overthrow the colonizers, including armed resistance. The United Nations includes in its resolutions the condemnation of colonialism as a crime against humanity and a decolonization process requiring the transfer of all political power to the colonized nation, the withdrawal of all military and paramilitary troops, reparations and the freedom of all political prisoners. These are the requirements for a process of de-colonization to be genuine one, in compliance with international law (see UN Resolution 1514 for example). The UN decolonization committee has yearly voted calling on the U.S. to support of the decolonization of Puerto Rico and the U.S. has systematically refused to submit to this demand and international law.
U.S. occupation of Puerto Rico is a crime against humanity, as is the continued holding of Puerto Rican political prisoners for exercising their right to resist occupation. End U.S. Colonization Now! Free All Political Prisoners Now!
Voice of Revolution salutes the struggle of the Puerto Rican people for independence and all of their rights. June 5 saw more than 100,000 Puerto Ricans opposing the massive layoffs of public sector workers and privatization of public enterprises, all as part of U.S. dictate. The people of Puerto Rico, united under the demand All Puerto Ricans for Puerto Rico are opposing the attacks on their livelihood and well being and also advancing their struggle for independence. This was seen by the action of six Puerto Ricans who traveled to Washington, DC and organized civil disobedience in Congress. Taking such action is their right, yet they were arrested and charged, much like Puerto Rican independence fighters before them.
The actions by tens of thousands of Puerto Ricans June 5, just days after the U.S. defeat at the Organization of American States (OAS), also brought to the fore the double standards of U.S.-style democracy. The U.S. went to the OAS claiming to be "defenders of democracy," right while they are committing the crime of occupying Puerto Rico as a colony. The U.S. prevents Puerto Rico from participating in the OAS as a vital part of the Caribbean region.
The defeat the U.S. suffered, when the OAS voted to revoke the ban on Cuba's participation may well now be followed by the demand of OAS countries to include Puerto Rico. Or, as many indicated, they will simply go forward with new regional organizations representing their unity and interests, where Puerto Rico will no doubt be welcomed. As Daniel Ortega, speaking at the Summit of the Americas in April, where Cuba was also excluded said, "Another country that is not present here because unlike Cuba, which is an independent and supportive nation, this people is still forced to submit to colonialist policies: I mean the fraternal people of Puerto Rico. We are working to build a great alliance, a great unity of Latin American and Caribbean peoples. The day will come when the Puerto Rican people are also a part of that great alliance."
End U.S. Colonization Now!
Free All Political Prisoners Now!
[TOP]
---
Mass Protest Defends Workers and the Nation
All Puerto Rico for Puerto Rico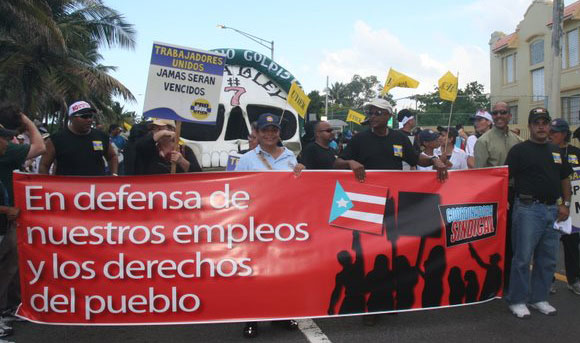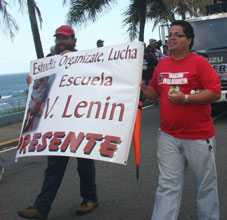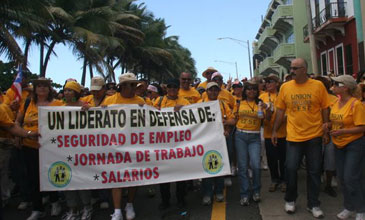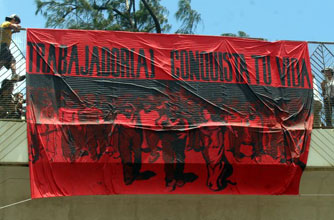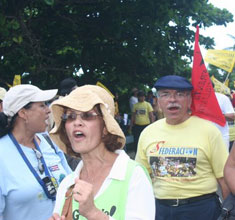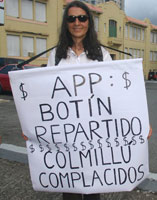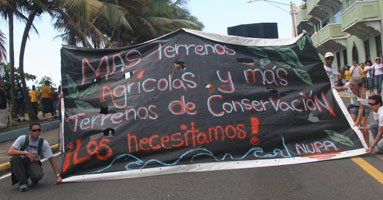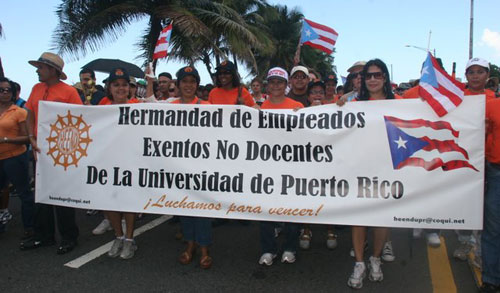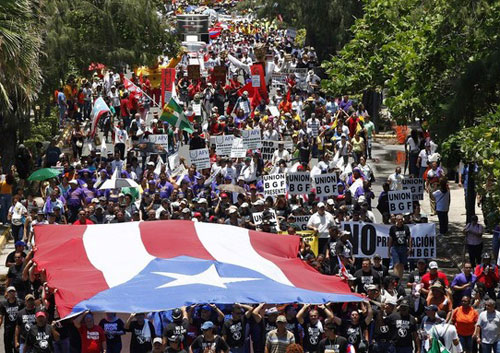 Protest Denounces Attacks on Collective Rights of Workers and the Nation
All Puerto Rico for Puerto Rico
More than 100,000 people marched in San Juan, Puerto Rico, Friday June 5 to oppose the recent firing of some 10,000 workers by Governor Luis Fortuño and defend the collective rights of the workers and the nation. They took their stand to oppose tyranny and that the attack on the collective rights of the workers represented an attack on the nation. Their call of All Puerto Rico for Puerto Rico and the unified stand it represented was widely applauded.
The governor, in the name of "balancing the budget," plans to layoff another 20,000 workers and privatize every remaining bit of the public sector economy. Puerto Rican workers have fought hard against privatization and demanded that public enterprises remain public and be brought under public control. The Governor's "Law 7," much like those used against auto and steelworkers in the U.S., allows the government to disregard contracts already signed with labor unions.
Workers were at the head of the demonstration and they and their unions the main organizers. These include unions organized in the Coordinadora Sindical (Teachers Federation of Puerto Rico, Electrical Workers and others) and many others, including truck drivers, taxi drivers, hotel workers and more. Under the banner All Puerto Rico for Puerto Rico, organizers invited every group in the country opposed to the governor's program and Law 7 to join in the campaign to stop the implementation of the law and the governor's brutal attack on rights. An alliance has now been formed, that also includes many of the pro independence and other political parties active in Puerto Rico. Hundreds of community organizations have joined as well as environmental and religious organizations.
Friday's march served to establish The People's Assembly. One speech was delivered by Reverend Juan Vera, calling on all to stand together to defend the rights of the workers and the nation. Then a reading of a declaration was shared by some of the country's best know actors, opposing tyranny and calling the attacks on the workers an attack on the country. The People's Assembly declared that it was in permanent session and would start organizing activities in the 78 municipalities.
The action follows May Day demonstrations of more than 40,000, with public sector workers going on strike that day. Consideration is being given to the possibility of further strike action to oppose the U.S. imposed neo-liberalism of the governor in Puerto Rico. U.S. colonization has destroyed much of Puerto Rico's economy and the attacks on public sector workers is further intensifying the crisis. Puerto Rico's unemployment rate currently stands officially at 14.7 percent and is being pushed higher with these mass layoffs.
The broad and united character of the many organized forces demonstrating June 5 make clear that people are fighting for their livelihoods and for Puerto Rico for Puerto Ricans!
[TOP]
---
Rally Defends Puerto Rican Patriots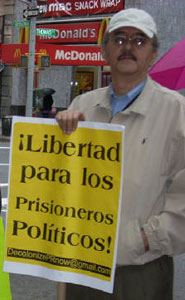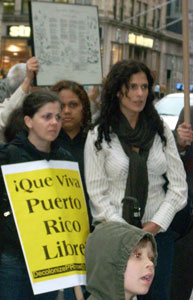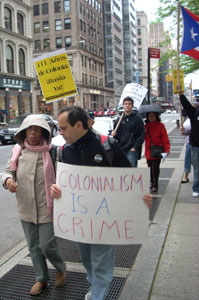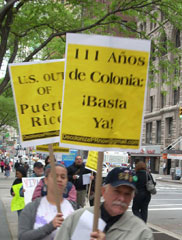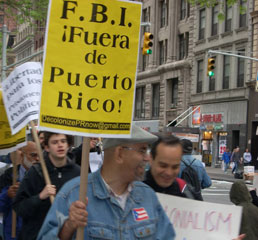 A protest march was organized in New York City May 26 in support of the six Puerto Rican independence activists who on May 6 interrupted a U.S. Congress session by singing "Oubao Moin" and carrying Puerto Rican flags and signs that read, "111 years of colonization is a disgrace." "Oubao Moin" is a song based on a poem by pro-independence advocate Juan Antonio Corretjer. The six demanded that Congress recognize Puerto Rico's right to self-determination and independence. They were not asked to leave or to stop but were immediately removed from the gallery, arrested, and detained for six hours. They now face possible sentences of up to six months in jail and $3,000 in fines on charges of disrupting Congress and unlawful conduct. The protesters, who live in Puerto Rico, were artists Luis Enrique Romero, María "Chabela" Rodríguez y José Rivera (Tony Mapeyé), mechanical designer Luis Suárez, nurse Eugenia Pérez-Martijo, and retired laborer Ramón Díaz. Their action has garnered support in Puerto Rico and throughout the United States.
The protest May 26 rallied New Yorkers and supporters from Philadelphia, Orlando and Chicago. Demonstrators denounced the 111 years of U.S. colonialism in Puerto Rico and called for international pressure on the United States to end the colonization of Puerto Rican. The United Nations Committee on Decolonization yearly supports the demand for decolonization of Puerto Rico and calls on the U.S. to submit to UN standards for decolonization, which includes removing troops. The U.S. refuses to submit to the demand of Puerto Ricans and the world to end colonization now! Puerto Rican political prisoners also remain among those with the longest years of incarceration and brutal conditions of imprisonment, including years of solitary confinement and other inhumane actions.
The demonstration also symbolically recalled the Puerto Rican Nationalists' attack on Congress on March 1, 1954, when three pro-independence militants opened fire on congressmen, seriously wounding a number of them.
Organizers are working now to raise funds for the six and to be in DC for the next court date June 29. For more information contact decolonizeprnow@gmail or go to prolibertadweb.com.
[TOP]
---
We Are the Puerto Rican People
The six pro-independence protesters who demonstrated at the U.S. Congress demanding an end to the colonization of Puerto Rico sent a letter to President Barack Obama, calling on him to correct the 111-year crime of U.S. colonization. The United Nations and international law have outlawed colonization and also upheld the right of colonized peoples to resist. The government has no business arresting the protesters. We call for their immediate release and for the release of all Puerto Rican political prisoners still held in U.S. jails.
Below is the letter sent to President Barack Obama, titled "We are the Puerto Rican People."
Honorable President Obama:
The act of civil disobedience carried out by a group of Puerto Rican nationals in the House of Representatives on May 6, 2009 responds to our people's deep dissatisfaction with the political relationship between our two nations.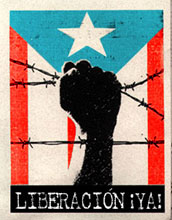 Puerto Rico has been a colony for 111 years: a humiliating colonial condition in the 21st Century. It is high time that this crime against our people is resolved, resolved and resolved. The political-economic promises that govern us reside at the hands of a foreign nation, the U.S. You have declared that it is time to leave the past behind, that your administration will unite the Latin American people and the people of the U.S. It is time to act now. It is up to your administration to stand up for the rights and moral values your administration advocates. Every country has the right to attain its independence and be a free country.
Puerto Rico is a Latin American and a Caribbean nation. The Signers below have taken your Word very seriously. If this is so, begin to decolonize Puerto Rico now — without the subterfuges and tricky language that have been reiterated for the past 111 years.
Begin by breaking the chains of bondage to initiate a new era and a new treaty for the pursuit of happiness of our respective nations. Consider as well that colonization has caused over half of our people to emigrate out of Puerto Rico into the U.S.
Let us establish a powerful friendship link; thus, removing the humiliating marks that undermine our human dignity. Let us deal as equal partners. Stop subordinating our leaders and people.
A warm Puerto Rican embrace.
[TOP]
---
Statement of the Six Puerto Rican Protesters
Below is the Statement of the six Puerto Rican patriots arrested in the U.S. for demanding Puerto Rican independence from the public gallery in Congress, along with singer and actor Carlos Esteban Fonseca who accompanied them but did not join the civil disobedience. The statement was given May 6, on the release of the six from jail.
Statement on Release from Jail
The peaceful protest of civil disobedience we performed on May 6 in the U.S. Congress in Washington, D.C., is correlated with the uneasiness of the Puerto Rican people before the intolerable reality of colonialism we live; a reality that affects us all equally, independent of religious or ideological positions. For 111 years, the country, our country, has suffered occupation, first by the military and then by the metropolis' [U.S. government's] usurpation of our political and economic powers. This situation does not allow us to adequately resolve our most immediate problems nor our long term issues.
The representatives "elected by the people" to deal with those problems, far from resolving them, increase and perpetuate them. The elections held every four years in Puerto Rico have become a process that betrays the concept of democracy, and is mediacized and influenced by the metropolis to maintain its domination and the predominance of its interests. The clamor of all the most progressive sectors of our nation is to end colonialism once and for all. If there is consensus about something in our country, it is that we constitute the oldest colony in the world. The plebiscites, consultations and referenda that have been conducted throughout those 111 years of colonialism have not at all guaranteed the solution for this ignominious system.
We urge the government of the U.S. to respect the multiple resolutions on the colonial case of Puerto Rico and initiate a process in conformity with International Law (just as they would demand of any other country in the world) for decolonization once and for all for our Puerto Rican island.
This act of civil disobedience, rooted in the most sincere and honest sense of love for our Homeland and our people, is also an expression of affirmation of what we are: A decent working people who deserve not one more second of the indignity of colonialism!
[TOP]
---
Puerto Rican Political Prisoner
Free Carlos Alberto Torres Now
The ProLibertad Freedom campaign is calling on all our allies and supporters to help our brother Carlos Alberto Torres! Though his parole examiner recommended his release, the parole commission has the final say so. We need every one to send out the sample letter below to Jan Susler, Carlos' lawyer, and help Carlos Alberto get parole!
La Lucha Continua! Celebrate This Partial Victory Be Sending The Sample Letter Below To Jan And Forwarding This Out Worldwide!
Puerto Rican Political Prisoner Carlos Alberto Torres Might Be Home Soon!
On May 26, Puerto Rican political prisoner Carlos Alberto Torres appeared with his attorney Jan Susler at Pekin Federal Correctional Institution in Illinois at a videoconference hearing with U.S. Parole Commission hearing examiner Larry Glenn.
Carlos Alberto has served more than 29 years in prison, and it has been 15 years since his initial parole hearing in 1994. At that time, the Parole Commission told him to come back after serving another 15 years.
The hearing examiner opened by saying he would make one of three possible recommendations at the conclusion of the hearing: 1) set a presumptive parole date; 2) tell Carlos Alberto once again to come back after serving another 15 years, at which time he would be considered for possible release on parole; or 3) deny parole entirely.
For some 45 minutes, the examiner posed questions, including some very pointed political questions about Carlos Alberto's views on the relationship between the United States and Puerto Rico, and whether his thoughts on this issue have changed throughout his years in custody. He reviewed his accomplishments in prison and asked about his plans if he were to be released: to open a pottery studio in Puerto Rico.
Significantly, Glenn noted, "the large number of documents showing community support sent to the parole commission." He was referring to the thousands of letters and resolutions from all of Puerto Rico's civil society, as well as from supporters throughout the U.S. and Mexico.
After a brief break, Glenn announced his recommendation: a presumptive parole date of April 3, 2010, which would mark the 30th anniversary of Carlos Alberto's imprisonment.
The parole commission has 21 days to issue a decision, or until June 16. Should the commission adopt the examiner's recommendation, Carlos Alberto would be eligible for transfer to a halfway house 180 days before April 3, or on October 3, 2009.
Letters urging the commission to adopt the hearing examiner's recommendation should arrive no later than June 17 at the office of Jan Susler, Attorney, People's Law Office, 1180 N. Milwaukee, Chicago, IL 60622, jsusler@aol.com.
Sample Letter
To the United States Parole Commission:
We are writing to urge that you adopt the May 26, 2009, recommendation of the hearing examiner to set a presumptive parole date of April 3, 2010 for Carlos Alberto Torres.
We support his release and are anxious to welcome him home.
[TOP]
---
Message from Carlos Alberto Torres on the
Occasion of El Grito de Lares
Compañeros and Compañeras:
My warmest greetings to all of you. Although I am not able to be with you physically, it is my hope that you will feel my presence through these words.
Today, with this commemoration we remember one of the glorious moments in Puerto Rican history. It was 140 years ago when Puerto Rican patriots transformed their love and commitment to our homeland into decisive action. Risking and sacrificing their lives and fortunes these men and women fulfilled their patriotic duty and in this way they reaffirmed that our destiny as a people is to be a free nation. From that moment to the present generations of Puerto Ricans following the example of our Grito de Lares have struggled and sacrificed to obtain our freedom.
I remember today that Comandante Filiberto throughout his life was also one of those illustrious sons of Lares; a defender of our homeland who during another 23 of September took his last mortal breath, his last guerrilla stand, taking up arms with gun in hand. [Filiberto was assassinated by the FBI September 23, 2005]
Today we remember him and today we reaffirm once again: ¡Viva Puerto Rico Libre!
Thank you,
Carlos Alberto
[TOP]
---
Puerto Rican Political Prisoners
The many Puerto Rican political prisoners who have been jailed by the U.S. government are workers and professionals, students and teachers, community organizers, artists, mothers, and fathers of families. They are fighters for Puerto Rico's Independence and social justice. These men and women found Puerto Rico's Colonial reality intolerable and unacceptable. This situation led them to join the Puerto Rican Independence movement and to confront the United States government directly. The majority of the political prisoners have spent more than 18 years in federal prisons for their political activities.
During the 1970's and the beginning of the 80's, the prisoners were involved in community, union, student and political struggles in Puerto Rico and the United States. They fought for the people's right to high quality, free education. They worked to create community institutions such as alternative education programs, child-care centers, health centers, housing cooperatives, recreational facilities and political organizations. They participated actively in churches, student groups, unions, professional associations, committees against repression, campaigns against youth violence and drugs. In summary they challenged the U.S. political system in many ways.
Throughout their lives these patriot have suffered the Puerto Rican colonial reality and the consequences of their political and community involvement. They were fired from their jobs, kicked out of schools and universities, denied scholarships, threatened, spied on, attacked by the police and the FBI. And when they rose up and fought against these injustices they were branded as terrorists and placed in some of the worst prisons in the U.S.
Carlos Alberto Torres
Carlos Alberto Torres was born in Ponce, Puerto Rico on September 19, 1952. His parents moved to New York, finally settling in Chicago. He studied at the University of Illinois in Carbondale and Chicago. He studied sociology at Southern Illinois University and the University of Illinois at Chicago. Carlos Alberto was involved in the struggles to recruit more Latinos to the University, against racism, and police abuse. Carlos was one of the founders of the Rafael Cancel Miranda Puerto Rican High School now known as the Dr. Pedro Albizu Campos Puerto Rican High School and participated in the Committee to Free the 5 Nationalists [Puerto Rican patriots, including Lolita Lebrón, arrested in 1954 for fighting for Puerto Rican independence].
In 1976, [as a result of his work to achieve Puerto Rican independence] Carlos was forced to go underground and was on the FBI's 10 most wanted list. He was captured along with other comrades and sentenced to 78 years on charges of seditious conspiracy, among other charges.
Although the Clinton Administration offered clemency to 12 Puerto Rican political prisoners in the fall of 1999, no leniency was granted to Carlos Torres, whom prosecutors described as a leader of the Fuerzas Armadas de Liberación Nacional (FALN), an underground organization which fought for Puerto Rico's independence in the 1970s and '80s.