Salute Juneteenth Festivals
Celebrating Resistance and Fighting for Rights
Juneteenth takes its spirit from the broad and persistent resistance of African Americans to slavery, bringing together many different organizations, artists, and activists to celebrate the victory over slavery and the on going fight for rights. It is with pride in resistance against great odds that African Americans justly stand and celebrate and organize to consolidate their best traditions. Juneteenth squarely puts forward that it is the people that are decisive and its is their struggle for rights that moves society forward, making it a day of celebration for all. Festivals were organized in many cities, with parades, day-long events with various organizations of providing historical materials, book fairs, health pavilions, cultural displays of various types, entertainment and more. Voice of Revolution salutes all those taking part and calls on all to step up the struggle against state-organized racism and for the rights of all.
This year's events are taking place in the midst of severe economic crisis, already at depression levels for African Americans. This can be seen in the far higher levels of unemployment, poverty, and home foreclosures. It can also be seen in the high incarceration rates of African American youth, a reflection of the state-organized racism that still permeates U.S. society. The mass incarceration rates, especially of the youth, are the modern day form of genocide. It is a crime, just as slavery was, that must be punished. The government has the social responsibility to guarantee the rights of all and it is its failure to do so that maintains the unequal and far worse conditions imposed on African Americans today.
President Barack Obama would do well to implement change on this front, including acting to guarantee the rights to healthcare, education and recreation for our youth. The healthcare reform being considered should make certain that the current racism that means African Americans die younger at higher rates for treatable and curable diseases is eliminated. Failure to do so must be considered a crime of the government and healthcare monopolies.
President Obama would also do well to spearhead the fight for reparations for slavery and all government crimes present and past. Instead of continuing to pay the rich trillions of dollars in public funds, he could respond to the change people are demanding by proposing legislation for reparations now. This would contribute to overcoming the continuing weight the crime of slavery still has today and recognize the responsibility of the government to take such action.
It is the fight for the elimination of slavery and for rights that brought Juneteenth into being and it is the fight for these rights that today provides a way forward. The many hopes among people generated by the election of Barack Obama as the first African American president can be turned into reality by together strengthening the fight for rights — for full equality, for the rights of African Americans and all national minorities, for the rights of all.
Just as the slaves did not wait for Abraham Lincoln to organize to eliminate slavery, so too today waiting to see what Obama may do will not advance the fight for rights. It is the slaves that liberated themselves, it is all Americans, united and organized for their rights that can also liberate themselves from the current situation of aggressive war, genocide and increasing attacks on rights. It is this struggle of the people themselves that is decisive and keeping matters in our owns hands a necessity. Waiting to see what may happen, hoping that given a chance, Obama can secure the change needed, is not the spirit of the ancestors, who rose up against slavery from the beginning and fought until it was eliminated.
Today the fight is for the elimination of imperialism and all exploitation of humans by humans, it is for the empowerment of the people themselves to govern and decide. In the spirit of Juneteenth, Voice of Revolution urges all to strengthen all the fighting organizations of the people and step up the struggle for rights, especially the right to hold political power and decide the affairs of society.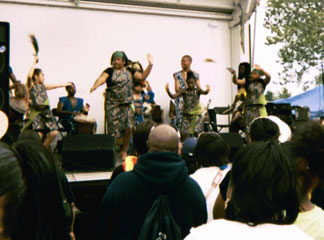 [TOP]
---
An important part of Juneteenth activities is the Maafa Memorial. The Maafa, much like the Palestinians Nakba, means disaster or great tragedy. It addresses the hundreds of years of the African holocaust of slavery in the U.S. and the Americas. As organizers bring out, it is a means both to remember the suffering and crimes committed as well as organize against the enslavement and suffering "of Africans and the African Diaspora, through slavery, imperialism, colonialism, invasion, oppression, dehumanization and exploitation." The Maafa also addresses the social policies, including those of the media and educational institutions, to bury and ignore the contributions of African peoples to humanity.
The Maafa organized in Buffalo, New York was represented. Its theme was "We Must Tell Our Story." The event included speakers, drummers, poets and other performances. At the end of the event, flowers were placed in the Niagara River in remembrance of ancestors who struggled against slavery and those yesterday and today fighting for equality and rights.
[TOP]
---
National Coalition of Blacks for Reparations in America
All Roads Lead to Juneteenth 2009
The National Coalition of Blacks for Reparations in America (NCOBRA) will convene its 20th Annual Conference in commemoration of Juneteenth (June 19, 1865) the weekend of June 19-21 in Dallas. The call for the conference brings out that NCOBRA organized more than 20 years ago to "revitalize the work to demand reparations for the genocidal war against Africans that created the Trans Atlantic Slave Trade, chattel slavery, Jim Crow, lynching, exploitation of racism, and economic discrimination imposed upon our people past and present." The call goes on to say that NCOBRA is gearing up to take its demands to the federal government "with steadfast determination to win reparations through continuing to educate, mobilize, and empower our people at conferences, community based forums, media consortiums, and mass protests."
The theme of this year's conference is "Freedom! Reparations! Equality! Respect! which echoes the battle cry of generations of Africans who were subjected to slavery in the U.S. Slavery is a crime against humanity, and the slavery perpetrated against Africans one of the longest holocausts in the history of humanity."
Plans include: National Youth Leadership Summit; the Sankofa Experience; Inter-generational Empowerment Workshops for Action Planning; Plenaries; Panels; Rallies and Cultural and Spiritual Tributes. Many guests and activists are participating, including lawyers, professors, elected officials, those representing organizations like the Malcolm X Grassroots Movement and more.
For more information contact: Sister Njere Alghanee, NCOBRA National Co-Chair for more alerts, details and interviews with presenters, 404-587-2709, ncobrakazi@yahoo.com
[TOP]
---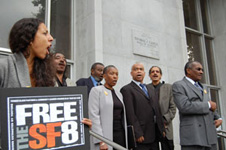 On June 8, hundreds of supporters of the San Francisco Eight took to the street in front of the San Francisco County Courthouse demanding that all charges against the San Francisco Eight be dropped. Chanting slogans such as "Free the SF Eight" and "Drop the charges," people stood firmly opposed to this attack on the eight and all those who stand up for rights.
The eight were arrested January 23, 2007 in California, New York and Florida on charges related to the 1971 killing of police sergeant John V. Young in San Francisco's Ingleside Station. Seven of the accused are former Black Panther Party members. The charging of the men now, when charges had long been drooped based on government use of torture, is revenge against those fighting for equality today.
The case was originally instigated by the FBI's Counter Intelligence Program (COINTELPRO). COINTELPRO was aimed at disrupting and dismantling political organizations, such as the Black Panther Party, using assassination, incarceration based on trumped up charges, planting false evidence, using torture to secure confessions, massive spying and more. The original charges against the men were dropped in 1973, based on evidence that the police tortured the men to obtain confessions. New Orleans police used electric shock, cattle prods, beatings, sensory deprivation, and wet blankets to threaten asphyxiation, similar to waterboarding. Despite these facts, the government is now against targeting these men, with no new evidence and again relying on the forced confessions.
At the rally, Soffiyah Elijah, one of the lawyers for the eight, applauded the support from the community and announced after a day of closed hearings that the preliminary hearing would begin July 6. The hearing is expected to last weeks, with the judge deciding if there is enough evidence to hold the men for trial. Elijah, who also participated in the International Tribunal on Katrina where evidence of crimes of killing and brutalizing African Americans was overwhelming, denounced the trumped up charges against the men and the use of statements secured through torture. She also said there is cannot get a fair trial because too much time has passed, and that there is no new evidence.
Eric Mar, a member of the San Francisco Board of Supervisors and present at the rally, introduced a resolution June 9 to the entire Board of Supervisors calling on the California attorney general to "Drop the charges." Mar called the San Francisco Eight case "COINTELPRO 2009."
It is clear that widespread use of torture at Guantánamo and continuing at Bagram, use of infiltration, assassination, false charges as imposed on the many branded as "enemy combatants,' has provided an atmosphere where the same actions are taken against those resisting inside the country. President Obama could easily direct the Justice Department to drop the charges, based on his statements opposing torture. So far he has not.
President Obama, Take Action to Free the San Francisco Eight!
[TOP]
---
African-Americans Death Rate Higher Due to Treatable and Preventable Diseases
Two-thirds of the difference between death rates among African Americans and Caucasians are now due to causes that could be prevented or cured, according to a new study appearing in the Journal of Epidemiology and Community Health.
The study, "Black-White Differences in Avoidable Mortality in the United States, 1980-2005," found that death from preventable or treatable conditions represented half of all deaths for individuals under age 65 and accounted for nearly 70 percent of the black-white mortality difference.
"People should not be dying prematurely from stroke, hypertension, diabetes, colon cancer, appendicitis or the flu. Our study shows that while much progress has been made, our health care system is still failing to meet the very basic needs of some Americans. Many disparities can be conquered by focusing more on public policies that promote prevention and by ensuring that all Americans have access to good quality health care," said James Macinko, who conducted the research as a Robert Wood Johnson Foundation Health & Society Scholar at the University of Pennsylvania. He is the lead author of the study.
The major reason for the black-white mortality gap — representing about 30 percent of the gap for men and 42 percent for women — is due to conditions that have effective treatments, the study found. Disparities were most pronounced for conditions or diseases for which deaths can be prevented, such as diabetes, stroke, infectious and respiratory diseases, preventable cancers, and circulatory diseases like hypertension. The conditions analyzed included premature deaths from common infectious diseases, cervical cancers, appendicitis, maternal deaths, hypertension, stroke, diabetes, peptic ulcers and traffic accidents, all of which could be avoided through medical care or health policy changes. The study suggests that the reinforcement of policies that improve access to quality medical care will be important to reducing death disparities.
"As the nation turns its attention to health care reform, we now know that much can be done to reduce racial and ethnic health care disparities and to improve the health care for all Americans," said Macinko. "We also have a lot to learn from other health care systems that measure performance based on preventable deaths."
To analyze the death disparity among African Americans and Caucasians, the scholar used "avoidable mortality," a commonly used measure of health system performance in Europe. It is defined as premature death under age 65 from conditions responsive to medical care, changes in public policy, or behaviors. Over the last decade, avoidable mortality has declined less rapidly in the United States than in other industrialized nations.
"Avoidable mortality gives us one way to assess the shortcomings of our health care system, particularly in the area of prevention," said Irma T. Elo, Ph.D., co-author on the report and an associate professor of sociology at the University of Pennsylvania. "It can help to identify where preventable disparities are greatest and aid in directing resources to where they can improve the health of vulnerable populations."
[TOP]
---
U.S. Incarceration Rate Highest in the World
State Racism Means 40 % of Prisoners
Are African American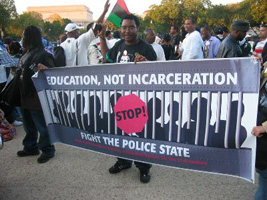 The United States is the world's leader in incarceration with 2.3 million people currently in the nation's prisons or jails — a 700 percent increase over the past thirty years. The racism of the system can be seen in the fact that about two thirds of the prisoners are African American or Latino, numbers far out of proportion to the degree that either national minority uses or sells drugs. They represent the racism of the U.S. state and particularly the genocide exercised against African American and Latino youth.
The large majority of African Americans and Latinos are imprisoned for non-violent offenses, frequently possession of very small amounts of drugs. The drug laws have been written in such a way that drug possession of crack cocaine requires a mandatory 5 years in prison, while the massive drug sales of powder cocaine conducted by the drug kingpins do not, or call for the same punishment as that for a few ounces. For New York State, the notorious Rockefeller drug laws require a 15-year prison term for possession of four ounces of narcotics or sale of two ounces.
The rate of U.S. incarceration is far higher than any other industrialized country and unprecedented even for U.S. standards. It directly corresponds to the racist drug laws and incarceration — rather than treatment — for problems like drug addiction. As a result of the "war on drugs," from a figure of about 40,000 people incarcerated in prison or jail for a drug offense in 1980, there has since been an 1100 percent increase to a total of 500,000 today. To place some perspective on that change, the number of people incarcerated for a drug offense today is greater than the number incarcerated for all offenses in 1980.
Some of the more important facts on incarceration today include:
• The number of inmates in state and federal prisons has increased nearly seven-fold from less than 200,000 in 1970 to 1,540,805 by midyear 2008. An additional 785,556 are held in local jails, for a total of 2.3 million.
• Between 2000 and 2007, the state prison population increased by an average annual rate of 1.6%, the federal population by 5.0 %, and jail population by 3.3%
• As of 2008, 1 of every 131 Americans was incarcerated in prison or jail.
• The number of persons on probation and parole has been growing dramatically along with institutional populations. There are now more than 7.3 million Americans incarcerated or on probation or parole, an increase of more than 290 percent since 1980.
• One in ten (10.4%) African American males aged 25-29 was in prison or jail in 2008 as were 1 in 26 (3.8%) Hispanic males and 1 in 63 (1.6%) white males in the same age group.
• Nationally, 69 females per 100,000 women are serving a sentence in prison; 957 males per 100,000 men are in prison.
• The 2008 United States' rate of incarceration of 762 inmates per 100,000 population is the highest in the world.
Who is in our Prisons and Jails?
• 93% of prison inmates are male, 7% female.
• As of 2008, there were 207,700 women in state and federal prison or local jail.
• 40% of persons in prison or jail in 2008 were black and 20% were Hispanic.
• 63% of jail inmates in 2008 were unconvicted and awaiting trial, compared to 51% in 1990.
• 82% of those sentenced to state prisons in 2004 were convicted of non-violent crimes, including 34% for drug offenses, and 29% for property offenses.
• 1 in 4 jail inmates in 2002 was in jail for a drug offense, compared to 1 in 10 in 1983; drug offenders constituted 20% of state prison inmates and 55% of federal prison inmates in 2001.
• Black males have a 32% chance of serving time in prison at some point in their lives; Hispanic males have a 17% chance; white males have a 6% chance.