Demand U.S. Act Now to End Siege of Gaza and Guarantee Safe Passage for Spirit of Humanity
and the "Free Gaza 21"
The Israeli government, in an open act of piracy, seized the humanitarian boat the Spirit of Humanity June 29 and detained all on board, 21 activists striving to deliver humanitarian aid to Gaza. The activists are part of organizing by the Free Gaza Movement to highlight the crime of the Gaza siege, its collective punishment of Gaza's entire population. The small boat was bringing medical supplies, toys and cement for reconstruction of homes and schools. President Barack Obama has remained silent, despite the fact that a boat was illegally seized and U.S. citizens were detained without cause. He also has issued no statement in response to recent reports from the UN and human rights organizations concerning the continuing crimes committed against civilians in Gaza.
As Huwaida Arraf, a main organizer of the humanitarian shipment emphasized, "The purpose of our mission was to highlight to the international community that what Israel is doing to Gaza is blatantly illegal, and the U.S. government is not doing anything about it. Israel constantly claims that their policies are based on security, but what they are doing is imposing collective punishment on the entire civilian population of Gaza."
The U.S. arms, funds and protects Israel and is responsible for the current attacks in Gaza and now on a humanitarian boat delivering supplies. President Obama has said Gaza should receive humanitarian relief and indeed the government has promised such aid. It is not keeping these promises and instead protects Israel as she continues the crime against humanity of the siege against Gaza and attacking those actually bringing aid. Silence and inaction by the government are not acceptable.
End the Siege of Gaza!
U.S. Must Act to Guarantee Safe Passage to Gaza for the Spirit of Humanity
and the "Free Gaza 21"!
[TOP]
---
Green Party Demands U.S. Take Action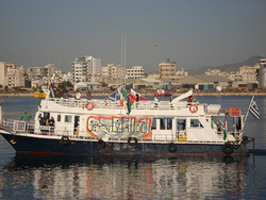 Former U.S. Representative and 2008 Green presidential candidate Cynthia McKinney has issued a statement on the seizure of the Free Gaza Movement's Spirit of Humanity relief boat by Israeli gunboats in international waters on Monday, June 29. Ms. McKinney and 18 other members of the 'Free Gaza 21' are currently being held in Givon prison in Ramla, Israel. Two of the Free Gaza 21 have been released.
Cynthia McKinney delivered the following statement by phone:
"We were in international waters on a boat delivering humanitarian aid to people in Gaza when the Israeli Navy ships surrounded us and illegally threatened us, dismantled our navigation equipment, boarded and confiscated the ship. All of us on board were then taken off the ship and into custody, and brought into Israel and imprisoned. Immigration officials in Israel said they did not want to keep us, but we remain imprisoned. State Department and White House officials have not effected our release or taken a strong public stance to condemn the illegal actions of the Israeli Navy of enforcing a blockade of humanitarian assistance to the Palestinians of Gaza, a blockade that has been condemned by President Obama."
Ms. McKinney and other Free Gaza 21 members have refused to sign a self-incriminating 'deportation form' stating that the Spirit of Humanity was violating the Israeli blockade and trespassing Israeli territorial waters by attempting to deliver supplies to Gaza. In fact, the Spirit of Humanity was in international waters when it was illegally seized by the Israeli navy in an act of piracy. The imprisonment of the Free Gaza 21 and the Israeli navy's jamming the boat's navigation system are further violations of international law as are Israel's blockade of Gaza, occupation of Palestinian territories, and violations of Palestinians' human rights.
The boat was on a voyage to deliver medical supplies, cement, and children's toys to Gaza following an appeal by President Obama for supplies to be sent to Gaza. Because of their refusal to sign the form, Israeli authorities will reportedly hold Ms. McKinney and other Free Gaza 21 members in the prison for three more days before the Israeli Government can either choose to release them or continue to detain them.
In a phone call with WBAIX from the prison (listen at http://www.WBAIX.org), Cynthia McKinney said, "It is incumbent upon President Obama to stand by his reported policy of easing the Gazan blockade and of allowing building supplies, medical supplies, and school supplies to go through," adding "we call upon President Obama to use the highest level of his authority to transmit this message to the Israelis."
The Green Party of the United States has called for the immediate release of the Free Gaza 21 and for permission for the Spirit of Humanity to resume its delivery of urgently needed medical and other supplies to Gaza, which is suffering the effects of a brutal invasion by Israel last December and January.
Green leaders have urged party members and other concerned about the situation to call the White House, the U.S. State Department, and members of Congress to meet these demands.
Texas Greens in coalition with the Council on American-Islamic Relations (San Antonio), Muslim Public Affairs Council, Esperanza Peace & Justice Center, and Fellowship of Reconciliation, held a press conference on the Free Gaza 21 on Friday, July 3, at the Esperanza Peace and Justice Center.
[TOP]
---
Demand the Release of Gaza Aid Ship
Spirit of Humanity and End Gaza Siege Now!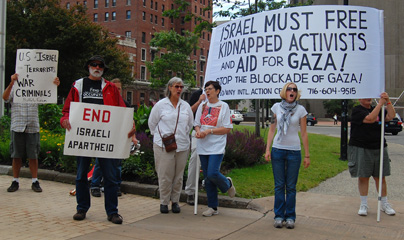 Release Cynthia McKinney, and all aid workers and supplies NOW!
Israeli Occupation Forces have attacked and boarded the Free Gaza Movement boat, the Spirit of Humanity, abducting 21 human rights workers from 11 countries, including Noble laureate Mairead Maguire of Ireland and former U.S. Congresswoman Cynthia McKinney. The passengers and crew are being forcibly dragged toward Israel.
The seizure of humanitarian supplies and abduction of human rights workers is an act of piracy, a crime under international law. When the boat was attacked, it was not in Israeli waters and was on a human rights mission to Gaza. Israel's deliberate and premeditated attack on an unarmed boat in international waters is also a clear violation of international law.
This act of terrorism by the Israeli Occupation Forces against an unarmed vessel is a clear attempt to scare people away from showing solidarity with the people of Gaza. We must take action now! Here's how you can help:
1) Sign the Online Petition - http://www.iacenter.org/palestine/gazashippetition
2) Get the word out - forward this message to your email lists, post on Facebook & Myspace, etc.
3) Take to the streets! Organize local emergency protests in solidarity with the people of Gaza and demanding the release of all those who were kidnapped by the Israeli Occupation Forces.
4) Support Aid Caravans to Gaza! In addition to the current project of Free Gaza, another aid caravan, Viva Palestina, will be leaving the U.S. on July 4th headed by British Member of Parliament George Galloway and Vietnam War veteran Ron Kovic and including hundreds of people from the United States.
5) Call the media. The U.S. corporate media has largely ignored or buried this story due to racism against Cynthia McKinney and the people of Palestine. Please call the media - demand that they cover this criminal act by the Israeli Occupation Forces. Start with these numbers:
The New York Times 212-556-5272; Los Angeles Times 800-252-9141; Boston Herald 617-426-3000; Chicago Tribune 800-874-2863; and please call your local newspaper, radio station, or television news program.
Petition:
To: President President Barack Obama, Secretary of State Hillary Clinton, Vice President Joe Biden, Congressional leaders, U.N. General Assembly President d'Escoto-Brockmann, U.N. Secretary General Ban, members of the U.N. Security Council, U.N. member states, and the President, Prime Minister, Cabinet and Opposition leader of Israel
cc: Major media representatives, International Red Cross
Release the Spirit Of Humanity And All Its Passengers Immediately And Allow Its Humanitarian Mission To Gaza To Proceed!
End The Siege Of Gaza Now!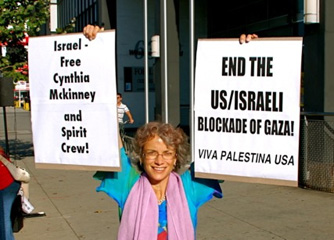 I am outraged at the actions of the Israeli military in attacking and boarding the Free Gaza Movement boat, the Spirit of Humanity, abducting 21 human rights workers from 11 countries, including Ireland's Nobel laureate Mairead Maguire and former U.S. Congresswoman Cynthia McKinney, dragging passengers and crew forcibly to Israel. I am further outraged that Israel has confiscated tons of medicine from the ship as well as toys and olive trees.
I demand that the boat, passengers and crew be released immediately and allowed to proceed with its mission of bring humanitarian aid to Gaza.
As former U.S. Congressperson and 2008 Presidential Candidate Cynthia McKinney said, "This is an outrageous violation of international law. Our boat was not in Israeli waters, and we were on a human rights mission to the Gaza Strip. President Obama just told Israel to let in humanitarian and reconstruction supplies, and that is exactly what we tried to do. We are asking the international community to demand our release so we can resume our journey."
According to an International Committee of the Red Cross report released on June 29, the Palestinians living in Gaza are "trapped in despair." Thousands of Gazans whose homes were destroyed earlier during Israel's December/January massacre are still without shelter despite pledges of almost $4.5 billion in aid, because Israel refuses to allow cement and other building material into the Gaza Strip. The report also notes that hospitals are struggling to meet the needs of their patients due to Israel's disruption of medical supplies.
"The aid we were carrying is a symbol of hope for the people of Gaza, hope that the sea route would open for them, and they would be able to transport their own materials to begin to reconstruct the schools, hospitals and thousands of homes destroyed during the onslaught of "Cast Lead." Our mission is a gesture to the people of Gaza that we stand by them and that they are not alone" said fellow passenger Mairead Maguire, winner of a Noble Peace Prize for her work in Northern Ireland.
Just before being kidnapped by Israel, Huwaida Arraf, Free Gaza Movement chairperson and delegation co-coordinator on this voyage, stated that: "No one could possibly believe that our small boat constitutes any sort of threat to Israel. We carry medical and reconstruction supplies, and children's toys. Our passengers include a Nobel peace prize laureate and a former U.S. congressperson. Our boat was searched and received a security clearance by Cypriot Port Authorities before we departed, and at no time did we ever approach Israeli waters."
Arraf continued, "Israel's deliberate and premeditated attack on our unarmed boat is a clear violation of international law and we demand our immediate and unconditional release."
I demand that the Obama Administration take immediate action to protest the violation of international law and obtain the release of the ship and those abducted, listed below, assure the access to Gaza of humanitarian aid and missions like that of the Spirit of Humanity and the upcoming humanitarian aid mission Viva Palestina headed by British MP George Galloway and Vietnam War veteran Ron Kovic and including hundreds of people from the United States. The Viva Palestina mission is scheduled to leave New York City on July 4, bound for Gaza.
I further demand the Obama Administration take action to end immediately the brutal siege, blockade and occupation of Gaza.
Release the Spirit of Humanity, and all of the following human rights workers and crew NOW: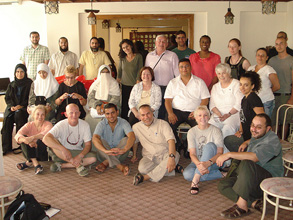 Khalad Abdelkader, Bahrain: Khalad is an engineer representing the Islamic Charitable Association of Bahrain.

Othman Abufalah, Jordan: Othman is a world-renowned journalist with al-Jazeera TV.

Khaled Al-Shenoo, Bahrain: Khaled is a lecturer with the University of Bahrain.

Mansour Al-Abi, Yemen: Mansour is a cameraman with Al-Jazeera TV.

Fatima Al-Attawi, Bahrain: Fatima is a relief worker and community activist from Bahrain.

Juhaina Alqaed, Bahrain: Juhaina is a journalist and human rights activist.

Huwaida Arraf, U.S.: Huwaida is the Chair of the Free Gaza Movement and delegation co-coordinator for this voyage.

Ishmahil Blagrove, Britain: Ishmahil is a Jamaican-born journalist, documentary film maker and founder of the Rice & Peas film production company. His documentaries focus on the international struggles for social justice.
Kaltham Ghloom, Bahrain: Kaltham is a community activist.
Derek Graham, Ireland: Derek Graham is an electrician, Free Gaza organizer, and first mate aboard the Spirit of Humanity.
Alex Harrison, Britain: Alex is a solidarity worker from Britain. She is traveling to Gaza to do long-term human rights monitoring.
Denis Healey, Britain: Denis is Captain of the Spirit of Humanity. This will be his fifth voyage to Gaza.
Fathi Jaouadi, Britain: Fathi is a British journalist, Free Gaza organizer, and delegation co-coordinator for this voyage.
Mairead Maguire, Ireland: Mairead is a Nobel laureate and renowned peace activist.
Lubna Masarwa, Palestine: Lubna is a Palestinian human rights activist and Free Gaza organizer.
Theresa McDermott, Scotland: Theresa is a solidarity worker from Scotland. She is traveling to Gaza to do long-term human rights monitoring.
Cynthia McKinney, U.S.: Cynthia McKinney is an outspoken advocate for human rights and social justice issues, as well as a former U.S. congressperson and presidential candidate.
Adnan Mormesh, Britain: Adnan is a solidarity worker who is traveling to Gaza to do long-term human rights monitoring.
Adam Qvist, Denmark: Adam is a solidarity worker from Denmark. He is traveling to Gaza to do human rights monitoring.
Adam Shapiro, U.S.: Adam is an American documentary film maker and human rights activist.
Kathy Sheetz, U.S., Kathy is a nurse and film maker, traveling to Gaza to do human rights monitoring.
Sincerely,
Sign the petition online at http://www.iacenter.org/palestine/gazashippetition
[TOP]
---
21 Kidnapped Passengers from Spirit of Humanity Say:
We are NOT the "Story" — End the Siege of Gaza!
On June 30th 2009 Israeli Occupation Forces forcibly boarded the Free Gaza boat, Spirit of Humanity, and kidnapped 21 human rights workers and journalists who were on their way to deliver much needed humanitarian and reconstruction supplies to besieged Gaza. Since their kidnapping, tens-of-thousands of people around the world have mobilized to demand their immediate and unconditional release. The Free Gaza Movement would like to thank everyone who has made a phone call, sent a fax or email, written a letter, or organized a demonstration on behalf of our 21 imprisoned friends.
With respect, it is not enough. We are not the story. Since its founding in 1948 the State of Israel has regularly kidnapped and tortured Palestinians, throwing them into forgotten prisons where they can languish for years. Today, more than 11,000 Palestinian political prisoners without benefit of due process, some never even charged — men, women, and children — endure torture and isolation in Israeli jails, outdoor prison camps, and secret black sites. They come from all walks of life: doctors, journalists, parliamentarians, workers, resistance fighters, homemakers, students and others. They are our sisters and brothers.
The 21 passengers aboard the Spirit of Humanity have been illegally incarcerated for their solidarity work with Palestine. 11,000 other members of our common human family are already imprisoned simply for being Palestinian.
The Siege of Palestine is not simply the physical blockade against Gaza. The Siege includes the hundreds of checkpoints throughout the West Bank that separate families and communities and shatter any prospect for a viable Palestinian state. The Siege includes the millions of Palestinians in Diaspora, many of them dumped in squalid refugee camps in Jordan, Lebanon and elsewhere. The Siege is ever-present throughout all aspects of Palestinian life.
[We ask all concerned to oppose] the injustice done to 21 international solidarity workers and the much greater injustices already being committed against millions of Palestinians. Break the Siege of Gaza!
We in the Free Gaza Movement also call on all the good people around the world who have been working so hard to secure the release of our friends to "adopt" a Palestinian prisoner. We ask you to learn about the crisis and take on the cause of an individual prisoner as your own.
Break the Siege! Reach out to Palestine!
For more information, please visit FreeGaza.org, as well as the following prisoner information websites:
www.miftah.org/Display.cfm?DocId=7209&CategoryId=4
http://sumoud.tao.ca/?q=node/view/76
http://palestinianprisoners.blogspot.com/2009/04/palestinian-prisoners-families-protest_27.html
http://www.btselem.org/english/statistics/Detainees_and_Prisoners.asp
[TOP]
---
Spirit of Humanity Activists Report
from Israeli Prison
Free Gaza organizer Huwaida Arraf, from the U.S. and Irish Nobel Peace Laureate Mairead Maguire report from Israel. Both were taken into custody along with nineteen others, including former U.S. Congress member Cynthia McKinney, when the Israeli military boarded their ship in international waters as it tried to deliver humanitarian aid to Gaza.
AMY GOODMAN: Huwaida Arraf is the founder of the Free Gaza movement. She joins us now on the phone from Israel.
HUWAIDA ARRAF: Hello to you all. The purpose of our mission was to highlight to the international community that what Israel is doing to Gaza is blatantly illegal, and our government is not doing anything about it. Israel constantly claims that their policies are based on security, but what they are doing is imposing collective punishment on the entire civilian population of Gaza.
We were carrying on our very, very small boat some medical aid, some rebuilding supplies, because after the December-January assault on Gaza, thousands of homes have been destroyed, tens of hospitals and schools all demolished. The donor community supposedly pledged aid for Gaza, but no one is providing anything. Not one country is saying anything about the fact that for the entire Gaza Strip, not one bag of cement [is being allowed in.]
AMY GOODMAN: Huwaida, we're going to interrupt.
JUAN GONZALEZ: We have Mairead Maguire, the Nobel Prize winner, on the phone from her jail cell. Could you tell us what is going on right now with you and the others who are being detained?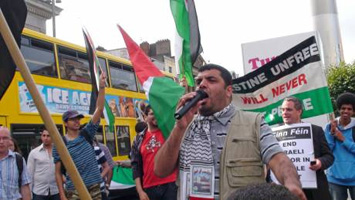 MAIREAD MAGUIRE: Yes. We have just been locked into our cells now for a couple of hours. We are currently going through their process. We are being charged with entering illegally into Israeli waters — near Israeli shores. We are going, it looks like, to be deported from Israel. We did not choose to come to Israel. Our little boat was boarded by the navy combat soldiers, and they came in full riot gear onto our boat when we were just twenty-five miles off the shore of Gaza. We were under gunpoint, forcibly taken to Ashdod, held in the detention center overnight. And then I was removed from Ashdod detention center, handcuffed in a military vehicle, and brought here to the prison, where we're currently being held. All of us, all nineteen — there were twenty-one, but Huwaida and Lubna are out — but the rest of us are being held here in detention in this prison.
AMY GOODMAN: What is your response, Mairead Maguire, to Mark Regev, the Israeli spokesperson, who said aid is free to pass into Gaza?
MAIREAD MAGUIRE: No, that is wrong. Gaza is like a huge prison, because its borders are closed. The sea pass into Gaza has been closed for over forty years by the Israeli government — we are only the seventh ship fighting to get into the port of Gaza. And as we do that, it is very interesting, we pass the gas fields of Gaza. You know, Gaza has huge gas deposits, which Israel is now beginning to use. So there is the issue of who owns the gas in the Gazan Strip. And also farmers and fishermen, who try to go out within the twelve-mile limit to fish for their families, are shot up and have been killed by the Israeli navy in that area.
So, Gaza is a huge occupied territory of one-and-a-half million people who have been subjected to collective punishment by the Israeli government. That breaks the Geneva Convention, every international law in the book. And the tragedy is that the U.S. government and Europe, they remain silent in the face of the abuse of Palestinian human rights, like the seizing of the Spirit of Humanity.
And it is also tragic that out of a population of ten million Palestinians, almost seven million are currently refugees out in other countries or displaced within their own country, particularly after the horrific massacre by Israeli jet fighters after just earlier this year. Twenty-two days Israel bombarded Gaza, Gazan civilians. And we are not sure what kind of weapons were dropped. We need the scientists. We need people to go in to see: is it depleted uranium in the very soil of the Gazan fields now?
JUAN GONZALEZ: And, Mairead Maguire, I'd like to ask you, to your knowledge, has your government or the government of the United States, in the case of Cynthia McKinney or some of the others, attempted to visit with the detainees or to lodge protest with the Israeli government?
MAIREAD MAGUIRE: Our consulates from the different governments come here to see us. And we are concerned about the five people who come from Bahrain, because their government does not have the same links with Israel, and we are concerned for their safety. We have asked that all those who were hijacked be given freedom and our goods returned, because we have got to look out for each other.
AMY GOODMAN: Mairead Maguire, what will happen now? And we understand that some people were injured.
MAIREAD MAGUIRE: Yes, indeed. When the combat troops in masks and fully armed came on board our small boat, some people were injured. That happened during the day. But our life was also put at risk because the previous night, during the night, when we were in international waters, a couple of Israeli naval ships came up around us. Over the radio, they told us if we did not turn back into Cyprus, they would shoot at our boat. They cut off our communications, including our satellite communications. So we were in grave danger of actually being killed at that point. So we were literally hijacked, taken at gunpoint by the Israeli military. And now we are here in prison, and they are threatening to deport us. We were brought here against our will. We didn't come here by choice, and we are not here by choice.
[TOP]
---
Haneyya: Israeli Hijaking of Spirit of Humanity
An Act of Piracy
Palestinian premier Ismail Haneyya said the Israeli hijacking of the Free Gaza Movement boat carrying humanitarian supplies to Gaza was an act of piracy and an attempt to stop the international solidarity with the besieged Gaza people. He urged human rights organizations to demand Israel stop its attacks on the humanitarian efforts made to assist Palestinians in Gaza.
Palestine Government Committee Against Siege: Intercepting Aid Boat Act of Piracy
Gaza's government committee against the siege has described the Israeli Occupation Forces' (IOF) interception of the Spirit of Humanity boat carrying humanitarian aid to the Gaza Strip as "an act of piracy." The committee in a statement on July 1 said that the repeated IOF piracy against boats carrying solidarity activists to Gaza constituted a "major hit" against the international maritime laws.
The statement asked the United Nations to immediately intervene to stop such violations and not to regard IOF piracy as a "right" while viewing other acts of piracy in other world areas as a punishable crime. The Spirit of Humanity was on a humanitarian mission and was carrying activists from various nationalities along with medicines and medical equipment.
For his part, Fawzi Barhoum, a Hamas spokesman in Gaza, said that the seizure of the boat and kidnapping and interrogation of its crew members, from 11 countries, was a gross crime. He said that the besieged Strip was in need of all kinds of international solidarity activity to help its children, women and old people along with the victims of the latest Israeli war.
Israel would never have dared to commit such an act if there were international condemnation that brought it to account for such practices, the spokesman said, holding the world community responsible for remaining silent vis-à-vis those practices.
[TOP]
---
State Department Remarks on
Seizure of Spirit of Humanity
President Barack Obama and Secretary of State Hillary Clinton have issued no statements concerning the Israel's piracy in seizing the Free Gaza Movement's ship, the Spirit of Humanity, on a humanitarian mission to Gaza, and imprisoning al those on board, an crime against their right to defend Gaza and oppose U.S.-Israeli policy to maintain the illegal siege. Despite the fact that the ship committed no crime, was bringing medical and building supplies to Gaza, the U.S. government has not demanded that Israel release the people or the ship. The only statements to date from the State Department took place during the July 1 daily press briefing by State Department spokesperson Ian Kelly.
QUESTION: Erin Connors from Press TV. Former congresswoman Cynthia McKinney and members of the Free Gaza Movement were intercepted by the Israeli army when they were on a humanitarian mission over there. What's being done about that? Are they on their way home? Will they be deported? What's the next step there, and will their supplies ever get to where they're going?
MR. KELLY: On that last question, I don't know the answer, actually. I think I have to refer you to the Government of Israel. We can confirm that the Israeli navy did arrest those on board this – the ship which is known as Spirit. We can't comment on any of the individuals or the number of individual American citizens on board because of Privacy Act concerns. Our Embassy has been in touch with the Israeli authorities. We have been told that the boat was stopped in Israeli waters and is being escorted to an Israeli port, or may have already gone to an Israeli port. We understand passengers are safe and all accounted for. We're seeking consular access to the American citizens who are on board. And we don't take any position regarding the Free Gaza Movement or any of its messages.
[TOP]
---
Israeli Siege Takes Gaza Back to the Middle Ages
Karen Abu Zayd, the United Nations Relief and Works Agency (UNRWA) commissioner general, has warned that the 24-month-old Israeli siege on the Gaza Strip was bringing Gaza back to the Middle Ages. Abu Zayd was addressing a conference organized by the UNRWA in Brussels in cooperation with the Belgian foreign ministry and the European Commission on the 60th anniversary of the founding of the Agency.
The commissioner general said that there have been neither adequate fuel supplies to Gaza's sole electricity station nor cooking gas supplies since the war ended in January. Life in Gaza witnesses unprecedented difficult conditions that may not have existed in the Middle Ages, she added. She charged the Israeli Occupation Authority (IOA) with banning UNRWA and other humanitarian organizations from assisting thousands of families in reconstructing their destroyed homes.
The international official noted that 52,000 houses in Gaza were destroyed while 250,000 refugees were homeless, stressing that the world community is responsible for imposing respect to international laws and doctrines concerning rights of civilians under occupation. Abu Zayd said that bringing in goods via tunnels was averting a total collapse of the humanitarian conditions in the beleaguered Strip.
[TOP]
---
Israel Continues Attacks on Civilians in Gaza
"There was an explosion, maybe 20 meters away. Then another immediately after. Â I realized I had been hit," said Saleh Ahmad al-Medani, pulling aside the collar of his T-shirt to show one of three places where he was punctured by the metal darts known as "flechettes." The razor-like flechettes are dart-shaped bits of metal packed by the thousands into a single shell that are approximately two inches long. At just after midnight on June 3, the 17-year-old was walking home from a friend's house in Umm al-Nassir, a collection of tents and dilapidated houses in the northwest Gaza Strip, just about half a mile from the northern boundary with Israel.
Days after being pierced by the flechettes, al-Medani's wounds not only haven't healed, the darts are still lodged in his neck, shoulder and leg. "The doctor told me that if I don't feel too much pain, he won't operate to remove the darts," the youth said. "I feel light pain still, but what can I do?"
This is not an unusual situation in Gaza, where Israel has repeatedly used the dart bombs. Due to their design, flechettes dig deeply into their target — flesh, cement and metal alike — with their "tails" frequently breaking off, leaving multiple injuries and rendering them nearly impossible to extract without inflicting more injury in the surgical search. In most cases, doctors opt against surgery, leaving the darts inside the victim's body.
At the time when al-Medani was struck, "nothing was happening," he said. "I was with my friend, Ahmad, and it was quiet in the area. Until we were hit." Seventeen-year-old Ahmad Abu Hashish suffered a lighter injury, with a dart to his foot. Both teens were immediately taken to nearby Kamal Adwan hospital in Beit Lahiya, but al-Medani's injuries being more serious, including the dart dangerously close to his cervical vertebrae, necessitated his transfer to Gaza City's al-Shifa hospital.
The Palestinian Center for Human Rights (PCHR) weekly report corroborates al-Medani's testimony that he was hit by the dart bomb. According to PCHR, "At approximately 00:00, IOF [Israeli occupation forces] troops positioned at the border between the Gaza Strip and Israel fired four flechette shells at a Bedouin village in the northern Gaza Strip. The shells landed near a number of Palestinian civilians who were beside their houses, approximately 1,000 meters (about 3,280 feet) from the border."
Also on June 3, in the Beit Hanoun region, Israeli soldiers fired on Palestinian farmers, injuring two persons who PCHR reports were roughly one kilometer from the border, working on farmland. The two injured farmers, both in their mid-60s, are among the latest casualties of Israeli shelling and firing since the end of Israel's three-week assault on Gaza in January.
For almost a decade, Israel has unilaterally imposed an off-limits area solely on the Palestinian side of the boundary between Israel and Gaza. This "buffer zone" has ranged from 50 meters wide (165 feet) to more than two kilometers (1.5 miles) in some northern areas. On May 25, Israeli authorities officially announced the current boundaries of the buffer zone to be 300 meters (about 1000 feet), within which anyone walking on the land would be subject to Israeli fire.
Prior to and following the declaration, Israeli soldiers have continued to shell and shoot well beyond 300 meters, targeting unarmed Palestinian civilians and farmers in the vicinity. On January 18, the first day of the ceasefire, Israeli soldiers shot 23-year-old Maher Abu Rjaila, from the village of Khozaa in the southeast Gaza Strip, in the chest with live ammunition, killing him. Since then, two more Palestinians were killed, including one child, and 18 injured, all in or near the "buffer zone" area, all by Israeli soldiers' intentional shooting and shelling.
One month on and several more victims later, on February 24, 17-year-old Wafa al-Najjar, from the same region, was shot in the knee by an Israeli soldier roughly 800 meters (2,625 feet) away from the border with Israel. Al-Najjar lost her entire kneecap and faces months of rehabilitation before she can try to walk again.
On 5 June, Khaled Jahjuh was with his seven-year-old son in the Shoka region east of Rafah in the southern Gaza Strip when he was injured. The two were driving away from their land, 1.5 kilometers (just under 1 mile) from the Israeli border, when Israeli soldiers began shooting. An Israeli soldier's bullet passed through the steel of the truck and into Khaled's back, at his spine, leaving him unable to walk, and leaving his son psychologically scarred.
As many of those injured by Israeli attacks face uncertain recovery and uncertain futures, it is sure that in the extended "buffer zone" region, the number of casualties will continue to rise.

Eva Bartlett is a Canadian human rights advocate and freelancer who arrived in Gaza in November 2008 on the third Free Gaza Movement boat. She has been volunteering with the International Solidarity Movement and documenting Israel's ongoing attacks on Palestinians in Gaza. During Israel's recent assault on Gaza, she and other ISM volunteers accompanied ambulances and documenting the Israeli attacks on the Gaza Strip. (Reprinted from ElectronicIntifada.net)
[TOP]
---
Criminal Use of Drones Against Civilians in Gaza
The concerted effort of international human rights activists to rein in violations of laws of war was given a major impetus when Human Rights Watch (HRW) researchers presented a report June 30 on the unbridled use by the Israeli military of unmanned combat aerial vehicles (UCLAV), commonly known as drones, during Israel's 22-day assault on Hamas in Gaza at the beginning of the year.
Entitled Precisely Wrong, the Human Rights Watch report focuses on six cases of Israeli drone-launched missile attacks in which 29 Palestinian civilians, eight of them children, were killed. Based on cross-referenced eyewitness accounts corroborated by doctors, as well as ballistics and forensic evidence collected on the attack sites, the report asserts that "in none of the cases did HRW find evidence that Palestinian fighters were present in the immediate area of the attack at the time. "These attacks violated international humanitarian law," the report states in unequivocal terms, following a ten-day investigation.
Marc Garlasco, senior military analyst at HRW's emergencies program estimates that at least 87 civilians were killed in 42 drone attacks. "Israel's targeting choices are unacceptable and unlawful," he declared at a press conference in East Jerusalem, "especially (considering) that UCLAV provide the most precise platform in the military arsenal, and that Israel is the world leader in drone technology."
The report includes technical information about drones and drone-launched missiles. Israeli drones have advanced sensors, combining radars, electro-optical and infrared cameras, and lasers providing real time imaging by day and night. "Those sensors enable a drone operator to determine if a person on the ground is armed," stressed Garlasco.
In addition to these high-resolution cameras, a missile fired from a drone has its own cameras that allow the operator to observe the target from the moment of firing. "If a last-second doubt arises about a target, the operator can divert the fired missile with a joystick," the report notes. Everything viewed by the drone operator is recorded. "There is no fog of war with such drones," Garlasco said. "Yet, the Israeli army failed to distinguish between military objectives and civilians."
According to Palestinian sources, 900 civilians were killed during the military operations, among a total of more than 1,400 killed. The HRW report says a third of the fatalities were from drone-launched missiles. Israeli sources put the civilian death toll at 300.
"HRW is not against the use of drones in warfare. Its accuracy and concentrated blast radius can indeed reduce civilian casualties," Garlasco conceded. But "drones, much like sniper rifles, are only as good at sparing civilians as the care taken by the people who operate them."
The Israeli army questions the credibility of the HRW investigation. "The report is based on anonymous Palestinian sources whose knowledge of military issues is doubtful, who are clearly not impartial observers, and who are part of the propaganda machine in Gaza," it said in a statement.
"We conducted interviews separate from Hamas activists," counters Garlasco. "If there were fighters, the interviews were stopped immediately; we just did not use them." Garlasco acknowledges that the testimonies collected are limited. "Mistakes can happen, but here there is a clear pattern — many civilians were killed. It seems Israeli rules of engagement were very loose — keeping Israeli casualties to a minimum, valuing the lives of soldiers more than those of Palestinian civilians."
The report calls on Israel to conduct a "case-by-case investigation" into the use of drone-launched missiles. "Military or civilian personnel found responsible for committing or ordering unlawful drone attacks should be disciplined or prosecuted as appropriate."
"This report has a look to the future," says Garlasco. "It's a cautionary statement to the continued U.S. use of UCLAV in Afghanistan and Pakistan."
Human rights activists have increasingly voiced their concern over U.S. reliance on a drone-launched missile attack policy. In a stinging report submitted earlier this month to the Geneva-based UN Human Rights Council, UN special investigator Philip Alston charged that the U.S. has created "zones of impunity" by rarely investigating private contractors and civilian intelligence agents involved in the killing of civilians from drone attacks. Alston urged that an independent special prosecutor be charged with pursuing criminal allegations against government officials accused of wrongdoing.
Last week, Israel's Channel Two revealed that Israel had conditioned the sale to Russia of a dozen drones, on Moscow not selling Iran advanced anti-aircraft missile technology. Iran has sought to deploy the Russian S300 air defense missile system against a possible Israeli attack on its nuclear facilities.
Moscow became aware of a need for advanced drones during its war with Georgia last summer. Georgia operated Israeli-made spy drones, which proved highly effective. The Russians used a drone of their own without great success. Russian military officials have made no secret of their intention to use Israeli models to improve their drone development program.
[TOP]
---