Family Detention Camp Hutto to Close as Work Continues to Defend Rights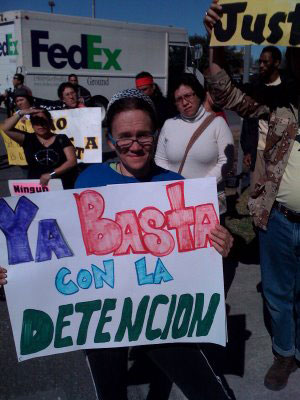 On August 6, Immigration and Customs Enforcement (ICE) announced that it would close the infamous T. Don Hutto detention camp for immigrant families. The detention camp has been the target of numerous protests, vigils and organizing drives defending the rights of immigrant families, especially children, detained there since 2006. All have demanded that the camp be closed and detention of families ended. None of the families detained are guilty of crimes. Many are immigrants from more than 40 countries, awaiting a determination on their efforts to get asylum. Others are awaiting appearances before immigration judges on their status. Still others, Palestinians, for example, are left in limbo as they cannot be deported to Palestine since it not officially recognized as a state, but the government refuses to release them.
Jay J. Johnson has been a main organizer in defending rights of detainees. After applauding the work of thousands of people all across the country who worked together to expose the inhuman conditions and attacks on rights at Hutto and welcoming its closure, he emphasized the importance of continuing the fight for the rights of children in the U.S.
"We will do well to realize that there is more to do. Because Hutto has violated every one of the international rights of children [contained in the UN's Rights of the Child Covenant] for over two years, the Hutto grassroots citizens have featured Rights of the Child at our Hutto walks and vigils for over two years now. That is why a growing group of these same grassroots organizers that came together to fight for the freedom of the children imprisoned in Hutto, have launched a new campaign. They have formed a new group, known as Rights of the Child USA.
"Rights of the Child USA is therefore organizing for a major networking initiative...to build an alliance of hundreds of organizations from around the country...to promote the ratification of the UN Rights of the Child (http://www2.ohchr.org/english/law/crc.htm).
"On November 20, 1989, the UN held the Convention on the Rights of the Child. The covenant on Rights of the Child was adopted in 1990. That same year, the U.S. Congress voted to ratify the Rights of the Child. Yet, President George H.W. Bush refused to sign the legislation. Under President Bill Clinton, the Rights of the Child was never important enough to get it ratified. Under George W. Bush, thousands of immigrant children all across this country were victims of some of the harshest treatment, imprisoned "for profit" by the Bush cronies, and deported by the hundreds of thousands. Untold hundreds have died.
"November 20, 2009 marks the twentieth anniversary of the Convention on the Rights of the Child. Yet, with the exception of Somalia, the United States is the only country in the world that has refused to ratify the Rights of the Child. Rights of the Child USA is planning a major event to be held this coming November 20. If you are interested in joining this movement and supporting legislation to ratify the Rights of the Child, or know of others who would, please feel free to contact Border Ambassadors (www.borderambassadors.com).
[TOP]
---
Changes to Family Detention Centers
Same Dog, Different Collar
"Es el mismo perro con diferente collar (same dog, different collar)," was Antonio Díaz's reaction to the government's decision, announced August 6, to finally yield to the demands of Díaz and other activists that no more undocumented immigrant families (especially families with small children) be imprisoned at the for-profit T. Don Hutto Residential Center in Taylor, Texas.
Pressured by regular marches and an ACLU lawsuit (settled in 2007) that demanded better conditions for the detainees, the 512-bed "residential center" (a former state prison located in Taylor, 30 miles north of Austin) gradually reduced its inmate population from 427 to 126. Last week's decision marks the virtual death of Hutto as a family detention center. Instead, said the Federal government, it will be converted into an immigration jail for women. Hutto's detainees will be sent to the 84-bed Berks Family Shelter Care Facility in Leesport, Pennsylvania.
But according to Vanita Gupta, ACLU staff attorney with the Racial Justice Program, Berks is "already full." Hutto detainees may be sent to other "community-based homes," [or government facilities.] In an email to the New York Times she said, "the ending of family detention at Hutto is welcome news and long overdue." She added that "without independently enforceable standards … and basic due process before people are locked up, it is hard to see how the government's proposed overhaul of the immigration detention system is anything other than a reorganization or renaming of what was in place before."
[While other advocates also welcomed the decision to end family detention at Hutto, all also express serious concerns about the rights of immigrants and children detained by the government.] Child and family advocate Michelle Brané said that "the Obama administration has a lot more work to do."
Jay J. Johnson-Castro, founder of advocacy group Border Ambassadors [and a main organizer in sustaining the fight against Hutto] applauded the work of the thousands of people who fought to close Hutto. He emphasized it is important to continue the struggle to demand that the U.S. sign the United Nations covenant on the Rights of the Child," which outlaws the treatment children are forced to endure in the government's detention facilities.
Antonia Díaz, a spokesperson for the Texas Indigenous Council, emphasized "This is all a way for the authorities to diffuse the galvanization of Texan communities coming together to free these children." [He emphasized the importance of building unity to oppose government racism and attacks on immigrants.] Díaz said that the government conceded that children should not be imprisoned in "criminal" facilities, so it renamed the facility as a "Family Shelter Care Facility." He added, "They can call it whatever they want to call it," but it is still a detention center for families guilty of no crime.
[TOP]
---
Petition to President Obama to
End Family Detention
To: President Barack Obama and Secretary of Homeland Security Janet Napolitano
We petition that…
Immigrant children and their families should not be held behind bars. Immigration and Customs Enforcement (ICE) incarcerates entire families while they await immigration hearings, often for months on end. Corrections Corporation of America operates the infamous T. Don Hutto family detention center in Taylor, TX for profit.
There are alternatives to family detention that keep families together and out of jail. ICE should release families on personal recognizance, use reasonable personal bonds, and provide limited supervised release programs.
Instead of implementing these programs, ICE has proposed the construction of three new family detention centers. We, the undersigned, call for the immediate closing of the T. Don Hutto detention center and an end to family detention.
Sincerely,
(More than 69,286 signatures)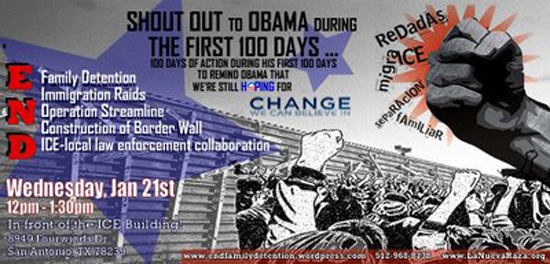 [TOP]
---
Government Continues to Reject Demand for Enforceable Standards at Detention Centers
In early August, the Department of Homeland Security and its main immigration arm, Immigration and Customs Enforcement (ICE) announced changes to the government's detention system. The government plans to strengthen centralized federal authority over the system that holds about 400,000 immigration detainees over the course of the year and about 32,000 at any one time. Although immigration violations come under civil, not criminal law, many of the detainees are held in county jails and private for-profit prisons, such as those run by Corrections Corporation of America (CCA). There have been preventable deaths as a result of poor medical care, brutal treatment of children and families, refusal to inform those detained of their rights and numerous other examples of neglect and abuse. ICE has not denied the reports documenting the abuse.
In announcing the changes, John Morton, head of ICE emphasized that "We are going to continue to detain people and we are going to continue to detain people on a large scale." He said the government will now be using and designing facilities located and operated specifically for immigration purposes. He said, "What we are trying to do is design a system that reflects the unique civil detention authorities that we are exercising." He added, "The population that we detain is different than the population that is detained in a traditional prison or jail." Asked if his vision could include building new civil detention centers, Morton said yes. The current detention system costs $2.4 billion a year to detain individuals and families guilty of no crime and forced to wait for government decisions concerning their immigration status, a matter of civil law as Morton emphasizes.
The changes are coming in part from repeated and persistent struggles by rights organizations and activists to oppose the government's T. Don Hutto family detention center in Texas, where children, even infants, were forced to wear prison uniforms, denied education and recreation, separated from their parents and more, while health and medical conditions were horrendous. The facility is run by CCA. It will be closed as a location for detaining families, but CCA will be given contracts for women detainees. As a family concentration camp, CCA received $2.8 million a month from the government. At this time the government will continue to detain families, even though often only one parent is involved in immigration proceedings. Families are now to be sent to a facility in Pennsylvania, itself also known for violations of rights, especially of children, and already full.
As part of the struggle to defend immigrant and children's rights, the American Civil Liberties Union (ACLU) filed a lawsuit against Hutto in 2007, demanding that it be required to meet legally binding standards on conditions for the families imprisoned. This lawsuit resulted in some enforceable standards, including improved education, food and medical care, overseen by the court that heard the case. The ACLU and other activists also petitioned DHS to establish legally enforceable standards for the entire detention system. The petition was ignored. A year later a lawsuit was filed, demanding enforceable standards. President Barack Obama, since taking office, has not responded.
On June 25, a federal judge ruled that the two-and-a-half-year delay in answering the petition was "unreasonable as a matter of law," and ordered DHS to respond within 30 days. The August announcements concerning changes did not call for such enforceable standards but rather will increase federal control and supervision of the facilities. Given that Guantánamo is the model of federal control of prisoners guilty of no crime, the new detention facilities will likely follow that example.
[TOP]
---
Groups Demand Napolitano End Attacks
on Rights at Louisiana Detention Facility
August 4, 2009
The American Civil Liberties Union and several other human rights and civil liberties organizations sent a letter to Janet Napolitano, Secretary of Homeland Security, calling on her to fix the deplorable conditions at the South Louisiana Correctional Facility in Basile. Conditions at the immigration detention center are so bad that last week detainees there launched their fifth hunger strike protest. Six detainees have been sentenced to 60 days in solitary confinement in retaliation for acting as human rights monitors at the facility.
"Countless firsthand accounts of deplorable and inhumane conditions at the South Louisiana Correctional facility have been ignored by prison and immigration officials," said Judy Rabinovitz, Deputy Director of the ACLU Immigrants' Rights Project. "Secretary Napolitano should take immediate action to fix the conditions which have forced detainees at the facility to risk their own lives by staging hunger strikes."
In the last month, the facility has -become a symbol of national concerns about Immigration and Custom Enforcement's (ICE) widespread failure to ensure that its facilities – particularly local jails housing immigrants as part of intergovernmental service agreements – meet its own minimum standards.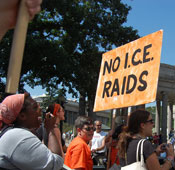 According to the letter, "[n]ot only have a large number of detainees filed grievances and requested meetings with jail and ICE staff, detainees have launched four hunger strikes to obtain basic necessi ties like soap, toilet paper, communication with their families, and information about their legal cases. In the face of this human rights work and peaceful action, ICE and jail staff have responded with aggressive disciplinary action including blocking detainees' access to legal representatives."
More than 100 detainees from more than 10 countries have served as human rights monitors exposing inhumane conditions at the facility. Six of those detainees who acted as human rights monitors in the detention center and who were perceived as leaders of the hunger strike have been sentenced to 60 days in solitary confinement after attempting to communicate grievances to ICE or jail staff, according to the New Orleans Workers' Center for Racial Justice.
"Solitary confinement as punishment for speaking out about human rights abuses is unconstitutional and unconscionable," said Rabinovitz. The letter asks Secretary Napolitano to allow a national delegation of detention advocates from across the country to visit the Louisiana detention center to speak with detainees and investigate conditions there. It also calls on ICE to release detainees serving as human rights monitors from solitary confinement and cease retaliation against detainees for reporting human rights standards; to arrange a meeting between DHS delegates and human rights monitors at the jail; and to cancel its contract with the Basile facility if the violations are not remedied immediately.
(Source: Media-Newswire.com)
[TOP]
---
Report Documents Attacks on Rights
at Detention Centers
Attorney David Kennedy says clients of his who have been held in immigration detention centers in South Georgia and eastern Alabama routinely are denied fundamental rights. "I have had clients who have had no access to phones for extended periods of time. I have had clients being questioned and induced into signing things they did not understand," said Kennedy, a Gainesville immigration lawyer. "I have had clients complain they were stuck in their cells for 23 hours a day. There's definitely a problem with immigration detention in this country."
On the eve of a new immigration detention center opening in Gainesville, a report issued this week by National Immigration Law Center appears to validate Kennedy's complaints.
The report, based on confidential Immigration and Customs Enforcement documents obtained in litigation, alleges there are pervasive problems throughout the country's immigration detention facilities, many of which are operated by private contractors.
Detainees are routinely denied visitation with family members, access to legal materials and regular recreation, according to the report. Many never get an explanation of their rights while being detained, the report says. "This is a civil detention, and these folks are being treated like hardened criminals," said the report's co-author, Ranjana Natarajan.
The Corrections Corporation of America (CCA) could begin boarding immigration detainees at its new North Georgia Detention Center on Main Street as soon as next week. The site of the old county jail adjoining the Hall County Sheriff's office underwent $4 million in renovations and is being leased from Hall County for $2 million a year. CCA operates the detention center through an agreement with ICE and the county.
This week, ICE officials did not deny the allegations contained in the report, vowing to continue to improve conditions. But Department of Homeland Security officials recently decided against creating uniform detention center standards that the National Immigration Law Center (NILC) wants. ICE is supposed to conduct yearly evaluations of every detention center, but has no enforceable, binding legal rules on how inmates are treated, according to the report.
ICE spokeswoman Barbara Gonzalez said agency officials "feel the NILC put together a very thoughtful report, and we will carefully review and take seriously this report, as we would any report. We are committed to continuously improving our immigration detention system."
Gonzalez noted that within 10 days of taking office, Secretary of Homeland Security Janet Napolitano ordered all immigration enforcement policies to undergo a review, "including detention." In February, Napolitano appointed former Arizona Department of Corrections director Dora Schriro as a special advisor for detention and removal. "Her position was created to focus exclusively on the significant growth in detention and detainment in the last few years," Gonzalez said.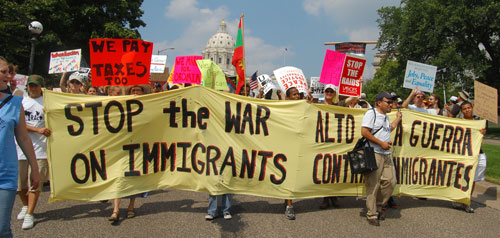 On any given day, ICE holds about 33,000 immigration detainees in facilities across the country, and supervises another 17,000 people facing deportation through electronic monitoring and other means. The National Immigration Law Center estimates that in 2008 about 220,000 people were held in detention centers prior to deportation. The typical stay is 30 to 90 days.
The Gainesville facility operated by CCA is expected to hold about 500 low- and medium-security immigration detainees, many of them from North Carolina. CCA spokeswoman Louise Grant said, "CCA does adhere in every one of our ICE detention facilities to the detention standards set by our customer."
The report is titled: "A Broken System: Confidential Reports Reveal Failures in U.S. Immigration Detention Centers," by National Immigration Law Center and the ACLU of Southern California. See: http://www.nilc.org/immlawpolicy/arrestdet/A-Broken-System-2009-07.pdf
[TOP]
---
Michigan Prison
Hundreds Protest 'Supermax' Torture of Continuous Solitary Confinement
African Americans and much of the U.S. prison population have long been familiar with the type of torture used at Guantánamo against the hundreds of people imprisoned there. Prolonged solitary confinement, long periods of heat, cold, lights 24 hours a day, death threats, beatings and torture used to secure confessions, have long been utilized. This reality was brought sharply to the fore by a recent protest against prolonged solitary confinement, common in maximum-security prisons. In this case, hundreds of people were protesting conditions at the Tamms Correctional Center in southern Illinois. Hundreds of calls were made to Governor Pat Quinn's offices August 6 during a statewide protest opposing conditions at Tamms. Many inmates have been held for longer than 10 years in continuous solitary confinement. Protest organizers said more than 20 church groups and civic organizations participated. They estimated that 600 persons made calls to the governor's offices.
People have organized the Tamms Year Ten Committee to focus attention on the prolonged solitary confinement, which is torture. Among their demands are calls to:
• End "indefinite isolation."
• Exclude seriously mentally ill prisoners from Tamms.
• Establish "clear standards and procedures" for transfer to the supermax.
• Require "independent mental health reviews" of all of the lockup's current inmates.
A recent newspaper report by the local Belleville News-Democrat reported that 54 of approximately 250 inmates at Tamms have been held for at least 10 years including 39 who arrived when the prison opened in 1998. Tamms inmates are generally held in solitary confinement and all but a few spend 23 hours of each day in a cell. It is the most expensive prison to operate at an annual cost of $64,700 per inmate.
The newspaper also reported that despite claims by state correctional officials, that the prison holds especially "troublesome" prisoners, 138 of the people held there had not been convicted of crimes within the prison system. The report also said that of the remaining 109 Tamms inmates who were convicted of crimes in prison, 55 committed acts such as throwing feces and urine, struggling with guards or carrying homemade weapons, acts that could be attributed to mental illness or a need for self-protection.
Protests to end solitary confinement and provide care for the mentally ill are continuing.
[TOP]
---
Statement by ICE on Immigration Detention System
U.S. Immigration and Customs Enforcement (ICE) Assistant Secretary John Morton announced today that ICE is undertaking a major overhaul of the agency's immigration detention system.
"This change marks an important step in our ongoing efforts to enforce immigration laws smartly and effectively," said Department of Homeland Security Secretary Janet Napolitano. "We are improving detention center management to prioritize health, safety and uniformity among our facilities while ensuring security, efficiency and fiscal responsibility."
"In the past five years, ICE has experienced considerable growth in immigration detention. This growth has presented significant challenges to a system that was not fundamentally designed to address ICE's specific detention needs," said Morton." Implementing these reforms will improve medical care, custodial conditions, fiscal prudence and ICE's critical oversight of the immigration detention system. ICE remains committed to enforcing our nation's immigration and customs laws. We also reaffirm our commitment to ensuring the security, safety and well-being of individuals in our custody."
As the first of many concrete steps ICE is taking to implement comprehensive detention reform, the agency is creating an Office of Detention Policy and Planning (ODPP). The role of this office is to design and plan a civil detention system tailored to addresses ICE's needs. Dr. Schriro, who will report directly to the assistant secretary, will lead the ODPP with support from detention and health care experts.
The ODPP will evaluate the entire detention system in a methodical way, with seven areas of focus, each with benchmarks for progress:
Population Management: To ensure the best location, design, and operation of facilities reflecting the unique nature of civil detention;
Detention Management: To ensure appropriate custodial conditions and address day-to-day detention functions, including classification, discipline and grievances;
Programs Management: To ensure the provision of religious services, family visitation, recreation and law libraries;
Health Care Management: To ensure the timely provision of medical, dental and mental health assessment and services;
Alternatives to Detention Management: To develop a national strategy for the effective use of alternatives to detention including community supervision;
Special Populations Management: To provide attention to women, families, the elderly and vulnerable populations; and
Accountability: To ensure ICE employees perform the core functions of detention oversight, detainee classification and discipline, and grievance review.
While ICE continues to undertake the ODPP review, other immediate actions announced include:
Discontinued use of family detention at the T. Don Hutto Family Residential Facility in Texas. In place of housing families, we will propose that the Texas facility will be used solely as a female detention center. Presently, Hutto is used to detain families and low custody female detainees. Detained families will now be housed at Berks Family Residential Center in Pennsylvania.
Formation of two advisory groups of local and national organizations interested in ICE's detention system. These groups will provide feedback and input to the Assistant Secretary. One will focus on general policies and practices, while the other will focus on detainee health care.
Appointment of 23 detention managers to work in 23 significant facilities — facilities that collectively house more than 40 percent of our detainees. These 23 federal employees will directly monitor the facilities and ensure appropriate conditions.
Establishment of an Office of Detention Oversight (ODO) whose agents will inspect facilities and investigate detainee grievances in a neutral manner. The ODO will be part of ICE's Office of Professional Responsibility, an independent office that reports directly to the Assistant Secretary.
[TOP]
---
Feds Expanding Control over Local Jails
ICE Secure Communities Program is
Another Mechanism for Attacks on Rights
The federal government is expanding its "Secure Communities" Program to all local jails. It is currently operating in 48 counties nationwide, including Boston, Dallas, Houston, Miami and Phoenix. DHS plans to expand it to all local law enforcement agencies by the end of 2012. The program calls on local jailers to immediately send fingerprints for everyone arrested (not convicted, just arrested) to an integrated federal database. The database combines the FBI's Automatic Fingerprint Identification System (AFIS) with that of the Department of Homeland Security. The government says the integrated system allows them to tell the local jails whether the individual involved is considered a "criminal alien" and subject to deportation. If so, the person is to be turned over to Immigration and Customs Enforcement (ICE), where they may be detained or deported, even if never convicted of a crime.
According to ICE, it will spend $1.1 billion over four years on "transforming, modernizing and optimizing the criminal alien enforcement process." President Barack Obama included $200 million in his proposed 2010 budget for the program, a thirty percent increase from last year.
The integrated database is already in use at the federal and state level. Expanding to all local jails involves about 30,000 jails and booking locations nationwide. They are expecting enforcement agencies at the state and local level to be included by 2013. An estimated 14 million people are booked into local jails each year. DHS estimates that about 1.4 million people could be deemed as "criminals" and placed in detention awaiting deportation. This compares to the 117,000 so-called criminal immigrants deported last year. Given the expected increase in rounding up of immigrants, ICE also predicts a "larger scale" increase in the number of individuals detained and it is working to expand detention space.
According to ICE, "Secure Communities," will serve to identify immigrants "suspected of crimes," and ensure they are not released by local law enforcement. ICE is supposed to prioritize "enforcement on the most dangerous" immigrants first. These are considered anyone with a Level 1 offense (the highest level). These offenses include "national security, homicide, kidnapping, assault, robbery, sex offenses and narcotics crimes that carry a sentence greater than one year."
The program is part of efforts by the federal government to involve local and state law enforcement in immigration matters, under federal command. Immigration involves civil, not criminal law, and up until recently, only federal immigration agencies were permitted to enforce immigration law. Now, the government has programs like "Secure Communities" and 287(g), where local law enforcement agencies, including county sheriffs, are being used to round up immigrants (in joint raids with ICE and other federal agencies) and other actions.
Experience to date with these programs is that they are being used to terrorize and humiliate immigrant communities, rounding up large numbers of people guilty of no crime. They also serve to criminalize immigrants stopped on misdemeanor violations like traffic violations. An individual stopped for a broken taillight, who has overstayed a visa (a civil not criminal violation) will automatically be detained and held for deportation. This can occur to newcomers as well as those who have been living and working in the country for decades. Similarly, if an individual is arrested for a misdemeanor and was convicted years ago for say, a traffic violation, they will still be classified as "criminal" and also sent for detention and deportation.
While ICE claims to focus on those "most dangerous," actual experience has been that large numbers of people, including citizens, are being detained and scheduled for deportation without cause. The "Secure Communities" program is likely to greatly increase these numbers and subject immigrants to yet greater attacks. For example, an undocumented worker arrested for a traffic violation will be deported rather than released. Lawyers gave as an example of an individual who was detained for three months, as they were unable to sufficiently prove their citizenship to the government. Indeed, if he did not have a lawyer he probably would have been deported. Activists also report that immigrants in the country legally but still in the process of obtaining their documents are showing up as undocumented and thus subject to deportation. Lawyers also emphasize that because immigration matters involve civil law, the same standards that apply to criminal cases, such as the right to a lawyer, do not apply. Many of the workers being caught up through Secure Communities and 287(g) do not know their rights, are not informed of them, nor are they provided legal assistance. Often they are forced to sign agreements saying they did commit a crime, such as identity theft. Then they automatically show up as "criminals" and are subject to being deported even when they are not guilty of any crime.
There has already been widespread racist profiling and efforts to collectively humiliate those rounded up by the local agencies under the direction of the federal government to enforce immigration law. Sheriff Joe Arpaio for example, from the Phoenix, Arizona area, has forced immigrants detained to march shackled down the street wearing only jail-issued pink underwear. The federal government made such brutal actions possible and also did nothing to stop it.
As another example, in North Carolina, most people deported by local officials under the 287(g) program were initially stopped for driving-related offenses. With "Secure Communities," since fingerprints are forwarded based simply on an arrest, not a conviction, it is anticipated that the same pattern will continue. It is not mainly people guilty of serious violent crimes, like murder, but rather working people driving without a license or insurance or something similar.
According to David Venturella, the Secure Communities program director, between October 2008 and the end of February of this year, ICE has processed "more than 117,000 fingerprint submissions under the program, which resulted in the identification of over 12,000 criminal aliens." Of those, 862 "have been identified as dangerous criminals," or Level 1 offenders — which includes some nonviolent drug crimes. The 862 identified as "dangerous" is only seven percent of the total number of immigrants the program has identified for deportation. That means 93 percent of the people identified are likely not criminals at all but will be detained and likely deported. They are being criminalized on a racist basis by a government program designed to target immigrants and generate broad fear and divisions within the population as a whole.
In addition, like the 287(g) program with its Sheriff Arpaios, there is no government accountability. As a North Carolina immigration lawyer put it, "There is no way that we know of to be able to track ["Secure Communities" detentions.] There is no accountability, there are no reporting procedures, there is no way to document in any systematic fashion who is getting into deportation proceedings because of Secure Communities." He added, "Once Secure Communities hits, particularly in rural areas where there are very few lawyers, it is going to be devastating. People are going to get picked up at a traffic stop, fingerprinted and identified as undocumented even though they have a right to be here." He like many activists defending immigrant rights bring out, the 287(g) program and "Secure Communities" are making communities everywhere far less secure, where policing agencies are acting with impunity against the people.
[TOP]
---