Defend Immigrant Rights!
March & Rally for Immigration Reform
Immigrant workers continue to suffer exploitation and intimidation. Our families continue to suffer separation and fear. We have been waiting for comprehensive immigration reform for too long, and it is time for Congress to take action.
That is why we are marching on Washington DC October 13. People from all across the United States will be converging on Washington to march, lobby, and make sure that Congress takes action for immigration reform and immigrant rights. We need to demonstrate that the immigration reform movement is ready, organized and powerful with a great show of strength on October 13. Help demonstrate that power and join delegations from Detroit, Chicago and elsewhere.
October 13, Washington, DC
Gather at 10am, Church of the Reformation, 212 East Capital Street
At 2:00pm led by religious leaders and families separated by our current immigration policies, the group will march on the U.S. Capitol for an event at 3:00pm.
October 12, Detroit Rally, 7:00 PM
Holy Redeemer Church
1721 Junction, Detroit
If you would like to join a caravan contact:
Ryan Bates • 248-787-6767 • rbates@reformimmigrationforamerica.org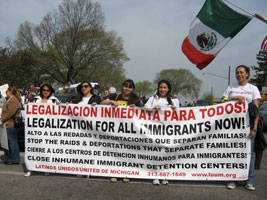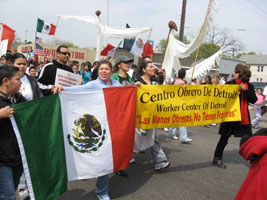 [TOP]
---
All Out October 13
Immigrant Workers Call For Immediate Action
President Barack Obama could not have been clearer than the statement he made at the close of the two-day summit meeting with the presidents of Mexico and Canada on August 10, 2009, that immigration reform legislation will have to wait until 2010 and indicated that even then it will prove to be a major political test (as reported in the Los Angeles Times). Immigrant advocates and proponents in favor of immigration reform and legalization should now have no illusions about the timetable for the change that we hoped for and the change that our people want and need. However, the demand for an immediate moratorium of the Obama enforcement policy becomes more apparent and pressing. There is no other alternative. If we cannot have reform this year, we absolutely require relief in the form of a moratorium of the enforcement of employer sanctions, raids, deportations, e-Verify, and prolonged detention for immigration related offenses, which are civil in nature. All non-violent tactics need to be put on the table.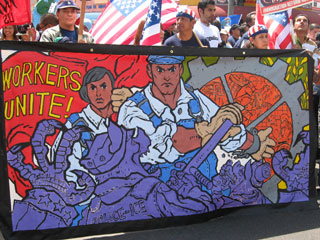 Worker Councils from a growing number of companies that have been targeted by the Department of Homeland Security (DHS) under the direction of Secretary Janet Napolitano, directed by the policy of President Barack Obama, are being organized. They are fighting back under extremely adverse conditions against enforcement of employer sanctions sweeping the country, leading to mass firing of workers. These companies bear the names of Overhill Farms, American Apparel, Farmer Johns, Micro Solutions, and many others. In fact, some 650 have been profiled by this administration.
We are organizing ourselves to openly oppose these policies and practices, which are devastating our families during the worst economic times since the 1930s. We call on workers, employers, unions, churches, immigrants' rights coalitions and advocacy organizations, human rights groups, and workers' centers to unite and respect our broad call to mobilize urgently and demand:
An immediate moratorium:
• on raids and deportations
• on the aggressive unprecedented enforcement of employer sanctions, using the I-9 audits of profiled companies that hire immigrants
• on the expanded use of eVerify — the federal system of employment verification
• on the expansion of police-ICE collaboration through the 287g program.
We call on all unions of the labor movement, which have a responsibility to defend us, to clearly articulate their open opposition to employer sanctions and the I-9 audits, defend their members and all workers targeted for termination due to no-match discrepancies with the Social Security Administration, and openly oppose contract-worker programs as modern indentured servitude no matter by what name they are titled.
We call on the churches of all denominations, which have a responsibility to safeguard our spiritual well-being, to express vocal opposition to the policies and practices that are tearing up our families and destroying the prospect of us remaining in the U.S. You have a duty to hold the line against any assault on the integrity and unity of the family.
We call on the immigrants' rights coalitions and national networks of different names, that work on behalf of immigrants and advocate in favor of fair and humane immigration reform, to not fear mass mobilizations of workers and immigrants openly demanding an end to the Obama enforcement strategy, but instead to join us. We want you to demand full legalization of undocumented immigrants without accepting a horrific deal of "smart enforcement" as a trade-off.
We call on the state and federal legislators to have courage and fight for humane immigration reform and to not be sold on the idea that by demonstrating more enforcement they will be able to win over more moderate and even Republican politicians in favor of legalization. How much more does President Obama want to push us down in order to demonstrate his "tough on immigrants" façade to the American people? We can only stand for so much.
We call on all honest employers that depend on immigrant labor to join the broad movement to oppose employer sanctions and all its discriminatory implications as government heavy invasive intrusions and interruptions of the workplace.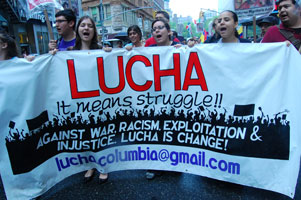 We are taking the brunt of the attacks and suffering the immediate consequences of this misguided policy, therefore, our call is urgent to take to the streets on September 5th, the Labor Day weekend, and October 12, not to ask but demand that President Obama stop the attacks on immigrants and that he fulfill his promise of immigration reform, that which we heard during the presidential campaign, but has recently been forgotten.
We are convening all organizations, unions, churches, and all those who support fair and humane immigration reform to march in the streets and let our voices be heard as one – all at the same level and force – that We Have Had Enough Mr. President. We declare that we are human beings and we need to live with dignity. We are workers and we deserve respect. The same as is demanded of us to pay taxes, we demand to be blanketed by the very programs that exist thanks to our contributions, especially during these distressful times.
We represent a blessing for America and the solution to the economic crisis. We demand a fair and humane immigration reform for all NOW. We demand that Obama Legalize America Now! All out on October 13!
Worker's Council of Overhill Farms
Worker's Council of American Apparel
Worker's Council of Farmer Johns
Worker's Council of Micro Solution
Hermandad General de Trabajadores Union International
Hermandad Mexicana Latinoamericana
Mexican American Political Association
Chicago Community and Workers Rights
CONLAMIC (The National Coalition Of Latino Clergy And Christian Leaders)
People's Assembly for Popular Education & Liberation (PAPEL)
Chicano-Latino Artists for Social Equality (CLASE)
Congreso Internacional de Mujeres Activistas de las Americas (CIMA)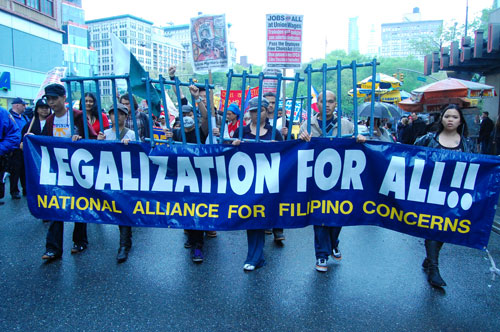 [TOP]
---
Workers United Across Borders Demonstrate Against NAFTA and Free Trade Agreements
UAW And TRW Workers United In One Voice!
We Want Jobs and Economic And Environmental Justice!
No to NAFTA!
On Monday October 5 workers united to demonstrate on both sides of the border, at the U.S.-Canada International Ambassador Bridge in Detroit and at the US-Mexico Hidalgo-Reynosa International Bridge in Hidalgo, Texas and Reynosa, Mexico.
Members of UAW workers Local 174 from Romulus, Michigan traveled to the U.S.-Mexican border on October 5 to demonstrate against NAFTA at the international bridge in Hidalgo/McAllen, Texas. The TRW workers demonstrated on the Mexican side in an expression of solidarity and to show that workers are united across borders. Members of Local 174 and others have donated thousands of dollars to fund the UAW members, as they and their families, like those in Mexico, are the victims of these devastating trade policies.
George Hardy, First Vice-president of the UAW Local 174, stated, "We are demonstrating with TRW workers because NAFTA pits workers against one another, but now we want to tell all corporations that workers are united."
Martha Ojeda, executive director of the CJM, explained, "Trade is not just among governments and corporations. President Obama should see the social impact of free trade and listen to the people who believed his promises for change. He said to the people, 'YES WE CAN!' but instead of change for workers and families, government is bailing out multinational corporations that closed plants and gave massive layoffs."
Ernesto Lizcano from TRW in Mexico said, "The multinational corporations make billionaire profits with our labor force. NAFTA gave power to these corporations to exploit workers and to violate human and labor rights and to pollute our environment with impunity. The corporations should be accountable to workers wherever they go and if they are not, we should take the industrial plants into our own hands." Support TRW workers in Mexico demanding that TRW in Reynosa negotiate with the Workers Coalition the terms of their relocation, salaries, and labor conditions. Call upon TRW to respect human and labor rights and Mexico's constitutionally guaranteed right to a job – say NO to a blacklist. If workers' conditions for relocation are not met, according to Mexican law, they should get their severance payments, including back pay.
Join the demonstrations against NAFTA and in support of all workers. We Want Jobs – Economic And Environmental Justice! No More NAFTA or Free Trade Agreements! For more information call 619-952- 5568 • 210-240- 1084 • 210-732- 8957 • 734-664-9504 • email cjm_martha@igc.org • joecar11@yahoo.com • www.UAWLOCAL174.com.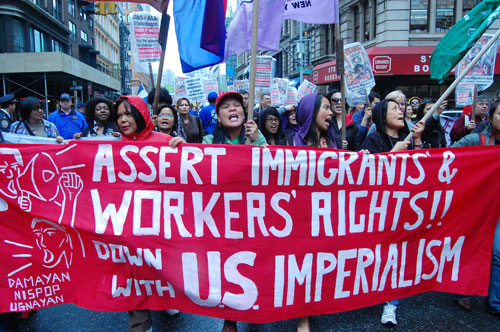 [TOP]
---
Concert and Rally September 12
Protest Against the Abusive and Racist Homeland Security 287g Program
A rally, vigil and a music concert was held September 12 in Washington, DC in order to oppose the 287g Program and demand that President Barack Obama end it right away.
The concert at the Smithsonian Metro Station brought local DC music and dance groups together to promote justice. Led by day laborers, community advocates and religious leaders, participants marched on the White House and rallied in Lafayette Square.
The action was organized by the National Day Laborer Organizing Network (NDLON), with the support of United Tenants and Workers, CASA de Maryland, Legal AID Justice Center, SHARE Foundation, CARECEN, DC Jobs With Justice, Comunidad Unida de Uluazapa (El Salvador), and others.
Materials for mobilizing for the action brought out: "The 287g Program is not making this country any safer. Since 2006 it has been used to deport about 70,000 people in about 64 jurisdictions around the country. It is used to violate human rights and destroy the lives of thousands of working families. The program allows local police agencies to enforce federal immigration law.
"This program promotes racial discrimination and unjustified detentions, physical and mental abuse due to police brutality, with U.S. citizens being incarcerated and deported, mothers and children detained, some left alone without their parents as families are separated. Meanwhile, millions of tax dollars are ending up in the hands of private corporations that run the detention facilities.
"Most detained people are not criminals; most of them are poor undocumented workers. Many are indigenous peoples who had to migrate to the U.S. in order to survive hunger, unemployment, political and social violence in their homelands. Very few undocumented migrants are harming anyone in this country, they are not a threat to the national security but they are building a new life contributing in many ways to better this nation.
"President Obama must reconsider his support for this failed program, which is racist, unfair, obsolete, unreal, expensive, non practical and meant to cause social tensions and distrust towards and immigrants and between civilians and the police forces. These provisions are for profit, for business and they are not promoting justice for all."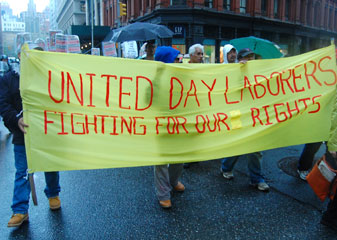 [TOP]
---
Advocates Issue Statement Condemning Expansion of DHS' Failed 287(g) Program
Civil rights and community groups across the country denounce Department of Homeland Security (DHS) Secretary Janet Napolitano's plans to expand the highly criticized 287(g) program to eleven new jurisdictions around the country. The program, authorized in 1996 and widely implemented under the Bush Administration, relinquishes, with no meaningful oversight, immigration enforcement power to local law enforcement and corrections agencies.
Since its inception the program has drawn sharp criticism from federal officials, law enforcement, advocates and local community groups. A February 2009 report by Justice Strategies, a nonpartisan research firm, found widespread use of pretextual traffic stops, racially motivated questioning, and unconstitutional searches and seizures by local law enforcement agencies granted 287(g) powers. Justice Strategies recommended the program be suspended. "We found evidence that growth of the 287(g) program has been driven more by racial animus than by concerns about public safety. The expansion of this deeply flawed program cannot be justified before a thorough test of corrective actions shows solid proof that they have been effective," reports Judy Greene, Director of Justice Strategies. A March 2009 Government Accountability Agency (GAO) report, criticized DHS for insufficient oversight of the controversial program.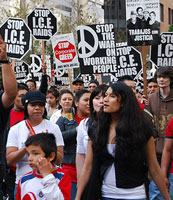 Also in March, the United States Department of Justice launched an investigation into Sheriff Joe Arpaio of Maricopa County, Arizona, to determine whether Arpaio is using his 287(g) power to target Latinos and Spanish-speaking people. In Davidson County, Tennessee, the Sheriff's Office has used its 287(g) power to apprehend undocumented immigrants driving to work, standing at day labor sites, or while fishing off piers. One pregnant woman — charged with driving without a license — was forced to give birth while shackled to her bed during labor. Preliminary data indicate that in some jurisdictions the majority of individuals arrested under 287(g) are accused of public nuisance or traffic offenses: driving without a seatbelt, driving without a license, broken taillights, and similar offences. Such a pattern of arrests suggest that local sheriff's deputies are improperly using their 287(g) powers to rid their counties of immigrants, by making pretextual arrests that are then used to forcefully deport people. "We need only look at the example of Maricopa County to understand the devastating effects the increased 287(g) program will have on our communities," said Chris Newman, Legal Programs Director of the National Day Laborer Organizing Network. "The Obama administration must recognize that the 287(g) program is predatory and ripe for corruption and profiling that will harm community stability and safety for everyone."
The Police Foundation, the International Association of Chiefs of Police, and the Major Chiefs Association have expressed concerns that deputizing local law enforcement officers to enforce civil federal immigration law undermine the trust and cooperation of immigrant communities, overburdens cities' already reduced resources, and leaves cities vulnerable to civil liability claims. "When victims and witnesses of crime are afraid to contact police for fear of being jailed or deported, public safety suffers," said Marielena Hincapie, Executive Director, National Immigration Law Center.
Napolitano's recent announcement that DHS has granted 11 new jurisdictions 287(g) powers stunned advocates who had been expecting a major overhaul of – or end to – this failed program. "DHS is fully aware that the abusive misuse of the 287(g) program by its current slate of agencies has rendered it not only ineffective, but dangerous to community safety. It is surprising Napolitano did not simply shut this program down. Expanding this failed program is not in line with the reform the administration has promised," said Andrea Black, Coordinator of the Detention Watch Network.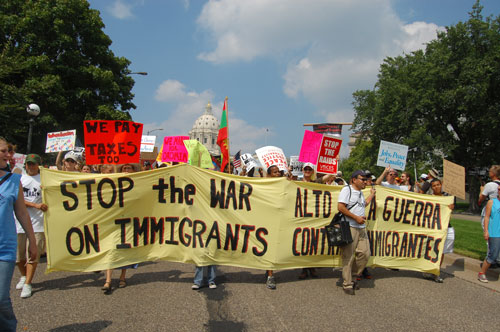 Signatory Organizations:
A Better Way Foundation
All of Us or None
Center for Constitutional Rights
Center for Media Justice
Detention Watch Network
Families for Freedom
Florida Immigrant Coalition
Grassroots Leadership
Homies Unidos
Immigrant Defense Project
Immigrant Justice Network
Immigration Law Clinic, UC Davis School of Law
Immigrant Legal Resource Center
Judson Memorial Church
Justice Strategies
Legal Services for Prisoners with Children
Main Street Project
Media Action Grassroots Network
National Day Laborer Organizing Network
National Immigration Law Center
National Immigration Project of the National Lawyers Guild
Partnership for Safety and Justice
Project Rethink
Southern Center for Human Rights
[TOP]
---
Record Number Jailed
Solely for Immigration Status
A new report reveals that immigration policing is causing a disturbing pattern of abuses and human rights violations that threaten the livelihood and safety of entire families, workers and communities. Guilty by Immigration Status is a report on U.S. violations of the rights of immigrant families, workers and communities in 2008. It calls for restoring due process and suspending detentions and deportations, and urges a thorough investigation into immigration enforcement practices. According to the report, DHS is almost exclusively promoting the criminalization of immigration status to detain and deport persons, often for only minor offenses.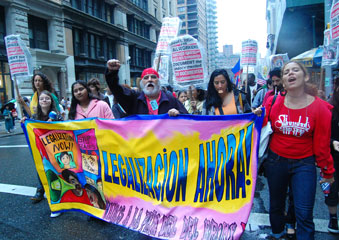 Guilty by Immigration Status describes how DHS, along with other police, public officials and agencies, routinely trumped the civil rights and constitutional protections of a person in order to question, detain and/or jail them solely based on their actual or perceived immigration status. The report also shows that such DHS detentions are taking place in record numbers, along with the relentless militarizing and policing of the immigrant and border communities.
Laura Rivas, coordinator of the HURRICANE initiative, said, "ICE police are unaccountable for the brutal treatment they exact on people for alleged immigration offenses. We have the case of Mr. Rebhy Abdel-Malak, an Egyptian; ICE agents beat him in an Atlanta cell and forced him to sign away his rights in order to deport him. ICE agents forced a pen into his hands and made him sign a document as they sat on him.
"In Sacramento, California, ICE stormed into the home of the Sarabia family, arresting a mother and, without a warrant, her son. ICE deported them literally overnight and dumped them in the streets of Tijuana like so much refuse, without letting the family know of their whereabouts." She added, "Hundreds of persons are dying on the border, where the border control strategy deliberately funnels migrants into the desert and puts border communities under siege. It is a deadly crossing for migrants because of the extreme weather and being hunted by vigilantes."
According to Ms. Rivas, "The Sarabia and Abdel-Malak families are not isolated cases. We believe the Department of Homeland Security must be held accountable and the abuses investigated. DHS is putting the rights and lives of immigrant and refugee members of our communities at risk.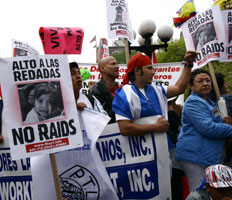 "The first step to ending this crisis is restoring due process rights and other constitutional protections. President Obama must suspend all detentions and deportations so that those who have violated rights and committed abuses are held accountable. Fair and humane immigration reforms can be achieved, but only by revitalizing our country's commitment to justice and equality for all persons, regardless of their immigration or citizenship status."
Guilty by Immigration Status is the second annual report of HURRICANE, the Human Rights Immigrant Community Action Network, an initiative of the National Network for Immigrant and Refugee Rights (NNIRR).
[TOP]
---
The Fight for Equality and Contributions of Chinese Immigrants
As the United States observes Labor Day this year on September 7, apologies for labor abuses, anti-labor violence, and slavery are flowing in from states like Maryland, Virginia, Florida, North Carolina, California and New Jersey. On a national level, the U. S. Senate has also just apologized for slavery.
'Tis the season to apologize
For instance, California has passed a resolution "deeply regretting" 150 years of violence against Chinese Americans. Adding to the momentum for recognition and regret, in late August 2009, California Assemblymen Mike Eng and Kevin de Leon called for a "Day of Inclusion" to mark December 17, 1943.
On that day, the United States finally repealed the Chinese Exclusion Act of 1882. It was the first U.S. law that banned immigration by race. It also prohibited Chinese women from entering the country, a gesture of ethnic cleansing that sought to eliminate a Chinese American population. Even so, the repeal set a paltry quota of 105 Chinese who could enter the United States each year.
On a national level, in 2005 the U.S. Senate similarly apologized for the 1931 Repatriation Program that shipped two million "temporary" workers to Mexico — one million of whom had been born in the United States.
Importantly, Eng's bill in California also honors the "contributions of all immigrants to the greatness of the United States and to California."
State apologies should also mark the untold forceful resistance of early immigrant laborers who did not await apologies to claim their rights — a compelling contribution to American labor.
While some struggles of immigrant workers — such as the "Bread and Roses" textile workers strike of 1912 in Massachusetts — are well-known, how many know that the organizers of the first farm worker strikes in California were Chinese? Chinese immigrants also organized California's first general strike. In 1892, in the largest mass civil disobedience to date, 110,000 Chinese workers refused to wear photo identity cards.
Chinese launderers and "washmen" went to jail rather than obey inane local "laundry ordinances" that banned laundries built of wood. When they were facing brutal expulsion by vigilantes, the Chinese returned laundry folded but still dirty.
They refused to deliver fresh fruits and vegetables to hotel owners and housewives who joined anti-Chinese leagues.
And which school teaches that early Chinese American railroad workers struck for equal pay and for the right to have Chinese cooks boil tea water to keep them from the killer parasites that decimated white railroad workers who drank from the crowded mountain streams?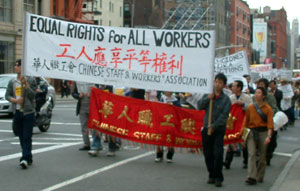 Apologies will only have an impact if they help us remember these abuses. They should build support for the cause of legalizing the presence of millions of undocumented workers living in the United States now.
Repeating past mistakes
The state apologies we are now witnessing should go beyond contrition. They should pledge that the forced expulsion of immigrant labor will cease. Yet as the United States observes Labor Day on September 7, it is a cruel irony that we apologize for anti-immigrant violence, just as Homeland Security is rounding up thousands of immigrants and holding them in detention centers while leaving the children of these immigrants waiting to be picked up at school.
Local and national state violence against immigrant workers endures. The popular "Hazleton code," designed by a mayor in a little town in Pennsylvania, makes it illegal for landlords to rent to alleged undocumented immigrants, although landlords have no way to verify documents — and lawsuits against this code have been filed by civil rights groups. Furthermore, driven by racial profiling, counties across the United States have banned day labor centers. In short, the government is emptying towns of immigrants and hurting local economies.
Looking at public acts of contrition, psychiatrist Aaron Lazere suggests that state apologies — usually offered hundreds of years after the fact by men who did not perpetrate the violence — should guarantee the future safety of the victims, penalize the offenders and pay reparations.
Viewed in that light, an apology for anti-Chinese violence should recall the purges from 1850 to 1906 that drove thousands of Chinese miners, fishermen, launderers, prostitutes, railroad workers and cooks from 300 towns across the Pacific Northwest. It should also recall the years Chinese émigrés spent imprisoned at Angel Island waiting to enter the United States.
Why not have a Day of Inclusion that recalls the hundreds of thousands of dollars Chinese gold miners paid under the Foreign Miners Tax — providing half of California's revenue during the Gold Rush years? A Day of Inclusion should recall the farms, fishing boats, vegetable gardens and the segregated Chinatowns lost in the 19th century pogroms that took place from Seattle to Riverside.
It should also recall the fact that Chinese workers were forced out of town, often at gun point — sometimes in 24 hours, sometimes in just four. In Los Angeles in 1871, 19 Chinese workers were lynched in one horrifying night. […]
Real accountability? Real change?
Are these apologies true acts of accountability? Has an apology ever improved an underfunded school? And what of economic reparations for lost generations, lost lands, unpaid labor? They have not provided 40 acres of land to descendents of slaves. As one friend asked, "Where's my mule?
Today's apologies for past abuses — to immigrants, slaves or indigenous peoples — prompt nervous concerns that recriminations will lead to reparations. Yet, many forget that the United States paid reparations in the past.
Although a Chinese man could not testify against a white man or serve on a jury, in 1886, 50 Chinese men and two Chinese women sued the city of Eureka, California, for $132,000 for being driven out of town by a mob during one brutal weekend. In another successful case, the Chinese who survived a massacre in Rock Springs, Wyoming, won hundreds of thousands of dollars from Congress. In all, Chinese immigrants who survived vigilante violence won nearly half a million dollars in reparations. Where railroad workers once lived, Sacramento's Yee Fow Museum has negotiated with the city and with developers to build a Chinese Cultural Center over the Amtrak parking lot. To commemorate the 1886 purge of the entire Chinese community in Tacoma, Washington, the Army Corps of Engineers donated four acres of breathtaking land on Puget Sound for a Reconciliation Park. Its grotto, garden and tall pillars describe the Trail of Expulsion — so those who visit the park may never forget. […]
Apologies should recall the true violence of slavery, expulsion and anti-immigrant violence. States should vow that their governments will never again purge immigrant workers.
[TOP]
---
California Senate Joint Resolution 19
Senator Cedillo Introduces Resolution Calling for Moratorium on Raids and Deportations
California Senator Gilbert Cedillo introduced the following resolution in the California Senate, which calls for a moratorium on attacks on immigrants and their deportation until comprehensive immigration reform is passed in the U.S. Congress.
Senate Joint Resolution No. 19
This measure would condemn specified policies and practices of federal agencies regarding the enforcement of immigration laws, and would urge Congress and the President of the United States to declare an immediate moratorium on those policies and practices until a comprehensive reform of immigration laws is enacted and implemented.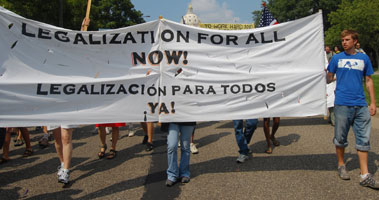 WHEREAS, The State of California values all of its residents, whether they be citizens, legal residents, or undocumented immigrants, and strives to enable all residents to work and live free from discrimination, exploitation, and repressive federal immigration enforcement; and
WHEREAS, In California, the population of which is expected to increase to 54 million by 2040 — including a Latino population of 27 million, a Caucasian population of 16 million, and an Asian population of 7 million — immigrants are and will continue to be a critical resource; and
WHEREAS, According to the United States Census Bureau, 1 of every 8 people living in the United States is an immigrant and approximately one-third of those immigrants are undocumented; and
WHEREAS, There are approximately 8.1 million undocumented workers in the United States economy comprising 15 percent of the national labor force with an annual federal tax contribution of more than $30 billion; and
WHEREAS, There is clear evidence that undocumented workers are currently making great contributions to the national economy; and
WHEREAS, In California alone, there are 8.9 million immigrants, making up 26 percent of the total population and one-third of California's labor force, who figure prominently in agriculture, manufacturing, construction, and service industries. Those immigrants pay approximately20$4.5 billion in state taxes each year, significantly contributing to California's economy; and
WHEREAS, In California, the average immigrant-headed household contributes a net of $2,679 annually to social security, which is $539 more than the average household headed by a person born in the United States; and
WHEREAS, Immigrants are among California's most productive entrepreneurs, and have created jobs for tens of thousands of Californians. By 2000, immigrant owners of Silicon Valley companies created 72,839 jobs and generated more than $19.5 billion in sales. Google, Sun Microsystems, eBay, and Yahoo! are all companies that were founded or co-founded by immigrants; and
WHEREAS, In the absence of comprehensive federal immigration reform, the program initiated under the Bush administration known as "Operation Return to Sender," the federal Department of Homeland Security, through the Bureau of Immigration and Customs Enforcement (ICE), conducted aggressive raids in homes and workplaces in efforts to locate, detain, and deport undocumented immigrants; and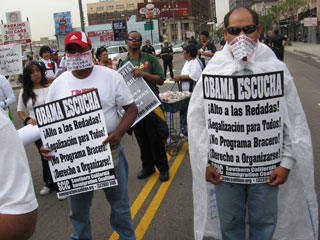 WHEREAS, The Obama administration, in order to take action and implement some type of enforcement while federal comprehensive immigration reform is considered, has shifted its focus to an "enforcement only" policy in the form of aggressive unprecedented enforcement against employers who hire immigrants; and
WHEREAS, In order to achieve better enforcement, the federal Department of Homeland Security and the federal Social Security Administration seek to require use of the E-Verify system, federal employment verification, audits of profiled companies that hire immigrants, and expansion of police-ICE collaboration. As a result, employers may well engage in prohibited behavior, such as using verification programs for purposes other than verifying employment eligibility or to prescreen employment candidates, resulting in discrimination against workers; and
WHEREAS, Latino workers are among the most vulnerable and have a higher likelihood of being disproportionately affected by these programs; and
WHEREAS, The employer audits and the mandatory use of the E-Verify system would affect millions of workers, and there is a concern for the broader and negative implications that an expansion of the use of E-Verify by all other sectors will have on the United States workforce during this difficult economic crisis; and
WHEREAS, The Congressional Budget Office estimates that a mandatory E-Verify employment verification program would decrease federal revenue by $17.3 billion over 10 years because more workers would be paid "off the books"; and
WHEREAS, In light of the economic crisis our country is currently facing, excessive employer auditing and mandatory use of the E-Verify system add an additional burden to businesses and employers as they are being forced to lay off thousands of workers; and
WHEREAS, Companies such as Overhill Farms, American Apparel, Farmer Johns, and Micro Solutions, among others, have been drastically affected by the aggressive enforcement of immigration laws; and
WHEREAS, Raids, employer audits, and mandatory use of the E-Verify system harm immigrants, their employers, their communities, and our economy and are disruptive to communities where immigrants have settled and contribute to the growth of local communities; and
WHEREAS, Trying to deport 10 million undocumented immigrants would cost at least $206 billion over 5 years, according to a study by the Center for American Progress; and
WHEREAS, If workers targeted by these enforcement efforts were removed from the workforce, the effects would ripple through many industries as they would face substantial shortages of workers; and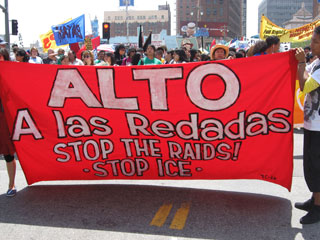 WHEREAS, We cannot speak of resolving the current economic crisis, or important health or security concerns, without addressing the interwoven issue of immigration; and
WHEREAS, The recent actions of ICE run counter to the principles of this country, which was founded on immigration and where early Irish, Italian, Asian, and African American families founded some of the country's most important institutions; and
WHEREAS, The increase and severity of ICE's actions in our country only underscores the absolute ineffectiveness of current federal immigration policy and the urgent need for comprehensive immigration reform; and
WHEREAS, Our current immigration system is broken and greatly in need of reform. In order to create real, long-lasting reform, we must create a pathway to legal status for the millions of undocumented immigrants who have made lives for themselves and their families in the United States; and
WHEREAS, After a meeting between President Barack Obama, Canadian Prime Minister Stephen Harper, and Mexican President Felipe Calderon in Guadalajara, Mexico, President Obama announced that immigration reform legislation will have to wait until 2010; and
WHEREAS, If reform is not possible this year, relief in the form of a moratorium on employer sanctions, raids, deportations, the use of E-Verify, and prolonged detention for immigration-related offenses is absolutely necessary to maintain stability in our communities and to minimize economic disruption. A moratorium on the Obama enforcement strategy will provide temporary relief from the policies and practices that are tearing up the integrity and unity of our families and at the same time provide the federal government the necessary time to propose, debate, and enact comprehensive immigration reform; and
WHEREAS, Without a balanced approach on immigration and economic recovery, security planning, public health, the lives of 12 to 18 million people will remain in limbo; and
WHEREAS, Former federal Secretary of State Condoleezza Rice recently announced that one of her biggest regrets during her term of service for the Bush administration was not achieving immigration reform. She also stated immigrants were critical to the country's financial health, and that reform was needed to fuel the next round of economic growth, referring to immigrants as "one of the strongest elements not only of our national wealth, but also of our national soul"; and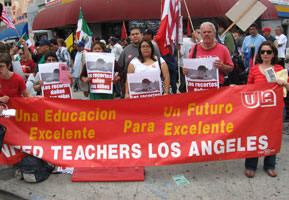 WHEREAS, We are a nation of immigrants that continues to be a beacon of hope and liberty, attracting the best and brightest from across the globe who fight to start a better life in our country and take part in the American dream;
Now, therefore, be it Resolved by the Senate and the Assembly of the State of California, jointly, That the Legislature hereby condemns the excessive employer audits, mandatory use of the E- Verify system, immigration raids, arrests, detentions, and deportations of undocumented immigrants conducted by the federal Department of Homeland Security, through the Bureau of Immigration and Customs Enforcement;
And be it further Resolved, That the Legislature urges Congress and the President of the United States to declare an immediate moratorium on the aggressive, unprecedented enforcement of employer sanctions, including excessive audits of profiled companies that hire immigrants, the expanded use of the E-Verify system, the federal system of employment verification, the expansion of police-ICE collaboration, and immigration raids in the State of California, until our nation can enact and implement a comprehensive and just reform of our immigration laws with a comprehensive immigration program that recognizes the broad contributions immigrants have made to the fabric of the country;
And be it further Resolved, That the Secretary of the Senate transmit copies of this resolution to the President and the Vice President of the United States, to the Speaker of the House of Representatives, and to each Senator and representative from California in the Congress of the United States.
[TOP]
---