Close Guantánamo Prison Now!
No Super-Jail in the U.S.
Voice of Revolution salutes the demonstrators demanding the immediate closure of the Guantánamo concentration camp and calling President Barack Obama to account for his failure to close the prison as scheduled, January 22. Protesters rallied at the White House then marched to the Supreme Court and then the Capitol. Demonstrators demanded to see representatives, Democrats and Republicans, to hold both accountable for aggressive wars war and torture. More than forty people were arrested at the Capitol, in a civil disobedience action protesting the refusal of Congress to take action to guarantee that Guantánamo close and that no new super-jail for indefinite detention without charges, be established in the U.S. These actions followed a 12-day fast from January 19-February 2, with a daily presence in front of the White House. January 19 marks the start of President Obama's second year in office. February 2 marks the date by which he should submit his budget for 2011 to Congress. Demonstrators are demanding no funds for war and torture, close Guantanamo and to bring all troops home now.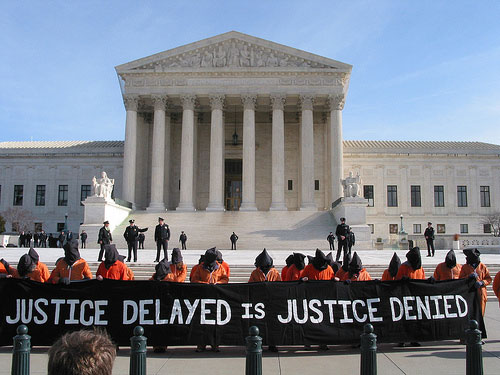 Prisoners at Guantánamo must be immediately charged and tried in federal courts or released. The refusal of the government to do so stems mainly from efforts to instead create a super-jail for indefinite detention, with its own court system, inside the U.S. According to the administration, some of the prisoners still at Guantánamo are to be tried in federal court — in the period of a year only two trials have so far been officially planned. Others people were to be released, but so far have not been. Still others are considered "too dangerous" to try or release. They are to be the first prisoners of the planned super-jail. And the fact that the administration is still planning such a jail was confirmed by White House spokesman Robert Gibbs January 21, who said there has been "progress on issues of siting a new detention facility," in the U.S. (For the information of our readers we reprint below the article "No to the Super-Jail and Government Impunity," Voice of Revolution, August 21, 2009.)
We also vigorously condemn the government's plan to now detain hundreds of Haitians at the detention camp at Guantánamo. This is indicative of the militarist stand of the government, to punish Haitians and occupy the country while refusing to provide the aid and assistance needed. Guantánamo, about 200 miles from Haiti, could easily be used to house, feed and provide medical care for Haitians in need. We say NO to more detentions!
Close Guantánamo Prison Camp Now!
Open the U.S. and Guantánamo to Haitians in Need!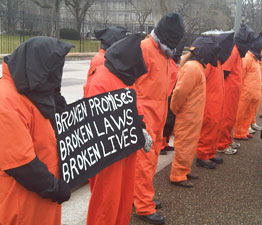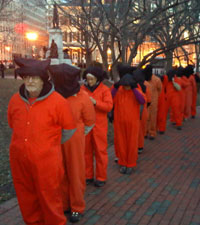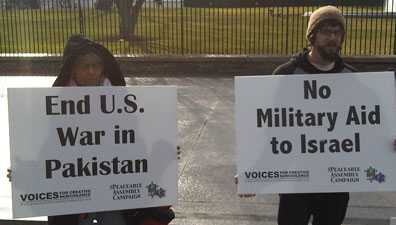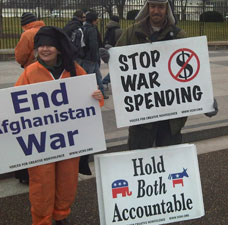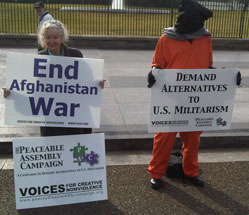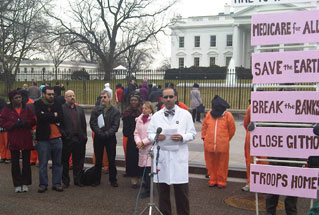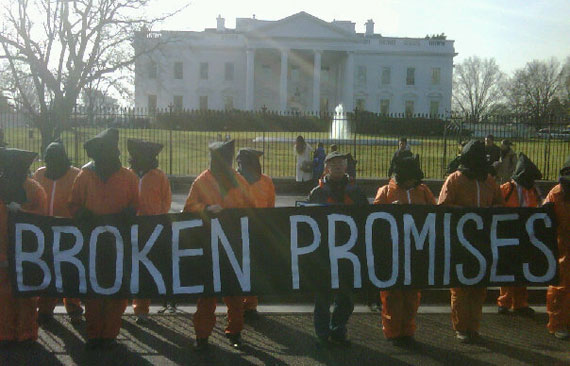 [TOP]
---
42 Arrested at U.S. Capitol in Day of Action to Denounce Obama's Broken Promises on Guantánamo
In a dramatic protest, 42 activists with Witness Against Torture were arrested January 21 at the U.S. Capitol. Most of the arrestees had been fasting since January 11.
The protest, which comes on the eve of the since-voided deadline President Obama had set for closing the prison camp at Guantánamo, was part of nationwide actions that included dozens of Iraq and Afghanistan veterans lobbying Congress; a campaign by human rights organizations — with the support of the rock superband, Coldplay — to flood Twitter with the "CloseGitmo" message; and, a press conference held by retired Generals at the National Press Club.
Those arrested on the Capitol steps held banners reading "Broken Promises, Broken Laws, Broken Lives." Inside the Capitol, 14 activists performed a "memorial service" for the three men whose deaths at Guantánamo in 2006 were initially reported as suicides and callously described as "acts of asymmetrical warfare" by military officials. New reports provide strong evidence that the men may have been tortured to death at a CIA secret prison in Guantánamo.
The ceremony brought the names of the men — Salah Ahmed Al-Salami, Mani Shaman Al-Utaybi and Yasser Talal Al-Zahrani — into the Capitol Rotunda, where deceased presidents lay in state. "We perform this ceremony to recognize the humanity of those whose lives have been broken by our government's policies of torture and indefinite detention," says Jerica Arents of Chicago, Illinois, one of those arrested in the Capitol.
Witness Against Torture has called for an immediate, independent investigation of the deaths, as it has called for the criminal investigation of all those who allegedly designed, executed, and carried out torture policies.
Most of the 42 arrested at the Capitol did not carry identification, taking instead the names of men at Guantánamo through arrest and processing. "Taking the name of Adnan Farhan Abdul Latif is a necessary and real way of bringing his story to Congress," said Joshua Brollier, a co-coordinator with Voices for Creative Nonviolence in Chicago, Illinois. "Adnan was tortured and continues to be held after eight years without charge or trial. It boggles the mind and breaks the heart. It is time for Congress and the Obama administration to make and fulfill a plan for his release." Brollier and others from Voices will continue in Washington through February 2, participating in the Peaceable Assembly Campaign to pressure the Obama administration and Congress to explore alternatives to U.S. militarism.
The actions at the Capitol followed a march of "Guantánamo prisoners" dressed in orange jumpsuits and black hoods that began at the White House and stopped at the Supreme Court before going to the Capitol grounds, home to the U.S. Congress. "Congress has played a horrible role in refusing to check the power of the president and in supporting torture," commented Matt Daloisio of New York City, a Witness Against Torture organizer. "But it was important to pass by all of the government institutions that have failed to uphold justice and protect the rule of law."
Members of Witness Against Torture began a Fast for Justice on Monday, January 11 — the date in 2002 when the first men were brought to Guantánamo under the Bush administration's "war on terror." One hundred fifty people from around the country joined the 12-day fast, which will end on Friday, January 22, the promised day for Guantánamo closure.
"We were so hopeful last year," says Christine Gaunt, a grandmother and third generation farmer from Grinnell, Iowa, who was arrested at the Capitol. "But Obama has broken his promise to close Guantánamo. I am acting today because I am horrified and ashamed that this illegal prison continues to exist, and that those responsible for torture have not been held to account. I am using my body to demand that my government stop the insanity of torture and illegal detention."
Witness Against Torture is a grassroots movement that came into being in December 2005 when 24 activists walked through Cuba to the Guantánamo base to condemn the prison camp and torture policies. Since then, it has engaged in public education, community outreach, and non-violent direct action.
Contact: Frida Berrigan, 347-683-4928, frida.berrigan@gmail.com
Matt Daloisio, 201-264-4424, daloisio@earthlink.net

[TOP]
---
Obama's Broken Promises, America's Broken Laws, Lives Broken by Torture
A year ago today, Barack Obama was inaugurated President, riding a wave of hope and excitement into the Oval Office. Two days later, he signed executive orders outlawing torture and committing his administration to closing Guantánamo within a year.
"We in the anti-torture movement were so hopeful," comments Sherrill Hogan from Western Massachusetts. "We looked forward to seeing Guantánamo closed, to seeing the many innocent men there freed, and to seeing those against whom the U.S. had credible evidence at last charged and brought to trial. But now, we hear that the administration plans to keep Guantánamo open at least until 2011. Its promises are broken."
Under the banner "Broken Promises, Broken Laws, Broken Lives," Witness Against Torture is mobilizing for a march and action on Thursday, January 21. The march of Guantánamo prisoners dressed in orange jumpsuits and black hoods begins at the Obama White House and travels a mile and a half in silent and solemn procession to the Supreme Court and by the Capitol, highlighting all of the institutions that have failed to execute their most basic function-- justice.
"We march to hold the Obama administration to its words and promises," says Helen Schietinger of Washington, DC. "The United States continues to detain dozens of men at Guantánamo who have been cleared for release. In addition, the Obama administration is expanding the prison at Bagram, and proposing indefinite detention without charge or trial for many and an Illinois prison facility for others. We see President Obama trying to replace the lawlessness of Guantánamo with a 'legal black hole' in the continental United States. The laws are broken."
The day of action follows a twelve day fast and vigil for justice. More than 150 people from around the country joined the fast, 50 of them vigiling and meeting daily in Washington, DC. The fast ends on Friday, January 22 — the Obama administration's widely proclaimed and now-voided — deadline for closing Guantánamo.
"We have been fasting to remember the men who continue to languish at Guantánamo. For many, seven or eight years have gone by," says Matt Daloisio of New York City. "Children have grown up without seeing their fathers. Parents have died. Families, whole communities, have been torn apart. The lives of these men have been broken."
Schedule of the Day
10:15 am: Gather at the White House for a brief program
10:45 am: Begin "prisoner" procession to Supreme Court (mile and a half walk). This will be a silent and solemn procession of people dressed in orange jumpsuits and black hoods
12:15 pm: Arrive at the Supreme Court (across the street from the U.S. Capitol) for vigil with "Broken Promises, Broken Laws, Broken Lives" banners.
Witness Against Torture is a grassroots movement that came into being in December 2005 when 24 activists walked through Cuba to the Guantánamo base to condemn the prison camp and torture policies. Since then, it has engaged in public education, community outreach, and non-violent direct action.
(Witness Against Torture, January 20, 2010)

[TOP]
---
Refusing Migration to the U.S.
U.S. Prepares Guantánamo
for Detaining Thousands of Haitians
The U.S. government is refusing to allow Haitians facing starvation and death to migrate to the U.S. They have issued repeated warnings that any Haitians attempting to migrate will be stopped and detained. Coast Guard vessels, in great demand for relief and rescue efforts, are instead being diverted to block any boats from attempting to reach the U.S. from Haiti. Consistent with this inhuman stand refusing migration, the government has begun preparing tents at Guantánamo Bay Naval base for mass detention of Haitians.
Navy Rear Admiral Thomas Copeman said 100 tents, each capable of holding 10 people, have been erected at the prison and authorities have more than 1,000 more on hand to detain people attempting to leave their shattered homeland. Authorities have also gathered cots and other supplies, said Copeman, the commander of the task force that runs the detention center at Guantánamo. While President Barack Obama promised to close the Guantánamo prison by January 22, 2010, the government is still holding nearly 200 men. Most have not been charged with any crime and many have been held for eight years. The Haitians are to be held on the opposite side of the base from the prison.
Detaining Haitians instead of assisting them is also consistent with the U.S. militarization and occupation of Haiti. This includes not only plans for mass detention but also blocking medical teams and aid from landing at the airport while making certain an estimated 10,000 troops and equipment are put in place to occupy the country.
What is needed instead is making water, food and medical teams and supplies the priority and leaving the troops home. For Guantánamo, what is needed is closure of the prison and full use of the base to house and assist Haitians, including allowing Cuban medical teams to assist. Once the emergency has ended, the U.S. should return the base to the Cuban people and permanently leave Cuba.

[TOP]
---
No to the "Super-Jail" and Government Impunity!
The president's task force charged with closing the prison camp at Guantánamo by January 2010 is currently discussing plans for a "super-jail." The jail is to be run jointly by the Pentagon, Homeland Security (DHS) and Justice Department (DoJ). It is to house not only the people detained by the government, but also the courts, with their judges and lawyers, for prosecuting people. It is to include "long-term cells" for those detained indefinitely by the government as "too dangerous" to release. The Office of the President is to determine which people are tried in civilian criminal courts, which in military courts or possibly military commissions, and which get no trial at all. The executive is under no obligation to make public the criteria or evidence used to make the determinations, as that too is considered "too dangerous," a potential "threat to national security."
As well, the administration is saying that it has authority to keep people acquitted at trial in indefinite detention. Indeed, it is already doing so. A Yemeni man held at Guantánamo recently won his case in federal court, with the judge ruling the government did not have sufficient evidence to imprison him and ordering his release. The government has refused to release him and has also refused to release at least two other Yemenis found innocent by the courts. This is despite Yemen's agreement to have them come home.
If implemented, super-jail will eliminate the principle that people are charged with actual crimes and brought to trial according to the character of those crimes. So too for norms of innocent until proven guilty, speedy trial by your peers, standards for evidence and rights of defendants to confront their accusers, and more. Instead, the president is usurping the power to put in place a system whereby the president decides what type of trial — and thereby what criteria for evidence and conviction, rights to a lawyer, and more — as well as if there is even to be a trial.
The changes are also significant in that existing distinctions between the military and civilians, and between criminal, civilian and military courts, is being eliminated. This is being done in part by having the super-jail run jointly by the Pentagon, DHS and DoJ, and by having the courts housed inside the jail. The type of courts established and standards for trial immediately become murky at best. These distinctions are not insignificant. For example, for a criminal trial under U.S. law, the person is entitled to a lawyer, standards for evidence and conviction in capital offenses are higher, etc. For civil law, this is not the case.
Given the experience already at Guantánamo, where hundreds of people have been detained for years with no charges — simply government claims that they are "terrorists" — one can readily see that the super-jail will carry such government impunity even further. Indeed it serves to institutionalize a system of executive rule over the justice system and makes double standards inherent in the system. It institutionalizes executive impunity to put aside an acquittal and detain an individual based simply on the president's determination that the person is "too dangerous" to release. It is designed to enshrine inequality, where some people get trials, some do not, some are released and some are not, even if found not guilty. And all determinations are made by the executive, deciding who is or is not considered "too dangerous."
It is also likely not a coincidence that while the president is going forward with plans for a super-jail, DHS is going forward with expanding detention centers. While this is currently being done in the name of detaining immigrants, DHS officials are indicating that they have broader detention in mind. The head of Immigration and Customs Enforcement (ICE) recently said "We are going to continue to detain people and we are going to continue to detain people on a large scale." ICE is also focusing on the "most dangerous" people. And, its definition of "most dangerous" includes those considered a "threat to national security."
Like with Guantánamo, experience with ICE raids and detention is characterized by detaining people guilty of no crime, racist profiling, humiliation, collective punishment and the impunity of "guilty" because the government says so. And since immigration generally falls under civil, not criminal law, those involved have no right to a lawyer. People rounded up who are unable to prove their citizenship or immigration status have been detained for months. Many have been forced to sign confessions of guilt in the hopes of being released. As well, the federal government has organized and unleashed local law enforcement agencies that previously were not permitted to deal with immigration matters, to round up immigrants. Again, one sees an effort by the Office of the President to bring policing agencies at all levels together under federal authority and to eliminate distinctions between criminal and civil law and law enforcement.
It is also the case that mass detention of civilians in the past, such as internment of Japanese Americans during World War II, was done under civil law and in the name of national security. As well, people have the experience of the government-organized Katrina disaster, where the military was brought in and used against civilians, including rounding up civilians at gunpoint and shipping them off to detention camps controlled by the military. African Americans bore the brunt of this brutality and detention. So, when the head of ICE says "What we are trying to do is design a system that reflects the unique civil detention authorities that we are exercising," and details expansion of detention camps, it certainly appears that indefinite detention is being planned not only for people from Guantánamo but for anyone the president designates as "too dangerous." And one way to avoid all the norms of criminal courts is to use a civil charge involving "national security," and the "unique civil detention authority" of DHS.
The current and past experience with government detention, including indefinite detention, shows it is a clear effort to institutionalize a system based on impunity and double standards and where power resides with the executive. It is thoroughly undemocratic and dangerous for all and provides for far greater insecurity. Far from going back to such government tyranny what is needed is to go forward to a modern system of justice where the rights of all are guaranteed and all inequality and double standards eliminated.
Our Security Lies in our Fight for Rights! No to Government Impunity!

[TOP]
---
Washington, DC
Upcoming Events Against War and Torture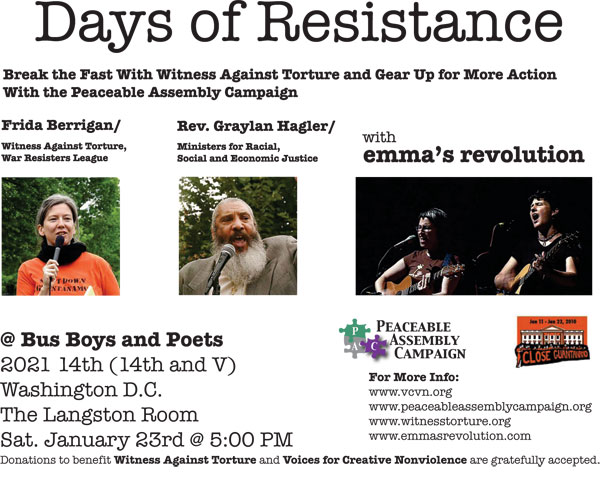 January 24, 2010 • 6pm
Pakistan and Afghanistan Teach-In
• 6pm potluck
• 7pm Kathy Kelly, Co-founder and Co-coordinator of Voices for Creative Nonviolence, Presenter
• 7:30 Discussion
Maitri House
251 Manor Circle
Takoma Park, MD 20912
January 25, 2010 • 7:30pm
Report Back from the Gaza Freedom March
• Joshua Brollier, Voices for Creative Nonviolence, Sam Husseini, Institute for Public Accuracy
Council for a Livable World
322 4th Street NE
Washington, D.C.
January 27, 2010 • 7:30pm
Yemen Teach-In
• Kareem Kysia: Expert in international educational development. He has spent over a year in Yemen doing research and working as a consultant.
• Adam Shapiro: Independent documentary filmmaker and human rights activist.
Saint Stephen's and the Incarnation Episcopal Church
1525 Newton Street NW
Auditorium
Washington, D.C.
January 29, 2010 • 12:00 noon
Funk the Warming: Down with the Fossil Hawks
Bringing the ruckus against climate chaos and corporate resource wars from stolen Native American land to Iraq and Afghanistan
Who? You, your fly crew, and your dancing shoes, Rowdy young people and our allies, DC Students for a Democratic Society & DC Rising Tide
Gather at Lafayette Park
January 31, 2010 - 7:30pm
• Josh Steiber Iraq Veteran and Conscientious Objector tells his story.
"I knew I couldn't keep doing what I was doing, so when I got back from my 14 month deployment to Iraq in April of 08, I planned on taking the money I had been given to kill and destroy my nation's "enemies" and walking to the military pay headquarters and giving that money back, telling them it wasn't something I'd participate in anymore and if I had to serve the rest of my enlistment in jail, then that's where I needed to be."
Council for a Livable World
322 4th Street NE
Washington, D.C.

[TOP]
---