"Stand With Haiti" Marchers Show Solidarity
More than 200 hardy souls braved frigid temperatures with sub-zero wind chill to rally on Friday, January 29 at Columbus Park in Cadman Plaza, Brooklyn and then march across the Brooklyn Bridge. The Coalition to Stand With Haiti (in Kreyol, Kowalisyon pou Kore Ayiti) called the action to honor those who died in Haiti's January 12 earthquake, now estimated at some 200,000, and to call for solidarity with the millions of Haitians who are now injured, homeless or mourning the loss of family members. Speakers at the rally also denounced the growing U.S. military occupation of Haiti, where some 20,000 U.S. soldiers are now deployed, and the Pentagon's diversion of incoming international relief aid and doctors from Port-au-Prince's airport and port to give priority to the landing of U.S. soldiers and weapons.
"Haiti needs food, water and -medicine, not guns," said Roger Leduc of the -Haitian Coalition to Support the Struggle in Haiti (KAKOLA), one of the demonstration organizers. "Washington is using this calamity to strengthen its economic and political grip on Haiti and to push aside other countries, especially progressive ones, who are trying to help our people." About half of the demonstrators in Cadman Plaza marched across the Brooklyn Bridge, a symbolic procession that Brooklyn's Haitian community has done several times over the past 20 years. The bridge marchers, many of whom carried candles, were joined by other demonstrators for another rally at Foley Square behind the Federal Building in lower Manhattan. Many North and Latin Americans came out in solidarity with the action.
The Stand With Haiti Coalition is broad and international, comprising both Haitian community organizations and Dominican, Venezuelan, Filipino, Senegalese and Pakistani groups. "The Haitian people need some serious help," said Urania Victor-King, a nurse with the Bedford Stuyvesant Volunteer Ambulance Corps, one of the first U.S. EMS teams to arrive by their own means in Haiti on January 17. She worked for a week at Port-au-Prince's General Hospital. "We in America are talking about the economy, but what we need to do is help Haitians. To see their plight with your eyes is something that you can never, never forget. We know their pain and suffering."
Haitian leaders saw the march not just as an action to honor and show solidarity with the quake's victims but to launch an effort to organize Haitians to rebuild a new and better Haiti. "We cannot mourn first and then organize later," said Leduc at Foley Square. "We have to organize and mourn at the same time. We have to show people back home that we understand, not from the head, but from the heart and the gut that we are suffering together with them. Those people you saw in the rubble, digging through concrete with their nails to get out their relatives and neighbors, we have to join hands with them to rebuild Haiti, based on justice, democracy and independence."
"This Week in Haiti" is the English section of HAITI LIBERTE newsweekly. For the complete edition with other news in French and Creole, please contact the paper at 718-421-0162 • editor@haitiliberte.com • www.haitiliberte.com.
[TOP]
---
Haitians Organizing Food Distribution
The United States has been sharply criticized for causing Aid-Lock at the Port-au-Prince airport. Emergency medical teams from Europe and the U.S. all arrived one to two weeks after the crisis began. United Nations agencies and NGOs that should be experts in aid distribution have instead focused food distribution on central sites drawing massive crowds, inciting frustration and anger among recipients. […]
Meanwhile, outside of the town of Leogane, in a place called Katrine Flor — named for the woman who sewed the original Haitian flag and who was born here — a makeshift encampment of plastic and blanket shelters has been replaced with an orderly line of large olive drab army tents. In front of the tents, a rectangular area had been cordoned off with rope and red tape. Stacked neatly in the middle of the cordoned area were boxes of cooking oil and food rations and in front of all of this, facing the paved road where anyone passing by could see, a large banner proclaimed the tent city, "Village Simon Bolivar" and next to it a huge Venezuelan flag moved with the breeze.
The population was quietly assembled. Recipients methodically come forth, one at a time, received a box and a container of cooking oil and then left. When I asked Jean Riker, a resident of the tent city, what agency was responsible for organizing the distribution he explained, "No agency. We are doing it ourselves." Riker explained further that a representative of the Venezuelan Government had come by and asked how many people were in the camp. The man then said that they would need to organize for distribution. Riker was one of the residents of the tent city residents chose to govern distribution. The following day the Venezuelans brought the aid. "That's the thing I like about [Venezuelan president Hugo] Chavez," Riker commented, "He brings the aid, gives it to us and he doesn't need to know anything more about it. He respects us."
Tim Schwartz is the author of Travesty In Haiti: A True Account Of Christian Missions, Orphanages, Fraud, Food Aid And Drug Trafficking .

[TOP]
---
UNICEF Decries Trafficking of Haitian Children
The United Nations Children Fund (UNICEF) on January 22 denounced the disappearance of Haitian children left by themselves in Port-au-Prince hospitals after the earthquake. The organization announced it has discovered that at least 15 children have been kidnapped in Haiti and suspected that a human trafficking network operating through Santo Domingo, Dominican Republic is responsible for the kidnapping.
The Haitian kidnapping of children takes place in moments in which the country is facing the world's biggest humanitarian catastrophe of the last three decades, noted UNICEF official Jean Claude Legrand.
UNICEF also denounced and the probability of other cases of kidnapping of Haitian children and has also raised the alarm about the legality of the accelerated adoption process demanded by Germany, France, Holland, Spain and the United States, in particular.
The child trafficking networks existed before the quake and were very active in kidnapping of minors for the international market of illegal adoptions, remarked Legrand, pointing out that they may be expanding their activities given the present circumstances because that smugglers try to take advantage of the fragility of the state apparatus during such a catastrophe.
The UNICEF spokeswoman Veronique Taveau recalled that in emergency situations children are the most vulnerable amongst the population. She urged the states adopting Haitian children to respect The Hague Convention regarding protection of children and their families from illegal processes. At the same time UNICEF also pointed out the danger young Haitian women may also face of being victims of criminal elements trafficking in women.
In related news, the Catholic Church of Miami also is preparing a plan for Haiti similar to "Operation Peter Pan," a cruel and inhuman plan instigated by the CIA that separated 14,000 Cuban Children from their families in 1960. This counter-revolutionary operation was the largest recorded exodus of unaccompanied children in the western hemisphere and remained a secret for 30 years.
(Prensa Latina)

[TOP]
---
Cuba will Remain in Haiti for as Long as Needed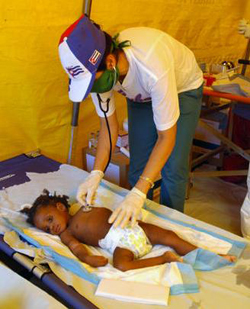 Twenty days after the earthquake that mercilessly shook Port-au-Prince, Haiti, many foreign aid workers are leaving for their peaceful worlds with the final photo confirming their presence on Haitian soil. At the same time 938 doctors from Cuba, including 380 Haitian doctors trained in Cuba, are still saving lives here, despite the difficult situation they have experienced and the one seen approaching.
Cuba will continue flying their flag in Haiti for as long as the people need it. Cuba will continue flying their flag in Haiti for as long as the people need it. Cuba was the first country to reach out to the desperate Haitian people when the clouds of dust left by the quake had not yet dissipated. That night of January 12, hundreds of Haitians were running with family members in their arms to the place where, for 10 years, the Cuban doctors have been located. A legion of the wounded, of the dead flooded the streets. And while chaos overwhelmed medical attention in the initial hours, now organization prevails in the capital's three hospitals and the four field hospitals where our doctors are working.
According to Dr. Carlos Alberto García, a member of the Cuban coordination team, many collaborators from other nations are returning to their countries, considering the emergency situation to be over. "For us, the emergency continues, but in another dimension, not now from the surgical point of view, but with other sicknesses that are appearing as a consequence of the disaster, among them diarrhea and respiratory infections, skin lesions, malaria, parasites and typhoid fever."
Twenty days after the earthquake, the most significant aspect of Cuban aid is providing comprehensive care to patients. This is seen in their curative work, health promotion, vector controls and rehabilitation, this last service essential for a population greatly affected by traumatic injuries and amputations. These are some of the figures: as of January 31, more than 50,000 patients had received medical attention, with 3,400 undergoing operations, 1,500 of them complex, including approximately 1,100 amputations.
The Cuban medical brigade has set up tent hospitals outside of Port-au-Prince in Leoganne and Jacmel, and two more are being erected in Carrefour and Croix des Bouquet. Several Cuban doctors have also been sent to other areas of the country as Haitians leave the capital to find aid and shelter.
Five Comprehensive Diagnostic Centers donated to Haiti by Cuba and Venezuela continue to operate around the clock attending to earthquake survivors. Two additional centers will be up and running next week in two departments outside of the city.
Cuba has also sent a team of specialists to fumigate and control outbreaks of disease, and a team of physiotherapists to aid in the recovery process of patients. Dr. Carlos Alberto said that nine rehabilitation wards have been set up, which will have a major impact, "because even before the earthquake, Haiti had no public service of this kind."
Not everything has been death and disaster in the wake of the earthquake. The Cuban and Haitian doctors trained in Cuba have attended 280 births, 183 of them by cesarean section, above all in the field hospitals where, as the doctor confirmed, the basic conditions are in place to perform them.
In addition, Cuban doctors are "assaulting" plazas and parks where thousands of Haitians are living crammed together. Granma has been present to witness the anti-tetanus vaccination campaign, which transformed the Port-au-Prince football stadium, flooded by hundreds of Haitians made homeless by the quake. Many children, still crying, had been immunized, along with everyone else who went there. A yellow card corroborated the injection. As a consequence, Dr. García confirmed that 20,000 people in Port-au-Prince had been vaccinated. A triple vaccine against diphtheria, measles and whooping cough is also being provided. In total the campaign has now administered 400,000 vaccinations.
The medical cooperation also includes mental health care and, to that end, a team of psychologists and psychiatrists has arrived from Cuba and are preparing to work with children and young adults in the camps, plazas and parks of Port-au-Prince.
These have been days of dedication. Our doctors, still living in difficult field conditions, adopting austerity as their motto, and witnessing the horror at close quarters, get up every morning with all their energy focused on healing. Cuba will continue to fly its flag in Haiti for as long as the people need it.

[TOP]
---
"Cuba for Haiti" Campaign Launched
Many people are attempting to lend assistance to the people of Haiti. However, given the experience with the Red Cross and similar agencies in the government organized Katrina disaster, people are rightly reluctant to contribute. The Red Cross and other agencies are notorious for mishandling donations, blocking those in need from receiving them, using funds for their own bureaucracy and so forth. This was the experience in New Orleans with Katrina survivors, so much so thta local Red Cors volunteers protested. Voice of Revolution instead urges people to donate to the "Cuba for Haiti" campaign. The Cubans had hundreds of doctors in Haiti before the earthquake and have also trained hundreds of Haitian doctors for free, as part of their international program at the Latin American School of Medicine. The Cubans have more than 550 doctors in Haitia and another 380 Haitain doctors trained in Cuba wokring to provide care for quake survivors. This includes thousands of surgeries in very difficult conditions. Contributing to "Cuba for Haiti" is a means to ensure funds go to the Haitians and for the medical care needed. We reprint below the appeal made by the Canadian Network on Cuba.
* * *
Dear Friends,
In response to the horrendous suffering of the Haitian people resulting from the earthquake and its many aftershocks, many Canadians have been wondering what is the most effective way to provide aid. The Canadian-Cuban Friendship Association of Toronto has proposed the Cuba for Haiti fundraising campaign, which is also endorsed by the Canadian Network on Cuba as a national effort.
Cuba has an unequalled record in helping people in crises such as the earthquake in Pakistan and natural disasters in many other countries. In fact it has set up a special emergency unit, the Henry Reeve Medical Brigade, to respond to such disasters. At the time of the earthquake in Haiti, 402 Cuban internationalists, 302 of them medical personnel, had already been helping Haitians. These together with many of the 500 Haitian doctors who had been trained in Cuba free of charge formed the essential early group of lifesavers, attending to 1,102 Haitian patients in the first 24 hours after the earthquake. They have continued their work, boosted by an additional medical brigade that arrived promptly from Cuba.
We believe that this kind of unprecedented and invaluable help, which Cuba has been giving Haiti for eleven years, deserves to be supported as strongly as possible. The CNC urges you to support Cuba in this work by giving a donation to "The Mackenzie-Papineau Memorial Fund," indicating on your check's memo line "Cuba for Haiti."
Your donation should be mailed to:
The Mackenzie-Papineau Memorial Fund & Friends of the Mac-Pap Battalion, Int'l Brigades
Att: S. Skup
56 Riverwood Terrace
Bolton, ON, Canada L7E 1S4
The "Cuba for Haiti" contributions will go into a special account, ensuring that 100 percent of all donations are used for medical support and aid to Haiti. We are working directly with The Cuban Embassy in Ottawa and the Consulate General in Toronto.
Sincerely,
Isaac Saney, CNC Co-chair & and National Spokesperson
Tamara Hansen, CNC Co-Chair
Keith Ellis, CNC Coordinator "Cuba for Haiti"

[TOP]
---
ALBA Agrees to Send Aid for Reconstruction
President Hugo Chávez of the Bolivarian Republic of Venezuela led the extraordinary meeting of the Political Council of the Bolivarian Alliance for the Peoples of Our America (ALBA), which took place on January 24 at Miraflores Palace in Caracas, Venezuela.
The emergency meeting, which had an immediate response from the member nations, discussed the regional bloc's contribution to the reconstruction of devastated Haiti.
According to Chávez, the meeting — which included Roosevelt Skerrit, Prime Minister of Dominica and other ALBA representatives — was convened to talk about the terrible situation in Haiti, a nation with permanent observer status in ALBA, and to strengthen humanitarian aid.
At the end of the meeting, the final declaration was read out by Cuban Foreign Minister Bruno Rodríguez and it was agreed that this plan would be urgently passed on to Haitian President René Préval via a high level commission.
The text states that the reconstruction efforts in the sister Caribbean nation "must have the people and government of Haiti as the major protagonists, thus respecting the principles of sovereignty and territorial integrity."
The continuity of work underway, centrally in "the healthcare sphere," was reiterated, in terms of developing a plan giving priority attention to children and to include the rebuilding of the Haitian educational infrastructure, food and school aid programs and the training of teachers.
The creation of a Humanitarian Fund via the Bank of ALBA was approved and is to be established with the support of member countries. Members agreed on the supply of food to alleviate the crisis and the reactivation of food production plans that were underway in the framework of the ALBA-Food Initiative.
They also proposed, among other measures, to reintroduce projects in support of electricity generation, guaranteeing necessary fuel supplies to plants in Cap-Haïtien, Gonaves and Carrefour, areas gravely damaged by the earthquake.
(Granma International)

[TOP]
---
South Florida Mobilizes Earthquake Relief
Only 600 miles from Haiti, South Florida is home to the largest Haitian community in the United States. Practically all of the 300,000 Haitians living in the area left family behind Haiti. Now, weeks after the devastating earthquake, frustrations are even higher for the thousands who still have yet to make contact with loved ones. As international efforts for survivors seem to fall short of their expectations, South Florida residents are mobilizing efforts to help the neighboring nation.
South Floridians are following traditional methods of donating water, canned food, protein bars, blankets, sleeping bags, lightly worn clothing and shoes, pre-paid satellite cell phones, flashlights and other goods to collection sites across St. Lucie, Palm Beach, Broward and Miami-Dade counties. Most of these items are picked-up by established charities such as Food for the Poor and brought to Haiti.
Local school districts are committed to the cause. Broward County announced on Thursday that all of its 32 high schools, the Ft. Lauderdale headquarters, and three area offices are all now serving as donation drop-off locations for three charities contributing to relief efforts.
In Palm Beach County school district, where roughly 500 employees and 16,000 students are of Haitian decent, the efforts are focused on the local community. School officials set-up an international phone line at Toussaint L'Ouverture High School in Boyton Beach, transforming the campus into a de facto communications hub for local families to contact relatives in Haiti. Several grief counselors are also being provided to the high school, where 93 percent of the students are Haitian. District administrators have also created a special work group designed to implement direction and organization in their relief efforts for earthquake survivors.
Last weekend, several live music events on Las Olas and South Beach featuring local, national, and international talent including, Kimani Marley, donated all or most proceeds to relief efforts.
Nearly every day since the catastrophic earthquake, South Florida community leaders and members have met to discuss different strategies to help survivors. The church Notre Dame d'Haiti and the Jean-Jacques Dessalines community center in Miami are serving as support centers and drop-off locations for material and monetary donations. Yet the local South Florida community has been alarmed and frustrated at seeing images of thousands of Haitians still buried under the rubble and lacking food, water or proper medical attention.
"What everyone is saying is 'I want to be there,'" says Miami-based entertainer/activist Farah Juste. Juste, who has not been able to make contact with her mother, sister, brother-in-law and other family members in Haiti, understands the desperation brewing here in South Florida. "People are begging for the right to go and help their country but are being denied by the U.S. government and organizations. It is obvious that these governments and organizations are not doing enough."
Chrystian Tejedor, Public Affairs South Florida Regional Officer for the American Red Cross says the organization is bombarded with calls everyday from community members who want to help. Tejedor says that most of the calls the local Red Cross branches receive are from civilians who want to physically volunteer in Haiti. "It's unbelievable how many calls we receive from people ready to go and help their countrymen," he said. The Red Cross, like the government is also blocking volunteers, saying it is "too dangerous."
Juste says the need for a strong leader is more critical now for Haitians both in Haiti and the United States than ever before. The name most mentioned at community meetings to fill this role: "Aristide," says Juste. "I wish President Préval had enough courage, enough pride and dignity to open his arms to President Aristide and say 'let's sit down together. Let's rebuild together. Forget about the past, and let's work to rebuild Haiti." The widely-popular exiled former Haitian President Jean-Bertrand Aristide released a statement from South Africa announcing he and his wife, Mildred are ready to return to Haiti at a moment's notice to join in relief efforts and the rebuilding of their nation.

[TOP]
---