All Out for March Actions!
End All U.S. Wars Now! Fight for Our Rights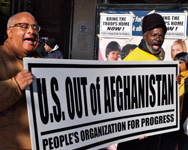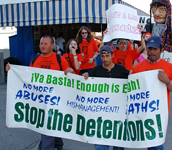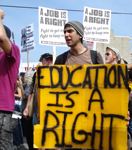 The U.S. Marxist-Leninist Organization salutes all those across the country organizing to end U.S. wars and defend rights. Actions are being planned March 4 to defend the right to education, March 20 against all U.S. wars and occupations and March 21 to defend immigrant rights. The scope of organizing south to north and coast-to-coast is involving many youth, teachers, unions, veterans, families, rights and political organizations, various religious and community forces and more. The month will see students, teachers and parents marching together March 4 to defend public schools and the right to education. Organizers are rejecting the claims of federal and state governments that there is "no money" and demanding that their rights be met. We say it is the duty of government to meet its social responsibilities, first and foremost to the people! President Barack Obama is calling for the largest war budget ever of $708 billion. This includes $159 billion for wars in Iraq, Afghanistan and Pakistan and $112.8 billion for yet more weapons. Youth and teachers nationwide are saying NO! Stop Funding War! Full Funding for All Our Schools Now!
Beginning March 13, Peace of the Action will set up Camp Out Now! on the grounds of the Washington Monument. Teach-ins, community outreach and non-violence training are scheduled for the week. People from across the country are coming into DC to join in civil disobedience actions, set to begin March 22. Their aim is to "clog Washington, DC every week day through civil resistance actions to have the effect of tampering with 'business as usual' in the capital." Participants plan to continue actions until troops come home.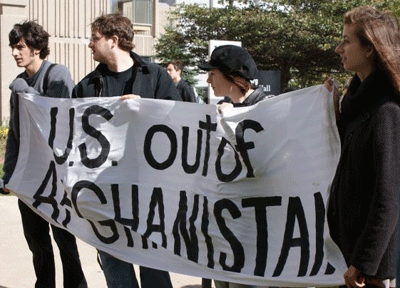 On March 20 additional anti-war coalitions and forces will converge at the White House demanding, All Troops Home Now! No to War and Occupation in Iraq, Afghanistan and Pakistan! Hands Off Iran! Reparations for Haiti! Doctors Not Soldiers! The actions are taking place on the seventh anniversary of the U.S. invasion of Iraq. They are taking place at a time where Obama has utilized more drones in his first year in office than former President Bush did his entire term. The drones are responsible for hundreds of civilian deaths in Pakistan. The U.S. is not at war with Pakistan, yet war is being waged. Protesters are making clear that they reject all aggressive wars and that they represent the majority of Americans. And that majority wants an anti-war government and an anti-war president!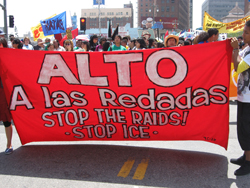 On March 21, hundreds of immigrant rights organizations are organizing a mass action on the National Mall in DC. On March 10 regional mobilizing actions will be taking place across the country, including press conferences to promote the demand for immigrant rights and that Obama act now on immigration reform legislation. As one of the young organizer brought out, "We want the Congress and the President to act." She added, "We want leadership and results from our elected officials but they have not delivered. Now is the time to exert our own leadership and show our commitment by marching in DC on March 21."
Many are angered by the fact that Obama's $56.3 billion budget for the Department of Homeland Security (DHS) increases funding for more attacks on immigrants. It includes $4.6 billion for 20,000 more Border Patrol agents and for completing another section of the border death wall in Arizona. The wall is responsible for many hundreds of deaths. The DHS is also dedicating $1.6 billion for enforcement of the hated "Secure Communities" and "287(g)" initiatives, which use local law enforcement for federal immigration matters. The program is notorious for unleashing broad racist profiling, mass detention and deportations of many people guilty of no crime and with families in the U.S.
All of the actions are taking place at a time when people are assessing Obama's first year in office, especially on those issues where he promised he would take action in his first year: ending the Iraq war, closing Guantánamo prison, and initiating immigration reform. The Iraq war continues and there has been an escalation of U.S. wars in Afghanistan and now into Pakistan. Haiti has been invaded in the name of aid. The U.S. sent in 15,000 troops when the peoples are demanding doctors not soldiers!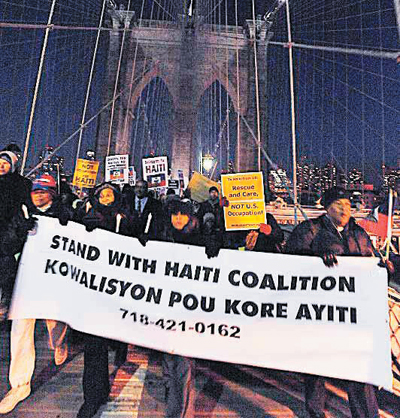 The military response in Haiti, and threats against Iran are more examples of Obama's attempt to claim that aggressive war is an instrument of peace. He is doing so in a situation where the peoples know well the sacrifice made to achieve the post World War II international standards, expressed for example in the Geneva Conventions and the Nuremberg Principles. These speak to the international law that makes preparing for aggressive war, including doing propaganda for war crimes against the peace. Aggressive war was outlawed and the demand for resolving problems without the use of force established. International and U.S. law also outlaw torture and indefinite detention without charges. A recent United Nations report condemned U.S. use of secret detention, saying the abuses may constitute a crime against humanity. The report condemned the prison at Bagram in Afghanistan and demanded that all investigations into detainee abuse be made public.
As the 2010 elections approach, what is standing out for many is the failure of the existing arrangements of government. They are not blocking the president from engaging in aggressive wars while they are blocking the anti-war will of the majority. They are not preventing torture and indefinite detention, while blocking demands to close Guantánamo and Bagram now. They are blocking solutions on immigration, such as the peoples' demand for legalization for all. They have shown themselves outdated and unsustainable in today's modern world where the people are demanding to be decision-makers. New arrangements of political empowerment of the people are needed and this problem is being taken up for solution.
People are utilizing the March actions to strengthen their own organized forces, where they decide; to strengthen their unity with all those fighting; and mobilize yet more people for the struggles ahead. And they are setting their sites on the elections themselves and preparing to throw out the old politicians and bring forward new politicians of their own, to represent and fight for the rights of the people!
[TOP]
---
Education is a Right!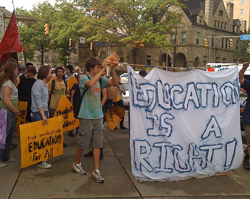 A national day of action to defend the right to education has been called for March 4, with activities planned all that week on campuses across the country. The first initiative for the action came from California, building on numerous actions in the state in November 2009. The forces in California united to call for a March 4 Strike and Day of Action to Defend Public Education. In addition a second call in unity with the first was issued by students who participated in the New School occupations, students and workers from across the country, student activists from ongoing campaigns in North Carolina, Chicago, Milwaukee, and various other locations. All are together organizing to defend the right to education and demand an end to war funding and increases in funding for education. Students, teachers, workers and parents are all encouraged to organize actions in their schools and communities to defend the right to education for all. The text of both calls are reprinted below.
* * *
National Call for March 4 Strike & Day of Action To Defend Public Education
The California Coordinating Committee
California has recently seen a massive movement erupt in defense of public education — but layoffs, fee hikes, cuts, and the re-segregation of public education are attacks taking place throughout the country. A nationwide resistance movement is needed.
We call on all students, workers, teachers, parents, and their organizations and communities across the country to massively mobilize for a Strike and Day of Action in Defense of Public Education on March 4, 2010. Education cuts are attacks against all of us, particularly in working-class communities and communities of color.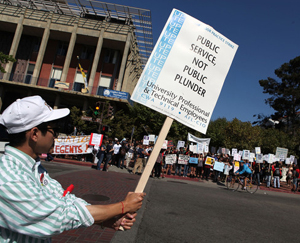 The politicians and administrators say there is no money for education and social services. They say that "there is no alternative" to the cuts. But if there's money for wars, bank bailouts, and prisons, why is there no money for public education?
We can beat back the cuts if we unite students, workers, and teachers across all sectors of public education — Pre K-12, adult education, community colleges, and state-funded universities. We appeal to the leaders of the trade union movement to support and organize strikes and/or mass actions on March 4. The weight of workers and students united in strikes and mobilizations would shift the balance of forces entirely against the current agenda of cuts and make victory possible.
Building a powerful movement to defend public education will, in turn, advance the struggle in defense of all public-sector workers and services and will be an inspiration to all those fighting against the wars, for immigrants rights, in defense of jobs, for single-payer health care, and other progressive causes.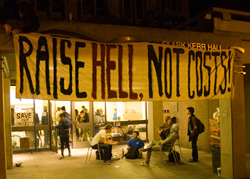 Why March 4? On October 24, 2009 more than 800 students, workers, and teachers converged at UC Berkeley at the Mobilizing Conference to Save Public Education. This massive meeting brought together representatives from over 100 different schools, unions, and organizations from all across California and from all sectors of public education. After hours of open collective discussion, the participants voted democratically, as their main decision, to call for a Strike and Day of Action on March 4, 2010. All schools, unions and organizations are free to choose their specific demands and tactics — such as strikes, rallies, walkouts, occupations, sit-ins, teach-ins, etc. — as well as the duration of such actions.
Let's make March 4 an historic turning point in the struggle against the cuts, layoffs, fee hikes, and the re-segregation of public education.
For more information:
http://defendcapubliceducation.wordpress.com/
march4strikeanddayofaction@gmail.com
March 4 National Day of Action to Defend Education
As people throughout the country struggle under the worst economic crisis since the Great Depression, public education from pre-K to higher and adult education is threatened by budget cuts, layoffs, privatization, tuition and fee increases, and other attacks. Budget cuts degrade the quality of public education by decreasing student services and increasing class size, while tuition hikes and layoffs force the cost of the recession onto students and teachers and off of the financial institutions that caused the recession in the first place. Non-unionized charter schools threaten to divide, weaken and privatize the public school system and damage teachers' unions, which are needed now more than ever. More and more students are going deep into debt to finance their education, while high unemployment forces many students and youth to join the military to receive a higher education. And all of the attacks described above have hit working people and people of color the hardest.
In California, students, teachers, workers, parents, and faculty have taken action against these attacks. They took to the streets in a one-day strike on September 24, organized strikes and actions across the state during the University of California Board of Regents meeting from November 18 to 20, and have called for a state-wide day of action on March 4. These actions have created a broad mass movement in California, drawing in students from all over the state to create a powerful struggle. As the effects of the economic crisis continue to spread into the education system nationally, it's time to join our voices with students and workers in California and draw inspiration from their example.
We support every group or coalition organizing in the manner and for the duration of their choosing. In solidarity with those in California, we the below-signed individuals and organizations call on students, teachers, workers, parents, faculty, and staff across the country to join together on March 4 to Take A Stand For Education! For more information: www.defendeducation.org.
[TOP]
---
U.S. Labor Against the War Supports March 4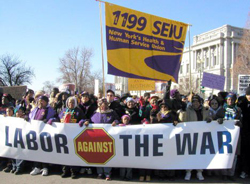 To the coordinators of and participants in the March 4 Strike and Day of Action to Defend Public Education, and to the Labor Movement and its allies:
The 2009 National Assembly of US Labor Against the War, held in Chicago, December 4-6, expressed its support of your call for the March 4 Strike and Day of Action to Defend Public Education. We commend your resolve to act in a unified struggle against the cuts, layoffs, fee hikes and educational segregation in California and across our nation.
It is heartening to see that many educational and campus service unions (including USLAW affiliates) have joined in unity, and that support is growing into a nationwide call for coordinated actions.
Cuts to funding for education and other health and human services are evident throughout the country, leading to layoffs, furlough days, and the loss of health, shelter, and lives.
The continuing occupation of Iraq and the escalation in Afghanistan will increase costs of those wars and occupation into the trillions, thus further eroding funding for education and other human services.
We send our gratitude to you for your courageous and visionary struggle, and urge that you include a call for the redirection of funding from war and occupation to education, healthcare and other human needs, and encourage you to reach out to other labor groups to support your legitimate and urgent demands.
US Labor Against the War's Mission states, "To protect our members and the lives and livelihoods of working people everywhere, we will advocate, educate and mobilize in the US labor movement for: redirecting the nation's resources from inflated military spending to meeting the needs of working families for health care, education, a clean environment, housing and a decent standard of living based on principles of equality and democracy."
For our part, USLAW will distribute this letter and your call to our affiliates and individual members and encourage them, in whatever capacity they can, to promote the March 4 date, and participate with students, faculty members, teachers, education workers, and parents on college campuses, in pre-school programs and K-12 schools, and in communities to make this connection and support the call for no cuts or layoffs, no tuition or fee increases, and to establish new funding priorities away from war and occupation to education, healthcare, housing and jobs.
[TOP]
---
Reports on California Organizing Meetings for March 4 Actions

Northern California Coordinating Committee Report
On December 5th, 2009 at 1pm, the Nor-Cal Coordinating Committee met at 1125 Valencia Street in San Francisco. The purpose of the meeting was to coordinate on a regional level the struggle to defend public education and begin preparing and outreaching for the March 4 Strike and Day of Action. In conjunction with Southern California and the Central Valley, Northern California is committed to the building of the March 4 Strike and Day of Action and to defending public education.
Our group of 60 people was diverse in ethnicity, gender, age, students, labor, professors, pre k-12 teachers, librarians, community organizations, and parents. Representatives came from San Francisco, Oakland, Berkeley, Richmond, Napa, San Jose, Monterrey Bay and Fremont areas. Like the meetings in Southern California and the Central Valley, a powerful democratic voice is solidifying students, parents, faculty, community organizations and labor.
Below is a summary of the discussion and decisions of the December 5, 2009 Nor-Cal Coordinating Committee meeting.
Actions in Northern California-November 18-20
A variety of actions took place throughout the Bay Area, from students taking over the building on the UC campus, to camping out on CC campuses over night.
• There were several problems with the actions in November. Among them was the loss of emphasis on cuts and layoffs because of the prominence of the UC tuition increase.
• A majority of students throughout our college systems were not informed of the actions (understandable — it happened quickly and spontaneously with groups that were already organized, especially on the UC campuses)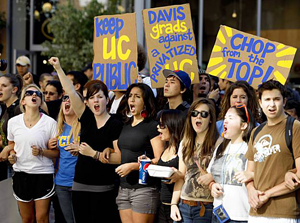 • It was a powerful show of unity.
Therefore the following suggestions were made.
• All organizations need a March 4th committee.
• We need a physical space where ideas can be coordinated and exchanged.
• Students who organized the November 18-20 events could speak in our communities about the cuts to public education, and the purpose of their actions.
• Students, staff, communities and unions need a distinct message to mobilize a state action.
• Each community needs a clear message shared by all, and a forum in which to share the message.
Committees/fronts were proposed to carry out the above tasks and general outreach. The following committees/front were created:
1. City Committees/fronts in San Francisco, East Bay, North Bay, South Bay and Monterey Bay.
2. Media Committee.
3. Labor Committee.
4. National and International Solidarity Committee.
December 5 Central California Report Back
On Saturday December 5 the Central Valley held its first Regional Meeting to Save Public Education. The meeting was possible because of the organizing efforts of CSU Stanislaus Socialist Organizer, CSU Fresno MEChA, Fresno City College students, and Merced College Students for Social Justice who put in the month-long hard work to make it happen. Just over 70 people attended; students, faculty, parents, community organizations, and a few unions. Nine campuses were represented: UC Merced, Merced College, Modesto Junior College, CSU Fresno, CSU Stanislaus, CSU Sacramento, UC Davis, UC Berkeley, and Fresno City College.
The main purpose for organizing this meeting was to bring together Central Valley campuses to begin discussing and coordinating for the March 4 Strike/Day of Action.
California's Central Valley runs up to the Oregon border and down to Bakersfield covering a vast stretch of fertile land. The agriculture production in this part of California is capable of feeding our entire state population a few times over, yet we have some of the highest rates of malnutrition and families that go hungry in the nation. The poverty rates in the majority of Central Valley counties are much higher then the state average. Not coincidentally, the highest rates are concentrated in the south where you find whole towns comprised of farm labor camps. In the Central Valley you also find the highest numbers of high school drop-outs, depressed wages often sub-minimum, and gang violence and drug use on the rise. Exacerbating this situation is the rabid conservatism that envelopes the area.
Compared to the UC's [University of California system], community colleges and the CSU's [California State Universities] have a more diverse student population across the board: gender, age, income, race, etc. So, when we are told, "there is no money to fund public education" where are our youth supposed to go? Join a gang or join the military?! The situation requires urgent action and those present on Saturday knew it. The cuts to public education have been eating away at our right to an education. It is not only higher education but all public education in California that is being affected by the cuts.
Those attending the CenCal organized into smaller groups to begin discussion on what comes next in the student movement. Some of the issues stressed were: the need to outreach to the community and parents, the importance of research and information gathering so that we can be educated on the issues, and the urgent need to build networks with faculty/teachers, staff, and other school employees. The CenCal Regional Meeting proved that there are more of us in the Valley who care about our education. We have begun to build a solid network of organizers who will continue the fight to keep education a right and not a privilege.
Southern California United Coalitions for a Statewide Action
On December 5th, 2009 at 1pm, the first meeting of the Southern California Coalition met in Los Angeles to discuss a strategy for the statewide day of action demonstration planned for March 4, 2010. The Southern California coalition meeting reflected on experiences of the demonstrations held November 18-November 20. Representatives of student, teacher, and community organizations from San Diego, Riverside, Orange, and Los Angeles presented their observations in order plan future action. The tone of the -meeting indicated that the foundation of the movement is solidifying into a powerful democratic voice that can represent the interests of students, teachers, and the general working class in California. Our greatest strength is our numbers. They may see hundreds or thousands at our rallies, but we represent millions upon millions.
The element of education that has direct impact on this community is the K-12 system. The cuts impact on children, affecting their lives and the future of society. The force of this impact is also absorbed by the parents. It is essential that the institutions of higher education support and unite with the movements taking place in the K-12 system.
The devastating cuts to the educational budget are debilitating the public education system, setting grounds for the politicians to institute its privatization. Their excuse, that the money does not exist to fund education, is a blatant lie. The issue is a matter of priorities. California is the richest state in the richest country in the world. The United States has a larger military budget than the rest of the world's military budgets combined. California politicians have been systematically increasing the allocation of funds for prisons while diverting it away from education and social programs.
The meeting in Southern California was successful in establishing a declaration of solidarity amongst the coalitions in the struggle for educational justice.
[TOP]
---
North Carolina: Take Action to Defend Education
Teachers, parents, students, and communities across the -country are fighting back against attacks on primary and higher -education:
• from massive layoffs to inaction in the face of a crumbling public education infrastructure
• from reactionary movements to return to segregated schools
• to massive tuition and fee increases & budget cuts on the backs of university students, staff, and faculty
In response, coalition members and endorsers for the North Carolina March 4 Day of action are demanding:
• Stop re-segregation of public schools in Wake, Wayne, and Wilmington!
• Stop tuition and fee increases in the University of North Carolina system & increase financial aid opportunities for all students!
• Stop teacher lay-offs — rehire all teachers laid-off in 2009 state budget cuts & increase education jobs!
• Financial aid and in-state status for ALL immigrant NC residents now!
The economic crisis is coming down hard on public schools. While bankers, corporations, and the Pentagon received hundreds of billions in bail out money, our weakened public school system received only more blows. Last year thousands of North Carolina public school teachers and staff were laid off in a round of deep budget cuts. Companies hired 22 percent fewer class of '09 seniors, less than half of all graduates have found employment in their fields, and the unemployment rate for those 20-24 is between 30-35 percent. It is over 50 percent for youth of color.
In K-12, many youth of color are directly tracked to prison before graduation through the school-to-prison pipeline.
But in response:
· Teachers around the state rallied to stop these cuts and were able to push back legislation and save many jobs.
· Undocumented students, who previously were barred from attending community colleges, won the ability to attend with out-of-state status. While this is a victory, out-of-state tuition rates are far beyond the reach of many immigrant students and they are still ineligible for financial aid.
In November 2009, students and teachers in California made a stand with actions around the state. California students took bold action and occupied their universities, held rallies, and took to the streets. A call to defend education throughout the week of March 4 has come from communities across the country.
Join the teachers, students, education workers and community members across the country who are coming together for the March 4 National Day of Action to Defend Education
Be a part of this movement – organize or participate in an action during the week of March 4!
For more information on actions or if you are interested in organizing an action at your school or campus, visit http://raleighfist.wordpress.com or contact 919-604-8167.
A Job and an Education are Human Rights
Money For Human Needs, Not War!
[TOP]
---