Stop the Raids and Deportations!
Legalization Now!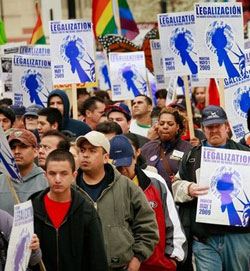 Conditions facing immigrants have worsened during President Obama's first year in office. Though he promised immigration legislation in his first year, it does not appear that solutions to this problem will be addressed even in his second year. This is despite considerable evidence that current programs are not solving problems in a manner that favors the people, but rather intensifying them. Many are concerned that Obama's recently submitted budget calls for increasing funding for more attacks on immigrants, including some of the government's most hated programs. These various programs, like CAP ("Criminal Alien Program") are getting an additional $1.6 billion in funds. They have proven themselves to be brutal attacks on the rights of immigrants and all workers, with widespread government impunity to jail and deport those guilty of no crime.
While the Department of Homeland Security (DHS) claims it is focusing on "dangerous criminals," in fact the majority of those deported had at most misdemeanor charges, many of them minor traffic violations, like a broken taillight. Others have been deported for minor crimes from 10 or 20 years ago, crimes for which people paid their fines or served their time and yet are now being deported. This effort by government to present itself as concerned about the safety and security of the people while collectively terrorizing whole sections of the workforce cannot stand. It is the government that has been criminal and racist, acting with impunity against the people. It is the government that refuses to address the problems and provide solutions, such as implementing the demand of the people for legalization for all.
Providing more funds for attacks on immigrants is also an indication that the government plans to increase its efforts to criminalize immigrants while striving to divide workers and disrupt their resistance. It is precisely with the aim of advancing the fight for rights, against impunity and for the unity of all that many are joining the demonstration March 21 in Washington DC to defend immigrant rights. Government efforts to split and divide the workers, and attempt to criminalize undocumented immigrants, serves to make everyone more vulnerable to attack. As the banner of the worker class proclaims, An Injury to One is an Injury to All! Let all stand together to demand Stop the Raids and Deportations! Legalization Now!
[TOP]
---
Chicago Youth Demand Legalization Now
We undocumented youth have decided that this March 10 we will present our demands at a table of our own. We understand the table as the most powerful center where we can discover ourselves as humans, not as documented or undocumented, not as powerful or powerless, and not as poor or rich, not as a soundbite or statistical report but as human beings.
We are coming out of the shadows this March 10 for we are ready to share in the U.S. political, social and economic Table. We are coming out the shadows for we are tired of having the lives of our families, friends and our own lives on standby when it comes to contributing fully to the life of this society.
Having been refused the right to sit at the table from the various countries from where our parents brought us, having been negated the right to sit at the table by our politicians — who make of us undocumented suspects, criminals and, at times, less than human — we undocumented youth have established our own table. This March 10 we have formally invited President Obama, Senator Durbin and Director of Homeland Security Janet Napolitano and their respective family members to join us. At our table they are welcomed. At our table they are not denied a place. At our table we will be able to break bread, at our table President Obama, Senator Durbin and Mrs. Napolitano will be able to see us face to face and not as an amorphous group that statistics and reports have distorted from time to time.
This March 10, we undocumented youth, who are most affected by political inaction and inhuman, incomprehensive legislation and who are always muted and left in the shadows, are inviting President Obama, Mrs. Napolitano and Senator Durbin to come and sit at table where we will discuss solutions to our broken immigration system.
[TOP]
---
Organizing in Arizona, Georgia and Texas
Campaign for Dignity not Detention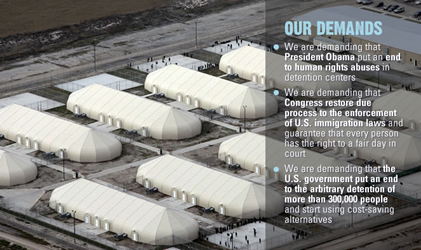 Join us in our campaign to put an end to the expansion of the U.S. immigration detention system and protect human rights.
The US immigration detention system is in deep crisis. In recent years it has expanded dramatically and at great cost to principles of universal human rights and the rule of law. Since 1994 the number of detention beds has grown from 5,000 to over 33,000 with more than 1.7 million individuals passing through the system since 2003. An estimated 300,000 are being detained yearly. This dramatic growth in detention is indicative of the unjust immigration enforcement system in this country.
Immigrants are detained in a secretive network of over 350 federal, private, state prisons, and local jails, at an annual cost of $1.7 billion to taxpayers. This crisis is not limited to the undocumented — long-term green-cardholders with minor offenses, survivors of trafficking and domestic violence, and those fleeing persecution also are detained and deported by the thousands. More than eighty percent of detained immigrants go through the immigration system with no lawyer. Many are denied their day in court owing to mandatory and arbitrary detention laws and policies that severely limit judicial discretion in immigration cases. While detained, immigrants face horrific human rights abuses, including mistreatment by guards, solitary confinement, the denial of medical attention and limited or no access to their families, lawyers and the outside world. In many cases, these conditions have proven fatal: since 2003, a reported 107 people have died in immigration custody.
Last year Immigration and Customs Enforcement (ICE) announced plans to reform the immigration detention system, yet to date, there is little evidence of change. DHS Secretary Napolitano has publicly reaffirmed the agency's intention to expand a punitive enforcement system. Detention Watch Network (DWN) members are committed to opposing any expansion of the enforcement regime and shifting the national debate in support of a system based in civil administrative process that ensures the due process and human rights of all people.
[TOP]
---
NY Road Trip Mobilizes for Immigrant Rights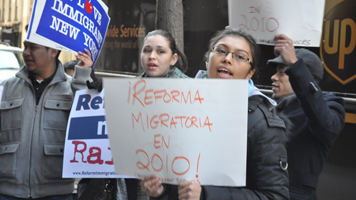 During February, immigrant rights activists organized a road trip across New York to rally support for immigration reform now! The trip started in New York City and wound its way upstate, visiting Buffalo, Ithaca and Rochester among other places. The road trip, called the "New York Road Trip for Our Future," was organized by various local groups in collaboration with the statewide New York Immigration Coalition and the national Reform Immigration for America campaign. Both are also main organizers for the March 21 March on Washington for immigration reform and legalization for all. Organizers brought out that during the five-day trip, nearly 5,000 people will be deported and more than 5,000 will be detained. They are demanding that President Obama and Congress act now to end raids and deportation and provide legislation that respects the rights of immigrants. The road trip brought to the fore the conditions immigrant workers face and the need for all to stand in defense of rights. Below is a report from a participant on the stop in Buffalo.
* * *
We had our press conference in Buffalo at 12pm. Great turnout from the community. There is such a strong base of community organizing and grassroots work in Buffalo and it really showed through today. The NYCLU joined us with the local Latino groups and faith groups at the First Presbyterian Church. Kevin, Yasmine and Osman all shared their truly moving testimonies, stories some of us had never even heard before. And Gabriela gave a rousing call to everyone there to get people from Buffalo for March 21!
I spent much of my time speaking with three farmers from the local Farm Bureau that came to join us. The stories these men told me chilled me to the bone. One farmer told me about the time he was ordered off his own land by Immigration and Customs Enforcement (ICE). He is the fourth generation of his family to farm his land. He went over to a corner of his field to investigate a commotion, which turned out to be ICE agents entering his farm land, guns in hand, and literally chasing his workers off the field in the middle of harvest. The image shocked me. Here we are in New York's breadbasket, where immigrants do some of the hardest work on the farms alongside our nation's farmers, and ICE is chasing them off the fields, literally. These farmers I met with cared about their land and their work, but they also cared intensely about the immigrant workers that worked the fields with them – that is why they came to our event. The farmers we have met across this northern stretch of our trip have given me a new found strength to fight. In Brooklyn, and plenty of other progressive neighborhoods around the U.S. we talk about organic food, and food justice. There is no food justice without worker's rights, farmers' rights and protection from persecution for all!
We got some great Puerto Rican cooking in Buffalo (no wings for this crew) and then wound our way to Ithaca. We were lucky to have Mary Lou, a local advocate for agricultural rights join our caravan for almost the whole way!
In Ithaca we were welcomed by the local Women's Center and close to 150 people cheering for immigration reform! We had song gorgeous singing from a local artist "abre la frontera" and speeches from advocates throughout Tompkins County. Mary Jo Dudley struck me the deepest. She simply stood at the front of the room and showed us pictures of local Tompkins workers and residents who had been deported. I will never forget ten-year old Julia's picture (just the back of her head, her face turned away) after her parents were taken, and she was left at home for a week – alone – caring for a 3 year old and 5 year old neighbor whose parents had also been taken in an ICE raid. Local school officials, not ICE or other immigration officials, came by to look for her and insured she was cared for. There have been so many Julia's on this trip.....
It was also exciting to see elected officials in the room. The mayor and two city council members took the stage to announce the introduction of a local resolution in support of comprehensive immigration reform on March 3. Great work Ithaca crew!
[TOP]
---
Tour of Latin American Labor Leaders
[TOP]
---