Defend the Right to Resist at Home and Abroad
Freedom for Oscar López Rivera, Puerto Rican Political Prisoner in the United States!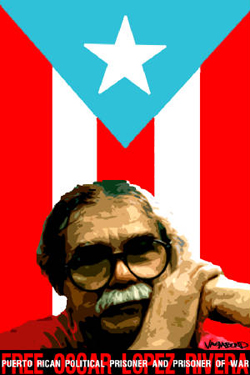 The U.S. has long targeted the independence movement in Puerto Rico, using grand jury witch hunts to target activists, FBI assassinations and informants to disrupt organizing, and arrests and long prison sentences for those dedicated to winning independence for Puerto Rico. Puerto Ricans in the U.S. and Puerto Rico have long faced grand jury witch hunts, similar to those recently used against anti-war and pro-resistance organizers in Chicago and Minneapolis. And they have long been targets of U.S. state terrorism, including use of the inhabited island of Vieques as a Navy bombing range, occupation by U.S. troops and bases, sterilization campaigns against the women, and jailing of those who resist, like Oscar López Rivera and Lolita Lebron. What stands out about both is their rejection of the U.S. state and their firm stand that the U.S. as a colonizer has no authority over Puerto Rico and that Puerto Ricans have the right to resist occupation. It is because of this militant and firm stand for the right to resist and win independence that the U.S. imposes harsh sentences and refuses to release Oscar Lopez Rivera. A petition campaign is underway to win the freedom of López Rivera, imprisoned since 1981. Voice of Revolution urges all to sign the petition now: Sign the petition: http://www.petitionspot.com/petitions/Parole4OscarLopezR and send a letter of support: http://boricuahumanrights.org
Oscar was born in San Sebastian, Puerto Rico on January 6, 1943. At the age of 12, he moved to Chicago with his family. He was a well-respected community activist and a prominent independence leader for many years prior to his arrest. He was active in various community struggles, mainly in the area of health care, employment and police brutality. He also participated in the development of the Committee to Free the Five Puerto Rican Nationalists. He was also one of the founders of the Rafael Cancel Miranda High School, now known as the Dr. Pedro Albizú Campos High School and the Juan Antonio Corretjer Puerto Rican Cultural Center. He was a community organizer for the Northwest Community Organization (NCO), the Association of Spanish Speaking People of America, ASPIRA (an organization that helps Latino youth) and the 1st Congregational Church of Chicago. He helped to found FREE (a half-way house for convicted drug addicts) and ALAS (an educational program for Latino prisoners at Stateville Prison in Illinois). In 1975, he was forced underground, along with other comrades.
Oscar was captured on May 29, 1981, after 5 years of being persecuted by the FBI as one of their most wanted fugitives and is presently in prison in Terre Haute, Indiana. He has served 29 years of a 70-year sentence for "seditious conspiracy," including more than 12 years in solitary confinement. He is now 67 years old and may be imprisoned until 2027 (if given early release for good behavior, at most a third reduction in his sentence).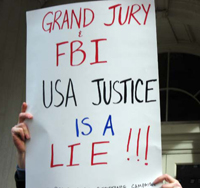 Despite the harsh conditions, Oscar has courageously defended the principles to which he has dedicated his life. In 1999 U.S. President Clinton offered to commute his sentence to a further 10 years conditional on his being a model prisoner. American jurist Marjorie Cohn noted in a July 30 article for La Prensa San Diego, "López did not accept the terms of President Clinton's 1999 clemency offer, which would have required him to serve an additional 10 years in prison with good conduct. Though he declined the offer, López has now served the additional 10 years in prison with good conduct. Had he accepted the deal, he would have been released last September." Oscar refused because such an offer was not extended to all the Puerto Rican political prisoners and he was doubtful that the U.S. prison system would permit him to successfully meet the conditions.
The ProLibertad Freedom Campaign in conjunction with the National Boricua Human Rights Network (NBHRN) are undertaking a petition and a letter writing campaign, respectively, to demand his release. In launching the petition, ProLibertad stated, "We are asking all freedom loving people to support both the online petition, which will be sent to President Barack Obama once we have reached our goal of 10,000 petitioners, and to support the letter writing campaign by the NBHRN. Our letters and online support will help us bring one of the longest held political prisoners home!"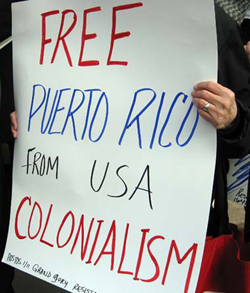 Another Puerto Rican activist, Avelino Gonzalez Claudio was arrested in 2008, having managed to elude U.S. authorities for more than 20 years. Now aged 67 and suffering from Parkinson's disease, he was sentenced to seven years in prison this past May for his involvement with the Puerto Rican independence movement. He has recently endured the torture of sustained solitary confinement and refusal by the government to provide him with his medications. We urge all to join in demanding his release and for safeguarding his rights while in prison.
The U.S. colonial occupation of Puerto Rico and the persecution of Puerto Rican patriots is a crime. Colonialism and foreign occupation has long been rejected by the Puerto Ricans and all the peoples of the Americas and worldwide. The verdict of the peoples is clear: it is the terrorism and crimes of the U.S. that must be ended and the right to resistance at home and abroad affirmed.
Free Oscar López Rivera and All the Puerto Rican Political Prisoners!
No to U.S. State Terrorism! Viva Puerto Rico Libre!

[TOP]
---
Grand Jury Witch Hunt, February 2008
Puerto Rican Independence Movement Under Attack in New York and San Juan
We reprint below an article on the grand jury witch hunts in February of 2008 against the Puerto Rican movement for independence. These actions, like those recently against anti-war and pro-resistance organizers in Chicago and Minneapolis, are part of the campaign of U.S. state terrorism to silence, paralyze and disrupt the movements for rights.
An unexpected knock on the door . . . men in trench coats handing you a grand jury subpoena . . . . If you're involved in the movement for the independence of Puerto Rico, this is not just a not-so-fond memory of the COINTELPRO era. It is 2008 in New York City, and you are Christopher Torres, a young social worker; Tania Frontera, a young graphic designer; or Julio Pabón Jr., a young filmmaker from the Bronx.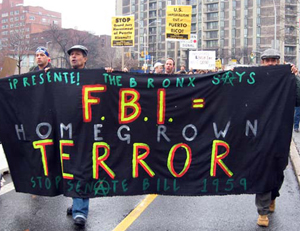 Their subpoenas have aroused vigorous support for them, not just in New York, but in cities across the U.S. and in Puerto Rico. On the island, over forty organizations united to condemn this latest wave of repression and convened a demonstration on January 11 where over a thousand people participated under the theme "In the Face of Repression, Unity and Struggle," with placards and banners calling for the FBI and the federal courts to leave the island. Simultaneous activities took place in Brooklyn, Hartford, Chicago, San Francisco, Los Angeles, Philadelphia, Orlando, Fitchburg, Massachusetts, and Cleveland. As resolutions condemning the repression emanated from the National Lawyers Guild New York City Chapter, the American Association of Jurists, the Interfaith Prisoners of Conscience Project, and the Latin America Solidarity Coalition, the New York Spanish language daily El Diario/La Prensa published an editorial ringing the alarm bell, and U.S. congressman José Serrano telephoned FBI director Mueller to voice his concern. "It appears to us to be a re-initiation of the harassment of independentists."(1)
Why the subpoenas? Why now? And why the resounding, unified denunciations?
Dating back to the era of Spanish colonial control over Puerto Rico, Puerto Rican people have organized to wrest their sovereignty from foreign domination. That resistance continued after the U.S. invasion and occupation in 1898. When the colonizers repressed and criminalized public organizing for independence, clandestine organizations formed, including the Popular Boricua Army — Macheteros in the 1980s. In 1985, the FBI arrested and almost killed its leader, Filiberto Ojeda Ríos, accusing him of participation in the 1983 expropriation of $7.5 million U.S. government insured dollars from a Wells Fargo depot in Hartford, Connecticut. After his release on bail, Ojeda returned to clandestine existence. In spite of the FBI's ever-increasing reward for information leading to his capture, he remained underground for some fifteen years. On September 23, 2005, however, a squad of FBI assassins circled his home, shot him, and left him to bleed to death.(2) The assassination outraged the entire nation.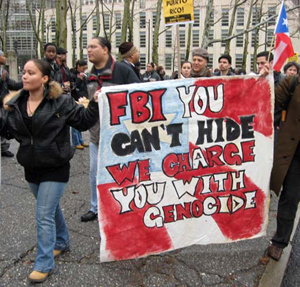 Hoping to distract public attention from their own criminal conduct and justify their presence on the island, particularly in the post-911 era, the FBI soon went on the offensive. On February 10, 2006, allegedly in a continuing investigation of the Macheteros, they raided the homes and businesses of several independence activists and in the process pepper-sprayed the nation's journalists who were covering the FBI's paramilitary incursions. Again, the entire country expressed its outrage. Since then, activists have been stopped, searched, and harassed, with the homes and offices of many others, including attorneys and movement leaders, mysteriously broken into in events reminiscent of the infamous black-bag COINTELPRO jobs: computers, digital cameras, and cell phones are taken, while other valuable items remain untouched.
Recent rumors are that the head of the FBI in San Juan, Luis Fraticelli, is close to the end of his tenure and has given instructions to accelerate efforts to neutralize the remains of the clandestine group.(3)
For Fernando Martín, a leader of the Puerto Rican Independence Party, the FBI "wants to clean up its image after the assassination of Filiberto (Ojeda Ríos), because they want to be able to say that in Puerto Rico, they investigate people of all parties (and) somehow salvage their image after their selective attacks."(4)
Julio Muriente, a leader of the National Hostos Independence Movement, stated, "The legal facade of this repressive operation is directed against the Macheteros, but the real intention is against the entire independentist movement, including against the people of Puerto Rico," calling it "an attack which is not against any particular organization, but against a political, social, patriotic movement, and against a people."(5)
U.S. Congressman José Serrano (D-NY), who was instrumental in getting the FBI to disclose thousands of pages of records documenting its illegal surveillance of and intervention in the independence movement,(6) said of these subpoenas, "It certainly appears to be a fishing expedition,"(7) which, he noted, harkens back to the days when, according to FBI director Freeh, the agency engaged in "egregious illegal action, maybe criminal action."(8)
The subpoenas, initially returnable on January 11, were continued to February 1. Attorneys announced they would file motions to quash the subpoenas. Frontera's attorney, Martin Stolar, noted that "if the motion is denied, Tania will have to appear before the grand jury, and may decide not to testify, invoking her constitutional rights."(9)
Organizations in Puerto Rico have announced they will protest in various towns of the island on February 1 in defense and support of the three young people subpoenaed, with the themes "Wake Up, Boricua, Defend Your Own!" and "the Grand Jury Is illegal!" Additional protests are being planned in U.S. cities as well.
The consequences of not collaborating with the grand jury are well known to those who support independence. Norberto Cintrón Fiallo, whose home was searched during the February 10, 2006 FBI incursion, and who participated in the January 11 protest in San Juan, refused to collaborate with various grand juries investigating the independence movement in both Puerto Rico and New York in 1981 and 1982 and served close to three years in prison as a result.(10) Julio Rosado, who participated in the January 11 protest in New York, resisted grand juries investigating the Puerto Rican independence movement, serving nine months for civil contempt in 1977, and later much of his three year sentence for criminal contempt. "They have always been there, whenever they want to intimidate," he said, adding that he is convinced there will be more subpoenas to come.(11)
A New York daily Spanish language newspaper expressed editorial concern over the political witch hunt, in words which should give us all pause:
Because of laws initiated by the Bush Administration and passed by our Congress, the legal protections that would give political dissidents a right to due process have been eroded. The net is wide for casting someone with "suspicious" political beliefs, without having been charged, tried or convicted of a crime, as a threat. [ . . . ] Because the attacks on civil liberties and human rights and the historical intimidation and repression of Puerto Rican independence supporters are interrelated, activists must make those links.
That is all the more urgent considering the silence of most elected leaders and the virtual media blackout on the subpoenas. In the context of secret prisons, torture, detention without trial, and warrantless wiretapping, the FBI's fishing should be a concern for anyone interested in rescuing this country from a rising police state.(12)
1 José Delgado, "Habla con el jefe del FBI," El Nuevo Día , January 9, 2008.
2 In the white papers designed to avoid criminal liability, the government blamed some of the errors in the operation on Luis Fraticelli, the Puerto Rican special agent in charge of its San Juan field office. Not coincidentally, Fraticelli had also participated in the 1985 near assassination of Ojeda Ríos. See: U.S. Department of Justice, Office of the Inspector General, "A Review of the September 2005 Shooting Incident Involving the Federal Bureau of Investigations and Filiberto Ojeda Ríos," August 2006, available at www.usdoj.gov/oig/special/index.htm.
3 José Delgado, "El caso de Nueva York," El Nuevo Día, January 14, 2008.
4 Combined Services, "Denunciation of persecution of independentists: Fernando Martín criticized the newspaper El Nuevo Día for articles published December 23," El Nuevo Día, January 4, 2008.
5 AP, "Repudio independentista a citaciones a Gran Jurado," El Vocero, January 7, 2008.
6 The disclosed documents are being classified at Center for Puerto Rican Studies of the City University of New York at Hunter College. See: www.pr-secretfiles.net/.
7 José Delgado, "Habla con el jefe del FBI: José Serrano le expresó a Robert Mueller el malestar que existe entre los boricuas en Nueva York por la citación de tres jóvenes," El Nuevo Día, January 9, 2008.
8 Matthew Hay Brown, "Puerto Rico Files Show FBI's Zeal; For Decades, Secret U.S. Dossiers Targeted Suspected," Orlando Sentinel, November 06, 2003.
9 Ruth E. Hernández Beltrán/Agencia EFE, "Posponen citación a independentistas de Nueva York," Primera Hora, January 11, 2008.
10 José "Ché" Paralitici, Sentencia Impuesta: 100 Años de Encarcelamientos por la Independencia de Puerto Rico, Ediciones Puerto Histórico (San Juan, Puerto Rico: 2004), pp. 339-341.
11 Ruth E. Hernández Beltrán/ Agencia EFE, "Posponen citación a independentistas de Nueva York," Primera Hora, January 11, 2008. Rosado was one of five supporters of independence so imprisoned. Ricardo Romero, Steven Guerra, María Cueto, who are Mexican, and Rosado's brother Andres, simultaneously served time for criminal contempt of the same grand jury. See: United States v. Rosado et al., 728 F.2d 89 (2nd Cir. 1984).
12 "Constructing an Enemy," Editorial, El Diario/La Prensa, January 17, 2008.
[TOP]
---
Solidarity Statement from the Grand Jury Resistance Project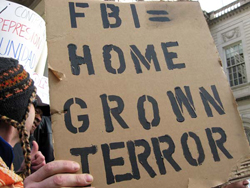 The Grand Jury Resistance Project (GJRP) stands in strong solidarity with the anti-war and international solidarity activists targeted by the federal government. The GJRP also calls on the U.S. government to end its campaign of harassment and intimidation, and to end the use of grand juries as a political tool to suppress political dissent.
Repression against activists is not new. From the McCarthy "investigations" in the 1950s, to the counterintelligence programs (COINTELPRO) of the 1960s and '70s, to the grand jury investigations of Puerto Rican, Black liberation and anti-imperialist movements in the 1980s, secret grand juries, FBI, and police investigations have long been used against social justice activists and revolutionary movements.
Today, FBI, police harassment and secret grand juries are being used to attack Muslims and other immigrants, Black, Puerto Rican, Mexican, Native, anti-war, anarchist, environmental and animal rights activists and movements. These incidents are not isolated, and they are not happening because the government wants to "solve crimes." They are an attack on all our movements: an attempt to divide us, isolate outspoken individuals, create fear and distrust among us, and rewrite our history of resistance as "criminal."
We should not give in to these attacks. As individuals and organizations, we must refuse to talk to the FBI or any other repressive police investigation. As a means of resistance to efforts of political intimidation and repression, we must not give testimony or evidence to grand juries. It does not matter whether or not we "know" anything. It is not about hiding crucial evidence or avoiding incrimination — it is about resisting and protesting a repressive tool of the government.
As such, we strongly support these activists and their efforts to resist and refuse to cooperate with this politically motivated grand jury.

[TOP]
---
We Will Not Tolerate FBI Repression!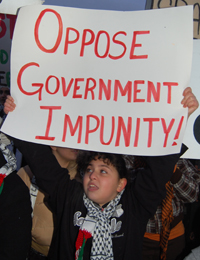 The Arab Resource and Organizing Center (AROC) condemns the FBI raids on the homes and offices of social justice activists early morning on September 24th and any continued action the FBI may be taking to investigate or interrogate others. (Read more about what happened at: http://tc.indymedia.org/)
This is a direct and deliberate attack on civil liberties and our movements' organizing for self-determination and justice for communities at home and abroad. FBI and other investigations will not distract us from our ongoing mission to struggle for a just and equitable world. We will continue our work opposing the wars on Iraq and Afghanistan, the occupation and genocide in Palestine, and decades of military and political intervention in Latin America.
The FBI's use of Grand Juries is an intentional tactic used by the government to intimidate, smear, and divide our movements and organizations. We recognize that this becomes particular threatening at a time when our movements' are already being tested by political maneuvering such as the US led Israel/PA negotiations and the shift from combat troops to diplomatic and contractor troops in Iraq. Our strength is in our unity, our vigilance, and our ability to maintain a clear focus on our organizing for liberation.
We stand against the use of Grand Juries to harass and intimidate our movements. We stand with those attacked and offer our continued solidarity. We must work together as a united movement of those struggling against war and occupation, and for human rights and civil liberties of all people.

[TOP]
---
Solidarity with Anti-war and
International Solidarity Activists
Minnesota Immigrant Rights Action Committee (MIRAC)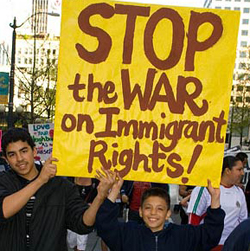 The Minnesota Immigrant Rights Action Committee offers our solidarity with the anti-war movement activists confronted with the abuse committed by the FBI, who raided 7 houses and the Anti-War Committee office in Minneapolis and Chicago on the morning of September 24, 2010 at 7 a.m. The FBI handed out subpoenas for over a dozen activists to appear to testify before a special federal Grand Jury. The FBI also tried to intimidate activists in California, Wisconsin and North Carolina.
We express our solidarity with our brothers and sisters facing this abuse from the federal authorities. As an organization that struggles for immigrant rights and that therefore is confronted daily with raids in our community, we know what these raids mean for our brothers and sisters in the anti-war movement. It is ridiculous that the U.S. government paints as "terrorists" people who dedicate all their time struggling against war and in support of peace and self-determination for the people of Latin America and the Middle East. These actions by the government are a threat to all social movements.
Our organization joins with the rest of the organizations in one sentiment and clamor for true justice for our brothers and sisters, who simply reject every day unjust wars and invasions that the U.S. government is carrying out all over the world.
So we demand that the US government:
• Stop harassment by the federal authorities against anti-war movement activists
• We demand that they return the possessions that the FBI took from the people's homes that they raided on September 24.
• We demand and end to the Grand Jury
• We demand that the FBI stop harassment against social organizations
• We demand an end to raids
Our committee will continue struggling against oppressive raids in solidarity with our brothers and sisters.
In unity there is strength!

[TOP]
---
They Come for the Anti-War Activists Today — They Will Come for Us Tomorrow!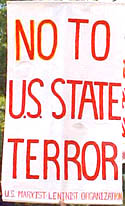 As African American activists engaged in the many struggles for social and economic justice and human rights, we are outraged by the recent FBI raids on anti-war activists in several U.S. cities, alleging they have connections to terrorism.
We have seen these FBI and government raids and attacks on African American leaders and activists during the 1950s, 1960s and 1970s. Medger Evers, Malcolm X, Martin Luther King, Jr., and members of the Black Panther Party, among others, were assassinated, jailed, beaten and driven into political exile for leading demonstrations and speaking out against racism, U.S. wars and other injustices.
We are further outraged that these raids are happening under the Obama administration, as his election as the first Black U.S. President grew out of a history of massive protests against racism and unjust wars.
Those who profit from these wars and U.S. support for oppressive governments like Israel and Colombia hope that by having a Black President, it will discourage African Americans from speaking out in protest against these raids, and against attacks on other social justice fighters. Dr. King said that during times like these, "We must break our silence!"
We know full well, that these attacks, while starting against antiwar activists, are aimed at all activists that organize and mobilize against the many injustices caused by a system that places profits and domination over human needs.
It is time for all struggles against injustice and for human rights in the U.S. and internationally, to close ranks against these attacks, and against the rapidly growing attack on all democratic rights, that is shaping the direction of U.S. society. They come for the anti-war activists today; and they will come for us tomorrow. Stop the raids!