Defiant Resistance Mounts in Madison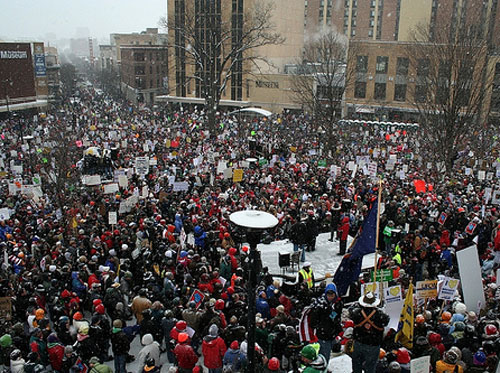 On February 26 for the second week in a row, Madison, Wisconsin saw more than 100,000 people demonstrating against the anti-worker, anti-social attacks of state government. Workers, teachers and youth stood firm, continuing to mobilize broad political support from all sectors of the working class and people from all walks of life. Families again came, as did immigrant rights organizations and many more.
Protestors again packed the Capitol Building, filling it from top to bottom and using its walls to show the broad support for the actions — from doctors, anti-war activists, university faculty and staff, religious groups, seniors, unions from across the country and worldwide. Youth remain in the forefront of organizing efforts, saluted as the backbone of the 13-day long occupation — daily organizing up to the minute information, food, medical care, clean-up and more.
Through out the day tens of thousands of protesters also marched through the streets surrounding the Capitol, chanting, drumming and making their stand clear: Stop Attacks on Workers' Rights! All for One and One for All! As has been the case for all the demonstrations and the occupation, firefighters have been out in force in support of the efforts to stop Governor Scott Walker's anti-worker attacks. They have repeatedly come from across Wisconsin to be part of the daily demonstrations. Walker's bill purposely exempted firefighters, police and state troopers in an effort to split them from other public sector workers. But firefighters have made clear that this plan has failed entirely. Protesters also could not help but appreciate the delegation of local police, taking their stand with the protesters and defending them, then chanting as they marched in, This is What Democracy Looks Like! While the large majority of participants were from Wisconsin, many also again came in from Illinois, Michigan and other surrounding states.
While a resolution by a legislative committee had originally called for removal by 6pm Saturday, confronted with the tens of thousands inside and out, this did not take place. The strong and determined spirit of all made clear that despite these threats of removal and repression from the Governor, the occupation will continue and everyone is organizing to march on together.
Madison, Wisconsin, February 26, 2011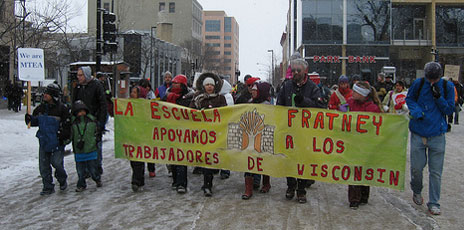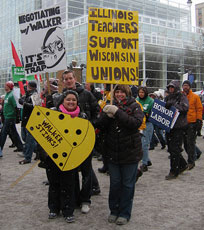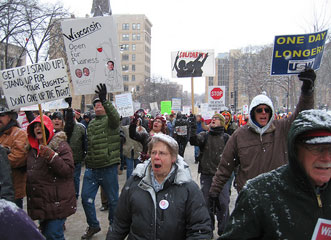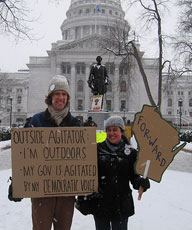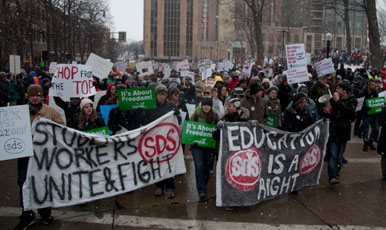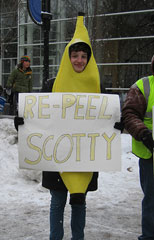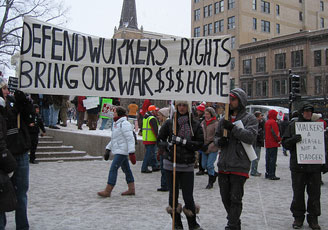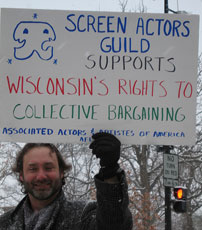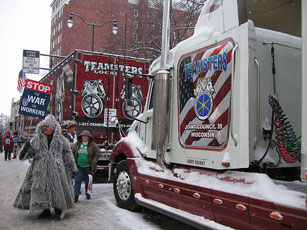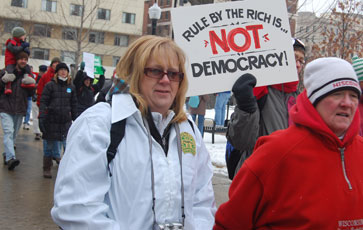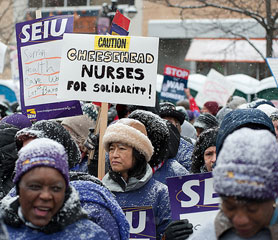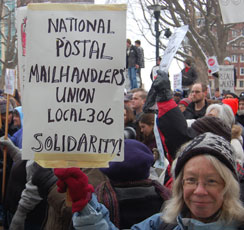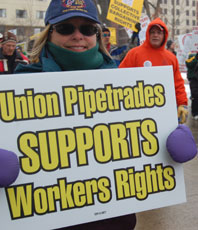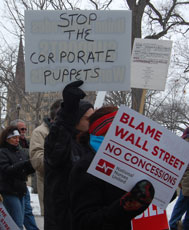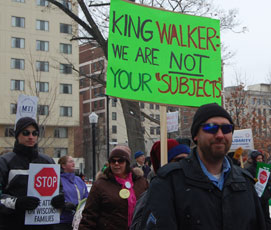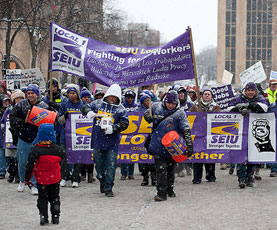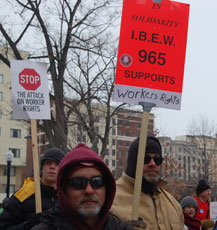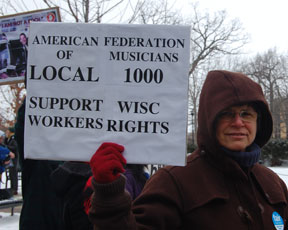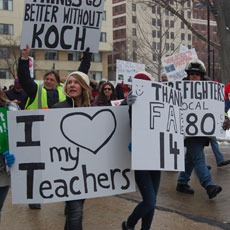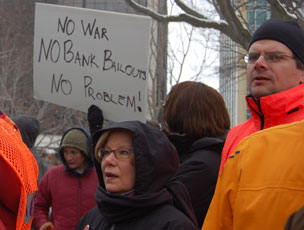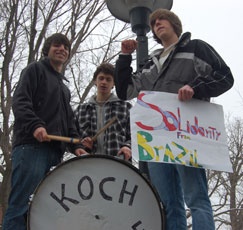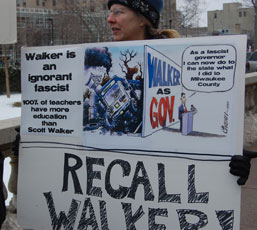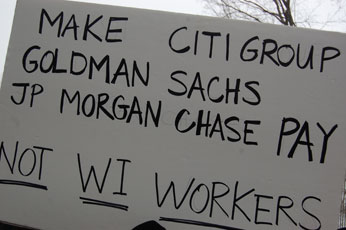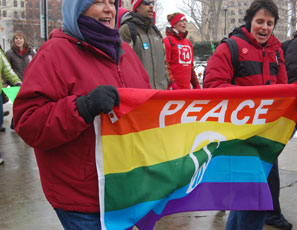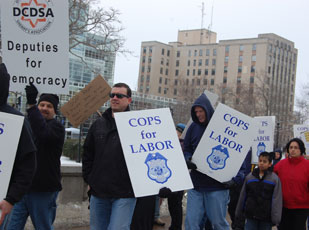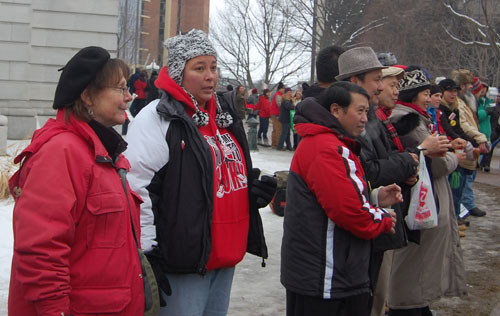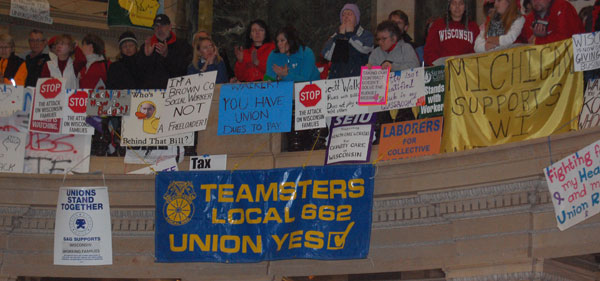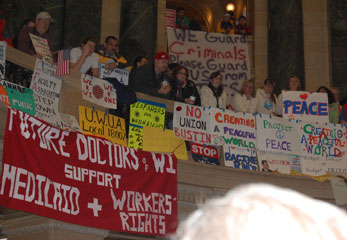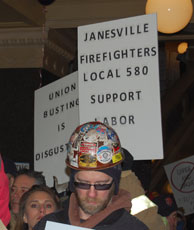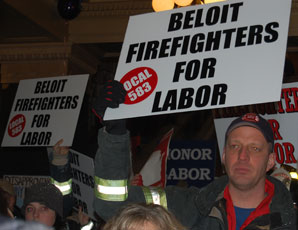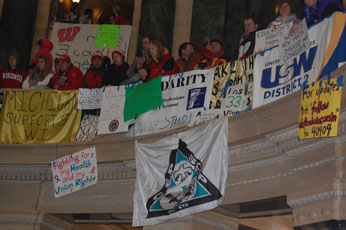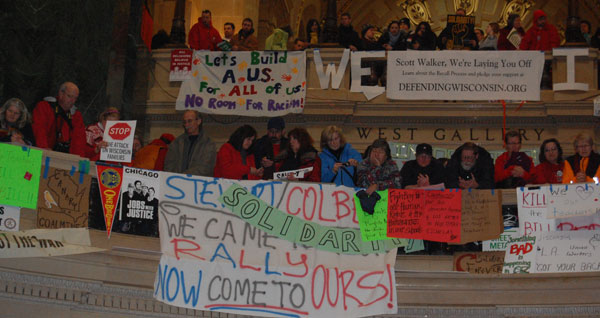 [TOP]
---
Whose House? Our House!
Who Decides? We Decide!
On Sunday, February 27 many thousands of people still remained in action in Madison, demonstrating and filling the Capitol building once again. Marching, chanting and drumming took place as protesters surrounded the Capitol and thousands also rallied inside. In anticipation of a 4pm deadline to leave the building or be removed, Capitol police begin stopping people from getting into the building at about 1-2pm. They guarded every door and allowed only one person in for every two people that came out. Long lines formed as protesters organized to pack the building for the 4pm deadline set by the Governor.
As the time drew near, everyone was told to leave, and that they could return at 8am Monday morning, when the building is open to the public. In defiance of the 4 p.m. deadline, several hundred youth, teachers, and public sector workers, including firefighters, Service Employees International Union (SEIU) Wisconsin Healthcare, and American Federation of State, County and Municipal Employees (AFSCME) remained inside. At about 7 p.m., an organizer announced to cheers from the crowd that police, who have been in solidarity with the action, agreed not to make any arrests. Chants of What do we want? Justice! Whose house? Our house! and This is What Democracy Looks Like! filled the Rotunda. The achievement of maintaining the occupation for yet another day was celebrated into the night. Many others returned home, pledging to gather at 8 a.m. Monday to continue the fight.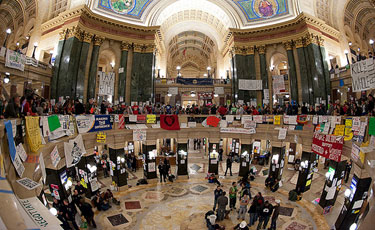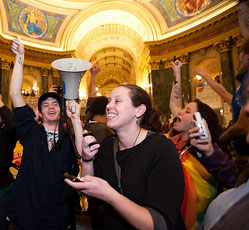 On Monday morning, the many arriving to again enter the building found themselves locked out. No one was allowed to enter for hours. Numerous restrictions were placed not only on protesters but the general public. Such denial of access into a public building is illegal under the Wisconsin state constitution and various unions took action to secure a court injunction to have the building reopened. In addition, Capitol Police staff were reportedly welding the windows shut. The lack of access means that food and supplies cannot be sent in to those who remain. People inside can leave, but not return. So people had organized to pass food and other supplies through the windows, which are now being welded shut. Fierce opposition is being mounted to provide for those inside and get the doors of the Capitol building, a public institution, open. When the 4pm deadline was again issued for Monday, the hundreds remaining again refused to leave. They had maintained the spirited stand of demonstrators through these two weeks, chanting, drumming and giving statements rejecting the demands of Governor Walker. According to participants, when the deadline came Capitol police captain, Chief Tubbs, made an announcement. He said that the protesters that had remained in the building were being orderly and responsible and peaceful and there was no reason to eject them from the Capitol.
In addition Senate Majority Leader Scott Fitzgerald is attempting to force the return of the 14 Democratic Senators by targeting their staff members, who remain at work in the building. He is planning to deny them their paychecks and perhaps fire them. It was also reported that the Federal Emergency Management Agency (FEMA) had been brought into the building and was holing up on the upper floors. Governor Walker plans to deliver his budget address on Tuesday afternoon, calling for an estimated $1 billion in cuts.
Protesters have made clear that they will persist in defending rights. Those inside remain strong and those outside are organizing to get back in. And in case anyone was wondering, chants again were heard, Whose House? Our House!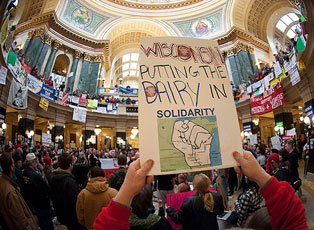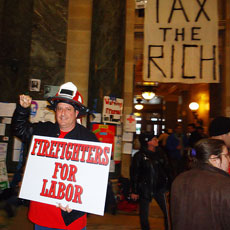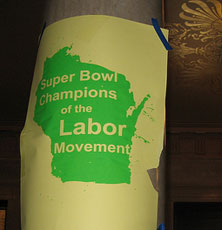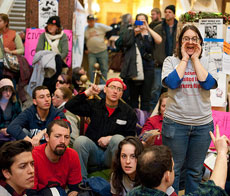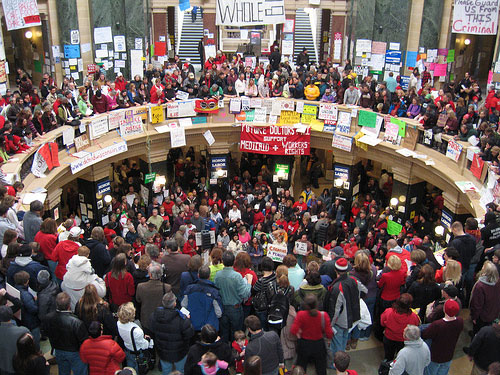 [TOP]
---