End U.S. Colonialism in Puerto Rico and Pay Reparations Now!
President Barack Obama will be traveling to Puerto Rico June 14. This is the first visit by a U.S. president in fifty years, the last being that of John F. Kennedy in 1961. The president is expected to meet with Puerto Rico's governor, Luis Fortuño — a Republican who supports having Puerto Rico become a U.S. state — attend a business round table and deliver a speech in Old San Juan.
There are currently about 3.9 million Puerto Ricans living on the island and for the first time a larger number, about 4.1 million, living in the U.S. As dictated by the U.S., all are currently U.S. citizens although those living on the island cannot vote for President and have no representation in Congress. This is reflective of the fact that Puerto Rico was occupied and colonized by the U.S. in 1898 and has been held as a colony since that time, with the U.S. controlling the economy, Puerto Ricans serving in the military and such things as who can and cannot vote and for what, making English, not Spanish, mandatory in the federal courts, and more. The occupation includes numerous U.S. bases and a history of using the Puerto Rican island of Vieques as a bombing range, organized sterilization of Puerto Rican women, a form of genocide, FBI raids, assassinations and terrorism of those resisting U.S. occupation.
There is a long-standing independence movement on the island that has defiantly opposed the U.S. military presence and withstood the many U.S. efforts to criminalize and eliminate them, including imprisonment of those resisting U.S. colonialism. The release of political prisoner Oscar Lopez Rivera, jailed by the U.S. for thirty years for fighting for independence, is a main demand being raised by protesters when Obama visits. Voice of Revolution salutes the just struggle for rights and independence and joins in demanding Freedom for Oscar Lopez Rivera! Puerto Rico for the Puerto Ricans!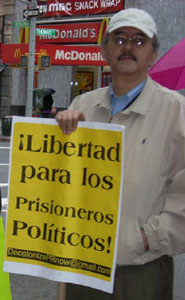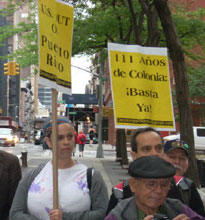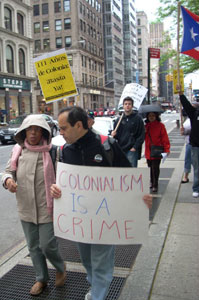 The problem of blocking Puerto Rican independence while hiding her colonial status is one the U.S. continually contends with. The U.N. Decolonization Committee, for example, yearly calls on the U.S. to end the colonial status of Puerto Rico, a call the U.S. systematically ignores. President Obama, in choosing to visit the island, is choosing to address the issue of Puerto Rico's independence. His visit no doubt is in part a means to test the waters to gauge the level of resistance to continued U.S. dictate.
It can be expected that Obama will make statements similar to those made in his March 11, 2011 letter on the release of a report by "The President's Task Force on Puerto Rico's Status." The Task Force has existed since the days of former President Bill Clinton and has previously called for referendums in Puerto Rico's "status." Obama extended its mandate in December 2009 to include recommendations not only "status" but "policies that promote job creation, education, health care, clean energy and economic development on the Island."
In his March letter, Obama carefully avoided any mention of even the long history of colonization, saying instead that, "For over a century, the people of Puerto Rico and the United States have woven a lasting political, economic social and cultural relationship." He speaks of the challenges Puerto Rico faces in "creating a robust economic opportunity, in ensuring that its partnership with the [U.S.] Federal Government is fair and equitable and in engaging a process that supports and respects Puerto Rico's self-determination." He describes the Task Force Report as an "important road map to address the concerns and aspirations of the people of Puerto Rico." He concludes by saying "I am firmly committed to the principle that the question of political status is a matter of self-determination for the people of Puerto Rico."
Evidently, neither Obama nor the Task Force see the irony in expressing their commitment to "self-determination," while issuing a U.S. government report that serves only to strengthen U.S. domination and control over Puerto Rico. The report takes as its starting point that there will not be independence. It includes long-term recommendations to deepen and extend U.S. control and involvement in Puerto Rican affairs.
On the issue of status, the Task Force does not recommend that the U.S. follow the accepted international standards embodied in the United Nations (UN) Decolonization process, requiring removal of U.S. military, political and economic control before any vote on independence can be taken. Instead, the Task Force reinforces U.S. dictate, recommending that "All relevant parties — the President, Congress, and the leadership and people of Puerto Rico — work to ensure that Puerto Ricans are able to express their will about status options and have that will acted upon by the end of 2012 or soon thereafter." It calls first for a referendum on whether Puerto Ricans "wish to be part of the United States or wish to be independent." Using its occupation and threats, the U.S. no doubt anticipates "winning" such a vote and using it to justify its continued control over Puerto Rico while proclaiming the colonization is the "will" of Puerto Ricans. The second vote would then give "choices" for "Statehood, Free Association and Commonwealth."
The report also notes that the Puerto Rican government is considering holding a referendum this summer and recommends that the "President and Congress support any fair, transparent and swift effort that is consistent with and reflects the will of the people of Puerto Rico." As is the case worldwide, such as in Iraq, Afghanistan and Palestine, this recommendation makes clear that the U.S. would determine what is and is not "fair and transparent." The U.S. is also deciding who does and does not vote, saying only Puerto Ricans on the Island will be permitted to vote. Further, if the Puerto Rican government does not hold a referendum, the report calls on Congress and the President to impose one through legislation that "specifies in advance for the people of Puerto Rico a set of acceptable status options that the United States is politically committed to following."
It is not likely that Obama will even mention the UN mandate on these matters. The U.S. refuses to submit to these requirements for removal of its military, political and economic control before a vote is held and simply denies that Puerto Rico is a colony. Obama very likely will highlight the use of a U.S. sanctioned referendum. As he said in the March letter, "I am pleased that the Task Force has outlined recommendations to enable the people of Puerto Rico to determine their political future. Both the President and Congress have roles to play to help Puerto Rico settle on its future status." Given the Task Force recommendations and Obama's trip, it appears the U.S. wants to guarantee its control over Puerto Rico including further infiltration in her economy and governance, while proclaiming to support self-determination. One possible result would be forcing Puerto Rico to become a state, much as occured with Hawai'i.
The only just role for the U.S. is to immediately remove its military, political and economic control, pay reparations for its crimes of colonialism and genocide against Puerto Ricans, and support the just demand of Puerto Ricans for independence.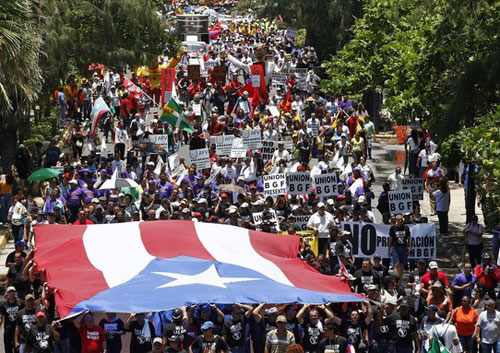 Task Force Recommends Increased U.S. Control
The fact that the U.S. has no intention of upholding self-determination for the people of Puerto Rico can be further seen in the various recommendations by the Task force concerning Puerto Rico's economy and governance. For example there is no mention of removal of all U.S. military forces. The report does say "[U.S.] Federal law enforcement agencies should significantly deepen their engagement with the Puerto Rico criminal justice system to provide necessary training and technical assistance." The U.S. Department of Justice, Homeland Security and other federal law enforcement agencies are to identify "high-level stakeholders in Puerto Rico to partner" with U.S. policing agencies to "implement appropriate reforms of the justice system in Puerto Rico." Formal "interagency" "coordination and collaboration," is to be developed. From its earliest days of colonization the U.S. has used the justice system against the rights of Puerto Ricans, including to this day requiring that the federal courts, which are U.S. courts inside Puerto Rico, be conducted in English.
In addition the Task Force recommends that "The President and Congress work closely with and support Puerto Rico's efforts to fundamentally change the Island's approach to energy and the environment." This is indicative of long-term U.S. war plans to expand and further secure its energy supplies, which includes annexation of Canada and her resources, control of Mexican oil, and making "fundamental change" to Puerto Rico's approach to energy and the environment.
The talk about concern for the environment is coming from a U.S. government that poisoned and decimated the environment and population of Vieques. The Report contains no recommendations for reparations for these crimes. As well for Vieques, where Puerto Ricans succeeded in driving the U.S. Navy out, it wants a coordinated effort between the "Navy, Coast Guard, Environmental Protection Agency, Department of Commerce and Department of the Interior" to target those continuing to defend Vieques, although not stated in that manner. The form these further attacks on Vieques takes is the call for developing a "multi-agency plan to keep trespassers off the contaminated land and out of the affected waters." This is a plan to criminalize continued resistance, not taking responsibility for repairing the environment and protecting the population.
The report also calls for Puerto Rico to "change its energy regulatory structure." This too is to open the way for more U.S. control of energy resources and elimination of any public enterprises. The U.S. also has designs on Puerto Rico's jungle and other resources. The report calls for a "Bio-Refinery Project" to be developed through "a public-private partnership," to produce bio-fuels and other products for export. It can be expected that the "public" part will involve public funds from Puerto Rico and the "private" part control and exploitation by U.S. monopolies.
As well, there is the U.S. organized Port of the Americas (POA) project to develop the port in Ponce, Puerto Rico into a mega port. As the Task Force states, POA is "a strategic project with the potential to generate investments and foster economic development in the entire Caribbean region." It calls for the U.S. Departments of Commerce and Homeland Security to work with Puerto Rican officials to "fully utilize POA's strategic location for moving U.S. cargo through the Panama Canal to the Caribbean and Atlantic and Pacific Oceans." What goes unsaid is the strategic military role for such a port for U.S. domionation of the Caribbean and South America.
These are among the many recommendations made. What stands out is all of them further involve the U.S. government in Puerto Rico's governing structures and in controlling and dictating her economy and resources, her justice system, privatizing what is public, and so forth. Obama may well highlight some of these recommendations in an effort to show the value of "a lasting political, economic social and cultural relationship," with the U.S.
Self-determination has no meaning so long as the U.S. government dominates political and economic life in Puerto Rico. A U.S. commitment to "self-determination for the people of Puerto Rico," requires the U.S. to act to end U.S. colonization. It requires removal of all troops and bases, of all policing agencies, of all economic and political control over Puerto Rico. It requires paying reparations. It requires submitting to the UN mandate for decolonization and for having no say whatsoever, by the President and Congress, in what Puerto Ricans themselves decide.
Puerto Rico for the Puerto Ricans!
Free Oscar Lopez Rivera!
End Crime of U.S. Colonialism and Pay Reparations Now!
[TOP]
---
Puerto Rican Demonstration to Demand Independence and Release of Political Prisoner Oscar Lopez Rivera
Puerto Ricans are uniting to demand the release of political prisoner Oscar Lopez Rivera and stand for independence when President Barack Obama visits Puerto Rico June 14. A demonstration is planned to give expression to the stand of Puerto Ricans for justice, for Oscar and for all the island. They want Obama and the world to know that Puerto Rico is for Puerto Ricans!
A broad united front of Puerto Rican organizations, including human rights groups, student and anti-war organizations and various political groups are standing together to urge President Obama to pardon or grant unconditional clemency for Oscar. He has been unjustly held in U.S. jails for more than thirty years. He has stood firm in denouncing the crime of U.S. colonialism and remained unwavering in defending the right of Puerto Ricans to fight for independence. The U.S. Parole Board recently denied him parole, even though he met all the conditions for parole.
Voice of Revolution salutes the Puerto Ricans in their just struggle for independence and rights. We demand that President Obama take action to grant a pardon or clemency of Oscar Lopez Rivera now!
Resistance is a Right and Oscar Must be Free!
Independence Now!

[TOP]
---
May 29, 2011 Events in the U.S. and Puerto Rico
Free Oscar Lopez Rivera Now
National Boricua Human Rights Network
Across the U.S. the National Boricua Human Rights Network sponsored commemorations of May 29, 2011— 30 years from the arrest of Oscar López Rivera on May 29, 1981. Oscar Lopez Rivers is a Puerto Rican Political Prisoner, Vietnam War veteran, decorated for his valor on the battlefield with the Bronze Star, who also distinguished himself by his ceaseless community work in Chicago's Puerto Rican community and founded several civic institutions which helped meet the Puerto Rican/Latino community's needs.
It is worth noting that his co-defendant, Carlos Alberto Torres, as well as those 10 others arrested in 1980 are today free and living productive lives as responsible citizens who are committed to the social well being of our people. We walk, bicycle, pray and rally for Oscar's Freedom! Join the Campaign!
Saturday, May 28, 2011
Cleveland, Ohio
Grito de Libertad
Prayer, Rhythm, and Reflection for Oscar López Rivera
Puerto Rican Political Prisoner completing 30 years of imprisonment
2:00 pm, Edgewater Park
sponsored by/auspiciado por
The Interfaith Prisoners of Conscience Project and
The Boricua Human Rights Network
NYC, NY
The NYC National Boricua Human Rights Network co-sponsored a unitary march, letter signing and cultural program on Sat, 5-28. For more information, nyc@boricuahumanrights.org
Community March for the Puerto Rican Political Prisoners
Marcha de la Comunidad por la Libertad de los Presos Politicos Puertorriqueños.
The march ended at2 pm at Resurrection Church 799 Elton Avenue.
Speakers/Performers
Ricardo Jimenez, Former Puerto Rican political prisoner, served 20 years in prison
Prisionera, Poet
The Welfare Poets
Sponsored by
National Boricua Human Right Network – NY Chapter, nyc@boricuahumanrights.org
ProLibertad Freedom Campaign
Sunday, May 29, 2011
Philadelphia:
Service for Oscar López Rivera, Iglesia Cristo y San Ambrosio,
6th and Venango @ 11:00am
Sponsored by
National Boricua Human Rights Network
Chicago:
8am Walkers leave to complete last 15 miles of Freedom Walk 2011; to arrive at Unity Ecumenical Service at Lincoln Memorial Methodist Church, 2242 S. Damen, and from there, to La Casita de Don Pedro, 2625 W. Division St, for concluding cultural event.
1) Arrival of the Freedom Walkers
More than 30 Freedom Walkers arrived at the Unity Ecumenical Service, several of which will have marched almost 200 miles in 10 days, from Terre Haute, Indiana to Chicago, Illinois and the majority marching 30 miles to Chicago.
2) Unity Ecumenical Service
Lincoln Methodist Memorial Church
3:00pm, 2242 S. Damen Ave
3) Arrival of the Freedom Bikers and Cultural Event at La Casita de Don Pedro
More than 30 Freedom Bikers arrived at La Casita de Don Pedro, after biking to and from Glenview, Illinois where Oscar Lopez Rivera was arrested on May 29, 1981.
La Casita de Don Pedro
2625 W. Division Street
In Puerto Rico
The Ecumenical and Interreligious Coalition of Puerto Rico and the Puerto Rican Human Rights Committee convoked an ecumenical service for Oscar's freedom Sunday, May 29, 2:00pm at the University Methodist Church in Rio Piedras.
This ecumenical service is part of a broad national and international campaign for his freedom. Oscar, who is 68 years old, will have served 30 years in prison on Sunday, May 29. This makes him the political prisoner who has served the most time in prison for the struggle for freedom and independence of Puerto Rico.
The Ecumenical and Interreligious Coalition of Puerto Rico and the Puerto Rican Human Rights Committee do not agree with the U.S. Parole Board's determination on May 10, rejecting Oscar's appeal for parole and demanding that he serve 15 more years in addition to the 30 that he has already served. The parole Board also did not recognize his excellent behavior, the development of his creative talents and his contribution to the well being of his fellow prisoners. We understand that Oscar Lopez Rivera meets all of the criteria for parole.
The Ecumenical and Interreligious Coalition of Puerto Rico and the Puerto Rican Human Rights Committee invited all Puerto Ricans to unite in prayer, which is the most efficient instrument for those people who have faith and confidence in God, and exhorts the entire community to add it's efforts so that Oscar López Rivera may enjoy the affection and love of his granddaughter, his daughter, his beloved family and that of all of the Puerto Rican nation. It is time we had him home!

[TOP]
---