Ban Fracking Nationwide
Hydraulic fracturing, or fracking, is a highly dangerous method used by the war monopolies, like Exxon/Mobil and Halliburton, to drill for natural gas. It involves the injection of millions of gallons of water, mixed with toxic chemicals and sand deep underground, at high pressure, to fracture shale rock and similar rock formations, releasing the natural gas they contain. Fracking is being promoted as a "green" energy, supposedly safer for the environment than the use of oil. In fact, wherever it is being used, especially the newer horizontal version of fracking, it has already polluted water supplies, caused major health problems for families and communities in areas around the drilling sites and produced massive amounts of highly toxic fracking wastewater with no safe means of disposal. Literally many billions of gallons of fracking waste containing radioactive elements and cancer-causing chemicals are being produced nationwide.
Organizers in states across the country, including Wyoming, Texas, Arkansas, Ohio, New York, Pennsylvania and New Jersey, are organizing politically to secure a ban on all fracking and all treatment of wastewater by public facilities. They are fighting to protect the health and well being of the public at a time when public institutions, like state and federal governments are putting everything at the service of the monopolies.
Clean water and clean air are social issues where the interests of the public must be first and foremost. Instead the federal and state governments are defending the monopolies and organizing to expand fracking. We say No! Defend Public Right and Block Monopoly Right!
The dangers of fracking and fracking wastewater are well documented but the military monopolies are demanding that fracking proceed and have secured special treatment to expand fracking, including exemptions from environmental laws. President Barack Obama in his State of the Union address urged an increase in fracking and New York Governor Cuomo has done the same. Obama tied the increase in part to the need for the U.S. to have "secure energy resources" not dependent on foreign oil. This indicates that the push for fracking is part of U.S. war preparations, including world war, a situation where securing foreign oil becomes more difficult.
While Obama said "My administration will take every possible action to safely develop" fracking, he provided no content as to how this would be done. This silence about how fracking can be safe given the broad view by those directly impacted as well as many scientists and environmentalists that it cannot be done safely, is of serious concern. Obama made no mention of the broad and consistent damage caused by fracking wherever it has occurred, including serious health problems in communities surrounding the drilling, poisoning water so it cannot be used to drink or bathe in, producing billions of gallons of radioactive, cancer-causing waste, and earthquakes wherever there are efforts to pump this dangerous waste back underground.
As Obama's silence indicates, very little information is currently being provided to the public by state and federal governments to address the dangers of fracking and fracking wastewater, if it is possible to restore contaminated water and what is needed to treat fracking waste to bring it to safe levels. The Niagara Falls Water Board, for example, despite the absence of regulations or guidelines, may get permission from the New York State Department of Environmental Conservation (DEC) to treat fracking wastewater. If that happens it is likely that the Niagara River, Niagara Falls and Lake Erie and Ontario and other water resources could well be polluted with highly toxic waste.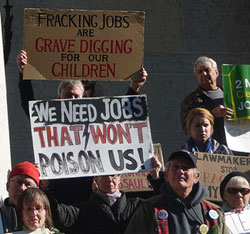 There is no basis to think existing sewage facilities can properly treat the waste, as it is far more toxic and with many more unknown chemicals and radioactive elements than the sewage commonly treated. As well, simply transporting all the waste to treatment facilities is highly dangerous, as any spill would immediately contaminate land and water, endangering the population.
Those organizing against fracking are the ones bringing forward the needed information and mobilizing the public to defend their rights to safe drinking water, air, and soil. The push for fracking is not only directly dangerous to the human and natural environment, it is also dangerous as a weapon of war. This is one reason organizers against fracking joined the recent anti-war protests to oppose war against Iran and Syria.
The only safe action in the interests of the public is to Ban Fracking and require the monopolies to safely dispose of all existing fracking wastewater and pay all related costs, including those for cleaning up the water and land already poisoned by fracking. Fracking serves the war monopolies while endangering the public. These war monopolies should also be blocked from exporting fracking internationally, as they are attempting to do in Poland and elsewhere.
Ban Fracking Nationwide and Worldwide!
Public Right Yes, Monopoly Right No!

[TOP]
---
Niagara Falls Says No to Toxic Fracking Wastewater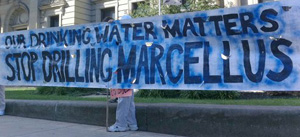 People in Niagara Falls, including block club representatives and environmental activists secured passage of a law by the Niagara Falls City Council banning fracking, the dangerous natural gas drilling method, and the processing of fracking wastewater. People of Niagara were outraged that the public Niagara Falls Water Board was planning to bring truckloads of highly toxic fracking wastewater into the city for processing. The wastewater is known to have both radioactive and cancer-causing contents and other harmful chemicals. Any spills would be disastrous and the existing treatment facility is not equipped to handle such toxic waste. As well people did not want to facilitate the further development of fracking in New York. Existing experience already shows it is highly dangerous and toxic to the human and natural environment.
Various organizations and activists joined together to inform the public, rally opposition and participate in city and water board meetings condemning fracking. On March 5 the Niagara Falls City Council unanimously passed a law banning fracking and the storage, transfer, treatment or disposal of fracking wastewater in the city. They also passed a resolution calling for the banning of fracking statewide.
The oil and gas monopolies, including military monopolies Exxon/Mobil and Halliburton are pushing use of fracking to secure natural gas. Knowing how toxic and unsafe the fracking is, they secured exemption from the usual Environmental Protection Agency (EPA) standards for clean air and water. They are attempting to use this loophole at the federal level to push the fracking on rural communities and smaller cities. Communities like Niagara Falls and many others in New York, New Jersey and Pennsylvania are fighting back using municipal laws.
People of Niagara Falls and the region are well familiar with the total disregard of the monopolies for their health and well-being, and government's protection of the monopolies. No one has forgotten the crime of Love Canal, where toxic waste dumped by a chemical monopoly caused massive birth defects, nervous disorders and cancer among residents, especially school children.
The Niagara Water Board is a state authority operating within the city. The state, acting for the monopolies may challenge the new law in court. In taking their stand today, residents are demanding that government defend the public and block monopoly right. They are preparing to block any efforts by the monopolies and state or federal governments to pursue fracking.

[TOP]
---
Youngstown, Ohio, Town Hall To Discuss
Man-made Quakes, Gas Drilling Under Area Parks, Forest, Cemeteries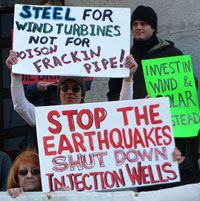 Youngstown, Ohio: On Monday, February 27, 2012, a group of concerned Youngstown citizens and panelists held the second in a series of open public town hall style informational meetings to provide new and updated information and to answer audience questions about events related to the 4.0 magnitude Youngstown area earthquake, fracking and related processes associated with shale gas drilling, and brine toxic waste injection wells.
New, additional topics included risks involving the possibility of gas industry-related drilling under Poland Township's Lowellville Cemetery, Mill Creek Park, and Poland Municipal Forest. The meeting was coordinated by Frackfree Mahoning Valley and will take place at The First Unitarian Universalist Church of Youngstown, Channing Hall, at 6-8 pm at 1105 Elm St. (Elm & Illinois), Youngstown, Ohio. Media and the general public are invited to attend.
Ohio State Representative Robert Hagan was a panelist at the February 27 town hall as well as Geology Professor Ray Beiersdorfer, Ph.D., whogave an earthquake update. Lynn Anderson, member of the Guardians of Mill Creek Park, explained why hydraulic fracturing (fracking) near Mill Creek Park and the adjacent residential area should not be allowed.
In light of reported high risks of fracking to public health and safety, Frackfree Mahoning Valley is concerned about local and national accounts of actual drilling, or the possibility of gas well drilling, under or near cemeteries, homes, schools, Mill Creek Park, Poland Forest, farms and elsewhere.
According to geologist Susie Beiersdorfer, who moderated the town hall meeting, "More and more citizens are waking up to the reality of serious risks of fracking-related processes to drinking water and air quality, as well as man-made earthquakes in our area. The idea that there would be any discussion at all of placing injection wells or hydraulic fracturing wells near cemeteries, schools, homes, parks or forests is appalling and highly misguided, to say the least. It shows disregard of the public's right to protect our health and safety."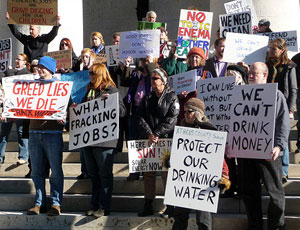 Despite the gas and oil industry's lobbying and expensive advertising efforts to try to reassure people of the safety of its new technology, opposition to fracking remains strong. A Quinnipiac University poll showed that 72 percent of Ohio voters say "…stop hydro-fracking until there are further studies on its impact." (Quinnipiac University press release, 1/19/12; http://www.quinnipiac.edu/institutes-and-centers/polling-institute/ohio/release-detail?ReleaseID=1692 )
In New York State there is currently a moratorium on hydraulic fracturing. Officials must respond to citizens' comments on whether or not to allow the hold on hydrofracking to be lifted. A Syracuse newspaper reports that most of the comments are against drilling. More specifically, "The Gannett newspapers reported in mid-December that comments up to that time were running 10 to 1 in opposition," according to The Post-Standard of Syracuse, New York. (2/20/12; http://www.syracuse.com/news/index.ssf/2012/02/new_york_state_inundated_with.html )
Residents from all regions were encouraged to attend the Youngstown meeting and to voice their concerns or questions.
For media inquiries or more information: 234-201-0402 • frackfreemahoning@gmail.com • www.frackfreemahoning.blogspot.com

[TOP]
---
Resistance in Pennsylvania Continues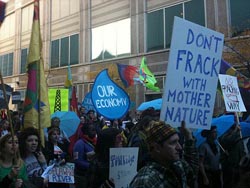 February has proven to be another active month in the shale gas world. With the unfortunate passage of HB 1950 by the PA General Assembly, there is more work than ever. Since it is now clear that our politicians will not protect us, the burden falls squarely on us. As Erin Brockovich said on Anderson Cooper's show "Superman isn't coming…and we need to learn to be our own hero."
Many of you may be aware of the situation in Connoquenessing Township. In addition to the reports of new spills near Crab Run Creek and the PA Fish and Boat Commission's investigation in to a dozen spills since December, we received word this month that Rex Energy will stop water deliveries to at least nine effected families at the end of this month.
Come to the Butler Farmer's Market at 3:15 on March 1st and show your support for the families of Connoquenssing.
There are also others ways to get involved, including an exciting new campaign called Tour de Frack.
Tour de Frack
The Tour de F.r.a.c.k. (Freedom Ride for Awareness and Community Knowledge) is a 14-day bike tour from Butler, Pennsylvania to Washington DC along the Great Allegheny Passage (GAP) and C&O towpath (C&O).
It will take place this summer between July 15-July 28. Riders will organize awareness events in Pennsylvania, Maryland, West Virginia, and Virginia. We are planning concerts, increasing public awareness, encouraging activism, collecting testimony, circulating a petition and, finally, meeting with our elected officials all from a bike seat.
The riders will depart from Diamond Square in Butler on July 15 and arrive to a rally on the National Mall on July 28. On July 30 the group will deliver a petition and a storybook of personal accounts to congress, the White House, and the EPA.
Find more information: http://www.tourdefrack.com

[TOP]
---
New Jersey Activists Protest Oil and Gas Industry Promotion of Fracking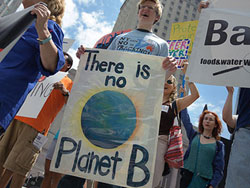 In Trenton, New Jersey February 8, activists protested one of several planned regional workshops by the American Petroleum Institute countering the oil and gas industry association's event discussing the development of hydraulic fracturing (fracking) with a recommendation of their own: ban fracking entirely. Protestors handed media and passersby "swag bags" filled with information on the risks associated with fracking and staged an award ceremony for the "Frackies."
"It's awards season, and what better way to protest this elite gathering than with a riff off of another elite event — the Oscars," said Jim Walsh, Eastern Region Director of Food & Water Watch. "If there were an award for destroying rural communities and endangering drinking water supplies, it would certainly go to the American Petroleum Institute, which uses its clout to spread disinformation about the dirty, polluting practice," of fracking.
The event took place near the New Jersey Statehouse, where the Senate Environment Committee is to vote on a bill to permanently ban fracking in New Jersey before the temporary moratorium is lifted in January 2013.
"These petroleum industry representatives should know that New Jersey has prevented fracking because of grave concerns about the pollution to our drinking water and communities, so they may as well go home. We regret that we cannot give out awards for clean and sustainable energy today and that we must recognize the American Petroleum Institute for its disgraceful failure in making drillers publicly accountable and law-abiding. In Pennsylvania alone, the State reports that as fracking races ahead drillers commit 12 violations per day of environmental permits, adding up to thousands of pollution incidents each year," said Tracy Carluccio, Deputy Director, Delaware Riverkeeper Network.
Added Jeff Tittel, Director of the New Jersey Sierra Club, "We are here especially to announce the Fracky nomination for El Paso, the parent company of Tenneco Natural Gas and surviving part of Enron. Their proposed pipeline will be supporting and encouraging fracking that will threaten our water supply. They will be running a pipeline through the most environmentally sensitive area of New Jersey. The pipeline will go through the Delaware Water Gap, Wallkill, Newark and Pequannock water shed and drilling right through the Monksville Reservoir. Along the way it will be cutting an ugly scar through the Highlands and dozens of parks and open space areas. They are attacking our water supply through both fracking and this pipeline."
(Food and Water Watch)
[TOP]
---