Organize for an Anti-War Government
U.S. Out of Afghanistan and Iraq Now!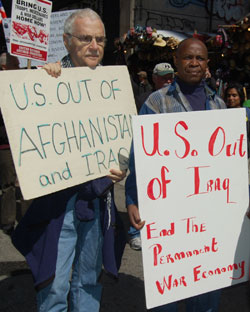 The unspeakable violence and brutality of U.S. criminal wars and war crimes against the people of Afghanistan and Iraq were sharply seen in the recent massacre of civilians, mostly women and children, in their homes while they slept. It was seen in the burning of Qu'rans, again, by the military. These kinds of atrocities are fully sanctioned and organized by the military. They occur routinely, as evidenced by another massacre of several civilians just days before the larger massacre in Kandahar. And no one has forgotten the wanton massacres of wedding parties in Afghanistan, the Fallujah massacres in Iraq, and the many many more criminal outrages condemned and repeatedly protested by the peoples of Iraq and Afghanistan and reported by U.S. soldiers.
The racist, inhuman and criminal nature of the U.S. state cannot be hidden or denied. Apologies and claims that an individual was responsible and the government is now going to "get to the bottom" of this massacre cannot hide that the U.S. military is an aggressive, racist, killing machine with impunity to commit crimes. This impunity is such that the U.S. will not permit the Afghan government to charge and try those responsible, though the crimes are committed on their soil against their people.
Despite broad and repeated protests and demands by the peoples of Afghanistan, Iraq and the U.S. for the U.S. to Get Out Now! and Bring All U.S. Troops Home Now! the U.S. refuses. Indeed, President Barack Obama said that the U.S. will "stay the course."
Civilian massacres are war crimes. Targeting and terrorizing of women and children, including rape as a weapon, are war crimes. Aggressive war and U.S. occupations are crimes against the peace and crimes against humanity. How can "staying the course" possibly be a solution given all the facts that such a course is criminal and inhuman?!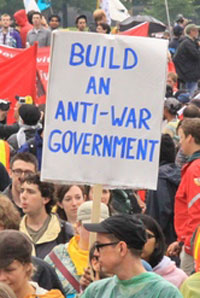 The only humane course is to Bring All U.S. Troops Home Now. Let them all be restricted to base, so to speak, that is restricted to the U.S. Japan and Germany have both survived with constitutional bans on having troops abroad. The U.S. can certainly do the same and it would be of great benefit to the peoples of the world and a powerful contribution to world peace.
To secure such a course, it is necessary to step up efforts for an anti-war government, which takes ending all U.S. aggression and bringing all U.S. troops home as its starting point. This is the will of the majority, abroad and at home, but it is not what gets decided by the government. The lack of decision-making by the people themselves is the critical problem.
The existing set-up is guaranteed to "stay the course" of U.S. aggression abroad and repression and impoverishment at home. Let us instead organize to create mechanisms of our own making. Let us organize among our peers, in our collectives, at workplaces, schools, seniors' homes. Let teachers, youth, women, national minorities come together in Empowerment Councils to discuss their interests and how to defend those interests while contributing to the progress of society. Let us organize as collectives and together learn to be decision makers.
We need a democracy and society of our own making. Staying the course is not an option! We the people must become the decision makers. The pro-social, anti-war agenda of the people can and must be represented by our own politicians that we select and that represent our interests as collectives and the general interests of society.
No to Staying the Course!
Yes to Decision Making Power

[TOP]
---
Suppressed war crimes that happen daily
Rape and Murder in Afghanistan
On March 11, up to 20 US forces murdered 16 Afghan men, women, and nine children, aged two to 12. Children were massacred while they slept. Two women were also raped before soldiers killed them.
Major media scoundrels whitewashed the crimes by shamelessly blaming one soldier to absolve others, and most of all, higher-ups responsible for permitting a culture that condones and encourages them.
A transparent March 11 Pentagon Secretary of Defense Panetta statement said the following:
"Today I spoke to President Karzai to offer my deepest condolences and profound regret for the tragic incident in Kandahar province that resulted in the loss of life and injuries to innocent Afghan civilians, including women and children."
"A full investigation is already underway. A suspect is in custody, and I gave President Karzai my assurances that we will bring those responsible to justice. We will spare no effort in getting the facts as quickly as possible, and we will hold any perpetrator who is responsible for this violence fully accountable under the law."
"I condemn such violence and am shocked and saddened that a U.S. service member is alleged to be involved, clearly acting outside his chain of command. I told President Karzai that the American people share the outrage felt by President Karzai and his fellow citizens. This tragic incident does not reflect the commitment of the U.S. military to protect the Afghan people and help build a strong and stable Afghanistan."
"As we mourn today with the Afghan people, we are steadfast in our resolve to work hand in hand with our Afghan partners to accomplish the missions and goals on which we have been working together for so long."
"This terrible incident does not reflect our shared values or the progress we have made together. As I told President Karzai, I am fully committed to ensuring that our cooperation continues. It is essential to forging a more peaceful future for the citizens of both our nations."
Like similar Pentagon, White House, and other official statements, Panetta's words ring hollow. They also reflected damage control cover-up, not only of a crime too grave to ignore, but just the latest in a systematic ongoing pattern wherever the U.S. shows up.
Like others, this one included rape and murder. According to Pajhwok Afghan News:
"A parliamentary probe team on Thursday said up to 20 American troops were involved in Sunday's killing of 16 civilians in southern Kandahar province."
It spent two days interviewing surviving family members, witnesses, and tribal elders. They also gathered evidence where killings took place.
Two groups of US soldiers were involved. Attacks occurred in separate villages one and a half kilometers apart. "We are convinced that one soldier cannot kill so many people in two villages within one hour at the same time."
Most victims were women and children. Parliamentarian Hamidzai Lali demanded that the UN and international community ensure those responsible are prosecuted in Afghanistan. Lali said the Wolesi Jirga, Afghanistan's lower House of the People, will not stay silent until prosecutions occur, adding: "If the international community does not play its role in punishing the perpetrators, the Wolesi Jirga would declare foreign troops as occupying forces, like the Russians."
Soldiers Committed Rape and Murder
On March 18, India's Siasat Daily headlined, "US Forces raped two Afghan women," saying: "The Afghan probe team said U.S. soldiers systematically went from house to house in two villages, raped two women before murdering them, and at least 14 others." Some bodies of victims were then set ablaze.
On March 17, Russia Today called the Kandahar massacre "preplanned" murder, according to Afghan Army Chief of Staff Lt. General Sher Mohammad Karimi. He and President Karzai said multiple assailants were involved. They also stressed that U.S. commanders stonewalled Afghan demands to interrogate those responsible and hold them accountable locally.
Surviving family members and witnesses said assailants had air support. Helicopters brought them in and remained overhead during the carnage.
Kandahar Massacre Reflects Earlier Ones
Analyst Rick Rozoff called the incident "particularly egregious" because of its "cold-blooded, calculated" nature. It evoked echoes of past ones like Vietnam's My Lai, Iraq's Haditha, and two Fallujah slaughter incidents in April/May 2004, then those in genocidal numbers in November/December.
Fallujah survivors and witnesses confirmed industrial scale mass murder. Children saw parents shot. Adults lost spouses and children. Homes and stores were looted. Thousands of others were destroyed. A government committee found 26,000 houses damaged and another 3,000 completely demolished. They included 70 mosques, 50 schools, and Fallujah's power plant. The city depended on it for electricity, 50 percent of its drinking water distribution, and 70 percent of its sewer system.
Overall, indiscriminate slaughter, destruction, and environmental contamination occurred. It was followed by looting, mass arrests, torture, and deaths from ill treatment and disease. A cancer epidemic followed and numerous previously unknown or rarely seen illnesses, severe congenital malformations, and more.
Since 2001, millions of Afghans and Iraqis died. Libya's enduring its own nightmare. Syria and Iran are next. American wars show no mercy.
Rape as a Weapon of War
In all U.S. war theaters, slaughter, sadism, and other atrocities are institutionalized. Rape becomes a weapon of war. On June 19, 2008, the Security Council agreed, adopting Resolution 1820.
It demanded an "immediate and complete halt to acts of sexual violence against civilians in conflict zones." It said: "Women and girls are particularly targeted by the use of sexual violence, including as a tactic of war to humiliate, dominate, instill fear in, disperse and/or forcibly relocate civilian members of a community or ethnic group." These offenses also "constitute war crimes, crimes against humanity or a constitutive act with respect to genocide."
Former United Nations Special Rapporteur on Torture Manifred Nowak said rape constitutes torture and other cruel, inhuman or degrading treatment or punishment used as a weapon of war to inflict greater pain and suffering.
Author Slavenka Drakulic described it as "slow murder." The Nuremberg Tribunal called it a crime against humanity.
Nothing, however, stops it, and UN resolutions fall woefully short. The latest Afghan rape and multiple murder atrocity reflects countless others. U.S. soldiers are trained to be violent in war theaters and show no mercy. Anything goes and does. Women and young girls are especially vulnerable.
In May 2009, Britain's Daily Telegraph said former U.S. General Antonio Taguba said the Obama administration sought to suppress images of U.S. soldiers raping and sodomizing Iraqi prisoners. He called photos he saw explosive, saying they "show torture, abuse, rape and every indecency. The mere description of these pictures is horrendous enough. Take my word for it."
These and similar incidents are not isolated. Nor are a few "bad apples" alone involved. They are widespread, tolerated, and sanctioned up to the highest government, military, and intelligence levels in all U.S. war theaters. Victims are helpless targets, including young girls and boys sodomized with phosphorescent tubes, clubs, wire, and other implements to inflict pain.
Instead of holding those responsible accountable, Obama suppressed their crimes. As a result, they continue. The latest Afghan victims represent a drop in the ocean. International and U.S. law principles are ignored. Atrocities follow others repeatedly.
Wars reflect more than hell. They manifest generations of condoned U.S. barbarity. It has been institutionalized to permit wanton rape, sodomy, torture, sadism, murder, and virtually all other imaginable atrocities with impunity. […]
Stephen Lendman can be reached at lendmanstephen@sbcglobal.net.

[TOP]
---
War Crimes and the Mythology of 'Bad Apples'
So it turns out that mass-murder suspect Robert Bales once used a bad word in a Facebook conversation. Army Staff Sgt. Robert Bales, is the US soldier accused of murdering 16 Afghan villagers.
This is one of the more bizarre details of his life that has come breathlessly to light in the media, along with his big smile, arrest record and disastrous financial dealings. The word was "hadji" (misspelled "hagi"), which is the racial slur of choice among U.S. troops to denigrate Iraqis; and stories where I have read about his use of it fixate on it judgmentally, as though to suggest it might explain something: the tiny flaw that reveals a propensity for massacring children.
Something had to be wrong with him, right? As always, the mainstream media's unquestioning assumption is that the atrocity is the work of an individual nut … a flawed patriot, a bad apple. Oh so quietly ignored is the possibility that there is something wrong with the military system and culture that produced him. […]
Could there be, for instance, something in the dehumanization of the enemy — a process that makes it possible for soldiers to go against their own nature and take human lives — that results in their own dehumanization as well?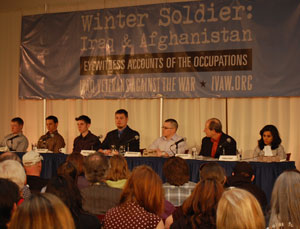 In the midst of the outpouring of news about the Afghan massacre, I started thinking about the extraordinary Winter Soldier hearings held outside Washington, D.C., four years ago. There were four days of testimony on the cruelly dysfunctional war on terror. Two panels were devoted to the topic "Racism and War: the Dehumanization of the Enemy." The panelists talked about how they learned contempt and disgust for all Iraqis and how it manifested on the ground in Iraq, where Robert Bales served three tours.
Here are some salient quotes:
"I joined the Army on my 18th birthday. When I joined I was told racism was gone from the military. After 9/11, I (began hearing) towel head, camel jockey, sand nigger. These came from up the chain of command. The new word was hadji. A hadji is someone who takes a pilgrimage to Mecca. We took the best thing from Islam and made it the worst thing." — Mike Prysner
"Hadji was used to dehumanize anyone there who is not us. KBR employees who did our laundry became hadji. Not a person, not a name, but a hadji. 'They're just hadjis. Who cares?' He called Iraqi people hadjis. These things start at the top, not the bottom." — Geoff Millard
"The military turned hadji into a disempowering word. My sergeant major said, 'The hadji is an obstacle. Get him out of the way.' Denying a person their name gave us permission to separate ourselves from the people of Iraq." Thus when a boy was hit by a truck, the CO said: "He's gone, move out." — Mike Totten
"A freshly captured detainee had been denied his insulin. He was a hadji and probably he won't die, but it wouldn't matter if he did. This is what the CO said in denying permission to hospitalize him. His diabetic stroke was mistaken for insubordination. They pepper-sprayed him and put him in a holding cell, where he died." — Andrew Duffy
"It's almost impossible to act on your morality...You remove the humanity from them — beat them — and in doing so you remove humanity from yourself." — Carlos Mejia
Does this begin to penetrate the mystery that so confounds the New York Times and the rest of the mainstream media? Stories of American troops' horrific treatment of Iraqis and Afghans are endless. Most of the time, such treatment was well within the context of orders. Contempt for the people we were "liberating" permeated the chain of command. In 2003, the Washington Post reported that a Defense Department computer program for calculating collateral damage was called "Bugsplat."
And as the aunt of former Pfc. Steven Green, who was convicted of raping a 14-year-old Iraqi girl and murdering her, her parents and her 7-year-old sister, said at Green's sentencing, "We did not send a rapist and murderer to Iraq."
The time has come to challenge the military at the level of its reason for being. The time has come to add up its suicides, its war crimes and the rest of its horrific legacy. How long can it survive an honest accounting?
Robert Koehler is a Chicago-based journalist and nationally syndicated writer.

[TOP]
---
Afghanistan and American Imperialism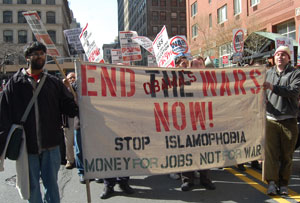 U.S. Army Staff Sergeant Robert Bales is accused of slaughtering 16 Afghan villagers, including nine children, and then burning some of the bodies. The massacre took place in two villages in the southern rural district of Panjwai. Though this horrific crime targeted Afghans on Afghan soil, Afghanistan will play no role in investigating the crime or bringing the perpetrator (or perpetrators) to justice. That is because the U.S. almost immediately whisked the accused out of Afghanistan and brought him to an American army base in Fort Leavenworth, Kansas.
The rapid exclusion of Afghans from the process of trying the accused shooter has, predictably and understandably, exacerbated the growing anti-American anger in that country. It is hard to imagine any nation on the planet reacting any other way to being denied the ability to try suspects over crimes that take place on its soil. A Taliban commander quickly gave voice to that nationalistic fury, announcing: "We want this soldier to be prosecuted in Afghanistan. The Afghans should prosecute him."
Demands that the atrocity be investigated by Afghans are grounded in part by reports that Bales did not act alone. While U.S. military officials decreed from the start that Bales was the lone culprit, eyewitnesses in the villages reported the presence of multiple attackers. Many Afghans simply cannot fathom how such a large-scale attack could have been perpetrated by a single shooter. Bacha Agha of the Balandi village told the Associated Press: "One man can't kill so many people. There must have been many people involved." He added: "If the government says this is just one person's act we will not accept it." President Hamid Karzai initially added fuel to those suspicions, notably accusing "American forces" of the attacks.
The suspicion that other American soldiers may have been involved, though unproven, is far from irrational. The notorious American "kill team" that deliberately executed random, innocent Afghan civilians (often teenagers) for sport, planted weapons on their bodies, and then posed with their corpses as trophies operated out a base in the same area. America's former top commander in Afghanistan, General Stanley McChrystal, admitted: "We've shot an amazing number of people and killed a number and, to my knowledge, none has proven to have been a real threat to the force."
That US-Afghan tensions are at an all-time high due to recent events makes suspicions of a coordinated attack even more substantive. As Robert Fisk recalled, the US army's top commander in Afghanistan, General John Allen, went out of his way just a couple weeks ago to tell his soldiers that "now is not the time for revenge for the deaths of two U.S. soldiers killed in Thursday's riots" resulting from the burning of Qu'rans, and he urged his soldiers to "resist whatever urge they might have to strike back." Clearly, General Allen was concerned about coordinated military revenge attacks on Afghan civilians.
Afghan doubts about an exclusively American investigation are surely inflamed, again understandably, by the history of untruths by the U.S. military about episodes of violence in Afghanistan. As the war correspondent Jerome Starkey documented: "U.S.-led forces in Afghanistan are committing atrocities, lying, and getting away with it."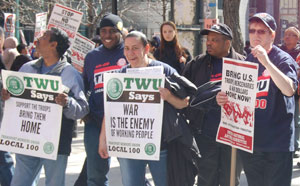 Starkey was writing in the wake of one incident where the American military, thanks to his investigative reporting, got caught out over the wanton killing of Afghan villagers. In February, 2010, U.S. forces entered a village in the Paktia Province in Afghanistan and, after surrounding a home where a celebration of a new birth was taking place, shot dead two male civilians (government officials) who exited the house in order to inquire why they had been surrounded, and then shot and killed three female relatives (a pregnant mother of 10, a pregnant mother of six, and a teenager).
The Pentagon then issued statements insisting that the dead men were insurgents and that the dead women were already gagged and killed inside the house by the time U.S. forces had arrived, victims of an "honor killing." They depicted as liars the Afghan villagers who insisted that it was U.S. soldiers who did the killing and that the dead were all civilians. American media outlets largely regurgitated the American military version uncritically. But enough evidence subsequently emerged disproving those claims such that the Pentagon was forced to admit that their original version was totally false and that, just as the villagers attested, it was U.S. troops who killed the women.
As Starkey wrote: "This is perhaps the most harrowing instance" but "it's not the first time I've found NATO lying." Is it any wonder that Afghans do not trust the US government to conduct its own investigation and hold accountable those responsible?
What is most revealed by the decision to remove Bales from Afghanistan is the American belief that no other country – including those it invades and occupies – can ever impose accountability on Americans. […]
One prime prerogative of all empires is that it is subject to no laws or accountability other than its own, even when it comes to crimes committed on other nations' soil and against its people. That was the imperial principle that finally compelled America's withdrawal from Iraq, and it is apparently what caused the U.S. to quickly remove the accused shooter from Afghanistan. It may be understandable why the U.S. perceives it in its interest to preserve this imperial power, but it should be equally understandable why its victims react with increasing levels of suspicion, resentment and rage.

[TOP]
---
U.S. Empire's Achilles Heel: Its Barbaric Racism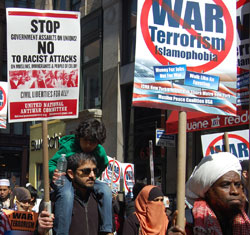 The American atrocities in Afghanistan roll on like a drumbeat from hell. With every affront to the human and national dignity of the Afghan people, the corporate media feign shock and quickly conclude that a few bad apples are responsible for U.S. crimes, that it's all a mistake and misunderstanding, rather than the logical result of a larger crime: America's attempt to dominate the world by force. But even so, with the highest paid and best trained military in the world – a force equipped with the weapons and communications gear to exercise the highest standards of control known to any military in history – one would think that commanders could keep their troops from making videos of urinating on dead men, or burning holy books, or letting loose homicidal maniacs on helpless villagers.
These three latest atrocities have brought the U.S. occupation the point of crisis – hopefully, a terminal one. But the whole war has been one atrocity after another, from the very beginning, when the high-tech superpower demonstrated the uncanny ability to track down and incinerate whole Afghan wedding parties – not just once, but repeatedly. Quite clearly, to the U.S., these people have never been more than ants on the ground, to be exterminated at will.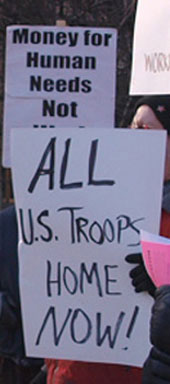 The Afghans, including those on the U.S. payroll, repeatedly use the word "disrespect" to describe U.S. behavior. But honest people back here in the belly of the beast know that the more accurate term is racism. The United States cannot help but be a serial abuser of the rights of the people it occupies, especially those who are thought of as non-white, because it is a thoroughly racist state. A superpower military allows the U.S. to act out this characteristic with impunity.
U.S. racism allows its citizens to imagine that they are doing the people of Pakistan a favor, by sending drones to deal death without warning from the skies. The U.S. calls Pakistan an ally, when polls consistently show that its people harbor more hatred and fear of the U.S. than any other people in the world. The Pakistanis know the U.S. long propped up their military dictators, and then threatened to blow the country to Kingdom Come after 9/ll, if the U.S. military wasn't given free rein. They know they are viewed collectively as less than human by the powers in Washington – and, if they do not call it racism, we should. […]
The U.S. lost any hope of leaving a residual military force in Iraq when it showed the utterly racist disrespect of Iraqis at Abu Ghraib prison, the savage leveling of Fallujah, the massacres in Haditha and so many other places well known to Iraqis, if not the American public, and the slaughter of 17 civilians stuck at a traffic circle in Nisour Square, Baghdad. What people would agree to allow such armed savages to remain in their country if given a choice?
The United States was conceived as an empire built on the labor of Blacks and the land of dead natives, an ever-expanding sphere of exploitation and plunder – energized by an abiding and general racism. […] The people of a world under siege by the U.S. will in due time kick them out – because to live under barbarian racists is not a human option.

[TOP]
---
It is Time to End the Afghanistan Occupation
The reality on the ground is that the longer we stay in Afghanistan, the more damage we create … It's time for us to get out. - Graham Clumpner, former Army Ranger who served in Afghanistan from 2005 to 2006.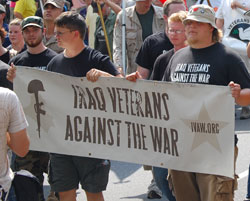 Members of the Afghanistan Veterans Against the War committee of Iraq Veterans Against the War (IVAW) are speaking out about the recent massacre of at least 16 Afghan civilians by a U.S. Army staff sergeant in a Kandahar village. They see the incident as just the latest example of the U.S./NATO failed military strategy in Afghanistan and are calling on elected officials to stop funding the war, which now costs taxpayers between $1 and $2 billion per week.
Take action with Afghanistan Veterans Against the War and other veterans:
• Send a letter to the editor of your local paper condemning the massacre and calling for an end to our occupation in Afghanistan.
• See if your member of Congress is a co-sponsor of H.R. 780 sponsored by Representative Barbara Lee (D-CA), which calls for an end to funding of our troops in Afghanistan except for the sole purposes of their withdrawal. (It states: "To provide that funds for operations of the Armed Forces in Afghanistan shall be obligated and expended only for purposes of providing for the safe and orderly withdrawal from Afghanistan of all members of the Armed Forces and Department of Defense contractor personnel who are in Afghanistan.") […]
Clumpner and his fellow Afghanistan war veterans believe that this incident is not a case of one 'bad apple' but the effect of a continued U.S. military policy of drone strikes, night raids, and helicopter attacks where Afghan civilians pay the price. This policy, they believe, undermines any hope for stability in Afghanistan. Instead, Brock Mcintosh, who served in Afghanistan with the Army National Guard from 2008 to 2009 says, "We should be supporting diplomatic and humanitarian efforts involving players from the entire region, and with Afghan women at the table." Brock returned to Afghanistan on a civilian peace mission last summer and met with Afghan groups organizing nonviolently for peaceful change. "There needs to be space for Afghan civil society to effectively apply nonviolent political pressure from the bottom-up without interference from outsiders."
Emerging information on the accused 38-year-old Army staff sergeant places him on his fourth deployment and with a documented Traumatic Brain Injury. As Clumpner sees it, "We are sending soldiers back to war who are clearly not mentally fit, by the military's own regulations. Too many of our soldiers need mental health care and do not have access to it. An active duty soldier kills themselves every 36 hours. This is no excuse for what happened in Kandahar, but it's a reality."
Afghanistan was sold to the American public as the "good war" and was contrasted by President Obama to Iraq - what he termed a "dumb war." But in its 11th year, many veterans question the mission, and intractable problems remain, not the least of which is the impoverishment of the majority of the Afghan people. "When I was there, I saw terrible poverty that wasn't changing by what we were doing," says Alejandro Villatoro, of the Army Reserves, who returned from Afghanistan in August 2011. […]
These veterans hope that the Kandahar massacre will be a turning point in the U.S. occupation. They are heartened by the recent report released by the whistleblower Lt. Col. Daniel Davis and the hope that other veterans are moved to speak out. […]

[TOP]
---
U.S. Subjected Manning to Cruel, Inhuman, Degrading Treatment, UN Torture Chief Concludes
(Private Bradley Manning, 24, is facing 22 charges, including aiding the enemy, which can be punishable by death or life in prison. Manning is accused of leaking documents that "harmed the national interest." The military admits no one has been harmed by the leaks and says that their impact on foreign relations was "fairly modest." While the top generals and government officials, responsible for civilians massacres, widespread torture and other crimes go unpunished, Manning has been imprisoned, kept in solitary confinement and faces a possible death sentence. He is quoted as saying, "If you had free reign over classified networks… and you saw incredible things, awful things… things that belonged in the public domain, and not on some server stored in a dark room in Washington DC… what would you do?" "God knows what happens now. Hopefully worldwide discussion, debates, and reforms… I want people to see the truth… because without information, you cannot make informed decisions as a public." Below is a report on the recent findings of the United Nations Special Rapporteur for Torture concerning Manning's treatment while in military detention.)
* * *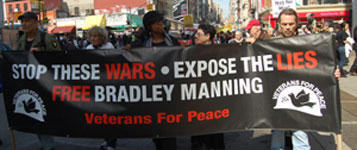 The United States government subjected Bradley Manning to cruel, inhuman and degrading treatment following his arrest in May 2010 in Iraq on suspicion of leaking hundreds of thousands of secret State Department cables and other documents to WikiLeaks, the United Nations Special Rapporteur for Torture concluded in a long-awaited report.
In an addendum to a report presented to the UN General Assembly on the protection of human rights, Juan Méndez wrote that "imposing seriously punitive conditions of detention on someone who has not been found guilty of any crime is a violation of his right to physical and psychological integrity as well as of his presumption of innocence."
Méndez told the British Guardian, "If the effects in regards to pain and suffering inflicted on Manning were more severe, they could constitute torture."
Spokespeople for the State Department and Department of Defense did not return calls seeking comment. Last year, PJ Crowley was forced to resign from his position as a State Department spokesman for publicly condemning Manning's treatment, which he characterized as "ridiculous, counterproductive and stupid."
Méndez said recently that he became concerned about Manning when he started to hear reports that the Army intelligence officer was being held in solitary confinement for 23 hours a day for nearly a year at the brig at Marine Corps Base Quantico and on numerous occasions was forced to strip naked and surrender his clothes to guards prior to going to sleep.
Méndez, who spent 14 months investigating Manning's treatment, accused U.S. government officials in a December 2010 letter of using harsh tactics, such as solitary confinement, against Manning "in an effort to coerce him into 'co-operation' with the authorities, allegedly for the purpose of persuading [Manning] to implicate others."
Méndez stressed in his report that "solitary confinement is a harsh measure which may cause serious psychological and physiological adverse effects on individuals regardless of their specific conditions."
"To the Special Rapporteur's request for information on the authority to impose and the purpose of the isolation regime, the [U.S.] government responded that the prison rules authorized the brig commander to impose it on account of the seriousness of the offense for which [Manning] would eventually be charged," Méndez's report says.
Additionally, "[d]epending on the specific reason for its application, conditions, length, effects and other circumstances, solitary confinement can amount to a breach of article 7 of the International Covenant on Civil and Political Rights, and to an act defined in article 1 or article 16 of the Convention Against Torture."
The U.S. government countered, according to Méndez's report, that Manning was not subjected to "solitary confinement," rather he was under "prevention of harm watch." However, the U.S. did not provide Méndez with any details about the "what harm was being prevented."
Méndez reported that he had "frank conversation[s] with the [Department of Defense] about the conditions of [Manning's] incarceration" and requested that he be permitted to visit and speak with the soldier confidentially.
"I was allowed to see him but with no guarantees of confidentiality, terms that I could not accept," said Méndez, who highlighted this point in his report. "I offered to see Manning nonetheless, through his lawyer, if he wanted to see me, but he preferred not to waive his right to a truly private conversation. In the meantime, when he was moved from Quantico to Fort Leavenworth [in April 2011], his conditions changed and he is no longer in solitary confinement. I am still insisting on seeing him."
However, "to date the [US] Government continues to refuse to allow the Special Rapporteur to conduct private, unmonitored, and privileged communications with Private Manning, in accordance with the working methods of his mandate," Méndez added in his report.
The cache of documents Manning allegedly leaked to WikiLeaks revealed information about the deaths of civilians in Iraq and Afghanistan and steps taken to cover up the alleged crimes, the suspect intelligence the U.S. relied upon to continue holding detainees at Guantánamo Bay and observations of U.S. diplomats about foreign government officials. […]
[TOP]
---