Chicago NATO Summit, May 20-21
Clinton Promotes NATO Expansion and
Aggression Serving U.S. Empire-Building
Secretary of State Hillary Clinton spoke to the U.S. based NATO command forces in Norfolk, Virginia April 3. She also spoke at the Virginia Military Institute and the World Affairs Council of Greater Hampton Roads, all in the Norfolk area, also home to a major U.S. naval base. In her speeches she emphasized U.S. efforts to have NATO provide funds and troops on the ground to serve U.S.-empire building. She emphasized that the U.S. expects NATO, the largest military bloc in the world, to expand its military abilities and to carry on into the next century.
Speaking about the upcoming NATO Summit in Chicago May 20-21, Clinton said, "In Chicago we will discuss the form that NATO's enduring relationship with Afghanistan will then take. We also hope that, by the time we meet in Chicago, the United States will have concluded our negotiations with Afghanistan on a long-term strategic partnership between our two nations." She was alluding to the U.S. maintaining three major strategic air bases in Afghanistan: at Bagram, outside the nation's capital; at Shindand near the Iranian border; and near the capital of Kandahar province close to the Pakistani border. These bases are also capable of monitoring Central Asia, Russia and China.
Clinton also made clear that a main purpose of the U.S./NATO war in Afghanistan was to build an international, integrated expeditionary military force under U.S. command – there are 50 nations contributing soldiers, equipment, artillery and aircraft for NATO's International Security Assistance Force – for future wars. Clinton said that the Chicago summit will enhance the allies' "commitment to joint exercises and training programs that deepen the habits of cooperation we have developed through our work together in Afghanistan."
Clinton added that two other main topics for Chicago will be "to update NATO's defense capabilities for the 21st century" and "to cement and expand our global partnerships." The three points together were identified as "goals for Chicago."
With respect to the role of NATO, she added: "Europe is America's partner of first resort. We're working together in the Middle East and North Africa, in Afghanistan, and reaching out to emerging powers and regions, like those nations in the Asia Pacific." Using the Afghanistan model, the U.S. would like to see the European countries embroiled in the ground warfare and interference in these regions, while the U.S. reaps the benefits. This includes the ability to claim the U.S. has no troops on the ground. It will rely on its drones and Special Forces for assassinations, rapid incursions for attacks and similar illegal actions, while NATO forces carry out the ground war.
Given that the Pentagon commands NATO, the U.S. anticipates that it will do whatever the Pentagon dictates. However, there are also sharp contradictions between the U.S., Germany, France and the European Union as a whole, as the various monopoly interests both collude and contend. Alliances could fracture and various forces could line up differently, say with Russia or China or India. To prevent this and maintain the massive additional armed force that NATO is, the U.S. is striving, as Clinton put it, to "cement" the partnerships, with Europe top of the list.
In addition, Clinton emphasized that the U.S. is collaborating with NATO in use of drones:
"On a new Alliance Ground Surveillance system, which uses drones to provide crucial intelligence, surveillance, and reconnaissance information to our forces." She added, "In Chicago, we'll decide how to use this system as a hub for joint operations." This will be an operation entirely under U.S. control and is a mechanism for the U.S. to control military operations, including use of drones.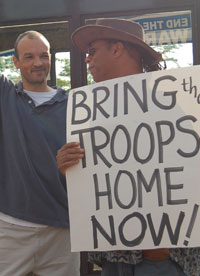 Clinton spoke to another way that NATO is serving the interests of U.S. global economic and military plans, saying, "In Lisbon [at the last NATO Summit] we agreed to deploy a missile defense system to provide full coverage and protection for NATO European territory, population, and forces. In Chicago, we will look to advance that goal by developing our plans for NATO to exercise command and control of missile defense assets."
NATO is the main partner in Washington's global interceptor missile system. The now eight-year-old NATO air patrol operation over the Baltic Sea's Estonia, Latvia and Lithuania – all bordering Russia – was not left out. The operation rotates warplanes from the U.S., Germany and other European forces to mainly patrol Russia's borders. In Chicago, Clinton said, "We will highlight NATO's decision to extend the Baltic Air Policing Program."
Clinton, taking up all these military matters, is hardly acting as Secretary of State, the "diplomat," for the U.S. On the contrary she is playing her role in the dual presidency with Obama. Her role is to push U.S. aggression and use of force, including extending the "Baltic Policing Program" aimed at Russia, right while Obama talks about working with Russia to resolve the conflicts over missile defense. The NATO Summit will see both acting as president, reflecting conflicts within the U.S. ruling circles on how to "cement" partnerships and expand military capabilities, using the troops and funds of Europe.

[TOP]
---
NATO Prepares for Operations Until 2020 and Beyond…Throughout the Galaxy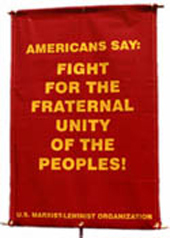 The North Atlantic Treaty Organization (NATO) held meetings of the defense and foreign ministers of its 28 member states on April 18 and April 19 ahead of and in preparation for next month's two-day summit in Chicago, identified by NATO as the largest in the military bloc's 63-year, 25-summit history.
The meeting of foreign ministers also included 22 counterparts from NATO partner states in Europe, Asia, the Middle East and the South Pacific.
Undaunted by the war in Afghanistan that has lasted over ten and a half years with at least two and a half more to go and by the air war of last year that plunged Libya into irreparable chaos and bloody internecine warfare, Secretary General Anders Fogh Rasmussen crowed: "We will ensure that our Alliance has the modern, deployable and connected forces that we need for the next decade and beyond."
Reiterating the point in reference to one of the three main topics to be discussed at the Chicago summit, upgrading and integrating NATO's military capabilities, he added: "The defense package will not be a one-off, or the end of the story. This is not just about NATO 2012. And it's not just about one summit. It's about keeping our Alliance fit for the long term – for 2020 and beyond."
Not only is the Atlantic alliance the sole military bloc surviving the Cold War, the largest in history and the longest-lived in modern times, it also has no intention of ever dissolving, instead being intent on expanding memberships, partnerships and operations ever farther around the world, ever farther from the ocean that gives it its name.
In January NATO hosted the chiefs of defense staff (CHODS), the NATO designation for top military officials like the U.S.'s chairman of the Joint Chiefs of Staff Martin Dempsey and his opposite numbers in other nations, of 67 countries at the bloc's headquarters in Brussels. There are 194 members of the United Nations, dozens of them microstates (30 with populations under half a million). The top military chiefs gathered at NATO headquarters in January, then, accounted for over a third of the world's nations and an even larger percentage of major ones.
The meeting of the leading military commanders of so many nations at one time is unparalleled in history. Such a convocation suggests a world war – a real one encompassing the entire globe unlike the two conflicts of the last century that are referred to as such – if not a science fiction scenario in which the planet unites against a common threat from another galaxy.
Sound far-fetched? Seven years ago General Harald Kujat of Germany addressed the NATO Military Committee he was the chairman of at the time and boasted of NATO: "[I]t is the most powerful Alliance in this galaxy. Not only on this globe."
Today the Earth and tomorrow the island universe.
NATO Baltic Buildup Threatens Belarus And Russia
The defense ministers of Belarus and Russia, jointly the Union State, met in the Belarusian capital of Minsk on April 18 and underlined the need for the two countries to strengthen military cooperation in response to the qualitative intensification of North Atlantic Treaty Organization (NATO) deployments and operations on and near their borders.
Russian Defense Minister Sergei Serdyukov stated, "We are troubled both by an increase in NATO's activity near the borders of the Union and plans of the U.S. and other members of the alliance to deploy elements of a missile defense shield in Europe."
The Belarusian defense minister, Major-General Yuri Zhadobin, issued a comparable and complementary warning; he was paraphrased by the state-run Belarusian Telegraph Agency as commenting: "Preparations of international troops near Belarusian borders have been stepped up in recent years: plans of neighboring countries, which are NATO members, to modernize their military forces are being implemented, including ten military airfields and four seaports meant to receive foreign troops. There are plans to station US air forces in Poland in Q4 2012, with a modern air defense system deployed in the immediate vicinity of the Union State borders. All these factors force one to seek effective military and technical solutions to these threats."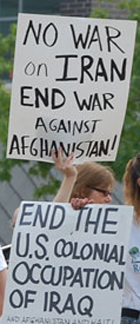 To believe that NATO has shifted its focus entirely away from its Cold War-era target, the now former Soviet Union, in favor of waging neo-colonial wars in the Balkans, Asia, Africa and the Middle East is both inaccurate and dangerous. Sophisticated, next-generation interceptor missiles slated for deployment in Poland, which borders both Belarus and Russian territory, no later than six years from now are assuredly not directed toward Iran, much less North Korea, and have no conceivable role in such standard NATO casus belli ruses as combating terrorism and piracy, fending off computer hacking or enforcing the "Responsibility to Protect."
As the Russian and Belarusian defense chiefs noted, the most menacing moves by NATO are in Europe, most particularly in the Baltic Sea region, where any military conflict would immediately, inevitably, escalate into a confrontation between the world's two major nuclear powers and the only nations with a triad of strategic delivery systems: NATO mainstay of the U.S. and Russia. In particular, military aggression against Belarus, linked to Russia both through the Union State and the Collective Treaty Security Organization, could not avoid triggering a clash between NATO and the Pentagon on the one hand and Russia on the other.
At the end of February the European Union, in conjunction with the United States – collectively NATO – enforced new sanctions and travel bans against Belarus and recalled all its member states' ambassadors from Minsk in an escalation of "regime change" measures alarmingly evocative of similar ongoing actions against Syria and those against Libya in 2011.
That NATO, emboldened by what it has celebrated as an unprecedented victory in Libya last year and avidly seeking a new mission after (if there is an after) Afghanistan could take military action against Belarus – or in the South Caucasus or against nations like Zimbabwe or even Venezuela – is not an unimaginable possibility. The bloc certainly arrogates to itself the option of doing so.
As mentioned above, the Western alliance is preparing the military infrastructure for doing just that: Air and naval bases, training and command-and-control centers, missile and radar sites, cyber defense (read warfare) and airlift capabilities, and integration of the armed forces of regional and NATO-wide armed forces in the Baltic region.
U.S/NATO Air Patrols Near Russia
In March of 2004, three months before the three countries were inducted into the alliance, NATO began air patrols over Estonia, Latvia and Lithuania based in the air base at the Šiauliai International Airport in Lithuania. Conducted under the deceptively innocuous name of Baltic Air Policing, three-month rotations of four warplanes supplied by the U.S., Germany, Britain, France, Turkey, Belgium, the Netherlands, Denmark, Norway, Spain, Portugal the Czech Republic and Romania have flown near the borders of Russia and Belarus for over eight years. Estonia and Latvia border the Russian mainland and Lithuania (as well as Poland) abuts its non-contiguous Kaliningrad district. Latvia, Lithuania and Poland border Belarus.
Before the patrols were instituted, the Russian defense minister at the time, Sergei Ivanov, warned that they would entail the deployment of NATO, including American, warplanes "a three-minute flight away from St. Petersburg," Russia's second largest city.
This February NATO announced it was extending the air mission until 2018, fourteen years after it commenced. Early this month U.S. Secretary of State Hillary Clinton cited the Baltic operation as an example of NATO capabilities to be discussed at the bloc's summit in Chicago next month.
The current rotation consists of German F-4 Phantom II long-range supersonic jet interceptor fighter-bombers. Germany has been responsible for four of the past nine rotations. Only in a world without a sense of history – even a sense of irony – could the Luftwaffe deploy combat aircraft near Russian territory and the fact pass without notice.
On September 25, 2010 Lithuania's near neighbor Estonia completed a three-year project to upgrade the Ämari Air Base to accommodate NATO warplanes. The government in Tallinn announced that the expanded, modernized Soviet-era base could accommodate 16 fighters, 20 transport planes and 2,000 personnel a day.
Estonia's President Toomas Hendrik Ilves – born in Sweden and raised in the U.S. where he worked for Radio Free Europe during the Reagan years of the 1980s – at the time stated, "NATO will have one of the most modern air force bases in the region at its disposal."
Three years ago a Polish news source disclosed that NATO had allotted over one billion euros to upgrade and expand military capabilities in Poland and had modernized seven military airports, two seaports and five large fuel bases (12 in total were planned) and that six strategic long-range aerial radars had already been completed. The Atlantic bloc also equipped military airfields in Powidz, Lask and Minsk Mazowiecki with new installations to increase their logistical and defense capabilities.
NATO projects also include the establishment of air defense headquarters in Poznan, Warsaw and Bydgoszcz and a radio communications center in Wladyslawowo on the Baltic coast.
In June of 2009 then-Polish Defense Minister Bogdan Klich disclosed that NATO would inaugurate a Joint Battle Command Center in the northern city of Bydgoszcz where NATO had run a Joint Force Training Center since 2004, stating that "NATO has decided to heavily invest in Poland by modernizing military infrastructure including air and sea bases."
Between 2006-2008 the U.S. delivered 48 F-16 Fighting Falcon jet fighters at a cost of $3.5 billion, which represented the largest defense contract by a former Warsaw Pact member state (except for Russia) since the end of the Cold War, the most expensive arm deal in Poland's history and the first deployment of F-16s to Eastern Europe.
In addition to those F-16s, based near Poznan, last May the Pentagon announced that the U.S. will transfer 16 of its own F-16s from the Aviano Air Base in Italy to Poland along with Hercules C-130 military transport aircraft and special forces transferred from Special Operations Command Europe in Stuttgart, Germany.
A year before, the U.S. deployed a Patriot Advanced Capability-3 interceptor missile battery with over 100 military personnel to the Polish city of Morag, only 35 miles from Russian territory, in the first long-term stationing of missile interceptors in Europe.
In the third stage of the U.S.-NATO Phased Adaptive Approach missile defense program, to be implemented no later than 2018, 24 third-generation Standard Missile-3 interceptors – SM-3 Block IIAs – will be based in Poland.
In August 2008 the U.S. signed an agreement with Poland, which includes a "commitment for both states to come to each other's assistance in case of military threats." It was the honoring of an analogous treaty with Poland by Britain and France in September 1939 that, the initial phony war notwithstanding, marked the beginning of World War II.
As part of regular exercises conducted by the U.S. and its NATO allies in the Baltic Sea, the latest Baltic Region Training Event (BRTE XI) wrapped up this March 28 at Lithuania's Šiauliai air base after German, Finnish and Swedish warplanes – Phantom, Hornet and Gripen fighter jets – participated in aerial exercises in support of the NATO air patrol operation. Finland and Sweden are being dragged into full NATO membership, first in Afghanistan and now in the Baltic, behind the backs of their populations.
Also last month, a planning conference for this summer's Baltic Host 2012 exercises was held in Lithuania. The drills will be part of host nation support obligations in relation to NATO forces and conducted simultaneously in Estonia, Latvia and Lithuania.
Marine Corps War Drills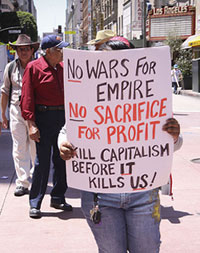 The U.S. Marines Corps last month released details of its role in the upcoming BALTOPS 2012 war games in Estonia, Latvia and Lithuania, the latest in annual Baltic Operations exercises, by quoting an officer with the Naval Striking and Support Forces NATO:
"This year the exercise includes land, air, and at sea activities all coordinated under a maritime-based Combined Joint Task Force led by Naval Striking and Support Forces NATO (Strike Force NATO). Having performed the CJTF role in 2010 and leveraging recent Libyan crisis experience as part of Operation Unified Protector, Strike Force NATO is looking to achieve a much higher degree of interaction amongst subordinate air, land, and sea components spread across the 1,000 km wide training area."
The U.S. Marine Corps website added that the exercises "will bring Marines and sailors from Black Sea Rotational Force 12, stationed in Romania, to conduct amphibious/land operations with Lithuania Army Forces, to include counter-insurgency and peace keeping training."
A planning conference was held by U.S. European Command's Naval and Marine Forces Europe and the Lithuanian armed forces at the General Adolfas Ramanauskas Warfare Training Center in Vilnius, Lithuania from February 27-March 2 for the purpose.
The U.S. and NATO have turned the Baltic Sea into a powder keg that can be set aflame by a single carelessly tossed match, and "leveraging recent Libyan crisis experience" will not permit the resultant conflagration to be contained.

[TOP]
---
Nobel Peace Laureate Rejects U.S. State Department and NATO Chicago Agenda
Dear Friends,
I write to let you know that I have decided not to attend the 12th World Summit of Nobel Peace Laureates on 23rd-25th April 2012, in Chicago, U.S.
On 10th April, Secretary of State Hillary Clinton appeared on video at the U.S. State Department Web announcing plans for the forthcoming Nobel Peace Laureates Summit and said "The U.S. Department of State is proud to be an active partner in this event."
Secretary Clinton gave details of how the U.S. State Department is working with U.S. embassies around the world, to bring twenty students and 4 teachers from 4 countries to Chicago and explained that video conferences and portals for live streaming of events will be managed by the U.S. State department.
I have now decided, with some sadness, not to be associated in this Partnership, as I do not agree with many of the policies of the U.S. State Department. Indeed I have, as a Nobel Peace Laureate, (and in the spirit of Alfred Nobel) often called for the disbandment of NATO, end of militarism and war, and for disarmament and demilitarization. I cannot therefore, in good conscience, be part of a Partnership with the U.S. Government (NATO). I also believe that my participation in such a partnership would compromise my position and put in jeopardy my work in the Middle East and other countries.
I am very disappointed that what is a great opportunity for young people, the Nobel Laureates and organizations to listen, learn, and exchange friendships and experiences, has been, I believe, seriously compromised in such a Partnership.
However, I hope it will be an enjoyable and educational summit particularly for all the young people, and I am deeply saddened not to be with you all.
Peace,
Mairead Maguire
Peace People, Northern Ireland
http://www.peacepeople.com
[TOP]
---