May 14, 2012
International Day of Action for Palestinian Prisoners on Hunger Strike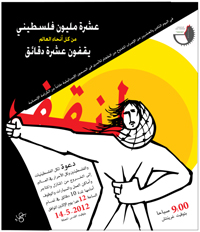 In Defense of Human Dignity:
The General Federation of Independent Trade Unions in Palestine calls upon all Palestinians and those in solidarity with their cause throughout the world, to stop whatever they are doing for 10 minutes at 12 pm Jerusalem time (9am GMT) on Monday, May 14th, 2012, On the Twenty-Eighth Day of the Open Ended Hunger Strike of Palestinian Prisoners in Israeli Jails, leave their homes, cars, and workplaces and take a collective stand in solidarity with the ongoing Palestinian prisoners' hunger strike.

[TOP]
---
No Deal Reached With Hunger-Striking Detainees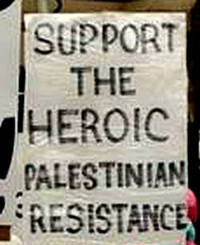 According to the Palestinian Center for Defending the Detainees (PCDD), as of May 10, no agreement has been reached between the hunger-striking Palestinian detainees and the Israeli Prison Administration. The also said that reports claiming that detainees Mahmoud Issa and Waleed Khaled were removed from solitary confinement are not true. The two detainees are still isolated in their tiny cells. The PCCD and many other Palestinian organizations are holding Israel fully responsible for the potential death of any hunger strikers.
Two Israeli committees (the Prison Administration and the Israeli Shabak) met with the strike leadership committee, and asked detainees held at the Nafha prison to refrain from any escalation of their strike. The detainees said that before talks on the issue can be held, Israel must put a specific timeframe for ending the solitary confinement of the top ten detainees, who have been in solitary for long periods, some for years. The strikers demanded that Israel uphold their full rights as guaranteed by international law, including an end to the torture of solitary and indefinite detention without charges. The hunger strikers are also demanding visitations for people from the Gaza Strip, an end to strip-searching of visiting family members and reinstatement of educational programs.

[TOP]
---

Adnan, Shalabi Proud of Hunger Strikers, Call for International Support
Former prisoners Khader Adnan and Hana Shalabi, who were released by Israel after lengthy hunger strikes, on May 2 expressed pride and support for striking detainees in Israeli jails.
Adnan, whose sentence was reduced after he spent 66 days on hunger strike, told Ma'an that hunger strikers' determination would bring them victory.
Bilal Diab, 27, from Jenin, and Thaer Halahla, 33, from Hebron have refused food for 64 days. Like Adnan and Shalabi, they were sentenced to administrative detention without a trial and they have not been charged with any crime.
"The confrontation will be resolved to their benefit soon, because they have reached the point of no return and are heading towards victory which they have risen up for against the Israeli occupation's oppressive and racist laws," Adnan said.
Adnan urged all Palestinian prisoners in Israel to join the hunger strike. According to prisoners rights groups, around 2,000 detainees have so far joined the strike.
Meanwhile, Hana Shalabi, who refused food for 43 days before being deported to Gaza, urged Arab and Islamic nations to support the hunger strikers. She told Ma'an she was eagerly awaiting their "moment of victory."
A call to action for the striking prisoners by Khader Adnan
Khader Adnan also called on people worldwide to stand as one with the prisoners. He wrote:
Dear free people of the world. Dear oppressed and disenfranchised around the globe. Dear friends of our people, who stood with me with a stern belief in freedom and dignity for my people and our prisoners languishing in the Occupation's prisons.
Dear free women and men, young and elderly, ordinary people as well as intellectual elites everywhere – I address you with an outpouring of hope and pain for every Palestinian that suffers from the occupation of his land, for each of us that has been killed, wounded or imprisoned by the state of terror, that denies anything beautiful in our lives, even the smile of our children and families. I am addressing you in my first letter following my release – praying it will not be the last – after Allah granted me freedom, pride and dignity. I was an "administrative detainee" in the jail of occupation for four months, out of which I have spent 66 days on hunger strike.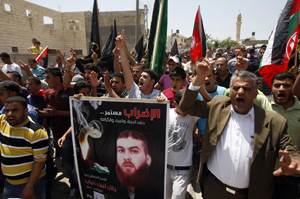 I was driven to declare an open-ended hunger strike by the daily harassment and violation of my people's rights by the Israeli Zionist occupation. The last straw for me were the ongoing arrests, the brutal nighttime raid on my house, my violent detention, during which I was taken to the "Mavo Dotan" settlement on our land occupied in 1967, and the beatings and humiliation I was treated to during arrest interrogation. The way I was treated during the interrogation at the Jalameh detention center used the worst and lowest verbal insults in the dictionary. After questioning, I was sentenced to imprisonment under administrative detention with no charges, which proves mine and others' arrests serve only to maintain a quota of prisoners, to harass us, to restrict our freedom and to undermine our determination, pride and dignity.
I write today to thank all those who stood tall in support of my people, with our prisoners, with Hana al-Shalabi and with myself. I call on you to stand for justice, pride and dignity in the face of occupation. The assault on the freedom and dignity of the Palestinian people is an assault on free people of the world by a criminal occupation that threatens the security, freedom and dignity of all, no matter where.
Please, continue in exposing this occupation, boycotting and isolating it internationally. Expose its true face, the one that was clearly exposed in the attack of an Israeli officer on our Danish cohort. Unlike that attack, the murder of our people is a crime that goes by unspoken of and slips away from the lens of the camera. Our prisoners are dying in silence. Hundreds of defenders of freedom are on hunger strike inside the prisons, including the eight knights, Bilal Diab and Thaer Hlahalh, who are now on their 61st day of hunger strike, Hassan Safadi, Omar Abu Shalal, Mahmoud Sarsak, Mahmoud Sarsal, Mohammad Taj, Jaafar Azzedine (who was arrested solely for standing in solidarity with myself) and Ahmad haj Ali. Their lives now are in great danger.
We are all responsible and we will all lose if anything happens to them. Let us take immediate action to pressure the Occupation into releasing them immediately, or their children could never forgive us.
Let all those free and revolutionary join hands against the Occupation's oppression, and take to the streets – in front of the Occupation's prisons, in front of its embassies and all other institutions backing it around the world.
With deep appreciation,
Khader Adnan

[TOP]
---
Palestinian Political Prisoners Subject to Collective Punishment as Mass Hunger Strike Continues
As organizations dedicated to the promotion and protection of human rights in the Occupied Palestinian Territory (OPT), the Palestinian Council of Human Rights Organizations (PCHRO) is gravely concerned about the series of collective and punitive measures taken by the Israeli Prison Service (IPS) against Palestinian political prisoners in Israeli prisons currently engaged in a mass hunger strike. These measures include solitary confinement, daily fines of up to 500 NIS (about $130), confiscation of salt for water, the denial of electricity supply and random cell and body searches.
Also of utmost concern are the lives of Bilal Diab and Thaer Halahleh, who today began their 66th day of hunger strike. Both men are in critical condition and have been denied access to independent doctors for the majority of their hunger strike. Thaer noted that they have been subjected to significant pressure by prison doctors and the prison administration to break their hunger strike, but they are determined to continue with the strike until they are released. No decision was made in today's Israeli High Court hearing regarding their administrative detention orders. Both Bilal and Thaer were brought to the hearing and attended in wheelchairs. During the hearing, Bilal fainted and there were no doctors present inside the court. Thaer testified to the mistreatment he has suffered since his arrest. Judge Amnon Rubenstein announced that the panel of judges would make a decision after reviewing the "secret file," but after the review stated that the parties would be informed at a later time, without specifying when.
On April 17, 2012, Palestinian prisoners held in Israeli prisons launched a mass hunger strike demanding an end to administrative detention, isolation and other punitive measures taken against Palestinian prisoners including the denial of family and lawyer visits, especially to prisoners from the Gaza Strip who have been denied family visits since 2007, and access to university education. The campaign has steadily gained momentum over the past two weeks and an estimated 2,500 prisoners are now on an open-ended hunger strike.
Since the beginning of the hunger strike, the Israeli Prison Service (IPS) has collectively punished participating prisoners using a wide range of tactics. Most recent updates indicate that some prisoners are being fined between 250 (about $65) and 500 (about $130) shekels for each day of their hunger strike. In Naqab prison, prisoners are experiencing daily inspections of random sections, which last for approximately 40 to 50 minutes. These inspections include cell and body searches. In addition, prisoners are no longer permitted to leave their rooms for the daily break period.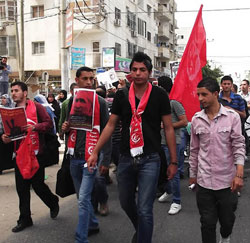 Many hunger strikers have been transferred to different prisons or to special sections within prisons, in an attempt to further isolate them from the growing movement and the outside world. The latest transfers include the movement of prisoners between Megiddo prison, Shatta prison and a special section of Gilboa prison. At least three leaders of the campaign have been placed in solitary confinement in Beersheba, in addition to many others who were placed in solitary confinement upon the announcement of their hunger strikes. Ninety-six hunger strikers have been transferred to Ohalei Keidar prison, where they have been placed two prisoners to each solitary confinement cell.
Lawyers attempting to visit hunger striking prisoners have also been prevented from doing so, with prison administrations banning certain lawyers outright, claiming visits were not properly arranged, or declaring "situations of emergency" right before or during scheduled and pre-approved visits. On April 29, a lawyer from Addameer Prisoner Support and Human Rights Association was told that his visit to Ashkelon prison was not approved, even though it had been confirmed the previous day. Another lawyer was only allowed to visit Popular Front for the Liberation of Palestine (PFLP) Secretary General Ahmad Sa'adat, who was moved to Ramleh prison medical center on April 27, for a period of ten minutes on April 30, and was refused a visit the following day.
Six other Palestinian prisoners remain on extended hunger strike, including Hassan Safadi, who today began his 60th day, and Omar Abu Shalal, who is on his 58th day today. Jaafar Azzedine, currently on his 43rd day of hunger strike, reported that he is suffering from consistent dizziness, which caused him to injure his head last week after fainting. These men are all being denied access to independent doctors and lawyers, despite their rapidly deteriorating health conditions, as Israeli authorities continue to violate their human rights, in particular their right to health.
In the context of the mass hunger strike of Palestinian political prisoners, the PCHRO:
• Calls on the European Union, in particular the EU Parliament, the United Nations and the International Committee of the Red Cross to immediately intervene with Israel in order to save the lives of Bilal Diab and Thaer Halahleh and demand that they be released from administrative detention;
• Demands that all hunger strikers have unrestricted access to independent doctors and adequate medical care;
• Demands that the Member States of the United Nations urgently put pressure on Israel to end its policy of arbitrary detention and to abide by the standard rules for the treatment of prisoners adopted in 1955, which set out what is generally accepted as decent principle and practice in the treatment of prisoners;
• Calls on the European Parliament to dispatch a parliamentary fact-finding mission that includes members of its Subcommittee on Human Rights to investigate the conditions of detention of Palestinians held in Israeli prisons.
The Palestinian Council of Human Rights Organizations (PCHRO)
• Addameer Prisoners' Support and Human Rights Association, Sahar Francis, General Director
• Aldameer Association for Human Rights, Khalil Abu Shammala, General Director
• Al-Haq, Shawan Jabarin, General Director
• Al Mezan Center for Human Rights, Issam Younis, General Director
• Badil Resource Center for Palestinian Residency and Refugee Rights, Najwa Darwish, General Director
• Defense for Children International Palestine Section, Rifat Kassis, General Director
• Ensan Center for Human Rights and Democracy, Shawqi Issa, General Director
• Hurryyat - Center for Defense of Liberties and Civil Rights, Helmi Al-araj, General Director
• Jerusalem Center for Legal Aid and Human Rights, Issam Aruri, General Director
• Ramallah Center for Human Rights Studies, Iyad Barghouti, General Director,
• Women's Center for Legal Aid and Counseling, Maha Abu Dayyeh, General Director

[TOP]
---
Oberlin Students for Free Palestine to Fast in Solidarity May 7-11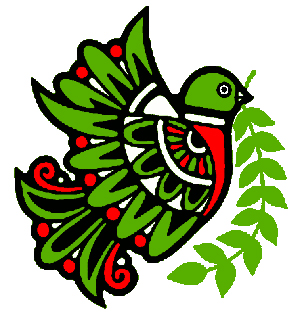 Oberlin Students for a Free Palestine (SFP) will be holding a solidarity fast from May 7 to May 11. This action is intended to raise awareness of the two thousand plus Palestinian prisoners who are currently on hunger strike in Israeli administered prisons.
Palestinian hunger strikers are refusing food in order to protest the Israeli government's ongoing unjust practices and to focus international attention on these violations, including violent arrests, imprisonment outside of the occupied territories, solitary confinement, denial of access to medical care, torture, and the policy of administrative detention which enables Israel to hold prisoners indefinitely without a charge and without any access to a trial.
In particular two individuals have emerged as leaders of this movement, Khader Adnan and Hana Shalabi, both of whom have spent years of their lives in and out of Israeli prisons under the administrative detention policy. Neither were ever charged with committing a crime, yet they were both forcibly separated from their families and communities. Although they have both been released in recent weeks, hundreds of their fellow prisoners remain on hunger strike and even more remain in administrative detention, including two hundred and three children.
These hunger strikes are a part of a deeper history of Palestinian non-violent resistance to Israel's occupation and appropriation of Palestinian land. This tactic was used widely during the first Intifada in concert with consumer boycotts, labor strikes, and popular demonstrations.
These hunger strikes are also part of a wider history of liberation struggles throughout the world. Many people are familiar with those carried out in Northern Ireland in the 1980s by Irish Republican Army (IRA) prisoners such as Bobby Sands, but hunger strikes have also been used in situations around the world, including detainees at the U.S. prison in Guantánamo Bay, prisoners in solitary confinement in Pelican Bay, California, La Mujer Obrera from El Paso, in addition to many other activists and prisoners whose efforts are less widely recognized. Currently this tactic is being used by political protesters in the uprisings in the Middle East and North Africa, such as Abdulhadi al-Khawaja in Bahrain who has been on hunger strike since February 8.
In solidarity with these prisoners, members of Students for a Free Palestine and other organizations, including Student Labor Action Commission, Filipino American Students Association, the Middle East Peace Forum of Northeast Ohio, Al-Awda of Cleveland, the Greater Cleveland Arab Americans Association, and many individuals have chosen to undertake fasts where they will not eat any food for a day.
In an effort to educate and engage students in dialogue about this action, SFP will set up tables around campus to be available for conversation. We hope this initiative will give Oberlin students a greater awareness of the many instruments of repression Israel employs to suppress Palestinian freedom and to perpetuate the illegal occupation. We also hope to make people aware of some of the creative, resourceful and nonviolent ways that Palestinians have adopted in order to resist this oppression and demand their freedoms. […]
UCLA Meeting: From Palestine to Pelican Bay
On May 3, join Students for Justice in Palestine at UCLA for a panel discussion with Professor Jordan Camp and Rana Sharif! Co-Sponsored by MEChA Community and Labor and the Incarcerated Youth Tutorial Project!
Currently, there are over 7.3 million adults in the United States who are in jail and prison, or are on parole or probation, more than any other country in the world. Since the 1960s, incarceration has sourced to over two million people. Prisoners are disproportionately the poor, African Americans and Latinos. However, this racial disparity is not only witnessed in the United States. Thousands upon thousands of Palestinians, activists, leaders, freedom fighters, have been held as political prisoners, detained, tortured, separated from their families and loved ones, at the mercy of a racist state dedicated to their eradication as a nation. Nevertheless, Palestinian political prisoners have been a backbone of the Palestinian national movement, persevering and remaining steadfast and firm in their commitment to the Palestinian struggle for liberation and return, and persevering despite the worst tortures and persecution to remain fighters, leaders, and activists.

[TOP]
---
The Massive Palestinian Hunger Strike: Traveling Below the Western Radar
U.S. Professor Richard Falk, UN Special Rapporteur for Palestinian Human Rights,
May 3, 2012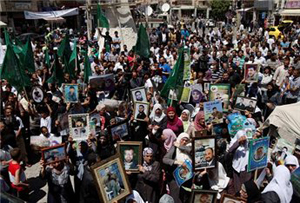 Can anyone doubt that if there were more than 1300 hunger strikers in any country in the world other than Palestine, the media in the West would be obsessed with the story? It would be featured day after day, and reported on from all angles, including the severe medical risks associated with such a lengthy refusal to take food. At this time two Palestinians who were the first to start this current wave of resistance, Thaer Halaheh and Bilal Diab, entering their 64th day without food, are reported by the prisoner protection association, Addameer, and the NGO, Physician for Human Rights-Israel, to be in critical condition with their lives hanging in the balance. Despite this dramatic state of affairs there is scant attention in Europe, and literally none in North America.
In contrast, consider the attention that the Western media has devoted to a lone blind Chinese human rights lawyer, Chen Guangcheng, who managed to escape from house arrest in Beijing a few days ago and find a safe haven at the U.S. Embassy. This is an important international incident, to be sure, but is it truly so much more significant than the Palestinian story as to explain the total neglect of the extraordinary exploits of these thousands of Palestinians who are sacrificing their bodies, quite possibly their lives, to nonviolently protest severe mistreatment in the Israeli prison system. Except among their countrymen, and to some extent the region, these many thousand Palestinian prisoners have been languishing within an opaque black box ever since 1967, are denied protection, exist without rights, and cope as best they can without even the acknowledgement of their plight.
There is another comparison to be made. Recall the outpouring of concern and sympathy throughout the West for Gilad Shalit, the Israeli soldier who was captured on the Gaza border and held captive by Palestinians for five years. A powerful global campaign for his release on humanitarian grounds was organized, and received constant reinforcement in the media. World leaders pleaded for his release, and Israeli commanding officers even told IDF fighting forces during the massive attacks on Gaza at the end of 2008 that killed more than 1450 Palestinians that their real mission was to free Shalit or at least hold accountable the entire civilian population of Gaza. When Shalit was finally released in a prisoner exchange a few months ago there was a brief celebration that abruptly ended when, much to the disappointment of the Israeli establishment, Shalit reported good treatment during captivity. Shalit's father went further, saying if he was a Palestinian he would have tried to capture Israeli soldiers. Not surprisingly, Shalit, instead of being revered as an Israeli hero, has quietly disappeared from public view.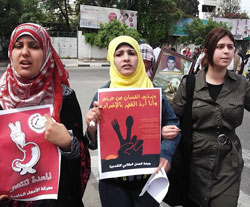 This current wave of hunger strikes started on April 17, Palestinian Prisoners' Day, and was directly inspired by the recently completed long and heroic hunger strikes of Khader Adnan (66 days) and Hana Shalabi (43 days) both of whom protested against the combination of administrative detention and abusive arrest and interrogation procedures. It should be understood that administrative detention is validated by secret evidence and allows Israel to imprison Palestinians for six months at a time without bringing any criminal charges, with terms renewable as they expire. Hana Shalabi was among those released in the prisoner exchange, but then barely recovering from her prior detention period, was rearrested in a night arrest raid, and sentenced once again to a term of confinement for four months. Or consider the experience of Thaer Halahla, eight times subject to administrative detention for a total of six and a half years.
Both Mr. Adnan and Ms. Shalabi were released by deals negotiated at a time when their physical survival seemed in doubt, making death seem imminent. Israel apparently did not want to risk a third Intifada resulting as a reaction to such martyrdom. At the same time Israel, as usual, did not want to seem to be retreating, or draw into question its reliance on administrative detention and imprisonment. Israel has refused, until the present, to examine the grievances that gave rise to these hunger strikes.
In Hana Shalabi's case her release was coupled with a punitive deportation order, which cruelly confines her to Gaza for the next three years, away from her family and the familiar surroundings of her home village of Burqin near Jenin in the West Bank. There are some indications that Ms. Shalabi was not fully informed about the deportation feature of her release, and was manipulated by prison authorities and the lawyer representing her interests. The current hunger strikers have been offered similar conditional releases, but have so far steadfastly refused to resume eating if it led to deportation or exile.
At this time it is unclear how Israel will respond. There is a fierce struggle of wills between the strikers and the prison authorities, between those with the hard power of domination and those with the soft power of moral and spiritual courage. The torment of these striking prisoners is not only a consequence of their refusal to accept food until certain conditions are met. Israeli prison guards and authorities are intensifying the torments of hunger. There are numerous reports that the strikers are being subjected to belittling harassment and a variety of punishments, including solitary confinement, confiscation of personal belongings, denial of family visits, denial of examination by humanitarian organizations, and a hardhearted refusals to transfer medically threatened strikers to civilian hospitals where they could receive the kinds of medical treatment their critical conditions require.
The Israeli response to the hunger strikes is shocking, but hardly surprising, within the wider setting of the occupation. Instead of heeding the moral appeal implicit in such extreme forms of resistance, there are widespread reliable reports of punitive responses by Israeli prison authorities. Hunger strikers have been placed in solitary confinement, held in shackles despite their weakened conditions, denied family visits, had personal belongings confiscated, were subjected to harassing comments by guards intended to demoralize.
Israeli media has generally taken a cynical attitude toward the strikes, suggesting that these hunger strikers are publicity seeking, aiming to receive "a get out of jail free" card, and deserve no empathy even if their life is in jeopardy because they voluntarily gave up food by their own free will, and hence Israeli prison authorities have no responsibility for their fate. Some news reports in Israel have speculated about whether if one or more hunger strikers dies in prison it will spark an uprising among the Palestinians, but this is less an expression of concern or a willingness to look at the substantive issues than it is a source of worry about future stability.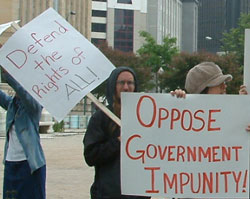 Broader issues are also at stake. When in the past Palestinians resorted to violent forms of resistance they were branded by the West as terrorists, their deeds were covered to bring out sensationalist aspects, but when Palestinians resort to nonviolent forms of resistance, whether hunger strikes or BDS [Boycott, Divest, Sanctions] or an Intifada, their actions fall mainly on deaf ears and blind eyes, or worse, there is a concerted propaganda spin to depict the particular tactic of nonviolent resistance as somehow illegitimate, either as a cheap trick to gain sympathy or as a dirty trick to destroy the state of Israel.
All the while, Israel's annexationist plans move ahead, with settlements expanding, and now recently, with settler outposts, formerly illegal even under Israeli law, being in the process of being retroactively legalized. Such moves signal once and for all that the Netanyahu leadership exhibits not an iota of good faith when it continues to tell the world that it is dedicated to negotiating a peace treaty with the Palestinians. It is a pity that the Palestinian Authority has not yet had the diplomatic composure to call it quits when it comes to heeding the calls of the Quartet for a resumption of direct talks. It is long past time to crumble the bridge to nowhere.
That rock star of liberal pontificators, Thomas Friedman, has for years been preaching nonviolence to the Palestinians, implying that Israel as a democratic country with a strong moral sensitivity would yield in the face of such a principled challenge. Yet when something as remarkable as this massive expression of a Palestinian commitment to nonviolent resistance in the form of this open-ended hunger strike, dubbed 'the war of empty stomachs,' takes place, Friedman along with his liberal brothers is stony silent, and the news sections of the newspaper of the New York Times are unable to find even an inch of space to report on these dramatic protests against Israel's use of administrative detention and abusive treatment during arrest, interrogation, and imprisonment. Shame on you, Mr. Friedman!
Robert Malley, another influential liberal voice who had been a Middle East advisor to Bill Clinton when he was president, while more constrained than Friedman, suggests that any sustained display of Palestinian nonviolence if met with Israeli violence would be an embarrassment for Washington. Malley insists that if the Palestinians were to take to the streets in the spirit of Tahrir Square, and Israelis responded violently, as the Netanyahu government certainly would, it "would put the United States in an acute dilemma about how to react to Israel's reaction."
The dilemma depicted by Malley derives from Obama's constant encouragement of the democratic aspirations of a people who he has repeatedly said deserve their own state on the one side and the unconditional alignment with Israel on the other. Only a confirmed liberal would call this a genuine dilemma, as any informed and objective observer would know that the U.S. Government would readily accept, as it has repeatedly done in the past, an Israeli claim that force was needed to maintain public order. In this manner, Palestinian nonviolence would be disregarded, and the super-alliance of these two partners in crime once more reaffirmed.
Let there be no mistake about the moral and spiritual background of the challenge being mounted by these Palestinians. Undertaking an open ended hunger strike is an inherently brave act that is fraught with risks and uncertainties, and is only undertaken as an expression of extreme frustration or acute deprivation. It is not an act undertaken lightly or as a stunt. For anyone who has attempted to express protest in this manner, and I have for short periods during my decade of opposition to the Vietnam War, it is both scary and physically taxing even for a day or so, but to maintain the discipline and strength of will to sustain such a strike for weeks at a time requires a rare combination of courage and resolve. Only specially endowed individuals can adopt such a tactic. For a hunger strike to be done on such a scale of collective action not only underscores the horrible ordeal of the Palestinians that has been all but erased from the political consciousness of the West in the hot aftermath of the Arab Spring.
The world has long refused to take notice of Palestinian one-sided efforts over the years to reach a peaceful outcome of their conflict with Israel. It is helpful to recall that in 1988 the PLO officially accepted Israel within 1967 borders, a huge territorial concession, leaving the Palestinians with only 22% of historical Palestine on which to establish an independent and sovereign state. In recent years, the main tactics of Palestinian opposition to the occupation, including on the part of Hamas, has been to turn away from violence, adhering to a diplomacy and practice that looked toward long-term peaceful coexistence between two peoples.
Israel has not taken note of either development, and has instead continuously thrown sand in Palestinian eyes. The official Israeli response to Palestinian moves toward political restraint and away from violence have been to embark upon a program of feverish settlement expansion, extensive targeted killing, reliance on excessive retaliatory violence, as well as an intensifying oppressiveness that gave rise to these hunger strikes. One dimension of this oppressiveness is the 50 percent increase in the number of Palestinians held under administrative detention during of the last year, along with an officially mandated worsening of conditions throughout its prison system.

[TOP]
---

Ohio State Prison Hunger Strike
Enters Second Week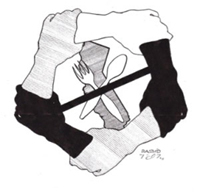 Prisoners at Ohio State Penitentiary (OSP) continue the hunger strike they started on Monday, April 30, in solidarity with May Day. The number of prisoners refusing food has fluctuated from 24 to 48 over the last week, as some prisoners joined late. Communication with the supermax prisoners has been limited since the beginning of the strike, but a clear list of grievances and demands has emerged from at least two sources.
The two primary demands are:
1. Improved commissary practices and increased state pay. The prison commissary can set prices at up to 35 percent mark-up on basic necessities like shampoo, food and soap. These prices fluctuate unexpectedly and are often prohibitive to prisoners without outside support. State pay is only $9 a month.
2. A transparent and accountable security level classification process. OSP houses level 4 and 5 prisoners, the highest security level in Ohio. Once prisoners are classified at these levels and transferred to OSP, there is no clear process for how they can reduce their level and get transferred out of the facility. Prisoners can spend years in OSP without any negative conduct reports and still have no hope of their level being reduced.
Other grievances include:
1. Food portions and quality have been reduced due to austerity measures.
2. Inadequate medical care. Also due to austerity cuts, prison officials have stopped sending prisoners to outside treatment centers for MRIs and EEGs unless their conditions are considered life threatening. They also often ignore doctor recommendations for pain medications.
3. Lack of enrichment programming. There are strict bans on many books and movies, and the institutional television channel has little variety. One prisoner said they run the same programs on a loop every six months.
The two sources for these demands are an open letter written to the local Youngstown paper by prisoner Marcus Harris and phone conversations with a trusted anonymous source inside the prison. This source also stated that at least one hunger striker has been punished for his participation, sprayed with mace in his cell and sent to disciplinary isolation. This report has not yet been confirmed.
Warden David Bobby met with hunger strike representatives for three hours on Wednesday, May 2. He says he will "continue to communicate with the inmates and listen to their concerns." Thus far, the warden has called a committee to review commissary practices, comparing them with other Ohio institutions.
He says that the security level classification system is not uniform because it takes the reasons a prisoner was transferred to OSP into account. One prisoner source was familiar with this argument. He described a situation where someone got sentenced to Level 5 (the worst) at OSP for 48 months or less. He got no negative reports for those 48 months but was still denied a security transfer because of "the reasons he was originally classified Level 5, but they already knew that when the brought him in and told him it'd be 48 months or less."
This prisoner also said that consequences for petty conduct reports, like refusing to cuff up or return a food tray, have recently increased. "Someone who used to be sent to the hole for 16 days now might be dropped a level from 4 to 5."[…]
The warden said OSP currently has the most prisoners it has since it opened in 1996. He also said the current hunger strike is the biggest hunger strike since he became warden four years ago. It is also the second hunger strike this year.
In February, 25 prisoners went on hunger strike for three days. Two major demands from that hunger strike were increased recreation time, to the court required minimum of five hours a week, and improved commissary practices. The recreation time demand was met, but the prisoners say the current hunger strike "follows directly" from the neglected commissary demand from February. The warden says he does not remember what the demands in February were and that the recreation schedule has changed repeatedly since the transfer of death row from OSP to Chillicothe last December.
Prisoner Mark Harris' letter ends: "In short, we are sensory deprived, underfed, isolated with little to no movement, unable to hug our children, family and friends, and we are stuck for an overly extended period of time with limited programming." He requests that people use "whatever resources [they] have to help spread the word of our cause, to call and check up on us and our health and also to look into these matters."
To reach Warden David Bobby, call (330) 743-0700. ODRC Director Gary Mohr can be reached at (614) 752-1164.

[TOP]
---

Torture of Solitary Used Against Teenagers
There are thousands of youth under 18 that are being kept in solitary confinement in U.S. and state prisons across the country. The UN has called for a complete ban on use of solitary for teenagers and numerous court cases are underway demanding an end to such torture. Youth 13-years old, already in adult prisons, have been subjected to this torture. Solitary confinement is a crime of torture by the government that must be outlawed and those imposing it punished.
Solitary confinement is harmful and inhuman for people of any age, but it is especially damaging to youth. As evidence, while youth in solitary are a relatively small percentage of the total population of juvenile facilities, they account for more than half of the suicides.
Recognizing these dangers, a policy statement calling for ending solitary for juveniles was recently issued by the American Academy of Child and Adolescent Psychiatry, representing more than7,500 child and adolescent psychiatrists and other interested physicians. West Virginia recently announced a state-wide ban on the practice.
The United Nations has established minimum standards for the protection of youth in correctional facilities, which specifically prohibit solitary confinement. The United Nations Special Rapporteur on Torture said solitary confinement can amount to torture and called for a complete ban on solitary for juveniles.
[TOP]
---