Philadelphia Eliminating Public School System
Public Education Serves the Public Interest and Needs to be Renewed, not Destroyed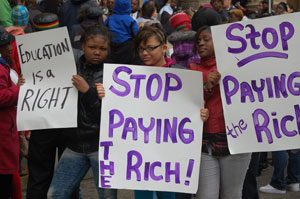 The system of public education is under attack across the country, including that in Philadelphia where 64 schools are to be closed and the public school district eliminated. The federal government is leading these attacks, organizing to impose changes in governance using testing regimes, teacher evaluation schemes and various blackmail concerning receiving federal funds. All are designed to wreck public education.
Students, teachers and parents are demanding instead that public education be renewed — changed to raise its quality and advance an aim serving the public, which is education for enlightenment, for guaranteeing our youth are armed to contribute to solving social problems and engaged in the struggle for the progress of society.
The attack on the Philadelphia public school system is one of the more recent examples. The Philadelphia school district is the eighth largest public education system in the country, and includes approximately 249 schools overall. At the end of April, the School Reform Commission (SRC) of Philadelphia — a body jointly appointed by the state governor (currently Republican Tom Corbett) and the mayor (Democrat Michael Nutter) — announced its decision to dismantle the public school system.
Forty schools will be shut at the start of the 2013-2014 school year, though only the SRC knows which ones they will be. There will be six additional closings made in each of the following years, making 64 schools closed over five years. Teacher contracts are to be torn up, with $156 million in wage and benefit cuts demanded. Knudsen threatened to outsource all custodial, maintenance and transportation work to private companies unless union workers agreed to do the work for less than these companies pay, which often is minimum wage and few if any benefits. About 2700 staff are expected to be laid off or face cuts of $20,000 a year in wages and benefits. The number of teacher layoffs remains unclear.
Like most of the attacks on public education across the country, it is being done in the name of "no money" and "balancing the budget." It is well-known that there are always funds when it comes to paying the rich and funding the unjust wars of the rich. Taxpayers in Philadelphia, for example, have sent more than $5,250,000,000 for unjust wars since 2001. They will send the Pentagon $2.2 billion for just 2012 alone, a fraction of the so-called deficit of about $200 million supposedly facing the schools.
The attacks on the Philadelphia system are serving the demands of private interests to have more direct control over education — through eliminating local governance and increasing federal and private governance. Chief Recovery Officer Thomas Knudsen outlined the overall plan, emphasizing it represents a "breaking apart of the district," along "market lines." Consistent with the federal demand that education serve to produce students able to "compete and succeed in the global economy," the schools are to be organized using a "service delivery" model.
In addition to closing one-fifth of the schools, the rest of the school district will be broken up into "achievement networks" made up of 20-30 schools presided over by officials with individual contracts with the SRC, based on strict "performance" criteria, which are dictated mainly by the federal government. The number of students in privately run charter schools that are publicly funded will increase from 25 to 40 percent of schools by 2017.
The "networks" and charter schools combined means there will be different curriculum, different standards for teachers, different acceptance requirements, different conditions for learning in each of the networks and charter schools. There is not a single common district with a central public body responsible for education. Instead there is the appointed state body, the SRC. Consistent with this, the existing central office is again being cut in half. There was a staff of 1,100 in 2010, cut to 600 and now to 250 for the coming year. It has also been stripped of most of its powers.
The plan serves to further undermine the concept that public education is to serve the public and that there must be government accountability for providing the right to education. Knudsen brought this out when he said, concerning providing education, that "There are other people out there who do these things, if not better, then at least less expensively." "The things that other networks do in other parts of the country," said Knudsen, "is that these networks attract resources."
Philadelphia schools are expected to panhandle for donations from the rich and submit to whatever dictate they impose. Private interests are to dictate public education entirely in their interests, setting "product specifications" for students as though they were products, not human beings. Schools are to be geared to training satudents to fill specific jobs, not providing the enlightenment necessary for youth to play their role in contributing to the progress of society. The government is to act to provide whatever funds and content these private interests demand. Public interest, the rights of students and teachers, the path of enlightenment, all are being eliminated.
Society faces urgent problems that must be solved. Youth and their education are a critical element in solving problems and advancing society. Renewing and modernizing public education is a necessity, a public right that is being defended by youth and teachers in Philadelphia and across the country. Let all step up this fight to defend public right and advance the public interests against monopoly right.

[TOP]
---
Winning the "Global Competition" Must Be Rejected as the Purpose of Education
Claiming to represent the views of teachers on the occasion of teacher appreciation week, Secretary of Education Arne Duncan said: "Nothing is more important than preparing our children to compete and succeed in the global economy."
The purposes for which schools are designed structures educational experiences; it structures the curriculum, the approved teaching methods, and the culture of school, etc. To understand the significance of Mr. Duncan's assertion regarding the aim for schooling, the content of "compete and succeed in the global economy" must be spelled out: it means empire building in social, psychological, economic and political terms.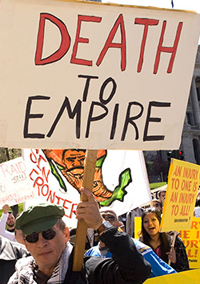 As a result of the collapse of the bi-polar division of the world (the so-called end of communism) Duncan and the social class he represents have been working feverishly over the past decades to establish a new equilibrium in favor of the U.S., its "allies" and "corporate partners" as global tensions mount and the U.S. strives to "stay on top" by "any means necessary." This means war by economic, political, psychological and of course military means. (No wonder Collin Powell and allies want the Department of Defense to have a role in collecting and analyzing data related to the Common Core.) Note the "Go USA" tone of the so-called RESPECT project, which is to mobilize support from the teaching profession to restructure education to serve the aim of "global competition" (as if one becomes a teacher to take up the chauvinist aim of beating down and oppressing Indian, Chinese, German or Finish children).
In order for these objectives to be realized in the current historical conditions, public schooling must be altered or eliminated all together; cheapened so that the resources can go directly to "winning the war," while the character of the schooling must be narrowed and altered such that it prepares young people to submit to and serve this aim (or else be subject to even more "incentives," "accountability" and "competitive grants").
The aim of "winning the global competition" does not represent the interests of teachers, students, parents and their communities or the society as a whole. In other words, it does not serve the public interest. No amount of double-speak about "respect" for teachers can change the fact that the aims set for education by the so-called reformers are diametrically opposed to the general welfare, general interest, general well being of the people. The more these aims are served, the more intolerable the conditions in schools will become.

[TOP]
---
Philly Teachers Protest School Closures and Attacks on Rights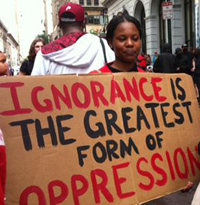 The Philadelphia Federation of Teachers union set up "informational picket lines" at city schools May 12 to oppose the plan to close 40 scores next year. The teachers opposed the school closings and denounced the fact that teachers, parents and students are being kept in the dark as to which schools will close. The teachers are calling for "Fight Back Friday," a day to provide information about the closures and attacks on teachers imposed by the plan and encourage resistance to the attacks. The union is planning actions every Friday until the proposal is defeated. On May 12 union members fanned out across the city, picketing at schools from about 7:45 a.m. to 8:15 a.m. […]
The Philadelphia School District's chief recovery officer, Thomas Knudsen is proposing a total overhaul of how schools are organized and run. More students would be shifted to charter schools, and the central office would be shrunk, with district schools managed by staff or outside organizations that bid to run them. While 40 schools are set to close, Knudsen has not identified any of them and has said he will not do so until late summer or early fall. This keeps teachers, parents and students in an uncertain position, with no one knowing where they may be working or going to school.
The union has 15,000 members, many of whom carried signs and handed out leaflets to inform parents about the closings and additional dangers of the plan. These include attacks on bargaining rights, elimination of existing contracts, elimination of existing standards for teachers, different curricula in the various schools that are privately run but publicly funded, and so forth. The lack of public accountability by government, as already witnessed by the failure to even inform people as to which schools will close and which will become charters, is another major concern.

[TOP]
---
Residents and Churches Criticize Transformation Plan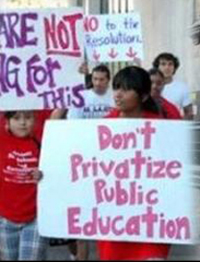 Several hundred people gathered at historic Mother Bethel AME Church on Lombard Street on April 29 to decry plans put forward by District staff and consultants to close dozens of schools, expand charters, and reorganize the School District into "achievement networks" primarily run by private entities.
A succession of preachers roused the gathering and put public officials on notice that their voices would be heard before any such radical restructuring would be allowed to take place. "This system is being designed to fail, and fail our children," said the Rev. Kevin Johnson of Bright Hope Baptist Church.
The meeting was organized by POWER Philadelphia, a faith-based organizing group doing work around several issues including education. Many of the speakers invoked the language of civil rights and called the plan the new Jim Crow, destined to consign Black and Latino children to permanent second-class educations. "The most important civil rights issue of our time, that is public education," said Johnson.
Pastor Mark Tyler of Mother Bethel said that Mayor Nutter, School Reform Commission Chair Pedro Ramos, and Chief Recovery Officer Thomas Knudsen had all been invited, but declined to attend. "It's a shame they're not here," he said. "But this is just a first step for us."
POWER plans a continued advocacy effort to increase parental and community involvement in the plan, which calls for the closing of 40 schools next year and closing a total of 64 schools in five years.
"We are not going to tolerate anyone trying to dictate to us what happens to our young people," said the Rev. Dwayne Royster, executive director of POWER. "We will fight like hell to make sure the transformation – there's no doubt transformation in the School District of Philadelphia must occur – not be on the backs of children."
Knudsen has said that the District is facing at least a $218 million deficit next year and will undoubtedly need to borrow money to avoid bankruptcy. He has said that his plan, developed with the help of the Boston Consulting Group, is the best hope of satisfying potential lenders.
The sentiment at the POWER meeting, however, was that the notion that the District must adopt this plan in order to "live within our means" is acquiescence to making Philadelphia children second-class citizens.
"There is a big difference between a short-term financial crisis and a permanent state of penury and poverty," said Helen Gym, a founder of Parents United for Public Education. She pointed out that Lower Merion spends twice as much per student as Philadelphia – and that most city schools already lack libraries, full-time nurses, sufficient books, and other amenities taken for granted elsewhere.
Several speakers called the new plan déjà vu, reminiscent of the move to turn over low-performing schools to private managers that followed the state takeover of the District 10 years ago – also done in the wake of a financial crisis.
"They are intent on privatization," said public school parent Susan DeJarnatt, a law professor who has written an article to be published in Urban Lawyer questioning accountability for charter schools. "This is just wrong, and we've got to do something to stop it." […]
"Public education is not to be monetized, it is not to be privatized. It's our most precious public good," Jeff Hornstein of the Queen Village Neighborhood Association said. "It is not a commodity."

[TOP]
---
Response to School District Transformation Proposal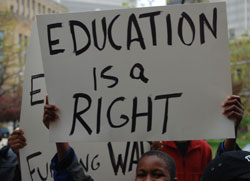 As student organizations in this city we are deeply concerned about the proposal today to completely overhaul our District. While we understand the budget shortfalls, we question the political motivations behind the District's decisions and their impacts on young people. On its surface this proposal seems like yet another attempt to privatize our schools. We saw what happened with [private Charter School company] Edison in 2002 and do not want to see other unaccountable entities taking over the most important role of our School District — that of running our schools.
Already we find ourselves in a district with a variety of providers and we have seen the results: warehousing students with the greatest need in the most under-funded schools. We are tired of the District using the language of improving our schools as an excuse to cut more programs, and staff. Cuts do not equal success and this model is not sustainable.
If the District wants to use New York as an example then we should look at the warnings: New York City schools have trended negatively since Mayor Bloomberg's education policies were implemented; in 2011 NYC schools came in second to last in achievement among major cities. According to NYC Department of Education (DOE) data, only 23 percent of NYC's high school students graduate college ready; with Black and Latino youth that number drops to 13 percent.
We are committed to participating in the community engagement sessions that are to come and hope that the District is serious about hearing our concerns and taking the voice of students seriously. Given our history with this District, however, we are concerned that this will be another sham of community engagement. We have too much experience of having student input asked for and then ignored.
We want community involvement in creating real school transformation that goes beyond Renaissance and Charter models. We want community involvement when decisions are being made about school closures to ensure staff and programs that work are not decimated. We want a clear process by which schools are given support, not just a mandate to immediately improve or close. We want to know how "Achievement Networks" will be held accountable to providing the best services and supports to our schools. We want investment in teachers, counselors, restorative practices, and programs and curriculum that support students in moving to college or career.
We are counting on the School District, City Council, and members of the community to not sell our education to the highest bidder or hand-off responsibility to unaccountable organizations but rather to live up to the promise of safe, high quality schools that truly educate ALL of Philadelphia's students, not just the ones in schools that can compete for and negotiate the best deals.
April 24, 2012

[TOP]
---
Private Interests and School Reform:
It is Time to Fight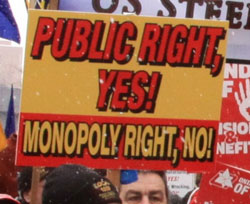 Last week, the Philadelphia School District announced plans to completely overhaul itself and close more than 40 public schools next year. By closing the schools, for what it describes as considerable financial, academic, and safety concerns, the district claims that it will be able to restructure in ways that are more effective and efficient.
While not surprising, given our city's consistent bungling of education reform over the past two decades, this move was nonetheless disturbing for many reasons.
It is difficult to imagine how the district can justify such a sweeping change without consulting parents, teachers, community groups, leaders or outside educational experts. While none of these parties truly matters within the current age of educational entrepreneurialism, the fact that the district didn't even pretend to care is an index of the city's growing indifference to anything or anyone that does not generate profit.
Also, given the absence of a permanent superintendent, this move seems hasty and completely unrelated to legitimate academic concerns.
But, of course, the dismantling of public education in Philadelphia has nothing to do with academic achievement. It has to do with satisfying the motives of corporate profiteers and shameless politicians. These proposed school closings are a clear pathway to delivering nearly half our city's students to the charter-school movement, which has become the latest and most popular shell game in education.
Let me be clear: I am not dissing charter schools out of hand. There are, in fact, many effective and successful charter schools around the city and the country. At their best, charter schools are laboratories of innovation whose insights can be brought back to traditional public schools for the good of everyone.
In the current moment, however, charter schools have become sites of economic exploitation and political opportunism. Corporate honchos are taking advantage of the New Markets Tax Credit, which gives federal tax breaks for new charter-school construction. Once the buildings are constructed, they're rented out to public-school districts at exorbitant rates. For teachers, charter schools signal the end of intellectual freedom, collective bargaining, workers' rights and stable careers. Like prisons, charter schools have become a cottage industry whose raison d'être is economic rather than educational.
But all this is fair game within the current educational environment, which thrives on the neoliberal belief that the private market is better than the public good. As a result, high-stakes test scores and profit ledgers have become more important than quality teaching and learning.
And, just in case you were wondering, this is not a partisan beef. President Obama, who has offered only tepid critiques of the horrific No Child Left Behind Act and who is largely responsible for the highly destructive Race to the Top program, has consistently bought into the market-based logic of educational reform. The NAACP and National Urban League, which have shown renewed energy in the battle for social equality, have been silent on the issue of the school closings. Unlike nearly every other issue in our country, the dismantling of public education in one of the nation's largest cities has not been an agenda item for anyone on any side of the aisle.
By closing 40 schools, nearly all of which service poor black and poor brown students, the district has effectively sold our children to the highest bidder. Now, the only remaining question is what we're going do about it.
My solution? Organize. Resist. Fight. Otherwise, the private interest will continue to defeat the public good. And there's nothing good about that for our children.
Daily News editor-at-large Marc Lamont Hill is an associate professor of education at Columbia University and host of "Our World With Black Enterprise."

[TOP]
---
Radical District Reorganization, 64 Philadelphia School Closings Planned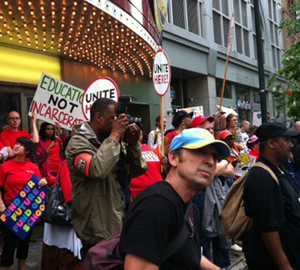 Philadelphia School District staff and consultants are recommending a sweeping overhaul of how public schools in Philadelphia operate, planning to close 64 schools over the next five years and divvy up those that remain among "achievement networks" led by teams of educators or nonprofit institutions.
The "achievement networks" would have 20 to 30 schools each and be connected by either geography or a common, creative approach to teaching and learning. The leaders of the network, who could include successful principals, would have contracts based on performance and be required to serve students of all abilities and situations equitably.
These networks would be in addition to groups of schools run by charter management organizations, or CMOs. The planners expect 40 percent of students to be enrolled in charter schools by 2017.
At the same time, the central office staff, already cut in half this year to about 650 people, would shrink even further to around 200 people and handle "non-core mission" functions such as compliance, finance, communications, government relations, accountability, and strategic planning.
Chief Recovery Officer Thomas Knudsen said that more direct academic services "are now going to be pushed directly into the field," although a document sent by Chief Academic Officer Penny Nixon to principals over the weekend still called for some academic services to run out of the central office. […]
The plan, while saying that it is premised on giving parents more choices, does not include any direct promises that schools will get what most parents say they want – smaller classes, art and music teachers, libraries, nurses, adequate security – all of which has been cut this year. And it relies on being able to attract and keep talented principals and teachers, find the money to properly train and support them, and have the resources to give them the materials they need in the current atmosphere of fiscal austerity.
Knudsen made it clear that the fiscal picture is still uncertain, disclosing that next year's anticipated $186 million "shortfall" has grown to $218 million, due to an adverse state decision about tax assessments. This plan, developed by District teams and the private Boston Consulting Group, "is about the need for fundamental change in education policy and practices, and it's about righting the financial ship and living within our means," Knudsen said. Without action, the cumulative deficit would grow to $1.1 billion by 2017.
In order to balance the budget by 2014, the proposal includes $156 million in savings by restructuring wages and benefits and $149 million in lower charter school payments, caused by the District's 7 percent reduction in per-pupil spending. It would also save $122 million through streamlined operations, including $33 million from closing 40 schools in 2013-14.
On the revenue side, the District is counting on City Council approving a new property tax valuation system to bring in $94 million a year, on getting minimal new money from the state, on income from borrowing, and on being able to work around a recent court decision that could result in uncontrolled charter school growth.
Without that tax assessment change to a so-called "actual value" standard, "we will have enormous, enormous problems," said Knudsen, who briefed City Council on the reorganization. Knudsen also said that these projections assumed no economic recovery.
Specifics of the reorganization are still being worked out, although they are based on five strategies:
• Streamlining achieved by closing schools, modernizing operations, and shrinking the central office;
• Establishing a culture of safety and achievement for all students;
• Promoting equal access to high-quality choices for parents;
• Developing a strong college- and career-ready curriculum, and
• Making the system more responsive to schools and community needs.
Nixon's academic reorganization plan sent to principals does not completely line up with the blueprint laid out by Knudsen, although it is also based on giving schools more autonomy.
Nixon said the highest-performing schools would have control over curricular materials and instructional programs, school climate and safety strategies, professional development, the school budget, and scheduling. A middle group would have the same autonomies, but with additional supports, still required under state law for schools identifying as "needing improvement."
The lowest group – those with scores of 8, 9, or 10 on the School Performance Index – will still get "intensive, targeted support individualized to the needs of the leaders and the school." Now, the interventions are more one-size-fits-all, Nixon said.
The blueprint supports "the city's goals to expand high-performing schools, District and charter, and close or turn around low-performing schools," Nixon said. As District-run schools are closed, the planners expect continued growth of charter schools and charter networks.
"The SRC wants now to look at the entire array of schools – charter, cyber charter, alternative," Knudsen said. "They all are public schools dealt with in a portfolio management process."

[TOP]
---