Defend Prisoners' Rights in Palestine and U.S.
Heroic Palestinian Hunger Strikers Win Concessions on Unjust Detention and Ill-Treatment of Prisoners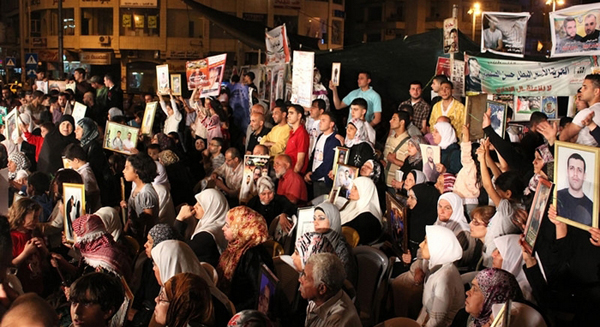 As the Palestinian and world's people prepared to mark the Nakba, May 15, the catastrophe that forced Palestinians from their homeland, Israel was forced to submit to some of the just demands being made by the Palestinian political prisoners. The prisoners launched a mass hunger strike almost one month ago on April 17. What began as an action of some 1,600 prisoners had grown to 2,500 out of the 4,600 total prisoners in Israeli jails.
Voice of Revolution salutes the indomitable courage and great sacrifices and of the Palestinian people, especially the thousands of political prisoners in Israel's jails, who despite difficult circumstances continue to find the ways and means to prevail over the Occupier. Several of the prisoners had been on hunger strike more than 50 days, two more than 70. Their stand was not only against the injustice of solitary confinement and indefinite detention without charges, but also for the rights of all Palestinians.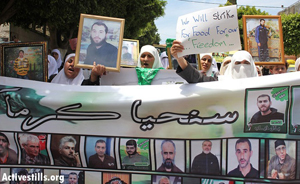 On May 14, Qadura Fares, Head of Palestinian Prisoners' Society, announced that an agreement between the Prisoners' Committee and Israeli Prisons' administration had been signed at Ashkelon Prison, in the presence of the representative of the Egyptian government which brokered the deal. News agencies report that some of the major concessions made by the Israeli authorities include:
• An end to the solitary confinement of all prisoners over the next 72 hours, including Hassan Salameh, Ibrahim Hamed and Abdulla al-Barghouthi.
• Allowing the parents of Palestinian prisoners from the West Bank and Gaza Strip to visit their children in Israeli jails.
• An end to the Shalit Law which was imposed after Israeli soldier Gilad Shalit was captured by Hamas in Gaza Strip in 2006. (The Shalit Law is a form of collective punishment that restricted prisoners' access to families and to educational materials as retaliation for Shalit's five-year captivity in Gaza. Shalit was freed in October 2011 in a prisoner swap agreement.)
• To improve the conditions for prisoners' in all Israeli prisons.
• To provide a list of accusations to those held under "administrative detention" (held without charge or trial based on "security reasons") or release them at the end of their term.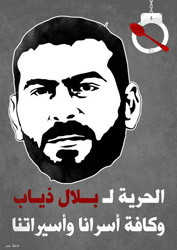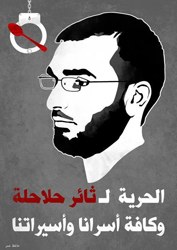 Bilal Diab (left) and Thaer Halahla (right) both were on strike for 78 days
and had wide support for their firn stand
The deal has also been agreed to by those prisoners who have been on long-term hunger strikes that started prior to April 17. Palestinian Prisoners' Society lawyer Jawad Bulous met these six hunger strikers for several hours late Monday. Thaer Halahla, Bilal Diab, Jaafar Izz Addin, Omar Shalal, Mahmoud Sirsik and Hasan Safadi all agreed to end their hunger strikes and be transferred to a civilian hospital in Israel for treatment, he said. Egyptian officials and prisoner representatives from Hamas and Islamic Jihad also witnessed the deal, Bulous told Ma'an News.
The father of Thaer Halahla, 33, told Ma'an his son telephoned him to tell him he agreed to the deal in exchange for release at the end of his current administrative detention term on June 5. Meanwhile, Bilal Diab, 27, phoned his mother to tell her he will be freed at the end of his term on August 17, and had stopped his strike. Jaafar Izz Addin, who held a 54-day hunger strike, informed his family he will stop the strike in exchange for release at the end of his detention term on July 20. Omar Shalal spent 69 days on hunger strike and Hasan Safadi refused food for 71 days. Mahmoud Sirsik, a soccer player from Gaza who refused food for 59 days, will also be released, but Bulous said the date had yet to be clarified.
A sign that a deal was forthcoming took place on May 13, when Israeli authorities finally permitted Bilal Diab, on hunger strike for 78 days, to make a five-minute call to his family for the first time. Diab's brother told media that his brother spoke with a strong voice, confirming that he would continue his hunger strike "until achieving freedom or martyrdom." He conveyed Bilal's thanks to all the Palestinian people for their support of the prisoners' cause. Bilal had recently sent his will to his family. "We will have victory, but only through martyrdom or immediate release — not any partial solution," Bilal wrote. "On the 75th day of my hunger strike, I am still determined, patient and focused," he wrote.
Thaer Halahleh, also on hunger strike for 78 days, in anticipation of his possible death, wrote a letter addressed to his daughter who was born two weeks after he was imprisoned 23 months ago and whom he has never seen. The letter said in part:
"When you grow up you will understand how injustice was brought upon your father and upon thousands of Palestinians whom the occupation has put in prisons and jail cells, shattering their lives and future for no reason other than their pursuit of freedom, dignity and independence."
"You will know that your father did not tolerate injustice and submission and that he would never accept insult and compromise, and that he is going through a hunger strike to protest against the Jewish state that wants to turn us into humiliated slaves without any rights or patriotic dignity."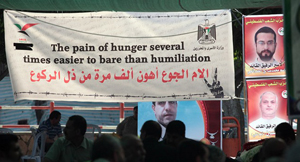 The U.S.-Israeli occupation of Palestine has long been enforced through mass incarceration of those resisting, brutal raids and bombings, stealing of Palestinians lands and bulldozing of homes, forcing more than 5 million people to become refugees. Thousands of Palestinians are unjustly imprisoned for opposing the occupation. Today the hunger strikers are serving to unite Palestinians in the fight for their rights and to inspire peoples worldwide to step up their organized resistance.
These same Palestinian prisoners supported California hunger strikers last year. These California prisoners meanwhile recently rejected proposals by the California Department of Corrections and Rehabilitation (CDCR) and are preparing to resume their hunger strike this summer if their demands are not met. Ohio prisoners also went on hunger strike, starting on May Day, demanding an end to solitary confinement, collective punishment and dignified treatment as human beings. Their strike lasted 8 days and secured some improvements concerning conditions for the prisoners.
As the Palestinians describe their arrests and conditions in Israeli jails, the similarities to the mass racist incarceration and inhuman treatment of U.S. prisoners is striking. Both the U.S. and Israeli jails are used for collective punishment and humiliation and contribute to the genocide imposed on Palestinians and African Americans. They serve as testing grounds for the most horrific treatment and as an instrument to block and stifle resistance. The determined resistance by prisoners is making clear that it is the U.S. and Israel that are the criminals and it is by stepping up defense of rights and organized resistance that the peoples forces are prevailing.

[TOP]
---
What if Kobe Bryant Were an Imprisoned Palestinian Soccer Player?
Dave Zirin, The Nation, Friday, May 11, 2012 12:46
Imagine if a member of Team USA Basketball — let us say Kobe Bryant — had been traveling to an international tournament only to be seized by a foreign government and held in prison for three years without trial or even hearing the charges for which he was imprisoned. Imagine if Kobe was allowed no visitation from family or friends. Imagine if he was left no recourse but to effectively end any future prospects as a player by terminating his own physical health by going on a hunger strike. Chances are we would notice, yes? Chances are the story would lead SportsCenter and make newspaper covers across the world. Chances are all the powerful international sports organizations — the International Olympic Committee, FIFA (International Soccer Federation) — would treat the jailing nation as a pariah until Kobe was free. And chances are that even Laker-haters would wear buttons that read, "Free Kobe."
This is what has happened to Palestinian national soccer team member Mahmoud Sarsak. Sarsak, who hails from Rafah in the Gaza Strip, was seized at a checkpoint on his way to a national team contest in the West Bank. This was July 2009. Since that date, the 25-year-old has been held without trial and without charges. His family and friends have not been permitted to see him. In the eyes of the Israeli government, Sarsak can be imprisoned indefinitely because they deem him to be an "illegal combatant" although no one — neither family, nor friends, nor coaches — has the foggiest idea why. Now Sarsak is one of more than 1,500 Palestinian prisoners on a hunger strike to protest their conditions and lack of civil liberties. As the New York Times wrote last week, "The newest heroes of the Palestinian cause are not burly young men hurling stones or wielding automatic weapons. They are gaunt adults, wrists in chains, starving themselves inside Israeli prisons." […]
His family does not understand how someone, whose obsession was soccer, not politics, could be targeted and held in such a manner. But in today's Israel/Palestine, soccer is politics. Sarsak is only the latest Palestinian player to be singled out for harassment or even death by the Israeli government. In 2009, three national team players, Ayman Alkurd, Shadi Sbakhe and Wajeh Moshtahe, were killed during the bombing of Gaza. The National Stadium as well as the offices of the Palestinian Football Association were also targeted and destroyed in the Gaza bombing. In addition, their goalie, Omar Abu Rwayyis, was arrested by Israeli police in 2012 on "terrorism charges." If you degrade the national team, you degrade the idea that there could ever be a nation.
More than police violence is a part of this process of athletic degradation. Currently the Palestinian soccer team is ranked 164th in the world and they have never been higher than 115th. As one sports writer put it delicately, "Given the passion for football that burns among Palestinians, such lowly status hints at problems on the ground."
These problems on the ground include curfews and checkpoints in the West Bank and Gaza that often mean the forfeiting of matches. If Palestinians living in Israel's borders want to play for the team, they have to give up any benefits of Israeli citizenship. The end result is that the Palestinian national team becomes dependent on the Diaspora, relying heavily on Palestinians who have lived for two and three generations in South America and Europe. […]
In 2010, Michel Platini, president of European football's ruling body —Israel plays in the European qualifiers — threatened Israel with expulsion from FIFA if it continues to undermine football in Palestine. Platini said, "Israel must choose between allowing Palestinian sport to continue and prosper or be forced to face the consequences for their behavior." Yet Platini never followed through on threats and quite the opposite, awarded Israel the 2013 Under-21 European Championships.
On Wednesday, the British organization Soccer Without Borders, said that they would be calling for a boycott of the tournament, writing:
Football Beyond Borders, a student-led organization which uses the universal power of football to tackle political, social and cultural issues, stands in solidarity with Mahmoud Sarsak and all of the Palestinian political prisoners currently being detained by Israel on hunger strike, as together we protest the injustices being inflicted upon Palestinian prisoners in Israel, and draw attention to their plight. [We] take this opportunity to announce our official boycott of the UEFA 2013 Under-21 European Championships, which Israel has been awarded the honor of hosting.
Soccer Without Borders joined forty-two football clubs and dozens of team captains, managers and sports commentators in Gaza who submitted a letter to Platini in 2011 demanding that European football's governing body reverse its decision to allow Israel to host the under-21 tournament.
Amidst all this tumult is Mahmoud Sarsak, a threat for reasons no one can comprehend and Israel will not reveal. As long as Sarsak remains indefinitely detained and as long as Israel targets sport and athletes as legitimate targets of war, they have no business being rewarded by FIFA or the UEFA, let alone even being a part of the community of international sports. If Sarsak is to see the inside of a courtroom and if Israel is to, as Platini said, "face the consequences for their behavior," silence is not an option. After all, even a Celtic fan would surely agree, we would do it for Kobe.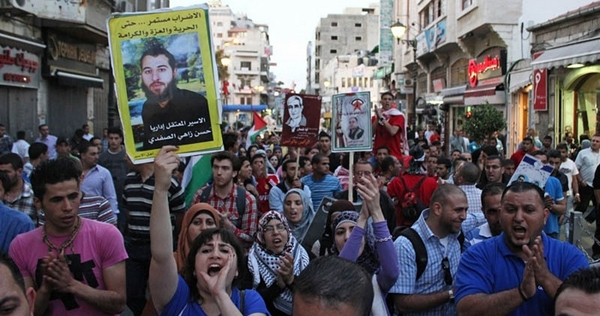 Ramallah rally for hunger-striking prisoners, May 5, 2012. (Activestills)
[TOP]
---
Ohio State Prison Hunger Strike Ends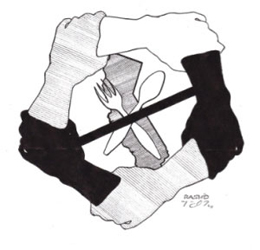 On May 7, the prisoners at Ohio State Penitentiary (OSP) ended their hunger strike. After long negotiations with Warden David Bobby, the hunger-striking prisoners at Ohio State Penitentiary (OSP) began eating again. Two of the men held out through Tuesday May 8, unsatisfied with the agreement. The warden met with them separately, and they agreed to come off the strike. Warden Bobby reported May 8 that "by lunch time today, everyone was eating." This was confirmed by two prisoner sources.
At this point, details on agreements are unclear, but sources inside say that the hunger strikers are satisfied and feel they achieved results. One source described the demands and the Warden's response as "reasonable." Without going into detail, the main concerns were in regards to commissary costs, state pay rates, phone costs, length of stay, and harsh penalties for petty conduct reports. The Warden said that he discussed "many things" at Monday's meeting with strike representatives, "many things beyond the main demands" but he would not share any of the details. The Warden admitted that one of the hunger-strikers was transferred to disciplinary segregation for an unrelated rule infraction, but stated that there were no reprisals or punishments for participating. One prisoner source agreed with this statement.
Prisoners at OSP began their hunger strike Monday, April 30, in solidarity with May Day. The number of prisoners refusing food fluctuated from 24 to 48. Communication with the supermax prisoners has been limited since the beginning of the strike, but a clear list of grievances and demands emerged from at least two sources.
The two primary demands were:
1. Improved commissary practices and increased state pay. The prison commissary can set prices at up to 35 percent mark-up on basic necessities like shampoo, food and soap. These prices fluctuate unexpectedly and are often prohibitive to prisoners without outside support. State pay is only $9 a month.
2. A transparent and accountable security level classification process. OSP houses level 4 and 5 prisoners, the highest security level in Ohio. Once prisoners are classified at these levels and transferred to OSP, there is no clear process for how they can reduce their level and get transferred out of the facility. Prisoners can spend years in OSP without any negative conduct reports and still have no hope of their level being reduced.
Other grievances include:
1. Food portions and quality have been reduced due to austerity measures.
2. Inadequate medical care. Also due to austerity cuts, prison officials have stopped sending prisoners to outside treatment centers for MRIs and EEGs unless their conditions are considered life threatening. They also often ignore doctor recommendations for pain medications.
3. Lack of enrichment programming. There are strict bans on many books and movies, and the institutional television channel has little variety. One prisoner said they run the same programs on a loop every six months.
The two sources for these demands were an open letter written to the local Youngstown paper by prisoner Marcus Harris and phone conversations with a trusted anonymous source inside the prison. This source also stated that at least one hunger striker has been punished for his participation, sprayed with mace in his cell and sent to disciplinary isolation. Prisoner Mark Harris' letter emphasized: "In short, we are sensory deprived, underfed, isolated with little to no movement, unable to hug our children, family and friends, and we are stuck for an overly extended period of time with limited programming." He requests that people continue to use "whatever resources [they] have to help spread the word of our cause, to call and check up on us and our health and also to look into these matters."

[TOP]
---
Pelican Bay Prisoners Reject CDCR Proposal and Demand End to Collective Punishment and Torture of Solitary Confinement
Preface:
The PBSP-SHU short corridor prisoner representatives have read, carefully considered, and hereby oppose the California Department of Correction and Rehabilitation (CDCR)'s March 1, 2012, the Security Threat Group Prevention, Identification and Management Strategy proposal (hereinafter proposal), based on the following reasons. Additionally, we do hereby present our counter proposal
One: Summary of issues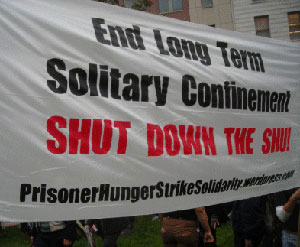 Beginning in May of 2-11, the PBSP-SHU short corridor prisoners collective presented CDCR with a 'Formal Notice' of intent to go on a peaceful protest hunger strike beginning July 1, 2011, in order to expose for force policy changes regarding our subjection to 25 years of torturous human rights abuse in California SHU and Ad Seg. units. The Formal Notice included a list of "five core demands" and a "Formal Complaint" summarizing the facts and circumstances leading up, and supporting the basis for putting our lives on the line to stop the torture of our families and us.
During negotiations conducted in late July, August, and October of 2011 top CDCD administrators several times admitted, to PBSP-SHU representatives and to our mediation team, that the five core demands made by prisoners were reasonable. The CDCR made repeated assurances that the Five Core Demands would be addressed via meaningful substantive changes, responsive to the specific demands as soon as possible. The five core demands are summarized here for the purpose of clarity.
1. Eliminate group punishments. Instead, practice individual accountability. When an individual prisoner breaks a rule, the prison often punishes a whole group of prisoners of the same race. This policy has been applied to keep prisoners in the SHU indefinitely and to make conditions increasingly harsh.
2. Abolish the debriefing policy and modify active/inactive gang status criteria. Prisoners are accused of being active or inactive participants of prison gangs using false or highly dubious evidence, and are then sent to long-term isolation (SHU). They can escape these tortuous conditions only if they "debrief," that is, provide information on gang activity. Debriefing produces false information (wrongly landing other prisoners in SHU, in an endless cycle) and can endanger the lives of debriefing prisoners and their families.
3. Comply with the recommendations of the US Commission on Safety and Abuse in Prisons (2006) regarding an end to long-term solitary confinement. This bipartisan commission specifically recommended to "make segregation a last resort" and "end conditions of isolation." Yet as of May 18, 2011, California kept 3,259 prisoners in SHUs and hundreds more in Administrative Segregation waiting for a SHU cell to open up. Some prisoners have been kept in isolation for more than thirty years.
4. Provide adequate and nutritious food. Prisoners report unsanitary conditions and small quantities of food that do not conform to prison regulations. There is no accountability or independent quality control of meals.
5. Expand and provide constructive programs and privileges for indefinite SHU inmates. The hunger strikers are pressing for opportunities "to engage in self-help treatment, education, religious and other productive activities…" Currently these opportunities are routinely denied, even if the prisoners want to pay for correspondence courses themselves. Examples of privileges the prisoners want are: one phone call per week, and permission to have sweat suits and watch caps.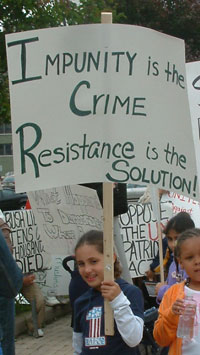 With respect to core demands #1, 2, 3, and 5, Policy and Practice of basis for indefinite SHU isolation averages(s) available for gaining one's release there from, and the progressively punitive nature of SHU/Ad Seg conditions, it is important to remember, many SHU prisoners have been held indefinitely, and subject to sensory deprivation, and every other abuse imaginable, that occurs in such hidden hell holes, for between ten to forty years and counting, solely based on what CDCR-OCS refers to as their "intelligence system" i.e., debriefer allegations and innocent associational activity without ever actually being charged and found guilty of committing a criminal gang-related act.
Thus, the parties understood CDCR's intelligence system for indefinite SHU placement was one of the major issues of concern to the class of SHU prisoners and their families, subjected to such long term isolation and abuse, without being charged and found guilty of committing a criminal act by credible evidence, and after the due process such formal charges would require. The parties all understood that major, meaning, and fundamental, change away from the above referenced "intelligence" based system … to a "behavioral" based system. A system defined as one in which a prisoner who engaged in "criminal gang activity" that is supported by "credible evidence" will be subject to sanctions (Per CDCR, Title 15, §§ 3312-3315, et seq., i.e., rule violation reports, referral for prosecution, determinate SHU term, and corresponding loss of privileges — after receiving due process and being found guilty of the criminal act alleged). On March 9, 2012, CDCR issued a press statement and presented their proposed gang management policy changes (the Proposal) in response to our peaceful protest activity and related five demands and negotiation process referenced above.
Two: CDCR's Proposal Is Not Acceptable
The PBSP-SHU short corridor prisoner reps have read and carefully considered CDCR's March 2112 proposal and we hereby summarize our opposition to the proposal. This rejections is based upon the CDCR's failure to act in good faith, as demonstrated by the mockery made of our agreements (referenced in above section I), including Secretary Cate's delegation of the policy change process to the Office of Correctional Safety (OCS), who resorted to the same twenty-five years plus fear tactics of California prison gangs being the "worst of the worst" in order to propagate, manipulate, and promote their own underlying agenda, which is to increase the power, staffing, and money of the OCS office within CDCR. (See, e.g., Proposal, P.5, at last paragraph; "the continuing evolution of our existing intelligence network…"). It should be noted that the OCS is the gang intelligence/goon squad in charge of SSU/IGI units within CDCR. This propagandist-manipulative abuse of state power includes the ongoing use of long-term sensory deprivation designed to coerce prisoners to become state informants, while also making a ton of money from such SHU/AD Seg torture units.
The Proposal seeks to manipulate the law makers and the tax payers into allowing CDCR-OCS to significantly expand on the use of these SHU/Ad Seg units, via the creation of new criteria and classes of what they term Security Threat Groups (STG) involved in "criminal gang behavior" (See Proposal in general).
The CDCR-OCS is asking the law makers and tax payers to allow them to continue to violate thousands of prisoners human rights, including the use of torture with impunity based on false propaganda scare tactics exemplified below.
The Proposal (and related CDCR press statement) begins with propaganda claiming California prison gangs are "the most sophisticated and violent in the nation — connected to major criminal activity in the community, and having influence on nearly every prison system within the United States" (Proposal pgs. 2, 3, 5 and Press Statement of March 9, 2012). They also claim their current torture practices, those utilized for over 25 years, "have been successful in reducing the impact sophisticated gang members have in CDCR facilities…by removing them from the general prison population" (Proposal, p.2 at paragraph 2, 3).
These are the same manipulative tactics used by OCS for twenty-five years. They have gotten away with it at a cost of hundreds of millions of tax payers' dollars, and with the destruction/severe physical-psychological damage long term subjection to torture units has caused thousands of prisoners and their loved ones outside prison. And all of this in the face of the facts and evidence to prove CDCR-OCS propaganda-manipulative statements are false.
In spite of being subject to 25 to 40 years of extreme security surveillance by alleged gang expert special agents the majority of the prisoners classified as prison gang members have never been charged or found guilty of any criminal gang related acts! Moreover, a statistical study of the CDCR's practice during the twenty-five year period prior to imposition of the current policy of placing all prison gang affiliates in SHU and comparing this data with the current 25 year SHU policy will prove that CDCR general population prisoners have been significantly more violent and out of control since the current policy has been in place.
CDCR-OCS are directly at fault for this 25-years of madness that continues to take place in this state's general population facilities, including staff manipulating prisoners against each other to further the staff's agenda (a lot of riots or other violence is useful in supporting demands for extra hazard pay, overtime, etc.).
CDCR-OCS's gang management policy of the last 25 years is a one hundred percent failure, and their march 2012 proposed changes are not acceptable because they seek to increase the use of torture units and do not change the manner of dealing with those classified as prison gang members at all, which is a blatant violation of the parties agreement(s) during the negotiation process last year. This is shown by reference to the following examples: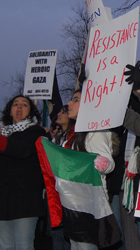 The Proposal wants to change the classification of "prison gang member" into "security threat group I" member (STG-1 member), while continuing the current policy and practice of keeping these alleged gang members in SHU indefinitely, using the same alleged "evidence" that has been used for the past 25 years. The Proposal specifies that "… STG I members will remain in SHU indefinitely, until they successfully complete the debriefing process … or the 'step-down program' consisting of a minimum of four years to complete all four steps." Notably, it states, "…STG-I members will remain in SHU and will not be able to gain release to the general prison population via step down program based on IGI's confirmation of participation in criminal gang behavior." Confirmation requires "either (1) a guilty finding in a serious rule violation report and/or (2) any document that clearly describes the gang behavior and is referred to the institution I.G.I. for confirmation." Number 2 is in reference to "documentation" consisting of statements from confidential inmate informants/debriefers, staff's alleged observations, and other forms of innocent associational type behavior (See Proposal, at page 7, 17-25). This is the exact same process CDCR-OCS has used and abused for 25 years. This changes nothing for the prisoners classified as prison gang members, which is a majority of those in PBSP short corridor, most having been in SHU for between 10 and 40 years already — without ever being formally charged and found guilty of a criminal gang act.
The Proposal fails to make meaningful, substantive changes responsive to core demands 1, 2, and 3, (and does so unsatisfactorily re: Core Demand #5, e.g. it makes a mockery of our request for weekly phone calls, no contact visits for step 3 and four, etc., etc.). We see no point in having four steps — each requiring a minimum of one year to complete. And the vague wording regarding the rest of the Proposal leaves much room for abuse and manipulation — which CDCR-OCS staff have a long history of doing. All of which makes the CDCR-OCS proposal unacceptable.
Three: PBSP-SHU Short Corridor Prisoner Representatives
Based on CDCR's lack of good faith in the process of changing their illegal policies and practices regarding the use and abuse of long-term isolation/torture, and for the reasons briefly summarized above, together with our belief that the CDCR-OCS proposal is so blatantly out-of-step with what was agreed during negotiations between July through October of 2011, as to constitute an intentional stall tactic designed to prolong our subjection to those torturous conditions.
Therefore, we hereby respectfully present our attached counter proposal —to be implemented without further delay. [The counter proposal calls for an end to indefinite solitary confinement and collective punishment; requires punishment of individuals based on actual crimes, with actual evidence not simply informants testimony, programs for those in solitary a 90-day re-entry process into the general prison population. See Prison Hunger Strike Solidarity and http://prisonerhungerstrikesolidarity.wordpress.com/pelican-bay-human-rights-movement-short-corridor-collecitves-counter-proposal-to-cdcr.]
Respectfully Submitted by:
Sitawa Nantambu Jamaa – Dewberry C-35671
Arturo Castellanos – C-17275
Todd Ashker – C-58191
Antonio Guillen – P-81948
March 19, 2012

[TOP]
---
Torture of Solitary Used Against Teenagers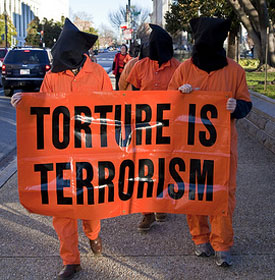 There are thousands of youth under 18 that are being kept in solitary confinement in U.S. and state prisons across the country. The UN has called for a complete ban on use of solitary for teenagers and numerous court cases are underway demanding an end to such torture. Youth 13-years old, already in adult prisons, have been subjected to this torture. Solitary confinement is a crime of torture by the government that must be outlawed and those imposing it punished.
Solitary confinement is harmful and inhuman for people of any age, but it is especially damaging to youth. As evidence, while youth in solitary are a relatively small percentage of the total population of juvenile facilities, they account for more than half of the suicides.
Recognizing these dangers, a policy statement calling for ending solitary for juveniles was recently issued by the American Academy of Child and Adolescent Psychiatry, representing more than 7,500 child and adolescent psychiatrists and other interested physicians. West Virginia recently announced a statewide ban on the practice.
The United Nations has established minimum standards for the protection of youth in correctional facilities, which specifically prohibit solitary confinement. The United Nations Special Rapporteur on Torture said solitary confinement can amount to torture and called for a complete ban on solitary for juveniles.
[TOP]
---