Organize Public Financing of the Process,
Not the Candidates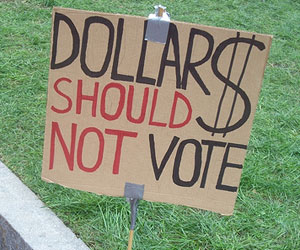 One of the main features of the current election is that voters, and the public more generally, are angered with the open buying of the elections and privileges for the rich that the current electoral process provides. More than $6 billion will be wasted this election, largely on negative advertising. It is reported that negative ads constitute more than 75 percent of all ads, up from about 50 percent in 2008. These ads do not provide information on the platforms and plans of candidates. Rather they attack candidates, often using the "big lie" technique made famous by the Nazis. Like the entire electoral set-up, they serve to depoliticize people and discourage them from taking part in the serious political debate needed to work out solutions to the social problems faced by the people. Despite the billions spent, the public has not been informed and engaged in the political debate required — it has been disinformed.
Further, this election is marked by massive outside funding. While the U.S. has rules requiring candidates to live in the district or state where they seek office, and voters must vote in specific polling stations in the district where they live, hundreds of millions can now be spent by people outside the district or state on particular candidates. It is a set up designed to guarantee privileges for the rich and candidates of their choosing while blocking candidates from among the people themselves.
Worker politicians, representing the anti-war, pro-social agenda of the people are systematically blocked from participation. This is done not only through the huge sums required to run, but also through the complex requirements to get on the ballot and contend with challenges from the rich designed to keep third parties and independents off the ballot. None of the third party candidates running this year, for example, are on the ballot in all fifty states. And only two, Jill Stein of the Green Party and Gary Johnson of the Libertarian Party or on the ballot in more than 30 states.
Workers constitute the majority of the population and should be the majority of representatives. Instead, the current set up guarantees that multi-millionaires constitute the majority of elected officials at the federal level. The politics of the rich are represented, those of the people excluded.
As well, the various efforts to disenfranchise voters, by denying them absentee ballots, demanding ID when it is not required, purging registered voters from the roles using various means, like claiming they are felons, or not citizens, sending people to the wrong polling stations, are serving to make the election illegitimate even before it occurs. Many consider the election already compromised, something that further discourages participation.
As well, the doubt being promoted can be utilized to manipulate the situation after the elections. It is completely just to condemn the existing set up as illegitimate and one that does not represent the people and in fact excludes them. It is also important to be prepared for the rich to manipulate this just sentiment and try to use it against the people. Obama or Romney could claim the election result as illegitimate and then move to usurp power.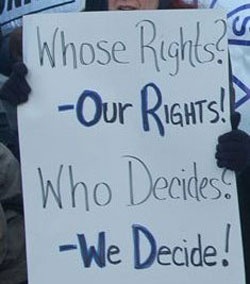 The existing set up and its privileges for the rich are outdated and no longer functions in today's society. A new direction for political affairs is needed, one that contributes to empowerment of the people. An important step in this direction is public financing of the process, not the candidates. Public financing of the process contributes to development of a process that informs voters. Negative ads would be outlawed. Instead, all candidates, from whatever party or as independents, would participate on an equal footing and be required to present their concrete solutions. Public funds would be utilized to provide public space, on TV, radio, internet, and so forth, for all candidates to present their platforms and for the public to engage them. Debates by and for the public to discuss their agenda and identify worker politicians to represent that agenda would also be needed.
Public funding of the process would also mean that elections are not mainly about individual candidates but rather about collectives discussing their concerns and raising their demands. Workers, women, youth, national minorities, as collectives would meet, discuss and organize to defend their interests, with elections contributing to this.
Public funding of the process is a means to break the monopoly of the rich and their politics on the public and advance instead the politics of the working class, the politics of empowerment.

[TOP]
---
Election Issues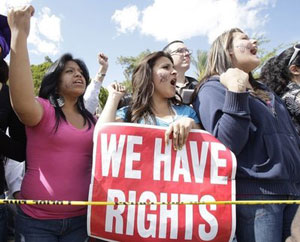 Consider: Government killings and violence against immigrants on the border and in communities across the country; increased racist government profiling and impunity to use raids and deportation to terrorize immigrant workers, youth and families; one million deported in the past two years, most guilty of no crime or at most traffic violations and similar non-violent misdemeanors; privately owned detention centers with inhuman conditions funded from the public treasury; federal programs imposing profiling and involving local and state police authorities in enforcing federal immigration law. These are some of the major problems on the issue of immigrant rights needing solution. Yet the issue of immigration and racist government profiling is barely being mentioned. And when it is, it is generally to say that yet more violence and militarization of the border is required.
Since January 2010 there have been 18 deaths along the border with Mexico by U.S. immigration agents. Six involved individuals killed while they stood on the Mexican side of the border, guilty of no crime. Six were under the age of twenty-one and five U.S. citizens. Militarization of the border is such that helicopters with snipers are used to fire on and kill people simply trying to work, as the recent killings of two Guatemalan migrant workers shows.
The aim of the U.S. rulers in militarizing the border while also promoting fear and violence is to divide workers, undermine friendly relations among them on both sides of the border while justifying use of U.S. military forces inside Mexico. The U.S. wants to annex all of Mexico and Canada and establish a single state in service to the North American monopolies. They want a single common pool of cheap labor and control of the natural resources for their empire building. Violence at the border, efforts to divide workers inside the U.S. and pit U.S. and Mexican workers against each other are all part of this effort.
Attacks on immigrants are a means to further attack all workers, such as through demands for biometric identification cards for all workers. The many detention camps, most privately run but publicly funded, are currently used for immigrants. But they can just as easily be used as future labor camps for those who cannot secure the national ID cards planned (see for example, proposals by New York Senator Chuck Schumer).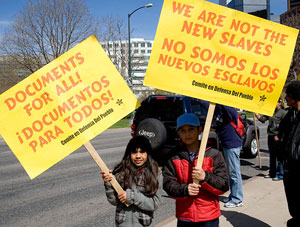 The hundreds of thousands of deportations (including many workers who have lived in the U.S. for years) are a means to undermine the role workers of Mexican descent play in developing the independent politics of the U.S. working class. As part of the single U.S. working class, these workers have the honor of restoring mass May Day demonstrations in the U.S., uniting workers and building the struggle for the rights of all.
Strengthening the unity and organized resistance to government profiling, racism and plans for labor camps — beginning with the detention camps now in place, is vital to advancing the independent politics of the working class. The rulers are organizing to heighten tensions and divisions and use issues of immigration for this.
Obama and Romney want to silence debate on the vital issue of immigrant rights or manipulate it to secure votes. Obama, for example, promised to use discretion in deporting undocumented youth. More than one million youth are eligible for the program he established. U.S. Citizenship and Immigration Services officials had prepared to process 300,000 applications by October 1. But only about 120,000 people have applied, as they anticipate providing information to the government will lead to their detention and deportation. Less than 5,000 people have actually received the work permits and deportation deferrals so far. Romney has said undocumented immigrants should "self-deport," while Obama has set up machinery, including detention camps, for deporting one million immigrants while profiling and terrorizing many more.
Whichever man is selected as president, workers need to carry forward discussion on defending immigrant rights and developing relations of mutual respect and benefit with workers worldwide, during and after the elections. Election day is not the end of such efforts, rather a call to advance them further.

[TOP]
---
Justice Demanded in Border Patrol Killing
of Teenager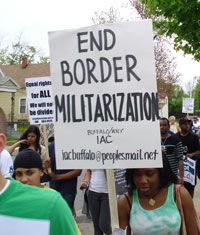 On the night of October 10, around 11:30 p.m., José Antonio Elena Rodriguez, a 16-year-old resident of Nogales, Sonora, Mexico, was shot dead by a U.S. Border Patrol agent (or agents) in his own country.
This occurrence was not unique. There have been 18 violent killings by Border Patrol/Customs and Border Protection since 2010. Among them is Ramsés Barrón Torres, 17, who on January 5, 2011, died in Nogales like José Antonio, on Mexican soil. The known circumstances of these killings strongly suggest unnecessary or excessive use of force. Please join us in denouncing them and calling for action.
The agent(s) that killed José Antonio fired on him from atop a 25-foot embankment, from behind the 20-foot-tall steel border wall and a dense area of foliage, and 30 feet across the street. José Antonio was shot in the back at least 7 times, with two bullets being found in his head. Some reports state that 14 bullets were fired altogether. Those who visit the site come back with no doubt that this was an unlawful killing.
Three weeks have passed since José Antonio was killed, and almost two years since Ramsés was killed. In both cases, the FBI, tasked with investigating these incidents, has released no official statements, and has neither identified nor arrested the agent(s) involved. The identity of officers involved in shootings is public information, and many in this border community, where No More Deaths volunteers live and work, see José Antonio's death as a clear case of bloody murder. Please join us in urging the Department of Justice and the FBI to act transparently and decisively.
The excessive use of force that resulted in José Antonio's, and Ramsés's deaths, as well as 16 other deaths is not the action of isolated "bad apples." Rather, it is a consequence of the Border Patrol's militarized approach to border enforcement, and it shows a callousness that is consistent with the findings of No More Deaths' 2011 report Culture of Cruelty, which documented 32,075 incidents of physical abuse by Border Patrol agents against migrants in their custody.
We seek justice for José Antonio's and Ramsés' families, and an end to these killings. Please take the following actions:
ACTION: Send letters to the Attorney General and the Secretary of Homeland Security.
ACTION: Send a bloody handprint with the message "Blood is on your hands" to the Attorney General and the U.S. Attorney for Arizona. Print out ours or make your own! Be sure to include your name and address.
ACTION: Report the facts that you know: file a crime report with the FBI Phoenix field office. See the instructions provided on our website.
ACTION: Tell everyone you know to visit: nomoredeaths.org/nomasmatanzas and join us.

[TOP]
---
Rights Groups Demand Justice for Workers Killed by Police Sniper in Helicopter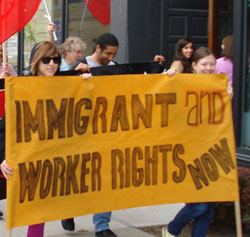 A group of civil rights organizations, including the ACLU of Texas, LUPE (La Unión Del Pueblo Entero), Rio Grande Valley Equal Voice Network, and Texas Civil Rights Project, demanded justice for two Guatemalan workers killed by a Texas Department of Public Safety (DPS) sniper. The DPS agent fired from a helicopter into a truck "suspected" of carrying drugs. The two workers killed were unarmed and there were no drugs in the truck, only workers. At present no charges are planned against the DPS top administrators or the individual who killed the two workers and other agents involved in the attack.
Texas State Senator Eddie Lucio, Jr. also expressed his opposition to the killings. Lucio said having Texas Rangers investigate the killings is inappropriate because this unit is part of DPS. "This is an international issue. It is not a state or a local issue," he said. "I want justice brought on behalf of the victims," he added, calling for a full-fledged investigation by the Justice Department. "If the immigrants were unarmed and were driving along a dirt road and people were shooting at them from the air, it is just unconscionable. It is beyond me how anybody could be so cruel. Something as sacred as human life, it is just inexcusable what has happened," he said.
Killings by state and federal policing agencies at the border are not isolated incidents but rather part of the growing militarization of the border. Policing agencies act with impunity, with violence as the weapon of choice. This is consistent with the use of drones massacring civilians abroad and now helicopter snipers at home. Use of force against unarmed civilians is a crime and must be treated as such by all levels of government.
We reprint below excerpts from a letter by the Texas ACLU, demanding an investigation and an end to use of force at the border against unarmed civilians.
To: Mr. Steve McCraw
Director, Texas Department of Public Safety
Dear Director McCraw,
This past Thursday, October 25, 2012, an officer of the Texas Department of Public Safety flying in a highway patrol helicopter shot and killed two unarmed men in highly suspect circumstances. According to news reports, these men were merely passengers in a truck pursued by law enforcement and were not threatening officers nor engaged in any known criminal activity. Nonetheless, deadly force was employed. If the facts as reported are true, this use of deadly force was illegal and unconstitutional. We write to demand that an independent investigation of this incident be conducted and that the results of the investigation be made public. By independent, we mean an agency that is not under the umbrella of the Texas DPS. We also write to request, pursuant to the Texas Public Information Act, that you turn over records concerning this incident.
According to public reports, at about 3:00 p.m. on Thursday, October 25, near La Joya, Texas, a Texas Parks and Wildlife warden radioed for back up, allegedly because a truck refused an order to pull over on a remote stretch of Farm-to-Market Road 2221. A Texas Department of Public Safety ("DPS") helicopter responded to the scene and, although no officer seems ever to have been in any danger, opened fire on the truck." The shooter killed two passengers and seriously wounded a third. According to survivors of the incident, a tarp covering the men had flown away such that the men were visible to the shooter in the helicopter. Although the officers claim the truck could have been carrying drugs, in fact, no drugs were found.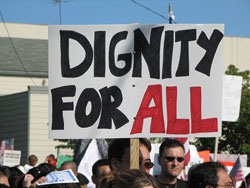 If the public accounts are correct, DPS's use of deadly force against the unarmed passengers of the truck was illegal and unconstitutional. Any force used to seize an individual must comport with the Fourth Amendment's reasonableness standard. In the context of deadly force, the Supreme Court of the United States has held that it is unreasonable, and therefore unconstitutional, for police to shoot an "unarmed, nondangerous suspect" who is fleeing, unless "the suspect threatens the officer with a weapon or there is probable cause to believe that he has committed a crime involving the infliction or threatened infliction of serious physical harm..." Tennessee v. Garner, 471 U.S. 1,11-12 (1985). No one disputes that the immigrant men, one a father of two, the other a father of three, were unarmed and were not engaged in any criminal activity.
Although the men, both from Guatemala, were crossing the U.S.-Mexico border without documents, doing so is a civil infraction not a crime. Further, at the time of the chase and subsequent shooting, it was not yet known who they were, let alone how they had entered the U.S. The loss of life and significant injury occasioned by the shooting cannot be considered reasonable when measured against the Constitution or even common sense.
We are also concerned that the actions of DPS, if accurately described in the news reports of the incident, suggest a troubling disregard for the safety of residents of border communities — the very people DPS officers are sworn to protect. We worry that, due to fear-mongering about drug violence on the border, law enforcement agencies are increasingly taking a "shoot first, ask questions later" approach that puts everyone in greater danger.
Indeed, this incident follows a disturbing trend of official violence and illegal use of deadly force along the border: since January 2010 there have been eighteen deaths along the border at the hands of immigration officials. Eight of these instances involved agents responding to individuals alleged to be throwing rocks and six involve individuals killed while merely standing on the Mexican side of the border. Six of those killed were under the age of 21 and five were U.S. citizens.
We therefore demand a thorough, independent, and prompt investigation of the DPS shooting on October 25. Many questions remain about the actions of DPS personnel at the scene. DPS must answer to the public for its actions and discipline any officers who engaged in illegal use of force or deviated from sound law enforcement principles.
In addition, pursuant to the Texas Public Information Act ("PIA"), Texas Government Code Chapter 552, we request the following information maintained by the Texas Department of Public Safety:
1. All information concerning the above-described incident on October 25, 2012, where a sharp shooter on a DPS helicopter shot and killed two Guatemalan nationals and injured a third who were on a truck traveling on Farm-to-Market Road 2221 at or about 3:00 p.m. near La Joya, Texas, (the October 25th Incident), including but not limited to:
a) Radio communications regarding the October 25th Incident;
b) Documents created or received by DPS personnel regarding the October 25th Incident;
c) Internal DPS communications regarding the October 25th Incident or the agency's public response to it;
d) Communications with other Texas or federal agencies about the October 25th Incident;
e) investigation of the October 25th Incident;
f) Statements of any witness to the October 25th Incident, with personally identifying information redacted;
g) Discipline imposed on any DPS personnel as a result of the investigation of the October 25th incident;
h) The accident report and a list of all law enforcement agencies that responded to the scene; and
i) An inventory of all evidence removed from the scene and a description of each item.
2. DPS policies governing the use of force, including deadly force.
In light of the gravity of this situation and the need for transparency, we hope that DPS will not attempt to hide behind technical exceptions to disclosure under the PIA or to unnecessarily delay making information available for public review, but rather, will cooperate in fully investigating the shooting and in promptly responding to our open records request.

[TOP]
---
Majority of Detainees Sign Letter Demanding Review of Florida Detention Center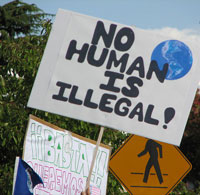 We reprint below a letter sent to the Undocumented Students Action and Resource Network concerning the racist profiling and unjust detention of immigrants. The Broward Detention Center in Florida is representative of many others centers, most in the south. The Obama administration has deported more than one million people in the past two years, with many of them first sent to the detention centers run by private monopolies but funded by public dollars. The letter is representative of the injustice faced by those being detained and the struggle they are waging. Broward Center houses 700 detainees, 600 men and 100 women. The letter was signed by the majority of them, 428 and supported by many others.
* * *
October 15th, 2012
To: Mr. John Morton
Director of Immigration and Customs Enforcement
U.S. Department of Homeland Security
500 12th Street S.W.
Washington D.C., 20536
CC: Ileana Ros-Lehtinen, U.S. Congresswoman
Mario Diaz-Balart, U.S. congressman
David Rivera, U.S. Congressman
Ted Deutch, U.S Congressman
Marco Rubio, U.S. Senator
Bill Nelson, U.S. Senator
| Nancy Pelosi, U.S. Congresswoman
Dear Mr. Morton:
The signers below, all detainees at BTC (Broward Transitional Center) a private ICE facility owned and administered by the GEO Group Inc. and located in Pompano Beach, Florida would like to ask you to initiate an investigation on the policies and procedures being followed by ICE, Border Patrol, local police and other enforcement agencies involved in the detention, prosecution and removal of immigrants in South Florida and also on The GEO Group Inc – in particular this facility. We ask for this based on your policy (number 10075.1 FEA number 306-112-0026) about exercising prosecutorial discretion during Apprehension, Detention and Removal of Aliens (Better known as "The Morton Memo" dated June 17, 2011) according to the following:
There are many reasons proving that the memo in question has been put on the "back burner" and all the instructions in it are being taken just as a joke for those enforcement agencies. Sometimes indeed the answer we get from the deportation officers when we mention the memo in question is "Mr. Obama and Mr. Morton are in Washington, we are here and we decide what to do."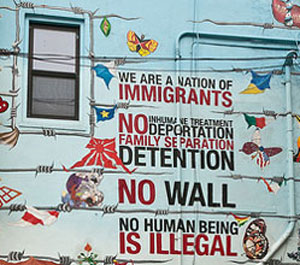 There is also no doubt in our minds that this is a huge business generating millions of dollars for the GEO Group from taxpayer's money; it is in their best interest to keep us detainees as long as they can in jail and to fill the facility up with people that do not deserve to be detained. People are even brought here from distant states (this week alone there were about 60 people brought in from Arizona). Most of the detainees eligible for release under the mentioned policy are being kept here month after month after month. Many should have not been detained in the first place. Their lives, families and businesses are being destroyed.
The majority of the detainees at BTC have no criminal record, have been living and working the country for a very long time (some even for more than 15 years), have U.S. Citizen spouses and children, have been here since childhood, and a large number are legal Alien Residents. There are many cases of successful investors and entrepreneurs with companies creating many jobs that are being put at risk, cases of spouses serving in the U.S. military forces, people graduated from U.S. high schools and colleges, cases of victims of human trafficking cooperating with the enforcement agencies to dismantle those organizations, there are people eligible to apply to T.P.S. and so on.
There are many cases of people with legal visas approved by the embassies in their countries who just came on business or tourism and to visit their relatives. They were brought to BTC directly from the Miami airport and kept in here for months for no reason at all. Why not just cancel their visas at the port of entry and send them back to their countries? Why are they brought to BTC? We do not know. There are many detainees asking for expedited removal or voluntary departure but that is granted only after a long and painful process for them and their families.
Why are the mentioned enforcement agencies spending millions of dollars catching people like us when the real criminals are out there walking free? We do not know the answer but it is perhaps because small fish are an easier target and better for statistic purposes.
There are also many reasons to believe that the local enforcement agencies are applying "racial profiling" when detaining immigrants: A large number of them were caught up in alleged minor traffic violations, some even were just walking or just riding a bicycle. There used to be a time when this jail was full to capacity but the number of immigrants coming to the U.S. has been declining for years, we question if a facility like this needs to be open. If Prosecutorial Discretion would have been applied according to the "Morton Memo" instructions, the number of detainees would probably be down to 10 percent or nothing.
We don't expect an answer from you at this location; we know our mail in and out is being filtered but the National Immigrant Youth Alliance know some of our cases and we certainly hope you can help us with our situation.
Please see the list of signers in the following pages, there are about 500 signers, we couldn't get all the people that wanted to sign this letter (including the female ones) because of the obvious reasons involving the difficulty of getting signatures in jail.
Thank you so much for your kind attention.

[TOP]
---