U.S. Also Guilty of War Crimes in Gaza
Demand Obama End All Support for Israel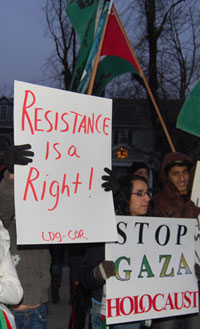 On November 14 Israel launched a major air attack on Gaza. President Barack Obama phoned Israeli Prime Minister Netanyahu that same day to confirm U.S. backing for these crimes. At the same time Obama expressed his concern that the situation not escalate beyond the bombing raids. The White House said that Mr. Obama "reiterated U.S. support for Israel's right to defend itself, and expressed regret over the loss of Israeli and Palestinian civilian lives." The two leaders "discussed options for de-escalating the situation."
Obama spoke with Netanyahu again November 16, after three days of criminal assault on the civilian population in Gaza, killing many women and children, destroying homes, refugee camps, UN schools and civilian government buildings. The Israelis use U.S weapons, such as F-16 bombers, and billions in U.S. military aid fund the air force and army every year.
There was no de-escalation by Israel but rather an increase in aggression. Israel says it is massing 30,000 troops at the border and will be calling up another 75,000 troops for a ground invasion into Gaza, expected to last at least seven weeks. The White House reports that in the second call, Netanyahu "expressed his deep appreciation to the President," for U.S. support. It adds "The President reiterated to Prime Minister Netanyahu the United States' support for Israel's right to self-defense in light of the barrage of rocket attacks being launched from Gaza against Israeli civilians. The President urged Prime Minister Netanyahu to make every effort to avoid civilian casualties. The two agreed that Hamas needs to stop its attacks on Israel to allow the situation to de-escalate."
How is it that the resistance is what needs to stop, while criminal Israeli aggression is supported? The U.S. notion of "self-defense" promoted here is the same as that used for U.S. aggression against Afghanistan following the September 11 attacks. An entire country is targeted and collectively punished with years of war in the name of "self-defense" against "terrorism." The people of Afghanistan were not responsible for September 11, yet they were branded as "terrorists" and war unleashed against them.
The claim of "self-defense," has been utilized by both Bush and Obama to broadly extend executive powers to carry out crimes abroad and at home. These include assassinations and presidential "kill lists" of civilians, drone warfare, torture and indefinite detention. Israel is following suit, with full U.S. backing. Collective punishment of Gaza is again being unleashed, with civilians and civilian infrastructure directly targeted. This conception of "self-defense" is a Hitlerite one, designed to disorganize, humiliate and isolate the resistance — whether it be by Palestinians, Iraqis, Afghanistanis or any other peoples resisting U.S. imperialism.
War crimes and crimes against humanity, as are being carried out by the U.S. and Israel, are to be condemned and punished. It is this impunity by the U.S. and Israel that is the crime and the resistance in Gaza, throughout Palestine and worldwide, the solution.
Condemn Congressional Resolutions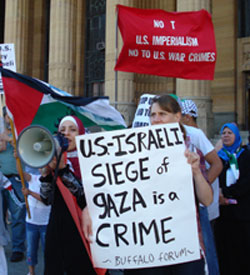 Following Obama's lead, identical non-binding Congressional resolutions passed November 15 in the Senate and November 16 in the House of Representatives. They expressed "unwavering commitment to the security of the state of Israel as a Jewish and democratic state with secure borders, and recognizes and strongly supports its inherent right to act in self-defense to protect its citizens against acts of terrorism." Teams of Democrats and Republicans initiated the resolutions. In the Senate the resolution was introduced by New York Senator Kirsten Gillibrand and Mark Kirk of Illinois and in the House by Representatives Howard Berman (D-Calif.) and Ileana Ros-Lehtinen (R-Fla.).
Israeli Ambassador to the U.S. Michael Oren emphasized November 16, "The United States has given us the full backing to take whatever measures are necessary to defend our citizens from Hamas terror." He said. "Israel has received unequivocal and outstanding support from the United States and all branches of government. From the White House, from Congress, in both parties, completely bipartisan support." He added "We are prepared to take any and all measures to defend our citizens, including measures in the air and on the ground … Israeli ground forces have been moved to the border."
Obama and Secretary of State Hillary Clinton have continued to express concern about what Clinton called a "very, very dangerous situation," and have called for a de-escalation. It is known that Netanyahu supported Romney in the election and that he has demanded more aggression by the U.S in relation to Iran. In the current situation he has repeatedly emphasized his appreciation of Obama's support and Obama in turn has U.S. support for the current bombings. However, Netanyahu has so far not ruled out a ground invasion and continues to prepare for it, which Obama and Clinton have both cautioned against. Further escalation of the bombings are no doubt in the works but it remains unclear if Netanyahu will pursue the ground invasion, at least in the immediate circumstances.
Voice of Revolution urges all to stand with Gaza and target both U.S. imperialism and Israel for the crimes unleashed on Gaza and all of Palestine. Reject U.S. and Israeli claims of self-defense and to instead step up resistance. Stand with Gaza and demand the U.S. end all aid and backing of Israel.
Demand Obama End All U.S. Support to Israel
Impunity is the Crime, Resistance the Solution!

[TOP]
---
U.S-backed Israeli Occupation Forces Unleash Criminal Assault on Gaza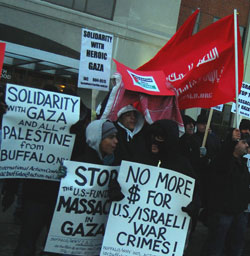 On Wednesday November 14, with U.S. weapons and backing, Israel launched a criminal targeted assassination against Palestinian Hamas leader Ahmed al-Jabari, followed by more war crimes of massive bombing of the densely populated Gaza Strip in Palestine. Gaza has 1.5 million people living within a 140 square mile area, or more than 9,700 people per square mile.
"The people of Gaza are being subjected to ongoing drone strikes, airstrikes, tank shelling and naval fire in this indiscriminate and disproportionate military offensive," a group of internationals living in the Gaza Strip wrote. In the early evening, Israeli warships encroached into the Gaza sea and took a position close to the shore, firing towards land. At approximately 8:00 pm, Israeli naval forces fired between 12 and 15 shells northwest of Beach Camp in Gaza City.
Israel bombed Gaza City over 40 times overnight Thursday. Rafah, Khan Younis, Deir al-Balah and Bureij refugee camps were hit, injuring at least 12 people. The Israeli Army continued to escalate the attacks against the civilian population early on Friday morning, with more than 30 air strikes against different areas of Gaza in less than 30 minutes.
The Israeli military said its aircraft targeted "a central terror activity site in the southern Gaza strip in order to harm the command and control posts of the Hamas terror organization."
Ashraf al-Qodra, spokesperson of the Palestinian Ministry of Health in Gaza, reported that Israeli war jets fired a missile at a civilian car in Beit Hanoun, in northern Gaza, killing three children and injuring three more.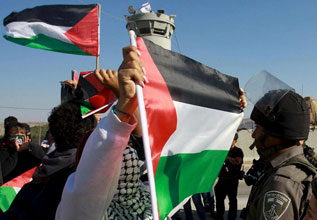 The aerial bombardment Thursday set off earth-shaking thuds and fireballs in the dark sky and were met with screeches of Palestinian rocket fire launched from the outskirts of Gaza City towards southern Israel, witnesses say. One of the sites targeted by Israel was an electricity generator that supplied the house of Hamas' Prime Minister in Gaza, Ismail Haniyeh. It was unclear whether he was at home at the time. Hamas won a majority of seats in legitimate elections in Gaza. It is a political organization and recognized as such worldwide, including by the UN. Hamas also has armed brigades engaged in defending Gaza against Israeli aggression.
Witnesses told Ma'an News Agency that violent explosions across Gaza City's Sheikh Radwan neighborhood set a high-rise building ablaze, with flames lighting Gaza's sky. Several injured, including women, were brought to Gaza's Al-Shifa hospital, a Ma'an correspondent said.
Israeli planes hit the marine police headquarters in Deir al-Balah, which has been destroyed repeatedly in Israeli airstrikes, witnesses said.
On Friday morning, Israeli war planes carried out 30 attacks in 30 minutes, targeting civilian areas, resistance centers and buildings that belong to the Ministry of Interior leading to extensive damage including to a school run by the United Nations Relief and Works Agency (UNRWA) in Gaza. Palestinian security centers were bombed in addition to the missile which hit the Civilian Branch of the Ministry of Interior, west of Gaza City.
In Khan Younis, in the southern part of the Gaza Strip, the army bombarded another UNRWA school also causing extensive damage. The Ahrar Center for Detainees' Studies, reported that the Israeli army also bombarded a church under construction in Gaza City causing damage.
Ministry of Interior Bombed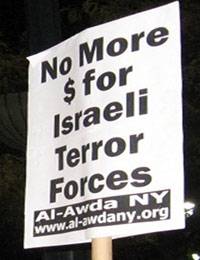 When Israel bombed the civil affairs department of the Ministry of Interior in Gaza City, Ma'an News Agency reported: "Emergency crews extinguished a huge blaze at the ministry in the Tel al-Hawa neighborhood as ambulances transferred wounded Palestinians from residential buildings in the area. Ministry officials reassured citizens that more than 90 per cent of personal files and papers were saved electronically and could still be accessed. The building contained 70 years of records of the Palestinian civil registry, the ministry said. Israeli shelling of security and civil headquarters will not discourage the government from working, the ministry added. This bombing of civilian infrastructure is an Israeli war crime.
Responding to the Israeli crimes and military escalation, Palestinian armed groups in Gaza claimed responsibility for firing dozens of shells into Israel, including shells that hit Tel Aviv, Ashdod, and several other areas. The resistance said that it will continue to defend Palestinians who are living under constant Israeli attacks killing and injuring civilians, including many children. Three Israelis were killed by Palestinian shells, and several others were injured.
Hospitals throughout the Strip have been inundated with victims of the attacks. Speaking in a press conference outside al-Shifa hospital, Dr. Mafed el-Makha el-Makhalalaty, the Minister for Health, explained that hospitals are suffering shortages due to the ongoing closure of the Gaza Strip and the increased attacks over the last week, in which many children were killed. "The attacks yesterday have left hospitals depleted of medicines and medical supplies," the group of internationals writes. The people, trapped within the Gaza Strip "are easy targets of remote-controlled warfare, waged from buzzing drones and roaring F-16s," they said. In conclusion they write, "We call on people of conscience around the world to stand up against this unlawful aggression against Palestinian civilians."
Voice of Revolution condemns these U.S.-backed Israeli crimes and urges all to stand with Gaza and all of Palestine. Israeli impunity to commit these crimes must be ended and the U.S. plays the central role in doing so. We demand that President Obama call on Israel to stop the aggression against Gaza now. And that the U.S. back up this demand by immediately ending all military, economic and political aid to Israel.
End All U.S. Backing of Israel Now!
End the Occupation Now!

[TOP]
---
Ramallah Youth Succeed in Entering Occupation Army Camp to Raise Palestinian Flags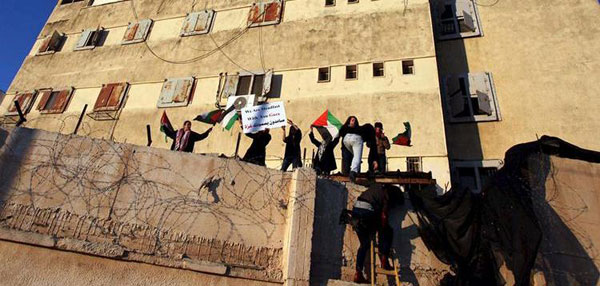 News reports inform that scores of Palestinian youth succeeded in storming the biggest military camp of the Israeli occupation army in Beit El settlement, east of Ramallah on the West Bank on the afternoon of November 15 where they raised Palestinian flags. They held the action to denounce the Israeli aggression on the Gaza Strip, noting that the occupation forces declared a state of alert inside the camp and closed the streets leading up to it.
The sources said that the Israeli occupation forces transferred heavy military equipment from inside the camps near the city of Jerusalem to an unknown destination, amid reports of Israeli expectations of the deterioration of the situation in the West Bank and the outbreak of a third popular Intifada (uprising) similar to the Al-Aqsa Intifada in 2000.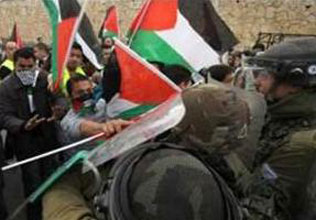 Meanwhile, confrontations took place between hundreds of youth and Israeli soldiers near the Ofer prison, south of the occupied city of Ramallah, in solidarity with the Gaza Strip. Local sources reported that hundreds of youth carrying Palestinian flags clashed with occupation soldiers in the vicinity of the prison after a spontaneous march was launched from the prison down to the checkpoint. (Palestine Information Center)

[TOP]
---
Palestinians Protest and Actions Worldwide
Support Resistance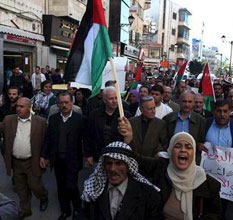 Thousands of Palestinians have held protests in different parts of the occupied West Bank to denounce the ongoing U.S-backed Israeli military aggression against Gaza. A sit-in in solidarity with the Gaza Strip was held in the Manara roundabout in downtown West Bank City of Ramallah. A large demonstration also took place there. The Israeli army fired rounds of live ammunition, gas bombs, concussion grenades and rubber-coated metal bullets at demonstrators leading to a number of injuries. Ramallah and Al-Bireh have seen many rallies condemning the U.S./Israeli aggression.
The protestors called on the various resistance forces in Gaza and the West Bank to escalate the resistance against the Israeli occupation in response to the aggression against the Palestinian people in Gaza. They denounced the assassination of Qassam Brigades' leader Ahmed al-Jabari on November 14 in Gaza City by Israeli forces.
Clashes were reported in different parts of the Hebron district November 15 in the southern part of the occupied West Bank. Demonstrations were reported in Jenin and Nablus, in the northern part of the West Bank. Injuries were during clashes with the Israeli occupation army and a number of residents were kidnapped.
The Israeli occupation army occupied a school in Jenin and turned it into a military base. Soldiers also invaded Beit Sahour and Beit Jala in the West Bank district of Bethlehem and clashed with local residents who hurled stones at the invading forces.
Worldwide Actions Defend Palestine
Emergency demonstrations across the U.S. and worldwide are defending Palestine and demanding that the Israeli aggression be stopped. In Chicago hundreds called on Obama to stop the war crimes against Palestine. Similar actions took place in Boston, New York, Denver, San Francisco, Los Angeles, Washington and in Florida, Texas and elsewhere. A common demand was for the U.S. to end its military aid to Israel and to condemn the war crimes, all carried out with U.S. backing. As the signs in Chicago put it: Obama Stop Funding War Crimes.
Worldwide Actions November 15, 2012
Chicago, Illinois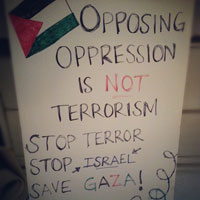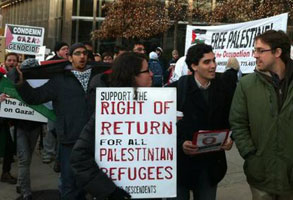 New York City, New York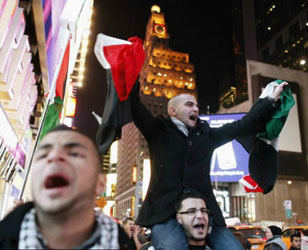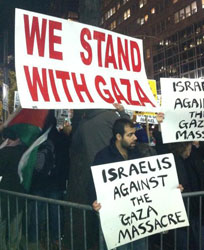 Washington, DC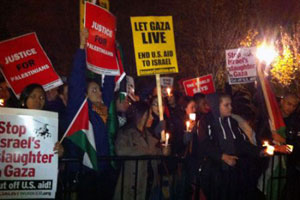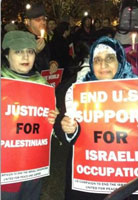 Gainesville, Florida & Boston, Massachusetts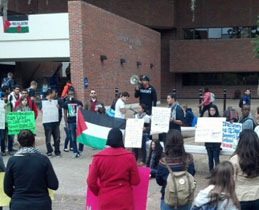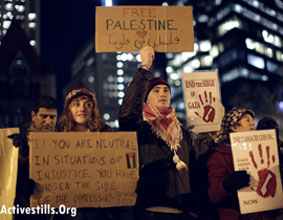 Canada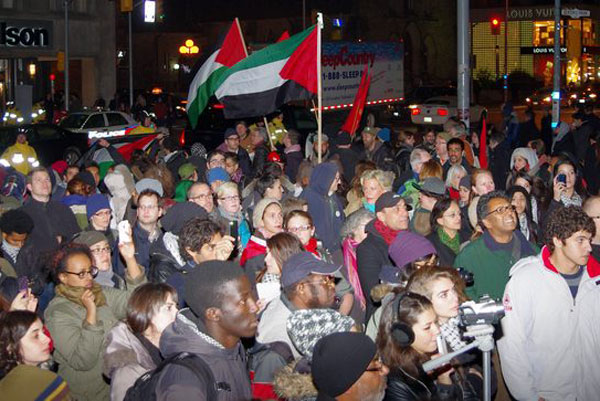 Tunesia
Egypt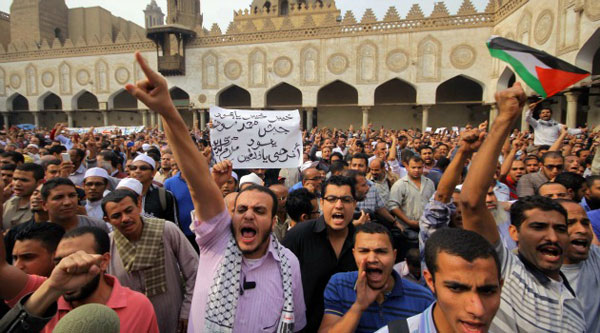 Israel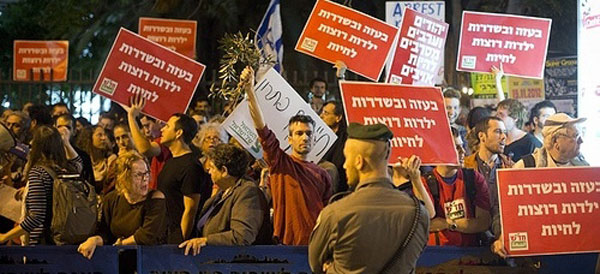 [TOP]
---
Emergency Global Actions Stand With Gaza
In the United States
FRIDAY, November 16
Ann Arbor, Michigan | the Diag, University of Michigan, 3:00 p.m. [link]
Albuquerque, New Mexico | UNM Bookstore, 5:00 p.m. [link]
Asheville, Tennessee | Vance Monument, 4:30 p.m. [link]
Birmingham, Alabama | 1400 University Boulevard, 1:30 p.m. [link]
Boston, Massachusetts | Copley Square, 6:00 p.m. [link]
Charleston South Carolina| Marion Sq, 3:00 p.m.
Cincinnati, Ohio | MLK Boulvard and Clifton Avenue, 4:30 p.m. [link]
Cleveland, Ohio | Public Square, 4:30 p.m. [link]
Columbus, Ohio | Ohio Statehouse, 5:00 p.m.
Denver, Colorado | West side of the Denver Capitol, 4:00 p.m.
Detroit, Michigan| Windsor Detroit Tunnel, 4:30 p.m. [link]
Durham, North Carolina | Duke University, West Campus bus stop, 5:00 p.m.
Forth Worth, Texas | Courthouse, 4:00 p.m. [link]
Gainesville, Florida | Turlington Hall, 11:00 a.m. [link]
Houston, Texas | Intersection of Westheimer & Post Oak Boulevard, 4:30 p.m. [link]
Madison, Wisconsin | In front of Memorial Library, 4:00 p.m. [link]
New York City, New York | Israeli Consulate, 5:00 p.m. [link]
Norman, Oklahoma | University of Oklahoma, 9:00 a.m. [link]
Olympia, Washington | Corner of 4th Ave and Washington, 3:30 p.m. [link]
Philadelphia, Pennsylvania | Israeli Consulate, 19th and JFK Boulevard,
12:00 p.m. [link]
Pittsburgh, Pennsylvania| U.S. Federal Building, 1000 Liberty Avenue,
5:00 p.m. [link]
Rochester, New York | Federal Office Building, 5:00 p.m. [link]
Sacramento, California | Federal Building, 5th and I Street, 4:30 p.m.
San Francisco, California | Israeli Consulate, 4:00 p.m. [link]
San Jose, California | Santana Row, 4:00 p.m. [link]
St. Louis, Missouri | Robert Young Federal Building, 4:00 p.m. [link]
St. Paul, Minnesota | Snelling & Summit Ave, 4:15 p.m. [link]
Tempe Arizona | Arizona State University, NW corner of Mill Ave, 5:00 p.m. [link]
Tucson, Arizona (USA) | SW corner of Euclid Ave & Speedway, 5:00 p.m.
Washington, D.C. (USA) | The State Department (2201 C St. NW), 6:00 p.m. [link]
West Lafayette (USA) | Memorial Mall (south end), 1:30 p.m. [link]
SATURDAY, November 17
Amherst, Massachusetts | Student Union, UMass Amherst, 4:00 p.m. [link]
Denver, Colorado | Denver Capitol, 1:00 p.m. [link]
Indianapolis, Indiana | Monument Circle, 2:00 p.m.
New Haven, Connecticut | 141 Church St., across from the Green, 12:00 p.m. [link]
Nashville, Tennessee | 2500 West End Avenue, 12:00 p.m. [link]
Norman, Oklahoma | University of Oklahoma, 12:30 p.m. [link]
Oklahoma City, Oklahoma | Penn Sq Mall, 12:30 p.m. [link]
Portland, Oregon | Pioneer Courthouse Sq, 12:00 p.m. [link]
Sacramento, California | Federal Building, 4:00 p.m. [link]
St Paul, Minnesota | Snelling & Summit Ave, 4:15 p.m. [link]
SUNDAY, November 18
Dallas, Texas | Earle Cabell Federal Building, 1100 Commerce St., 2:00 p.m.
Kansas City, Missouri | JC Nichols Fountain Country Club Plaza, 3:00 p.m.
Actions Around the World
THURSDAY, November 15

Alexandria (Egypt) | Qaid Ibrahim, 12:00 p.m.
Amsterdam (Holland) | Zuidelijke Wandelweg 41, 6:45 p.m. [link]
Beirut (Lebanon) | Cola, 10:00 a.m.
Belfast (Ireland) | City Hall, 7:00 p.m.
Bradford (Britain) | 4.30 p.m. [link]
Brighton (Britain) | Outside EcoStream HQ, 12:00 p.m. [twitter]
Brighton (Britain) | Victoria Gardens, 5:30 p.m. [link]
Cairo (Egypt) | Omar Makram, 12:30 p.m.
Cairo (Egypt) | Arab League, 4:00 p.m.
Chicago, Illinois | Outside Obama HQ, 130 E Randolph Street, 4:00 p.m. [link]
Cork (Ireland) | Daunt square 6:00 p.m. [link]
Dublin (Ireland) | Israeli Embassy, 5:30 p.m.
Durham (Britain) | Market sq, 4:00 p.m. [link]
Florence (Italy) | Piazza della Repubblica (flash mob), 6:00 p.m. [link]
Glasgow (Scotland) | Ahl al Bayt Centre, 6 p.m. [link]
Haifa (Palestine) | Karma House, 7:00 p.m. [link]
Jerusalem (Palestine) | Outside Hebrew University, 12:00 p.m.
Limerick (Ireland) | Thomas st, 6:15 p.m. [link]
Leeds (Britain) | Parkinson Steps, University of Leeds, LS2 9JT, 1:00 p.m. [link]
London (Britain) | Israeli Embassy, 5:30 p.m. [link]
Manchester (Britain) | Piccadilly Gardens, 5:00 p.m. [link]
Mexico City (Mexico) | Israeli Embassy, 4:00 p.m.
Montreal (Canada) | Hall Building, Concordia University, 5:00 p.m.
Nazareth (Palestine) | Kassarat Crossroad, 6:30 p.m. [link]
Nottingham (UK)| Nottingham Market Square, 5:30 p.m. [link]
Ontario (Canada) | University of Windsor, CAW Student Centre, 12:00 p.m.
Ottawa (Canada) | Israeli Embassy, 6:00 p.m.
Oxford (Britain) | Cornmarket Street, 4:00 p.m. [link]
Paris (France) | Ministry of Justice, 6:00 p.m. [link]
Santiago (Chile) | Palestine Stadium (Vitacura 8049) to Israel Stadium,
9:00 p.m. [link]
Sydney (Australia) | Parmatta Town Hall, 6:00 p.m. [link]
Tel Aviv (Isreal) | Main Entrance, Tel Aviv University 11:30 a.m. [link]
Toronto (Canada) | Israeli Consulate, 180 Bloor Street (E. of St. George TTC),
6:00 p.m.
Tunis (Tunisia) | In front of the National Theatre, 11:00 a.m.
Tunis (Tunisia) | Front of all Trade Association Buildings (Sa7et Mohamed Ali)
1:00 p.m.
Vancouver (Canada) | The Art Gallery, Hornby and Robson Streets, 5:00 p.m. [link]

FRIDAY, November 16

Aberystwyth (Britain) | Aberystwyth University, 6:00 p.m. [link]
Aosta (Italy) | Piazza Chanoux, 9:00 p.m. [link]
Athens (Greece) | Israeli Embassy, 5 p.m. [link]
Belfast (Ireland) | International Wall Divis St., 5:30 p.m.
Benghazi (Libya) | Tahrir Square, 4:00 p.m. [link]
Berlin (Germany) | Brandenburger Tor, Pairser Platz 2:30 p.m.
Bristol (Britain) | The Fountains, 5:00 p.m. [link]
Brussels (Belgium) | Place de la Bourse, 4:00 p.m. [link]
Cairo (Egypt) | Mohamed Mahmoud st, 12:30 p.m. [link]
Cairo (Egypt) | Tahrir Square
Cairo (Egypt) | Mosireen (action meeting), 9:00 p.m. [link]
Calgary (Canada) | City Hall, 3:00 p.m. [link]
Cape Town (South Africa) | Outside Parliament, 12:00 p.m.
Derna (Libya) | Sahet Tahrir, 4:00 p.m. [link]
Durban (South Africa) | City Hall, 2:00 p.m. [link]
Haifa (Palestine) | prisoners' square Carmel (Ben Gurion), 7:30 p.m. [link]
Hebden Bridge (Britain) | Central Intersection, 5:00 p.m.
Glasgow (Scotland) | Donald Dewer Statue, Buchanan st., 5:00 p.m. [link]
Johannesburg (South Africa) | Luthuli House, 2:00 p.m.
Johannesburg (South Africa) | Wits Jamaa Khana, 7:00 p.m. [link]
Kuala Lumpur (Malaysia) | US Embassy, 2 p.m. [link]
L'Aquila (Italy) | Fontana Luminosa, 6:30 p.m. [link]
Lannion (France) | Town Hall, 6:00 p.m. [link]
Limerick (Ireland) | Thomas Street, 5:30 p.m. [link]
Liverpool (Britain) | Outside BBC Radio Merseyside, 5:30 p.m. [link]
London (Britain) | Israeli Embassy, 2:00 p.m. [link]
Madrid (Spain) | Israeli Embassy, 6:00 p.m. [link]
Mälmo (Sweden) | Triangeln, uppgång Smedjegatan, 6:00 p.m.
Manchester (Britain) | Picadilly Gardens, 5:00 p.m. [link]
Milan (Italy) | Piazza del Duomo, 6:00 p.m. [link]
Munich (Germany) | Israeli Consulate General, 3:00 p.m.
Munich (Germany) | Odeonsplatz, 6:30 p.m.
Nanaimo (Canada) Terminal & Commercial st., 12:00 p.m
Nantes (France) | Intersection of trams (50 otages/​Commerce), 5:30 p.m [link]
Nijmegen (Holland) | Intersection Molenstraat/Broerstraat, 2:00 p.m. [link]
Ottawa (Canada) | Israeli Embassy, 50 O'Connor b/w Queen and Albert,
12:00 p.m. [link]
Palermo (Italy) | Piazza Giuseppe Verdi, 5 p.m. [link]
Perth (Australia) | Murray Street Mall, Perth City, 5:30 p.m. [link]
Ramallah (Palestine) Almanara, 1:00 p.m.
Rouen (France) | courthouse, 6:00 p.m. [link]
Rome (Italy) | Montecitoria, 5:30 p.m. [link]
São Paulo (Brazil) | MASP, 5:00 p.m. [link]
Seoul (Korea) | Israeli Embassy, Kabool Bulding, 149 Seorin-dong, 110-726,
1:00 p.m.
Seville (Spain) | Plaza Nueva, 7:00 p.m.
Sousse (Tunisia) | Sahet al Chelli, 12:00 p.m. [link]
St. Catherine's (Canada) | 61 Geneva St, 2:00 p.m. [link]
Tripoli (Libya) | Shuhadaa Square, 4:00 p.m. [link]
Vienna (Austria) | Stephansplatz, 1010, 4:00 p.m. [link]
Waterford (Ireland) | Red Square, 6:00 p.m. [link]
Wellington (New Zealand) | Cuba Mall, by the Buckets, 12:00 p.m. [link]
Zawiya (Libya) | Shuhadaa Square, 4:00 p.m. [link]

SATURDAY, November 17

Aberdeen (Scotland) | St. Nicholas Square, 12:00 p.m.
Amsterdam (Holland) | Dam Sq, 1:00 p.m. [link]
Annecy (France) | In Front of the prefecture , 2:30 [link]
Aubenas (France) | marche et cheateau square , 10:30 a.m. [link]
Aukland (New Zealand) | Aotea Square, 2:00 p.m. [link]
Barcelona (Catalonia) | Placa Saint Jaume, 12:00 p.m. [link]
Belfort (France) | Corbis Square, 2:30 p.m. [link]
Bergen (Norway) | Torgallmenningen, 2:00 p.m. [link]
Bonn (Germany) | 1600 Muensterplatz, 4:00 p.m. [link]
Bologna (Italy) | Piazza di Porta Ravegnana, 4:30 p.m.
Bordeaux (France) | Place De La Comedie, 11:30 a.m. [link]
Boulogne Sur Mer (France) | Monsigny and Theirs Street , 12:00 p.m. [link]
Bournemouth (Britain) | The Square 10 Exeter Road, 1:00 p.m. [link]
Brisbane (Australia) | Brisbane Sq, 12:30 p.m. [link]
Cairo (Egypt) | Arab League HQ, 2:00 p.m. [link]
Cambridge (Britain) | Market Sq, 12:00 p.m. [link]
Canterbury (Britain) | High Street, 12:00 p.m. [link]
Cardiff (Britain) | Aneurin bevan Statue, Queen Street, 2:00 p.m. [link]
Chateauroux (France) | 1 Jules Massenet Street 36000, 8:00 p.m. [link]
Cheltenham (Britain) | High st near Topshop, 3:30 p.m. [link]
Dublin (Ireland) | The Spire, 14:00 p.m. [link]
Edinburgh (Scotland) | Charlotte sq, 12:00 p.m. [link]
Edmonton (Canada) | Edmonton City Hall South steps, 103a Av & 100 St,
1:00 p.m. [link]
Every (France) | Townhall, Human Rights Square, 12:00 [link]
Exeter (Britain) | Exeter High Street, EX4 3PZ , 12:00 p.m. [link]
Frankfurt (Germany) | Hauptwache, 3:00 p.m. [link]
Geneva (Switzerland) | In front of the UN (Places des Nation), 2:00 p.m. [link]
Genoa (Italy) | Piazza De Ferrari, 5:30 p.m. [link]
Gothenburg (Sweden) | Gustav Adolfs torg, 3:00 p.m. [link]
Lisbon (Portugal) | Israeli Embassy, 5:00 p.m. [link]
London (Britain) | Hyde Park Corner, 2:00 p.m. [link]
Lyon (France) | Place Bellecour, 2:00 p.m. [link]
Malaga (Spain) } Plaza de la Contiticion, 12:00 p.m. [link]
Mälmo (Sweden) | Gustaf Adolfs Torg, 3:00 p.m. [link]
Melbourne (Australia) | Bourke St Mall, 12:30 p.m. [link]
Modena (Italy) | Near Ghirlandina, 4:00 p.m.
Montpellier (France) | Place De La Comedie, 4:00 p.m. [link]
Newcastle (Britain) | Grey's Monument, 12:00 p.m. [link]
Nimes (France) | Carre D'art , 3:00 p.m. [link]
Nottingham (Britain)| Nottingham Market Square, 5:30 p.m. [link]
Orleons (France) | Arc Square, 3:00 p.m. [link]
Oslo (Norway) | Israeli Embassy, 2:00 p.m. [link]
Padova (Italy) | Piazza delle Erbe Square, side of Rome Street, 10:00 a.m.
Padova (Italy) | In front of City Hall, 4:30 p.m.
Paris (France) | Place De L'opera, 3:00 p.m. [link]
Paris (France) | Place de la Bastille, 3:00 p.m. [link]
Pau (France) | Pyrénées Atlantiques , 12:00 p.m. [link]
Reading (Britain) | Broad st, 12:30 p.m.
Regina (Canada) | Victoria Park 3:00 p.m. [link]
Rome (Italy) | Piazzo Montecitorio, 5:00 p.m. [link]
San Sebastian (Spain) | Boulevard de Donosti, 12:00 p.m.
Santiago (Chile) | Israeli Embassy, 11:00 a.m. [link]
Sheffield (Britain) | Outside the Town Hall, 12:00 p.m. [link]
Southampton (Britain) | Bargate Shopping Centre, 12:00 p.m. [link]
Stockholm (Sweden) | Israeli Embassy 3:00 p.m. [link]
Stransbourg (France) | Place Keleber 4:00 p.m. [link]
Stuttgart (Germany) | Schlossplatz, 2:00 p.m. [link]
Swansea (Britain) | Castle sq, 2:00 p.m. [link]
Tarbes (France) | Verdum , 3:00 p.m. [link]
Torino (Italy) | Corso G Cesare, 2:30 p.m. [link]
Toulouse (France) | Franklin Roosevelt and Jean Jaures, 4:30 p.m. [link]
Valence (France) | Townhall , 2:30 p.m. [link]
Venice (Italy) | Campo Santa Margherita, 16:30
Warsaw (Poland) | Israeli Embassy, 1:00 p.m. [link]
Wrexham (Britain) | Hope st., near Barclays, 11:00 p.m. [link]

SUNDAY, November 18

Anges, (France) | Place Ralliment, 6:00 p.m. [link]
Antwerp (Belgium) | ProvincieHuis, 1:00 p.m. [link]
Berlin (Germany) | Hermannplatz, 2:00 p.m. [link]
Cairo (Egypt) | Convoy to Gaza Assembly at the Journalists Syndicate, 7:00 a.m.
Gijon (Spain) | Paseo de Begona, frente el teatro jovellanos, 7:00 p.m.
Hong Kong (China) | Victoria Park, 2:00 p.m. [link]
Lille (France) | Metro Wazemmes , 11 a.m. [link]
Portsmouth (Britain) | Guildhall Square , 2 p.m. [link]

MONDAY, November 19

Berlin (Germany) | Brandenburger Tor, Pariser Platz 5:00 p.m.
Romans (France) | Place Charles de Gaulle, 4:30 p.m. [link]
For updated information see:
Emergency Global Actions for Gaza

[TOP]
---