Denounce Efforts to Slander Puerto Rican Independence Fighter Oscar Lopez Rivera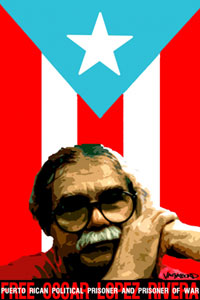 Puerto Rican political prisoner Oscar López Rivera is again being slandered by U.S. officials and media. Oscar was unjustly imprisoned for fighting for Puerto Rican independence against U.S. colonialism. Despite more than 30 years of incarceration, including long periods of solitary confinement and other torture, he has remained unwavering in defending the right of Puerto Rico to decide their own affairs and build an independent nation. He has stood firm in denouncing the crime of U.S. colonialism and affirming his right and the right of all Puerto Ricans to resist. This is why he was imprisoned, why he is being slandered today as a terrorist and why the government refuses to release him. He is being branded by the government as a terrorist and muderer when Oscar is affirming the right to resist, for Puerto Ricans and for all.
Voice of Revolution salutes Oscar López Rivera for refusing to submit and for standing up to injustice, fighting for a free Puerto Rico and being one with all those resisting U.S. imperialism. We demand that President Obama take action to grant a pardon or clemency now and that New York prison authorities do the same.
We reprint below a call by the ProLibertad Freedom Campaign to denounce a recent New York Daily News article slandering Oscar López Rivera by attempting to again brand him as a terrorist when it is U.S. colonialism and continued repression of Puerto Rico and genocide against her people that is the crime.
* * *
On Saturday January 21, the New York Daily News published an article by Mara Bovsun titled, "Justice Story: FALN bomb kills 4 at Fraunces Tavern, where George Washington said farewell to troops"[1] in which she details the history of the armed action organized by the FALN at Fraunces Tavern on January 24, 1975.
At the end of the article, she mentions that Puerto Rican Political Prisoner Oscar López Rivera, who was a member of the FALN, was denied parole last year and quoted John Connor, the son of one of the Fraunces Tavern victims, 'Finally…some justice for our father, Frank Connor, and other victims of the FALN."' [The FALN or Fuerzas Armadas de Liberación Nacional (Armed Forces of National Liberation) of Puerto Rico was an organization that fought for the liberation of Puerto Rico from U.S. colonialism. The United Nations and international law affirm that all those facing colonialism have the right to armed resistance against colonial occupiers. The crime is not resistance but colonialism — VOR Ed.]
The Daily News article is a one-sided hit piece that attempts to portray Oscar as a terrorist who is getting his "just deserts." The Daily News must be held accountable to report the facts of Oscar's case.
For example: In a highly unorthodox and controversial move, John Connor and other family members of the Fraunces Tavern bombing were allowed to give testimony at Oscar's parole hearing to prejudice the parole board. Oscar's defense team protested their attendance and asked for them to leave; their request was denied.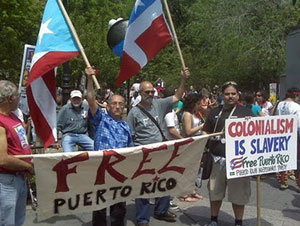 Oscar was never charged with or convicted of the Fraunces Tavern action, therefore he cannot be held responsible for it; their testimonials against him should not have had any bearing on his parole hearing and should not have been allowed.
While incarcerated, Oscar's behavior has been exemplary and support for his parole has come from religious leaders, academics, union leaders and elected officials throughout Puerto Rico and the United States. In fact, thousands of letters, telephone calls and emails have been made and continue today calling for Oscar's release.
The ProLibertad Freedom Campaign is asking our supporters to call the Daily News' News Department and demand that an article be published on the international movement for Oscar Lopez Rivera's parole! Demand that the News Department speak with Oscar López Rivera's legal representatives, his supporters and family members! Demand a stop to this yellow journalism and fairness in the news reporting!
Call the Daily News 212-210-1585 and ask for the News Department! Let them know ProLibertad is available for any interviews on Oscar at 718-601-4751 or ProLibertad@hotmail.com. Email the news department: news@nydailynews.com
[1] Daily News: "Justice Story: FALN bomb kills 4 at Fraunces Tavern, where George Washington said farewell to troops"
http://www.nydailynews.com/new-york/justice-story-faln-bomb-kills-4-fraunces-tavern-ge orge-washington-farewell-troops-article-1.1008711

[TOP]
---
A Response to the New York Daily News
Perpetuating False Charges on the 1975 Fraunces Tavern Bombing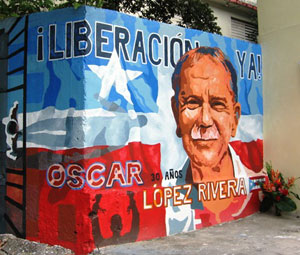 Oscar López Rivera, a 69-year-old decorated Vietnam veteran, has spent 31 years in U.S. prisons for his commitment to the independence of Puerto Rico. He has the dubious distinction of being the longest held pro-independence prisoner in Puerto Rico's history of seeking self-determination — and thousands preceded him. Convicted of seditious conspiracy in Chicago, he is serving a sentence of 70 years, although he was not convicted of harming or killing anyone.
If you read the New York Daily News article published this year on January 24, on the 37th anniversary of the bombing of Fraunces Tavern, you would not know this . . . and you would be left with the impression that López Rivera should remain in prison because he is somehow responsible for that tragic action. That is, sadly, what the FBI has led the victims to believe, and it is most certainly the weapon wielded by the FBI in its unceasing efforts to convince the public, the U.S. Parole Commission, and the President, that López Rivera should remain in prison.
López Rivera has denied participation in the 1975 tragedy at Fraunces Tavern. There is no evidence to connect him to it. If the FBI had such evidence, it would surely prosecute him — but in the 37 years since, it has not. Instead, it has waged a campaign of guilt by association, using its bully pulpit to prolong his imprisonment, and thereby punish him for his commitment to the independence of Puerto Rico.
In fact, during his 1981 trial for seditious conspiracy, López Rivera presented no defense in court. Prosecutors risked little, if anything, in charging him on this case. They did not charge him — again, because there simply is not a shred of evidence that could even remotely link him to the Fraunces Tavern event. The New York Daily News has done its readers — and more importantly, truth and justice — a great disservice by implying there is somehow some kind of link between López Rivera and this case, a link that somehow has mysteriously eluded prosecutors, the courts and the FBI for more than 31 years.
A campaign for the release of López Rivera and his co-defendants, which enjoyed broad support throughout Puerto Rican civil society and among the international human rights and faith community, resulted in President Clinton's 1999 offer to commute the sentences of most of them. Most were offered immediate release, but López Rivera would have had to serve an additional 10 years behind bars. The others accepted the president's offer, were welcomed as returning heroes in Puerto Rico and Puerto Rican communities in the U.S., and for the past 12 years have lived productive, law-abiding lives. Out of concern that the President's offer did not include all those in prison for their commitment to independence, López Rivera rejected the offer. Had he accepted, he would have been released in September of 2009. Those excluded from the president's offer have since been released - López Rivera is now the only one still in prison from the Chicago seditious conspiracy cases of the 1980s.
That campaign continues to advocate for López Rivera's release from prison. Recent activities in Puerto Rico include mass demonstrations during President Obama's June visit to the Island, calling for his release — and elected officials personally asking the President to release him; on the occasion of López Rivera's 69th birthday, the Catholic Archbishop presiding over a mass, and a gathering of representatives from every sector of civil society calling for his release; and students painting murals featuring his face and the message "Freedom Now!" for López Rivera.
( http://www.libertadparaoscar.org/index.php)
In the United States tradition of exercising the constitutional power of pardon, three U.S. Presidents have commuted the sentences of Puerto Rican political prisoners: President Truman in 1952, President Carter in 1979, and President Clinton in 1999. President Obama should not be fooled by the FBI's campaign of untruths.

For more information about the campaign for Oscar Lopez Rivera's release, contact the National Boricua Human Rights Network at www.boricuahumanrights.org.
Jan Susler, a partner at the People's Law Office in Chicago and member of the National Lawyers Guild, has been working as attorney for the Puerto Rican political prisoners for the past 30 years, and was lead counsel in the campaign leading to the 1999 presidential commutation. She continues to work with those who remain in prison. She can be reached at 773-235-0070 x 118 and jsusler@aol.com.

[TOP]
---
Solitary Confinement is a Crime of Torture
Oppose Government Revenge Against
Mumia Abu Jamal
Since finally winning his removal from death row, based on fierce resistance and mobilizaiton of broad support in the U.S. and worldwide, political prisoner Mumia Abu Jamal is facing revenge from prison officials. He has been placed in solitary confinement since being moved off death row and into to a medium-security prison. The broad movement that has long defended Mumia and fought for his release is again in action, demanding he be released from solitary confinement and placed in general population.
It is readily apparent that government torture and use of solitary confinement is not meant to solve any problem but rather to terrorize those who stand in resistance. Mumia, like Puerto Rican political prisoners, California hunger strikers and the many political prisoners nationwide are refusing to submit to these government crimes and affirming that resistance and organization is the way forward. They organize as a political force, demanding rights as prisoners and as human beings.
A statement from the International Concerned Family and Friends of Mumia Abu Jamal and the Move Organization explains:
"Since arriving at SCI-Mahanoy, in Pennsylvania, Mumia has been in the hole, on AC (administrative custody) status, solitary confinement, even though there is no valid reason for him to be in the hole. The conditions are tortuous and much worse than the conditions on death row. These conditions have been condemned by the United Nations as tortuous.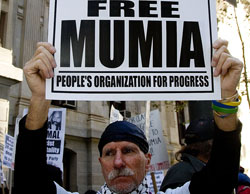 "Since his arrival at Mahanoy, Superintendent John Kerestes and his staff have gone from one thing to the next to vent their fury and racism on Mumia. First they claimed to be waiting on paperwork that Mumia's sentence is a life sentence and not death, but Mahanoy has no death chamber so Mumia would never be sent there if he still had a death sentence.
"When people saw right through that, Kerestes said that Mumia has to cut his hair before going into general population. Now he is saying that Mumia has to let them take his blood – something Mumia really does not want to do – before he can be in general population. Mumia has been in prison for 30 years so why this sudden demand for his blood now?
"It is crystal clear that Kerestes and his staff are doing everything they can to keep Mumia in the hole under these tortuous conditions, and it is all rooted in racism and their fury at all the worldwide attention that stays focused on Mumia after all these years. They are furious that their plan to legally kill Mumia [did not work and ] because he will not go along with the lies of the system and racism."
Contact Superintendent John Kerestes and demand Mumia's release from solitary: SCI Mahanoy, 301 Morea Road, Frackville PA 17932 • 570-773-2158 • fax 570-783-2008.

[TOP]
---
International Day of Action Demanding Freedom for Leonard Peltier
Actions are being organized in Canada, Belgium, Britain, France, Germany, Ireland, and across the U.S. demanding freedom for Native American political prisoner Leonard Peltier. Various activities are being organized February 4, including dance performances, prayer circles, rallies, marches and more. February 6, 1976 is the date Leonard Peltier was arrested in Canada and later illegally extradited to the U.S. based on false testimony by U.S. officials. Peltier has spent his life organizing for the rights of Native Americans and resisted state organized violence against Native peoples, at Pine Ridge and elsewhere.He has continued to do so despite decades of imprisonment. Below is the call to action released by the Leonard Peltier Defense Offense Committee (LPDOC) and general information about Leonard. (see http://whoisleonardpeltier.info for more information)
Voice of Revolution urges all to join in actions and to persist in organizing efforts to free Leonard Peltier and all U.S. political prisoners.
* * *
The Leonard Peltier Defense Offense Committee calls on supporters worldwide to protest against the injustice suffered by Indigenous activist Leonard Peltier. Gather on February 4, 2012, at every federal court house and U.S. embassy or consulate worldwide to demand the freedom of a man wrongfully convicted and illegally imprisoned for 36 years!
Leonard Peltier is a Native American activist wrongfully accused in 1975 in connection with the shooting deaths of two agents of the Federal Bureau of Investigation (FBI). Government documents show that, without any evidence at all, the FBI decided from the beginning of its investigation to 'lock Peltier into the case'.
U.S. prosecutors knowingly presented false statements to a Canadian court to extradite Mr. Peltier to the U.S. The statements were signed by a woman who was forced by FBI agents to say she was an eyewitness. The government has long since admitted that the woman was not present during the shootings.
Meanwhile, in a separate trial in Cedar Rapids, Iowa, Mr. Peltier's co-defendants were acquitted by reason of self defense. Had Leonard been tried with his co-defendants, he also would have been acquitted.
Unhappy with the outcome of the Cedar Rapids trial, prosecutors set the stage for Mr. Peltier's conviction. His trial was moved to an area known for its anti-Indian sentiment—Fargo, North Dakota. The trial judge had a reputation for ruling against Indians, and a juror is known to have made racist comments during Mr. Peltier's trial.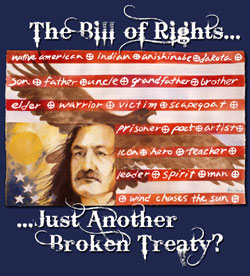 FBI documents prove that the U.S. government went so far as to manufacture the so-called murder weapon, the most critical evidence in the prosecution's case. A ballistics test proved, however, that the gun and shell casings entered into evidence didn't match. The FBI hid this fact from the jury. Mr. Peltier was convicted and sentenced to two consecutive life terms. According to court records, the United States Attorney who prosecuted the case has twice admitted that no one even knows who fired the fatal shots.
Leonard Peltier is 67 years old and in poor health. An accomplished author and artist, Mr. Peltier is renowned for his humanitarian achievements. In 2009, Leonard was nominated for the Nobel Peace Prize for the sixth consecutive year.
Although the courts have acknowledged evidence of government misconduct—including forcing witnesses to lie and hiding ballistics evidence reflecting his innocence—Mr. Peltier has been denied a new trial on a legal technicality. Nelson Mandela, Desmond Tutu, 55 Members of Congress and others—including a judge who sat as a member of the court in two of Mr. Peltier's appeals—have all called for his immediate release.
The Courts may not be able to act but Barack Obama, as President, can. Please join with us to free an innocent man. On February 4, 2012, tell Obama to grant clemency to Leonard Peltier.
Join with us to free Leonard Peltier. Our work currently takes us in four directions:
• An award of Executive Clemency;
• A congressional investigation into the FBI's misconduct in Indian Country, against the American Indian Movement and in the case of Leonard Peltier;
• An Executive Review by the Attorney General; and
• The release of the tens of thousands of related case documents.
Human Rights Initiatives
Leonard asks you to vigorously protect the earth and defend the rights of others, as well as pass on a tradition of activism to and mentor young people everywhere.
The following initiatives reflect Leonard's primary concerns.
• Caring for Mother Earth
• Indigenous Rights (Protection of All Civil/Human Rights) and Tribal Sovereignty
• Political Dissent and Related Government Misconduct/Accountability
• Prisoner Rights and Conditions of Confinement (as well as other Criminal Justice Reforms)
• Religious Freedom and Protection of Sacred Places
• Youth Activism
• Voter Registration and Get-Out-the-Vote Strategies
Let us all do our part to ensure the well being of the earth and that justice is applied equally to all human beings.
Join the February 4 Actions!
All events February 4 unless otherwise indicated.
Washington State
Spokane, Circle of Solidarity with Leonard Peltier, All Saints Lutheran Church, 4:30pm
314 S. Spruce [SW edge of Coeur d'Alene Park]
A presentation by Clyde Bellecourt, American Indian Movement, will begin at 2 p.m. (open to the public).
Contact: Yvonne Swan • 509-680-8150 • Robert Zeller • 509-624-4712
Tacoma, Northwest Regional March and Rally for Clemency for Leonard Peltier, Noon.
Portland Avenue Park (on Portland Avenue between E. 35th and E. Fairbanks; take Portland Avenue exit off I-5 and head east).
1:00 p.m. Rally for Justice. U.S. Federal Court House, 1717 Pacific Avenue.
California
Los Angeles, 7am-4pm Prayer Circle
Join us February 4 at The Cornfield, Los Angeles Historic State Park, 1760 - 1770 N. Spring Street (one block NE from the Chinatown Gold Line Metro Station). Everyone is welcome to participate and come at any time: bring your family and friends. Bring a dish to share at a potluck, too.
Performances:
• 7 to 10 am Danza Azteca
• 11 to 12pm Speakers
• 1 pm Aztlan Underground Un-Earthed
This event is drug and alcohol free. For information: 323-557-2337
Stand in Unity for Clemency for Leonard Peltier, 2-4pm
L.A. Federal Building, 11000 Wilshire Boulevard.
Contact: 805-235-6559
San Francisco, Rally on MONDAY, February 6, 11am
Federal courthouse on Mission and 7 th; we will leave at 11:30am for a short walk to the Federal Building on Golden Gate St. for a noon time rally from 12:00-1:00 p.m. We will have prayer, sage, drum and song, open microphone, speakers and announcements.
Contact: www.aimwest.info • 415-577-1492
San Jose, International Day of Solidarity with Leonard Peltier, 1-3pm
Join our standout for Leonard Peltier. Gather in front of the Martin Luther King, Jr., Library at the corner of 4th Street and Santa Clara Street, and help distribute case literature to auto passengers and pedestrians. Bring signs, posters, banners. Suggestions: "Leonard Peltier - 36 Years Justice Denied," "Bill of Rights is another Broken Treaty - Free Leonard Peltier," or "Leonard Peltier is Innocent." Sponsored by Leonard Peltier Defense Offense Committee, Silicon Valley Chapter
Contact: Donna Wallach 408-293-4774 • 408-569-6608 • dbwall@earthlink.net.
February 6 Standout in support of Leonard Peltier
Corner of Market Street and San Carlos Street (south end of Chavez Plaza). Bring signs, posters, banners.
Contact: Donna Wallach 408-293-4774 • 408-569-6608 • dbwall@earthlink.net.
Nevada
Reno, Standout for Leonard Peltier, 11:00-1:00pm
Bruce R. Thompson Courthouse and Federal Building, 400 South Virginia Street
New Mexico
Albuquerque Honoring Leonard Peltier and Wounded Knee Veterans, Albuquerque Peace and Justice Center, 202 Harvard SE, 5-9pm
Includes discussion with Wounded Knee Veterans, video: A Tattoo on My Heart: The Warriors of Wounded Knee, 1973, letter writing to demand clemency for Leonard.
Co-sponsored by Leonard Peltier Defense Offense Committee Chapter-Albuquerque and Albuquerque Jericho.
Contact: LPDOC • 505-301-5423 • Jericho • 646-271-4677
Gallup, Federal Building, Third and Hill Streets, 12:00-1:00pm
South Dakota
Rapid City, Rally February 6, 11-2pm Federal Building, 515 9th Street
Speakers. Drum groups and singers welcome. Bring your banners
Colorado
Boulder, Leonard Peltier Commemoration Concert, 6-10pm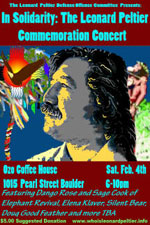 Ozo Coffee House, 1015 Pearl Street. Come and join us for a special night in celebration of the life of spiritual warrior, Leonard Peltier! Featuring Dango Rose, Sage Cook and Bonnie Payne of Elephant Revival, Ellen Klaver, Silent Bear, Doug Good Feather aka Doug Foote and Vince Herman of Leftover Salmon $5.00 suggested donation.
New York
Buffalo, Rally United States Courthouse, Niagara Square, 2:00-3:00 p.m. Hosted by Leonard Peltier Defense Offense Committee Chapter - Buffalo.
New York City, Riverside Church, 2:00-6:00 p.m.
490 Riverside Drive, Assembly Hall (120th and Claremont, Manhattan). Drumming, Dance, Presentation by former Puerto Rican political prisoner, Food
Georgia
Decatur, PushPushTheatre, 121 New Street, 7:30pm
Leonard Peltier Defense Offense Committee Chapter-Atlanta is hosting an awareness and solidarity action at the PushPushTheatre. View the Suzie Baer film "WARRIOR: The Life of Leonard Peltier" Donations accepted-Not required.
Contact: 404-525-4360.
Macon, Macon - District Federal Courthouse, 10:00 AM
Located at the corner of Mulberry and Third Streets. Peaceful assembly. No alcohol, drugs, or weapons. Please make & bring your own hand held signs (no sticks).
Contact: 706-537-0067 • 770-630-1737
[TOP]
---
Resolution Demands Freedom for Native American Political Prisoner Leonard Peltier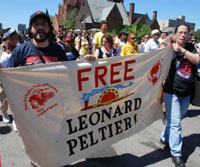 TITLE: To Secure through Prudent Means an Award of Executive Clemency for Leonard Peltier
WHEREAS, we, the members of the National Congress of American Indians of the United States, invoking the divine blessing of the Creator upon our efforts and purposes, in order to preserve for ourselves and our descendants the inherent sovereign rights of our Indian nations, rights secured under Indian treaties and agreements with the United States, and all other rights and benefits to which we are entitled under the laws and Constitution of the United States, to enlighten the public toward a better understanding of the Indian people, to preserve Indian cultural values, and otherwise promote the health, safety and welfare of the Indian people, do hereby establish and submit the following resolution; and
WHEREAS, the National Congress of American Indians (NCAI) was established in 1944 and is the oldest and largest national organization of American Indian and Alaska Native tribal governments; and
WHEREAS, Leonard Peltier was convicted and sentenced to two consecutive life terms in connection with the shooting deaths of two agents of the Federal Bureau of Investigation (FBI); and
WHEREAS, appellate courts have repeatedly acknowledged evidence of U.S. government misconduct — including knowingly presenting false statements to a Canadian court to extradite Mr. Peltier to the United States, forcing witnesses to lie at trial, and hiding ballistics evidence reflecting Mr. Peltier's innocence from the jury; and
WHEREAS, according to official court records, the United States prosecutor in the Peltier case has twice admitted that no one knows who fired the fatal shots; and
WHEREAS, Leonard Peltier has maintained his innocence, yet expressed remorse for the loss of life for the federal agents and the young American Indian man killed on June 25, 1975; and
WHEREAS, Leonard Peltier is an accomplished author and artist and is renowned for his humanitarian achievements for which, in 2009, he was nominated for the Nobel Peace Prize for the sixth consecutive year; and for which he has been awarded the Human Rights Commission of Spain International Human Rights Prize (1986); North Star Frederick Douglas Award (1993); Federation of Labor (Ontario, Canada) Humanist of the Year Award (2003); Silver Arrow Award for Lifetime Achievement (2004); First Red Nation Humanitarian Award (2009); Kwame Ture Lifetime Achievement Award (2010); Fighters for Justice Award (2010); and Mario Benedetti Foundation (Uruguay) - First International Human Rights Prize (2011); and
WHEREAS, Leonard Peltier has fulfilled his federal sentencing guideline requirements and maintained a clean prison record for 15+ years yet, on August 21, 2009, the U.S. Parole Commission denied his application for parole; and
WHEREAS, Leonard Peltier is a great-grandfather who is 67 years old and in poor health, and at risk for premature death due to his harsh living environment; and
WHEREAS, Leonard Peltier's unjust imprisonment has been recognized by national and international human rights organizations, luminaries and dignitaries, 55 Members of the U.S. Congress and others—including a judge who sat as a member of the court in two of Peltier's appeals—who have all called for his immediate release; and
WHEREAS, the NCAI previously has adopted resolutions requesting Executive Clemency for Leonard Peltier and, in 1999, supported the Assembly of First Nations in the same; and
WHEREAS, the NCAI acknowledges that the authority to grant clemency belongs only to the President of the United States (under Article II, Section 2 of the U.S. Constitution) and, while an unconditional commutation of Mr. Peltier's sentence is most desirable, supports consideration of conditions of release including releasing Leonard Peltier on house arrest or into the custody of the Turtle Mountain Band of Chippewa Indians, a sovereign nation.
NOW THEREFORE BE IT RESOLVED, that the NCAI welcomes the opportunity to directly develop a strategy with members of his legal defense team, as well as the Turtle Mountain Band of Chippewa Indians, to secure Leonard Peltier's freedom; and plan and coordinate a meeting with President Barack Obama and/or members of his Administration to secure a grant of Executive Clemency to Leonard Peltier on constitutional and overriding human rights and compassionate grounds; and
BE IT FURTHER RESOLVED, that this resolution shall be the policy of NCAI until it is withdrawn or modified by subsequent resolution.
CERTIFICATION
The foregoing resolution #PDX-11-082 was adopted by the General Assembly at the 2011 Annual Session of the National Congress of American Indians, held at the Oregon Convention Center in Portland, Oregon on October 30 – November 4, 2011, with a quorum present.

[TOP]
---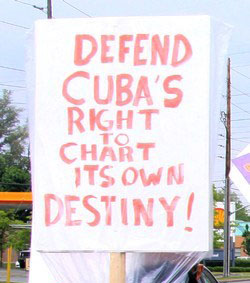 Over the last few days, the media and representatives of certain governments traditionally committed to anti-Cuba subversion have unleashed a new campaign of accusations, unscrupulously taking advantage of a lamentable event: the death of an ordinary prisoner, which possibly only in the case of Cuba, is converted into news of international repercussion.
The method utilized is the same one as always: fruitlessly attempting, through repetition, to demonize Cuba, in this case through the deliberate manipulation of an incident that is absolutely exceptional in this country.
This so-called political prisoner was serving a four-year sentence after a fair legal process during which he was at liberty and a trial in accordance with the law, for a brutal physical attack on his wife in public and violent resistance to arrest by police agents.
This man died from multi-organ failure due to an acute respiratory infection, despite having received appropriate medical attention, including specialized medication and treatment in the intensive care room of Santiago de Cuba's principal hospital.
Why did Spanish authorities and certain members of the European Union hasten to condemn Cuba without any investigation into the incident? Why do they always utilize pre-fabricated lies in the context of Cuba? Why, in addition to lying, do they censor the truth? Why is the voice and truth about Cuba openly denied the smallest space in the international media?
They are acting both cynically and hypocritically. How would they describe the recent manifestations of police brutality in Spain and a large part of "educated and civilized" Europe against the indignados movement?
Why is there no concern over the dramatic situation of overcrowding in Spanish jails with a high immigrant population — in excess of 35% of total prisoners in the country — according to the most recent report by the ACAIP prison union, dated April 3, 2010?
Who has made any effort to investigate the death in July of 2011 in the Spanish penitentiary of Teruel, of Tohuami Hamdaoui, an ordinary prisoner of Moroccan origin after a hunger strike of several months? Who has reflected on the fact that he insisted he was innocent?
Has the Chilean spokesperson slandering us by asserting that the dead man was a political dissident on his 50th day of hunger strike lost his memory and sense of reality? He must remember his days as a student leader linked to Pinochet's troops, who massacred Chileans and instituted disappearances and torture throughout the Southern Cone via Plan Condor, while there have been no statements about the harsh repression of students peacefully demonstrating in defense of the human right to universal and free education. Is he one of those who supported re-labeling the Pinochet dictatorship a military regime in school textbooks? Has he made any statement about the repressive and arbitrary Anti-Terrorist Law implemented against Mapuche prisoners on hunger strike?
The United States government, the principal instigator of any effort to discredit Cuba in order to justify its policy of hostility, subversion and the economic, political and media blockade of Cuba, could not be missing from this campaign.
The hypocrisy of spokespersons for the United States, a country with a poor human rights record at home and abroad, is staggering. The UN Human Rights Council has acknowledged frequent serious violations in this country of women's rights, in the treatment of persons, racial and ethnic discrimination, inhuman conditions in prisons, neglect of inmates, a differentiated racial standard and frequent judicial errors in imposing capital punishment, and the execution of minors and the mentally ill. This is compounded by abuses of the migratory detention system, deaths along the militarized southern border, atrocious acts against human dignity and the killing of innocent civilians by U.S. army troops in Iraq, Afghanistan, Pakistan and other countries, not to mention arbitrary detentions and acts of torture perpetrated in the illegally occupied Guantánamo Naval Base.
It is barely known that three people died in the United States last November 2011 during a mass hunger strike of prisoners in California. According to testimonies from prisoners in adjoining cells, prison guards offered no assistance whatsoever and ignored their cries for help, as opposed to the abusive practice of force feeding hunger strikers.
A few weeks previously, African American Troy Davis was executed despite a large body of evidence demonstrating legal errors in his case. The White House and the Department of State did nothing about this case.
A total of 90 prisoners have been executed since January 2010 to date in the United States, while a further 3,220 remain on death row. The government frequently brutally represses those who dare to expose injustices within the system.
This new attack on Cuba is clearly politically motivated and has nothing to do with legitimate concerns for the lives of Cuban men and women. It is fuelled by the complicity of the financial-media corporations such as the Prisa Group and the corporation running CNN en Español, in the finest style of the Miami Mafia. It is irrationally accusing the Cuban government without having made any investigation into the facts. Condemnation and judgment are made a priori.
It is apparent from the immediate and crude response of authorities and the apparatus in the service of media aggression against Cuba that they did not even take the trouble to confirm the information. The truth is unimportant if the intention is to fabricate and sell a false image of alleged flagrant and systematic violations of civil liberties in Cuba, which could one day justify an intervention in order to "protect defenseless Cuban civilians."
The attempt to impose a distorted image of Cuba meant to indicate a notable deterioration in human rights, to construct an allegedly victimized opposition dying in prison, where health services are denied, is evident.
The humanist vocation of Cuban doctors and health personnel, who spare no effort or the country's scant resources — to a large extent the result of the criminal 50-year blockade imposed on the Cuban people — to save lives and improve the health standards of their own people and in many other nations is well known.
Cuba is respected and admired by many peoples and governments who recognize its social undertakings at home and abroad.
Deeds speak louder than words. Anti-Cuban campaigns will not inflict any damage on the Cuban Revolution or the people, who will continue improving their socialism.
The truth of Cuba is that of a country in which human beings are most valued: a life expectancy rate at birth of 77.9 years; free health coverage for the entire population; an infant mortality rate of 4.9 per 1,000 live births, a figure exceeding that of the United States and the lowest on the continent along with Canada; a literate population with full and free access to all levels of education; 96% participation in the 2008 general elections; and a democratic process of discussion of the new economic and social guidelines prior to the 6th Congress of the Communist Party.
The truth of Cuba is that of a country which has taken its universities and schools to penitentiaries holding inmates who had fair and impartial trials, who receive the same wages for work undertaken, and enjoy high levels of medical attention without any distinction in terms of ethnicity, gender, creed or social origin.
It will be demonstrated yet again that lies, however much they are repeated, do not necessarily become truths, because, as José Martí stated, "A just principle, from the depths of a cave, can do more than an army."

[TOP]
---