$1 Million in Incentives Paid Out
300 Wrongful Arrests by Border Patrol
A new report released by Families for Freedom in collaboration with New York University (NYU) Immigrant Rights Clinic entitled, "Uncovering USBP: Bonus Programs for United States Border Patrol Agents and the Arrest of Lawfully Present Individuals" reveals crucial information about the incentives and consequences of USBP practices. Using detailed new data from the USBP station in Rochester, New York and the Buffalo Sector that were obtained through a Freedom of Information lawsuit, the report reveals the existence of various incentive programs provided to Border Patrol agents in their quest to apprehend individuals of color, many of whom have legal status. The report also documents the broad array of persons with lawful status who suffer at the hands of USBP.
The report contains the first data on U.S. Border Patrols' (USBP) discretionary bonus programs that include cash bonuses, vacation awards, and distribution of gift cards to border patrol agents. Data shows bonuses reached up to $2,500 a year per agent. This program has been ramped up from a yearly budget of a few thousand dollars in 2003 to nearly $200,000 in 2011. In total, from 2003 to 2011, close to $1 million dollars were allocated for cash awards for the Buffalo Sector alone. "The bonus program is especially troubling because it lacks any articulated criteria for determining which agents receive an award, and the size of that award." said NYU Professor Nancy Morawetz.
The report also provides evidence that the vast majority of those wrongfully arrested were from South Asian, East Asian, African, and Caribbean backgrounds. Initially USBP claimed they did not maintain data on wrongful arrests. However, later USBP disclosed that these arrests were being monitored on a daily basis. "It's unacceptable for a federal agency to lie about these records. This is a rogue agency that is terrorizing and arresting people of color in exchange for cash or a gift card to Home Depot," said Families for Freedom Executive Director Abraham Paulos. "We have every reason to believe that these injustices are happening to people around the country."
The report's analysis is based on detailed documents obtained by Families for Freedom through a Freedom of Information lawsuit. These documents provide concrete evidence of the wide array of persons of lawful status who are arrested by USBP, including tourists, persons with work or student visas, lawful permanent residents and United States citizens. In just one program in one USBP station from 2006 to 2011 there were almost 300 documented cases of arrest and detention of persons with lawful status. The actual number is probably far higher because USBP did not formally instruct its agents to document these arrests until June 2010. "It is time for USBP to abandon its misguided program of internal immigration enforcement," said Anna Schoenfelder, a NYU law student who co-authored the report.
This report comes at a pressing time when Congress and President Obama begin debates around Comprehensive Immigration Reform (CIR), which calls for the expansion of a failed and costly Border enforcement program that as this report indicates has not generated positive outcomes and in fact incentivizes and encourages the wrongful arrests of individuals of color who are legally present in the country. Families for Freedom along with groups who work on border issues will call for a national investigation on all border incentive programs and wrongful arrest records for USBP stations across the nation.
Families for Freedom is a New York-based human rights organization by and for immigrant families facing and fighting deportation. NYU School of Law Immigrant Rights Clinic engages in direct legal representation of immigrants and community organizations in litigation and in immigrant rights campaigns.

[TOP]
---
Close Inhumane Detention Centers Now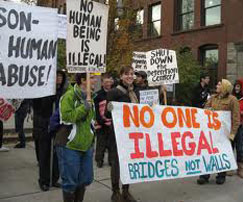 Detention Watch Network recently released "Expose and Close" reports on ten detention prisons, among the worst in the country. The reports detail the acute and chronic human rights violations occurring in immigration detention prisons in the United States today. A group of advocates, community organizers, legal service providers, faith groups and individuals personally impacted by detention, who together have deep experience and understanding of the detention and deportation system in the U.S., have identified these ten prisons and jails as facilities that must be closed now. The prisons themselves are criminal, in that they impose torture and other violations of rights on the people detained, many only for civil violations and none actually convicted.
Detention Watch together with 300 national and local called on President Obama to take a first step toward ending inhumane detention by closing these 10 immigrant prisons across the country — as a down payment on a complete overhaul of U.S. immigration policies and practices. They sent a letter to the White House, calling on President Obama to close ten of the worst detention centers in the country while making immediate changes to ensure the safety, dignity and well-being of immigrants held in detention.
Letter to Obama Demanding Closure of Inhumane Detention Centers
Dear President Obama,
There is an ongoing crisis in the U.S. immigration detention system: immigrants detained under the custody of the U.S. government are languishing in a system so massive and mismanaged that it has led to rampant due process and human rights abuses. The system exacts a grim emotional, physical and financial toll on immigrant communities at the taxpayers' expense.
In October 2009, your Administration acknowledged that our immigration detention system was plagued with injustice and inefficiency and promised sweeping reform. Three years later, while there have been efforts to improve the system, Immigration and Customs Enforcement (ICE) continues to detain more than 400,000 immigrants a year in prisons and jails across the country where they are subject to punitive treatment, inadequate medical care, vulnerable to rape and assault, and isolated from any access to legal assistance.
We commend your commitment to substantive change, but after three years of effort by your Administration the reality for people in detention has not improved and the suffering continues.
The number of detention beds has skyrocketed and more people are experiencing this inhumane system than ever before. Immigrants in detention continue to be denied basic needs, such as contact with lawyers and loved ones, inadequate food and hygiene, and access to fresh air and sunlight. They continue to get injured, sick, and die without timely medical care. They continue to endure racial slurs and discriminatory treatment by prison staff. These conditions are unacceptable and not in the spirit of your promised reforms.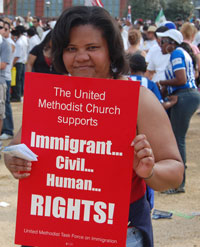 Every day, those who suffer in detention, and their families and communities who suffer with them, wait for accountability for the violations that have already occurred and wait for laws and policies that treat individuals in detention in accordance with basic human dignity. After three years of waiting, we, the undersigned civil and human rights organizations, call on you to act on your convictions of fairness and justice by taking immediate steps to close at least ten facilities that advocates have identified as among the worst of immigration detention facilities across the country.
While the closure of any facility where immigrants are being held by ICE would be welcome, members and allies of the Detention Watch Network (DWN) have been working together to gather information about the facilities in their communities and, based on their findings, recommend that you terminate contracts with the following:
Etowah County Detention Center (AL)
Pinal County Jail (AZ)
Houston Processing Center (TX)
Polk County Jail (TX)
Stewart Detention Center (GA)
Irwin County Detention Center (GA)
Hudson County Jail (NJ)
Baker County Jail (FL)
Theo Lacy Jail (CA)
Tri-County Jail (IL)
These ten jails exemplify the egregious problems inherent throughout the immigration detention system. Reports on each of these facilities, released today as part of DWN's Expose and Close Campaign, describe the inhumane conditions that immigrants experience in ICE custody. (www.detentionwatchnetwork.org/exposeandclose)
Illustrative examples include:
• Roberto Medina-Martinez, a 39-year-old immigrant, died at Stewart in March 2009 of a treatable heart infection. An investigation conducted following his death revealed that the nursing staff failed to refer Mr. Medina for timely medical treatment and the facility physician failed to follow internal oversight procedures.
• A man with serious emotional health problems in the Houston Processing Center in Texas was placed in solitary confinement for months at a time, a practice which the UN Special Rapporteur on Torture has deemed torture.
• At Hudson County Jail, an HIV positive woman was not receiving any medication until a local NGO intervened.
• At Pinal County Jail complaints regarding sanitation include receiving food on dirty trays, worms found in food, bugs and worms found in the faucets, receiving dirty laundry, and being overcrowded with ten other men in one cell and only one toilet.
• At Baker, Etowah and Pinal County Jails, families are only able to visit with their loved ones in detention through video monitors after having driven hundreds of miles to see them.
• At Theo Lacy, Baker County and at Hudson County Jails, people reported being insulted, being cursed and laughed at, and having their clothes and other possessions thrown on the floor by corrections officers.
This is to name just a few of the incidents of neglect, deprivations and indignities that immigrants in detention endure every day. Many of these problems are endemic throughout the system. At all ten of the of the facilities listed above, people reported waiting weeks or months for medical care; inadequate, and in some cases a total absence, of any outdoor recreation time or access to sunlight or fresh air; inadequate and nutritionally lacking food; the use of solitary confinement as punishment; and the extraordinary difficulty that families face in trying to visit their loved ones often hundreds of miles away in detention. The remote location of many facilities also interferes dangerously with peoples' ability to get legal help to fight their cases.
Perhaps the most universal refrain of immigrants in ICE detention is the fear that if they complain about their treatment or living conditions, they will provoke retaliation by guards, or a negative impact on their immigration case.
As disturbing as the conditions described in these ten reports are, they are only the tip of the iceberg. We know that for every reported incident, there are many more where the victims remain silent. Ultimately, the inhumane conditions and treatment at these facilities are too extreme, and too entrenched, to be addressed through the kinds of piecemeal reforms that ICE has tried to undertake in the past three years. Without any legally enforceable civil detention standards in place, and with no intention on ICE's part of creating or submitting to any such standards, immigration detention will remain an abuse-ridden system that cannot ensure humane treatment and access to justice. The level of suffering that incarcerated immigrants are experiencing in these facilities makes the situation too urgent for any solution short of closure.

Furthermore, the facilities highlighted here are not the exception, but the rule, in immigration detention today. It is unacceptable to be spending billions in taxpayer dollars every year to contract with corporations that perpetrate human rights abuses against this vulnerable population at a time of fiscal crisis.
We, therefore, call on you, President Obama, to exercise your authority to immediately terminate contracts with at least these ten facilities. Immigrants in these facilities should be released to their families and communities wherever possible. Use the considerable savings you will reap from no longer using these expensive prisons and jails to develop community-based programs that support people to appear for and participate meaningfully in their immigration hearings. For those subject to mandatory detention under our immigration laws, DWN members and allies have long argued that ICE can supervise those individuals in a community setting, without violating the terms of any statute.
We are hopeful that the Administration will permanently close at least these ten facilities. We also call on the Administration to fulfill our international obligations and your promise for humane and just treatment for everyone. Now is the time to implement these changes on the ground, and you have the power in your second term to make it happen. The safety, health and even the lives of thousands of immigrants, and the well being of their families, depends on it.
Thank you for your consideration of this critical matter. For additional information, contact Emily Tucker, Director of Policy and Advocacy, Detention Watch Network at 202-350-9057.

[TOP]
---
Reform Frameworks Deepen Concerns that Punitive Enforcement Dominates
President Obama Can Lift Communities Now by Suspending Detentions and Deportations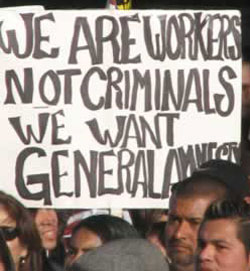 The release this week of an immigration reform framework by a bipartisan group of Senators, followed by President Obama's comments on his immigration proposal, are long-awaited and raise our expectations for immigration reform. For many years, immigrant communities around the country have been eager for action to address the flaws and tragic consequences of current policies.
To the extent the door for immigration reform is now open, we urge both Congress and the Administration to act responsibly and in good faith. Members of Congress should enact laws that are fair, just, humane, and do no further harm to the immigrant community.
The fact that legalization is now on the table for consideration is an important break in the debate and speaks to the significance of the political moment and the influence that voter turnout in the last election continues to have.
But it would be a shame and a human tragedy if the potential of this political moment is brought down by the insistence of some policy makers to hold legalization hostage to the ever-moving standard of "border security" and increased enforcement in the interior. Or, if the legalization program itself severely limits the integration of immigrant men, women and children who could languish for a decade or more in a "probationary" period before having a chance to obtain a green card.
Moreover, the senators' condition of a border security test—which the Administration asserts it has met through steady enforcement—continues to falsely link immigration with threats to national security. This framework justifies mean-spirited and punitive immigration enforcement programs, including repressive measures at the U.S.-Mexico border, where the deaths of thousands of migrant men, women and children and countless civil and human rights violations of border area residents, including U.S. citizens, give sad testimony to the consequences of flawed policies.
The senators' framework and President Obama's proposal also continue the very policies that have contributed to the human rights crisis for immigrants, including expanded worker verification, temporary worker programs, and sustained and increased enforcement, particularly at the borders. As in any sweeping legislation, the "devil is in the details." We will work closely with members and partners to scrutinize the proposals as they emerge and will continue to press for just and beneficial reforms.
Unfortunately, neither the senators nor President Obama address the long term challenge of migration. There is no acknowledgement of the "root causes" of global migration—the factors of uneven economic development, unfair trade policies, civil strife, resource depletion, or increased population displacement due to global warming, among others—that drive people from their homelands and which our policies abroad help foment. (This is not to be confused with proposals for 'streamlining legal immigration' that mainly point to employment visas for future migrants, including the continuation of guest worker programs.)
Obama Can Give Hope Now - Suspend Detentions and Deportations
The President has urged that the legislative process move quickly. But he already has the power to make good on his promise "to welcome the striving, hopeful immigrants who still see America as the land of opportunity." He can suspend immigration detentions and deportations and punitive enforcement programs like Secure Communities. This will ease community fears and help as many immigrants as possible to benefit from the positive reforms we hope are down the road.
Surely, immigrants and their families deserve a chance at genuine immigration reform—to live a brighter, safer and more secure future for themselves and the benefit of the whole country.

[TOP]
---
Response to Federal Immigration Reform Proposals
"The Path to Citizenship Starts With An End to the Deportations"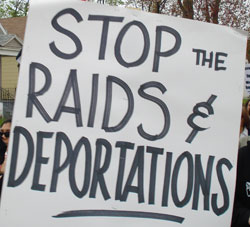 In response to both the President's speech on Tuesday and the bi-partisan Senate framework for immigration reform, Voces executive director Christine Neumann-Ortiz issued the following statement:
"Both the president's leadership and bipartisan efforts to create a path to citizenship for New Americans represent a turning point in this movement, with new reason for hope. However, to realize this long overdue reform, new legislation must provide a working path to citizenship:
— A path to citizenship must be broad, simple, and affordable for the 11 million aspiring citizens in the US. Employment restrictions referenced in the principles introduced threaten to exclude significant numbers of workers -- such as day laborers, temporary agency workers, workers paid in cash in restaurants, landscapers and more, as well as stay-at-home fathers or mothers.
Fines cannot be so steep that low income families are unable to afford the process, and the process should not be so cumbersome that workers with "probationary status" need to apply twice.
There's no need to make the path to citizenship conditional on increased border enforcement, when we already have record low numbers of migration, and cruel enforcement policies, which have only led to a human rights crisis at the border.
— The president cannot propose legislation to create new citizens while simultaneously deporting at a record rate those he claims to want to legalize. Each day that passes, 1,000 families are separated from their loved ones and face economic hardship and emotional trauma — especially the children.
— Any future flow system needs to ensure strong worker rights protections regardless of immigration status, so some abusive employers cannot use immigrant labor as cheap labor or retaliation, undermining wages and conditions for all workers in the US.
We know it can be done.
We are excited to work in support of a bill that will rise to our nation's principles and ideals. But in order for a legislative solution that will keep families together, we need to do better."

[TOP]
---
Comprehensive Immigration Reform
Blueprint for a Road that Already Is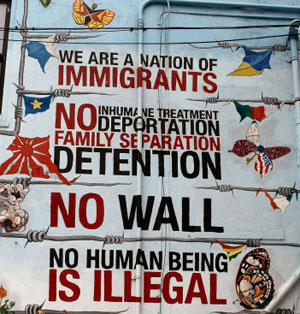 And they are off! "The Road to Immigration Reform Starts Today!" announced one organizational email. They are talking about a set of immigration reform principles – not an actual bill – that was released today by a bi-partisan group of eight senators: Senators Bennet (D–CO), Durbin (D–IL), Flake (R–AZ), Graham (R–SC), McCain (R–AZ), Menendez (D–NJ), Rubio (R–FL), and Schumer (D–NY).
What is interesting about all the congratulatory messages that ask people to support immigration reform, is that they lack an actual analysis of what is in the principles. Since the principles include "a pathway to citizenship," it is assumed to be good enough.
It is extremely disheartening to read messaging that renders invisible the years of work by immigration and human rights activists. Claiming that the work begins now, denies the role that some of these very same "pro-migrant" organizations have played in watering down the demands of comprehensive immigration reform. It has now become acceptable to become reactive instead of proactive. Instead of telling the administration and Congress what we want, we are expected to celebrate lawmakers rehashing old policies and basically doing their job – working together. It is no longer enough to say, stop the deportations. That is obvious and it has been for some time.
It is no longer enough to say that enforcement only policies like Secure Communities need to be defunded. We have to be willing to stand up and say things like:
1. The border is "secure" so let us stop pouring money into agencies and organizations that put more boots on the ground and enforcement technology.
2. Being able to live in the United States "with papers" should not be based on some merit system that awards the "smart" immigrants. If we really want to award success then we need to look at how the educational system in the U.S. perpetuates cycles of poverty and underachievement, filtering a limited amount of "success stories."
3. Employment verification systems like E-Verify have proven themselves flawed and harmful to the labor market so stop the push to make this mandatory. Immigrants are not taking peoples' jobs. That is the unspoken subtext. Cut it out. We will not accept the introduction of a biometric identification card, which has been the subtext for much of this portion of discussion in years past.
4. We do not want a guest worker program. We want fair labor standards for farmworkers. How is the proposed Agricultural Worker Program different from H-2A visa program already in place?
5. This "get to the back of the line" language means people who are already in the United State will have to wait how long before they can get papers? 10 years? 20 years? Is this the beginning of an expanded DACA like program that will allow people to stay in the U.S. in a limbo status indefinitely? How do immigration court backlogs figure into this line?
6. Who will determine what makes an immigrant "seriously criminal" or a threat to national security and thus ineligible for citizenship and targeted for deportation?
7. Limits on accessing federal public benefits for "lawful probationary immigrants" helps to perpetuate poverty and poor health outcomes in immigrant communities. This is not being "tough," this is punishment.
8: Having an English language requirement in order to earn a green card is reminiscent of Jim Crow era literacy laws. There is already a proficiency requirement to become a naturalized citizen. Making it a requirement for permanent residency has one intention, to limit the amount of people eligible.
9. Creating a fast track to citizenship for DREAMers and some agricultural workers while leaving others to languish in undefined lines will serve to further separate families who have mixed statuses and mixed immigration histories. No to a hierarchy of applicants.
I have read the principles and do not think there is much to praise. A framework is not a policy change and we have had multiple frameworks put out there already…Touting an "earned" pathway to citizenship ignores the anti-immigrant histories and policies in the United States. If anyone has to earn anything, Congress and President Obama need to earn the trust of our communities by giving us more than just the same old same old.
[TOP]
---
Five Myths About the Immigration 'Line'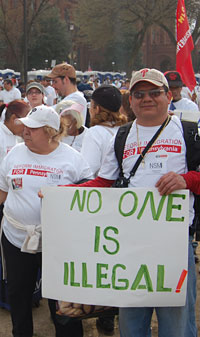 The "line" of people seeking U.S. citizenship or legal status has become an integral part of our immigration debate. In a speech Tuesday, President Obama said that undocumented immigrants should go to "the back of the line" behind those who are going through the process legally. The immigration reform blueprint presented a day earlier by a group of senators contained the same requirement. But misinformation about this line abounds.
1. There is one line.
The federal government has issued more than 1 million green cards per year, on average, for the past five years. But there are several lines — which one immigrants end up in depends on whether they have a job or family in the United States.
There are four family-based categories for many relatives, called "preferences," and five based on employment. The number of green cards issued through each is limited by country of origin, but there is no cap for "immediate relatives" — spouses of U.S. citizens, U.S. citizens' unmarried children under age 21 and parents of adult U.S. citizens over 21.
Immigrants and their lawyers track their "place in line" in the State Department's monthly Visa Bulletin, which lists cut-off dates for each preference and country. For example, the February 2013 bulletin lists EB-1 "priority workers" — superstars in their fields, such as rock stars and neurosurgeons — as "current," meaning they are likely to wait just the four to six months it takes to prepare visa paperwork and schedule a consular interview.
2. Anyone can get in line.
Most of the nation's 11 million undocumented immigrants would love to get in line if they could. They remain without papers because they don't fit into any visa preference or because the wait is just too long. Without a relative to petition for them under a family-based preference or a job that fits into an employment-based category, there's no line to enter.
Millions of low-wage service, industrial, manufacturing and construction jobs are filled by unauthorized workers who don't qualify for visas because the Labor Department won't certify a shortage of "U.S. workers" — citizens, green-card holders, refugees and others with work authorization — in those occupations. The department claims there are plenty of U.S. workers available, but talk to the owner of a landscaping company who spends thousands of dollars annually on lawyers to secure temporary H-2B visas for gardeners, and she'll tell you that she can't get American workers to apply for the jobs or stick with them. (One could argue that the prevailing wage for landscapers — roughly $12 per hour now in Central Texas — is the problem.)
3. Once you are in line, the wait is not too long.
In some visa categories, the wait can be decades. If the line is too long, would-be immigrants might break the law by, for example, sneaking over borders or overstaying student visas. People can't be expected to wait decades for permission to work or live near their loved ones.
The Visa Bulletin provides a rough prediction of how long the wait will be in any given line. However, the fixed number of visas for each preference, plus increasing demand, ensure that the lines only get longer. For example, one family-based preference — for brothers and sisters of adult U.S. citizens — for immigrants from the Philippines is stuck at June 1, 1989. That means that a Filipino U.S. citizen trying to get her sister legal status would have had to file her petition on or before June 1, 1989, for the petition to be heard today. Based on monthly calculations of supply and demand, the visa office moves this cutoff date forward only a few days per month. The waiting period could be 30 years or more for these Filipino siblings.
4. If you broke the law, it's only fair that you go to the back of the line.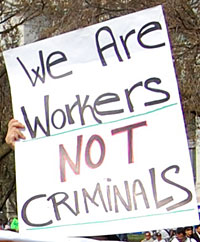 If the line is relatively short and an immigrant has not lived long in the United States, that might be fair. But if, as Obama has pointed out, an immigrant was brought here illegally as a child, faces a decades-long wait and knows no other country, what is fair about going "home" to a nation she does not remember to wait for permission to return?
Our immigration policy runs counter to our national ethos of civil and human rights. Over the past century, we have come to believe that discrimination on the basis of race, gender, faith and sexual orientation — things that cannot be changed or that we cannot demand be changed — is morally wrong. Yet the Immigration and Nationality Act, by setting quotas on how many people can come from certain countries, is another form of discrimination.
5. There is no way to make the line shorter.
For more than 100 years, our country had no numerical visa quotas. Every limit we have put on the number of green cards has been arbitrary, driven by fear more than facts. In 1882, for example, Congress passed the Chinese Exclusion Act, which barred almost all Chinese from immigration or naturalization. This shameful, race-based law was not repealed until 1943.
In 1921, Congress enacted the first quotas based on the racist conclusions of the Dillingham Commission Report, limiting admission of immigrants to a fixed percentage of the foreign-born from each country who were already in the United States as of 1910. Later, the date was pushed back to 1890. This formula favored those of British descent and discriminated against Southern and Eastern Europeans. These quotas were not abolished until 1965.
For comprehensive immigration reform to work, Congress will have to substantially increase the number of green cards available each year in every visa preference. This may mean, for example, allowing a one-time surge of visas to wipe out the backlog, then doubling or tripling some quotas. If we keep our system as it is, we will be spending more on fences, drones, border guards, immigration courts and deportation officers.

[TOP]
---