Ceasefire Means Easing of Siege with No Disarming
Palestinian Resistance Prevails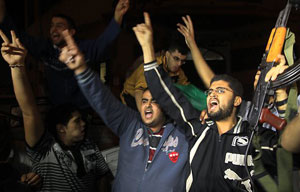 The Palestinian resistance has prevailed against a vicious, genocidal U.S./Israeli onslaught. Despite Israel's weeks-long efforts to bring Gaza to its knees and force the resistance to disarm, it failed. The resistance remains armed and the Palestine unity government, another main target of Israel, is going forward to rebuild Gaza. The ceasefire secured also calls for an easing of the siege of Gaza, extending fishing from 3 to 12 nautical miles offshore and restricting the border buffer zone to about 110 yards. And a commitment to continue negotiations on the demands of the Palestinians, to open their port and airport and completely lift the siege.
While Israel hoped to crush the resistance, instead it is Israel and her U.S. backers and funders that have been isolated and discredited. They cannot present themselves to the world as defenders of democracy and human rights, having slaughtered more than 2000 people, mostly civilians, left 100,000 homeless, and destroyed schools, hospitals, mosques, major factories and Gaza's power plant. These are all civilian infrastructure and their destruction is a crime, as were the home demolitions and killing of whole families. Here and worldwide, people saw through the U.S./Israeli claim of self-defense and brought to the fore, it is not self-defense, it is genocide! It is not Jews vs. Muslims, It is Humanity vs. Injustice! The struggle for a free Palestine is a struggle of humanity for justice, for gaining security by defending rights.
The timing of this latest Israeli attack was in part an effort to block the unity government achieved in April by the various Palestinian forces. It was an effort to try and crush Hamas and all those defending the right to resist occupation. In this effort too the U.S/Israeli forces failed.
Blinded by their military might and arrogance, the U.S. continues to underestimate the peoples and their just resistance. This was true in Vietnam and Korea, in Afghanistan and Iraq and repeatedly in Palestine. The brutality of this latest onslaught also shows that U.S. imperialism and its enforcers like Israel, have no political solutions — no shred of democracy, only use of force. It is this U.S.-style democracy that must be disarmed and eliminated. And it can be done by advancing the fight here in the U.S. for a democracy of our own making, where we the people govern and decide. That is our contribution to the just struggle of humanity for a bright future!

[TOP]
---
"Resistance Cannot Be Blockaded"
Israeli Assault Strengthened
Palestinian National Unity
Hamas leader Khaled Meshaal on August 28 said that the Israeli assault on Gaza had failed to undermine Palestinian national unity and that the bloody offensive of the past seven weeks had "proven that the resistance cannot be blockaded."
"Israel wanted to attack national unity and is currently looking for an imaginary victory," he said, in a press conference in which he congratulated the Palestinian people on their "victory" in confronting Israel in a more than 50-day assault that ended earlier this week.
Meshaal said that "without the popular support in Gaza, the resistance would not have won. One of the targets of the assault was to strike the national Palestinian reconciliation, because Palestinian reconciliation was firm throughout the assault in (the battle) and negotiations."
"When Israel failed in its siege of Gaza they chose to destroy it, but it is the duty of the unity government and the world to rebuild it," he added, referring to an April agreement between all major Palestinian factions that established a united government for the first time in seven years, which Israel strongly condemned at the time.
Meshaal also demanded that Egypt open the Rafah crossing, and called upon Israel to end its occupation of Palestinian lands and allow the Palestinian people to determine their path.
He said, "We have no problem with Jews or their religion. Our problem is with occupation and settlement activities." The Hamas leader insisted the weapons of the resistance groups were "sacred" and that Palestinians would not accede to any demand to disarm.
Meshaal also thanked Turkey, Malaysia, South Africa, and the nations of Latin America that had been steadfast in their support for Palestine and the Palestinian resistance.
"The people of Gaza have become a symbol of steadfastness and an honorable example to all the world. All Palestinians in Gaza and free people in the world are partners in this victory."
The speech comes amid widespread celebrations in Palestine after Israeli leaders agreed in a ceasefire to "ease" the eight-year long siege on the Gaza Strip, curtail a border buffer zone from more than 500 meters (about 550 yards) to 100 (about 109 yards or a little more than a football field), and expand the offshore fishing zone allotted Gazans from three nautical miles to 12.
Other Palestinian demands are to be discussed in a new round of talks in September, including the potential re-opening of an airport and seaport as well as the release of prisoners Israel arrested over the last summer in violation of the 2011 Gilad Shalit release deal.
Israel had long said that the disarmament of Gaza military groups was a key requirement for any ceasefire, but backed down at the last minute in a move Palestinian leaders hailed.
Demonstrations Salute Resistance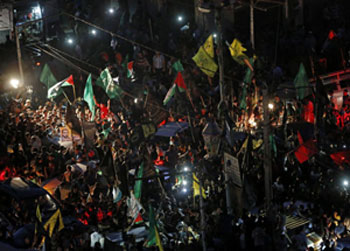 Palestinians across the Gaza Strip turned out in the thousands for prayers and a victory march on Friday August 29, as many savored their first opportunity in 50 days to attend Friday prayers in Gaza mosques without fear of Israeli bombardment.
Although a local council estimates one-third of mosques were damaged in the Israeli assault — including 72 totally destroyed — Palestinians flocked to services as political leaders took to the podiums to stress the need for national unity after what they deemed an unprecedented victory against Israel.
Senior Hamas official Khalil al-Hayya said during a Friday prayer sermon in a mosque in the devastated eastern Gaza neighborhood of Shujaiyya that Palestinians have entered "a new age today and a new stage of national unity by choosing to win and support the resistance."
"The war on Gaza should eliminate all previous internal disagreements," he added, calling upon the national unity government to fulfill its responsibilities related to ensuring Israel open the borders and allow reconstruction.
"In this war, we captured back the rights that Israel stole while taking the (political) division as an excuse," he said, highlighting that since a April 24 Palestinian unity agreement the nation was better equipped to confront Israeli aggression.
'Tough' Negotiations Ahead
A member of the Palestinian negotiations delegation, meanwhile, warned on August 28 that the talks coming up in September to discuss further terms of the long-term ceasefire with Israel will be "tough."
Secretary-General of the Democratic Front for the Liberation of Palestine and member of the Palestinian parliament Qais Abd al-Karim said in a statement that although all Palestinian political factions had agreed upon the ceasefire agreement, what had been accomplished so far was only "half of a success."
Abd al-Karim said that the "negotiations battle" would begin next month to achieve all Palestinian demands and rights, including the complete end of the Israeli siege on Gaza.
In relation to the rebuilding of Gaza, Abd al-Karim said that an agreement had been reached with humanitarian institutions to begin rebuilding and that it is "supposed to begin immediately to allow tens of thousands of those whose homes have been destroyed" to launch rebuilding.
The reconstruction of the devastated Gaza Strip was a key demand for Palestinians, as Israel previously limited the entry of even the most basic of building supplies by claiming they could used for military purposes as well.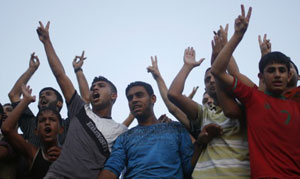 The Israeli assault on Gaza over the last seven weeks left more than 100,000 homeless, in addition to the more than 2,140 killed and more than 11,200 injured.
The offensive also caused extensive damage to Gazan infrastructure, knocking out the Strip's sole power plant and targeting the tiny coastal enclave's limited water supplies.

[TOP]
---
Extermination of Whole Families in Gaza
Reflects Genocide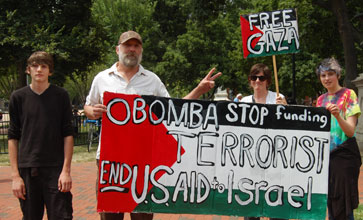 Eighty-nine families that existed seven weeks ago in Gaza have been exterminated by Israel. On Sunday 24 August an Israeli missile tore through the home of Issam Jouda in Gaza's Tal al-Zatar neighborhood east of Jabaliya without warning, killing Issam's wife Rawiya and four of their children — Taghrid, Tasnim, Usama and Muhammad.
According to the Palestinian health ministry, the Joudas were the eighty-ninth family wiped out in Gaza since the Israeli army started bombarding the besieged coastal enclave on 7 July.
A ceasefire that took effect on the evening of August 26 may stop the flow of blood, but it will not heal the raw wounds of the families of more than 2,100 people killed, nor of the more than eleven thousand injured and 100,000 whose homes were destroyed.
Between July 7 and August 21, the UN documented 140 families in Gaza partially or completely annihilated by Israeli attacks.
Many were crushed beneath the rubble of their homes. Eight members of the Wahdan family, for instance, were killed in their house in Jabaliya refugee camp after being instructed by Israeli forces to stay put.
Others were summarily executed in broad daylight by invading Israeli forces in the catastrophically devastated Shujaiya neighborhood. This was the fate of several members of the Shamaly and al-Areer families according to testimony collected by journalist Max Blumenthal.
The Al Mezan Center for Human Rights has recorded at least 990 people killed inside their homes in Israeli attacks, including 324 children. That is almost half of all people killed in the Israeli assault.
This is no accident.
Israel's systematic targeting of entire families in Gaza this summer is part of a deliberate military strategy that seeks to terrorize the civilian population into submission in an effort to break their will to resist Israeli conquest. In recent days, Israel escalated this practice by leveling residential high-rise apartment buildings.
But the wholesale slaughter of families is also part of Israel's ongoing destruction of Palestine.
Genocide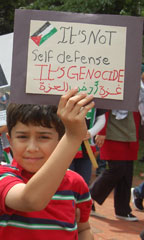 Michael Ratner, President Emeritus of the Center for Constitutional Rights argues that Israel's acts in Gaza constitute more than just war crimes and crimes against humanity. He says they are genocide, adding his voice to the growing chorus of those who see the slaughter in Gaza as part of an ongoing, systematic process of annihilation.
"These are clear violations of the Geneva conventions and war crimes," Ratner said. "But you can't look at this as an isolated attack on Gaza because there's a history going back to Zionists charting out and destroying five hundred plus villages in 1947-48," he added, referring to the Nakba — the premeditated ethnic cleansing of 750,000 indigenous Palestinians by Zionist militias seeking to establish an ethnically exclusive state.
"If you look at it historically it's hard to escape [Israeli author and historian] Ilan Pappe's conclusion that it's 'incremental genocide,'" said Ratner.
Ratner noted that the common response to such accusations is that Israel has not killed enough Palestinians for its actions to qualify as genocide. However, "You don't have to kill a large number of people to commit genocide," he explained.
Indeed, Article 2 of the Convention on the Prevention and Punishment of the Crime of Genocide, defines genocide in the following terms:
"In the present Convention, genocide means any of the following acts committed with intent to destroy, in whole or in part, a national, ethnical, racial or religious group, as such:
(a) Killing members of the group;
(b) Causing serious bodily or mental harm to members of the group;
(c) Deliberately inflicting on the group conditions of life calculated to bring about its physical destruction in whole or in part;
(d) Imposing measures intended to prevent births within the group;
(e) Forcibly transferring children of the group to another group.
Israel does not have to kill millions of Palestinians to be guilty of genocide nor does it need to commit all the above atrocities, though it is undeniably guilty of (a), (b) and (c). It just has to commit any of them with the "intent" to "destroy" Palestinians "in whole or in part" as "a national, ethnical, racial or religious group."
The question of genocide, then, is whether by looking at decades of Israel's practices, as well as the utterances of its leaders, we can find this intent.
The past is present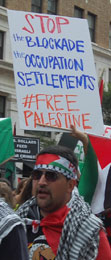 As a settler-colonial state guided by Zionism, Israel has spent every year since its creation gradually destroying indigenous Palestinian communities and expelling their residents. […]
Gaza in particular—where eighty percent of the population is made up of refugees ethnically cleansed from villages in present-day Israel—has been subjected to periodic massacres since Israel's creation. […]
"It's not that people are wrong that Israel is committing war crimes. It's just you have to look at it in context of the last 70 years," said Ratner. "You have to ask yourself, what is Israel doing here except trying to make life impossible for Palestinians, to make them give up and get out?"
In his infamous 1956 eulogy for an Israeli settler killed by Palestinian refugees from Gaza, then chief of staff of the Israeli army, Moshe Dayan, candidly described Israel's policy towards Gaza, saying, "Why should we deplore their burning hatred for us? For eight years now, [Palestinians] have sat in the refugee camps of Gaza and have watched how, before their very eyes, we have turned their land and villages, where they and their forefathers previously dwelled, into our home."
He continued, "We are a generation of settlement and without the steel helmet and the gun's muzzle we will not be able to plant a tree and build a house… .That is our choice – to be ready and armed, tough and hard – or else the sword shall fall from our hands and our lives will be cut short."
Later that year, under the leadership of Dayan, Israeli soldiers carried out mass executions in Khan Younis and Rafah, where they gathered all the males over the age of 15, lined them up in the street for all to see, beat them and shot them dead, killing hundreds. The stated aim was to crush armed resistance. […]
The difference between the days of Dayan and now is that Israel — with its US-supplied arsenal of Hellfire missiles and bunker buster bombs and an "international community" willing to tolerate limitless Israeli aggression — has the capacity and willpower to complete its genocidal conquest with impunity.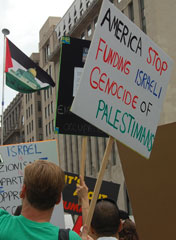 "The words that are being used by Israeli legislators are fomenting what are incredible genocidal attacks on the Palestinian people. People in the parliament that are encouraging that are aiders and abettors of all of these crimes," Ratner said, adding that the same is true of U.S. leaders that continue to shower their Israeli counterparts with an endless supply of weapons aimed at Palestinians civilians.
It is notable that in U.S. politics, as in Israel, it has become fashionable in recent years to deny the very existence of a Palestinian people. "Everyone of those Congress people who continues to vote for military aid to Israel are aiders and abettors of crimes against humanity, genocide and war crimes," says Ratner. "It is the U.S. primarily that is holding back real accountability for what Israel is doing."

[TOP]
---
Israel Demolished Gaza Factory
That Stored Vital Medicines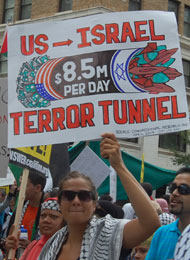 In early August, Israel fired more than ten tank shells at an ice cream and cookie factory in Deir al-Balah in the central Gaza Strip, starting a fire that continued to blaze into the next day. The attack puts hundreds of people out of work and destroyed vital medicine stocks that had been stored in the building.
Surrounded by a few workers and an administrator attempting to assess the damage to the 1.5-acre facility, Iyad al-Tilbani, whose father owns the 38-year-old Al-Awda Factory, said that much of the building was "reduced to rubble overnight." As he spoke, a bulldozer cleaned up debris in the background. […]
"For the second consecutive day, rescue teams have not been able to reach our factory due to the intensity of the fire inside," al-Tilbani, 37, told The Electronic Intifada. Al-Tilbani said that he and several workers were at the factory when tank shells fired from about a mile away began falling onto the factory's fuel tanks. He pointed to the place where modern, western-made machines were buzzing just a few days ago, but which have been replaced by silence and destruction. […]
Al-Tilbani added that Israel's massacres in Gaza "seem unprecedented and more devastating" than the two most recent wars on Gaza. "It was the first time that they [Israel] hit our facility. Is our factory producing weapons of mass destruction or missiles that threaten the existence of Israel?"
The Al-Awda Factory has been standing in the same place for the past four decades, producing sweets for local and international markets.
"My father, Muhammad, began operating this factory after he first wrapped cookies and candies with his own hands and the hands of my mother and other family members in the Maghazi refugee camp, where my family moved after Israel expelled hundreds of thousands of refugees back in 1948," al-Tilbani said. "What do the Israelis want by attacking one of the long-standing pillars of Gaza's economy?" he asked.
Everything in the factory "was wiped out, including tons of finished cookies, butter, wheat and packages," explained al-Tilbani. "Nothing remains intact here except for the building structure."
The Al-Awda Factory had employed 500 people who worked in two shifts and was therefore able to support thousands of family members, including children, he said, as pillars of black smoke still rose into the sky over Deir al-Balah. "Now the factory will probably not function again, as the magnitude of damage is far beyond our capacity."
The Al-Awda Factory is not the only Gaza industrial facility that was hit during Israel's bombardment. A carbonated drinks factory in the al-Zaytoun neighborhood in southeastern Gaza City and a carton factory in the middle of Nuseirat were also damaged by Israeli army strikes. […]
"We accepted a request from the Palestine Red Crescent Society to store two truck-loads of rare medicines in our [factory's] large refrigerators … as Gaza has been plunged into darkness," al-Tilbani said over the noise of workers who were busy knocking down a part of the factory's wall in order to salvage some equipment. The smoke and fire were making it difficult for them to work."Unfortunately, the medicines were destroyed," al-Tilbani said. "Now, neither their medicines nor our products will reach Gaza residents."
[TOP]
---