Support Continued Resistance in Ferguson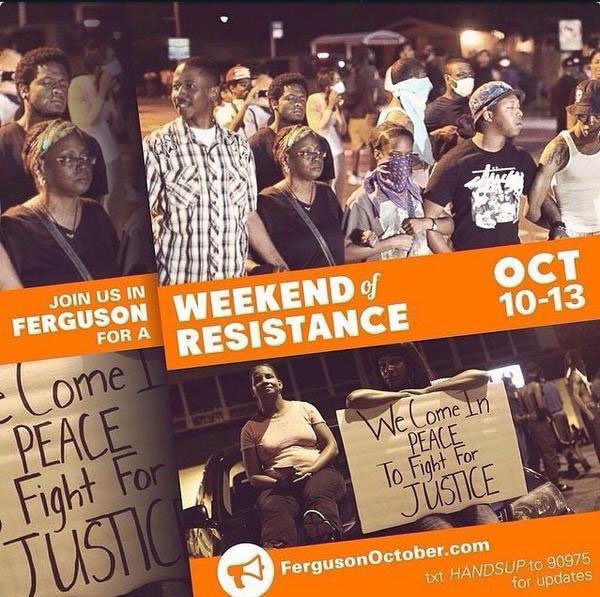 Michael Brown — unarmed and with his hands in the air — was shot by police officer Darren Wilson August 9 in Ferguson, Missouri. He was an African American teenager, headed to college.
Resistance in Ferguson to the brutal police killing has continued ever since with daily actions of various kinds being organized. A major demonstration with people coming in from across the country is planned for October 11, with additional actions October 10-13. The unyielding protesters have maintained a memorial to Brown at the site of the shooting. They also organized to rebuild it, with pictures, candles and poems, after recent efforts to burn it down. Tent encampments of youth were also established. For weeks, one of the youth collectives that has formed, Lost Voices, had an encampment on West Florissant Avenue, blocks away from where Brown was killed. The youth, many who knew Brown, gathered to discuss tactics to continue their fight and also to inform themselves about their rights. A second encampment also existed near the police station, a main target of current demonstrations.
Youth and the many adults supporting them have also continued to contend with police brutality and hundreds of arrests, using various tactics as needed. When told they could not block foot traffic on the sidewalk, they used bicycles in the streets. When police tried to enforce a five-second rule, where anyone stopping for more than five seconds would be arrested, protesters locked arms to prevent arrests and continued their action. They also took the police department to court arguing the rule was meant to block their right to protest.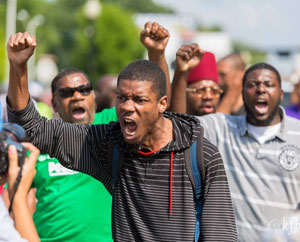 In response to police claims that protests should end so things can "get back to normal," youth responded, "How we were living before wasn't normal!" They affirmed their right to resist police brutality and killings and racism of the government, which they regularly confronted. In the course of battle they are learning more about their rights and organizing to affirm them.
Both tent encampments were recently raided by police, without provocation. Police confiscated all the private property of the youth. At the Lost Voices encampment, for example, on September 26, ten patrol cars and 3 flatbed trucks were used to surrounded the encampment and forcibly remove belongings. These included 13 air mattresses, 10 tents and five coolers. Two people were arrested, including a young woman organizer, for demanding their rights. She demanded to be given time to secure the belongings and was put in a chokehold and arrested. Police took these actions in a short time, perhaps in an effort to intimidate protesters who are organizing now for the October events. Youth are organizing to re-establish their encampments at a different location.
In other battles, police insisted that demonstrators disperse after 11pm, using a noise ordinance as their excuse. Protesters have refused. One night about 200 people banged pots and pans for much of the evening.
On September 27, the night after police raided the encampment, protesters again gathered in the street in front of the police station. They were joined by a group of clergy members. The youth chanted, "I put my hands on my head, don't shoot me dead!" Through such chants and raising their hands during protests, demonstrators have shown their respect for Brown as well as their defiance of police — that even with threats of being shot with hands in the air, they will not yield.
Shortly after 11pm, police told the demonstrators to leave or risk arrest. Police began to line up in military fashion, holding shields and batons at the ready. The clergy members kneeled to pray. Two rows of young people formed. They asked the clergy to stand behind to shield them. As police came forward the youth were unfazed, saying they had the right to protest. They locked arms and said, "Take one, take all!" Standing firm, as they have repeatedly done, their protest continued. In this case the police retreated.
The struggle in Ferguson continues to reveal the unjust, racist character of the U.S. state from top to bottom, as well as the path forward — fighting for rights. The defiance of those in Ferguson has been an inspiration to all. The many resisting have demonstrated that by taking matters in our own hands and defending rights, we can deprive the rich and their police of their power to deprive us of rights. It is police and government impunity that is the crime, resistance the solution. Ferguson has been on unyielding on this issue and on their demand for justice. Voice of Revolution urges people to join the action October 11 and lend support through other means, such as holding local rallies October 11 and promoting this struggle for Justice Now!

[TOP]
---
Calls to Demonstrate October 10-13
We Will Gather in Ferguson,

But the World Will Hear
Our Call for Change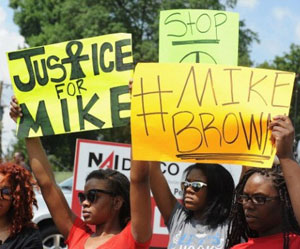 FergusonOctober.com states, "Droves of people, many of them young and black, took to the streets of Ferguson, Missouri to demand justice for Mike Brown. Millions stood in solidarity as protestors were met by a brutal and militarized response by local police departments.
"Our country can no longer deny the epidemic of police violence facing Black and Brown communities. Mike Brown is now part of a long list of people like John Crawford, Ezell Ford, Eric Garner, Oscar Grant and countless others who have been unjustly killed by police. Their lives mattered.
"Join Hands Up United, Organization for Black Struggle, Missourians Organizing for Reform and Empowerment and our partners in Ferguson from October 10-13 for a weekend of resistance. We are hosting a series of public events — marches, convenings and panels — to build momentum for a nationwide movement against police violence."
We Need You in Ferguson October 10-13
Hands Up United writes, "Young brothers and sisters in Ferguson remain under siege. Too many community spaces have been raided and peaceful protests have been met with vicious police brutality and violence. We need your help to reclaim the city. Join us in Ferguson, Missouri for a weekend of resistance October 10-Oct. 13.
"As young, black men, we have known what it is like to be a target of suspicion much of our lives. That is why we are coming together for #FergusonOctober to reverse the senseless, rarely prosecuted police violence that has plagued black and brown communities for generations. As we continue to put pressure on officials in Ferguson, St. Louis and around the country, we know we are not alone.
"It was young people who first bravely took to the streets following Michael Brown's murder demanding real change and justice. We must continue to stand. We are in the fight of our lives. We come together to demand, 'Not one more!'
"Will you take a stand October 10-13? Commit to join us in Ferguson, Missouri. Let's do this."
Justice Now March
Friday, October 10 -- 3:00-5:00 pm
Buzz Westfall Justice Center
100 S Central Ave., Clayton, Missouri
To kick off our Weekend of Resistance, we will march on Prosecuting Attorney's Bob McCulloch's office to demand Justice for Mike Brown. In order to get justice, McCulloch needs to step aside.
Justice for All: National March and Rally
Saturday, October 11 • 10:00am-2:00pm
Scott Trade Center
1401 Clark Ave., St. Louis, Missouri
Thousands of people from Ferguson, St. Louis and the nation will come together and show our strength as we stand united against police violence, both here in Ferguson and across the country. We will march through downtown St. Louis and rally at Keiner Plaza sending a message across the world: Not One More!
Hip Hop & Hope
Sunday, October 12
TBA, St. Louis area
We will be hosting events at houses of worship throughout the St. Louis area to commemorate the lives of those we've lost to police violence. Additionally, we'll be hosting a music event during the afternoon in the Ferguson area.
Moral Monday Civil Disobedience
Monday, October 13 • 10:00am-12:00pm
TBA, Ferguson and St. Louis
Power concedes nothing without a demand. On Monday, we are taking our cue from the fearless activists in North Carolina who were inspired to fight back against right-wing attacks there and across the South. They kicked off the Moral Mondays movement for progressive change by engaging in civil disobedience every week, reminding all of us that these actions have been a part of every major movement for change. We will be hosting a series of actions throughout the Ferguson and St. Louis area.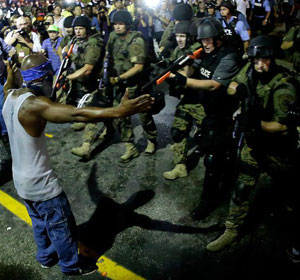 "In Saint Louis County, the police have a history of racial profiling and abusing the power of the shield. In Saint Louis County all of the cards are stacked against young black people. Mike Brown's untimely demise was the tipping point in Saint Louis County. We believe he was brutally assassinated. His body lay in the streets of the Canfield Green Apartment Complex for over four hours. It was as if he was publicly lynched by the Ferguson Police Department and his body was left on display as a mechanism of fear.
"The community responded to this wrongdoing with much disdain and the police launched a preemptive and massively militarized offensive. We were tear gassed and shot down in the streets by rubber and wooden bullets as if we were dogs. I woke up one morning and there were armored military vehicles stationed around the corner from my mother's house. I saw helicopters and fighter jets flying above my childhood elementary school. Palestinians tweeted advice on how to construct makeshift gas masks in St. Louis. A vast majority of the police officers who fired upon us do not even live in or near the neighborhoods they are policing.
"There's a saying on the streets: 'Mike Brown means we've got to fight back.' Darren Wilson shot down Mike Brown and the Ferguson Police Department attempted to vilify the victim. Young people in the city of Saint Louis viewed these reprehensible acts as a declaration of war. There was no meeting of the minds. Mike Brown sparked a universal moment of clarity for young black people. We feel as if no one in a position of power respects us. We feel as if we are not viewed as humans. Police officers blatantly referred to us as monkeys and dogs. A select few have lost their jobs as result of their actions, but a great many remain gainfully employed.
"We suddenly found ourselves on the parking lot of McDonald's surrounded by members of the National Guard with M-16's trained on our every movement. Our behavior was completely legal and peaceful... At this moment I realized it was basically all of us together versus the tyrannical order of the police and the National Guard.
"This is the moment I asked myself, 'Why did I vote for Barack Obama twice? Why are we being treated like this simply for demanding justice for our fallen brother?' I decided it is possible I'll never vote for another American president for as long as I live. We live in America but we are clearly not included as Americans. Americans don't unleash a completely militarized force upon other Americans. Americans don't tear gas other Americans. Americans don't drive tanks over the front yards of other Americans. By classical definition we are still poor black people who reside in America, but we are not considered equal to fellow American citizens and lawmakers. Our hopes and dreams are not valued or respected. Our worries and concerns often fall upon deaf ears.
"During this time I've pulled children out of clouds of tear gas. I've witnessed white women who are members of the clergy collectively praying in front of tanks and armored vehicles. One of these women was mercilessly shot with a rubber bullet by the police while praying for peace. Our neighborhood was occupied by the police as if they were an invading army laying siege to their enemy and pillaging the remains. Our basic civil rights were stripped away as we were treated like cattle in the name of a sick, sadistic experiment in martial law. We assumed that our beloved, black president would come to our defense and speak about the perils of police brutality, racial profiling, and Mike Brown's unfortunate demise. Instead we felt as if he co-signed this unfair treatment and endorsed the brutal show of force the police displayed towards us...
"The entire system is corrupt from top to bottom. We will not stop fighting and resisting all forms of police brutality. We may be the minority in this country, but vocally, we will be the majority. They cannot kill us all. They cannot throw us all in jail. We want justice for Michael Brown and every victim of police brutality." (Kareem Jackson, activist and rapper Tef Poe)
People Are Going to Continue Fighting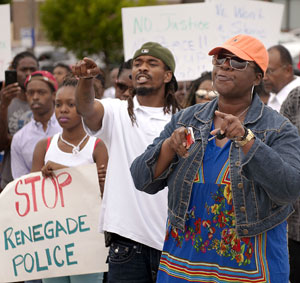 "These weeks of rebellion were defined by something that the media won't explain to you. They won't tell you that local youth have outsmarted the local Ferguson police department a number of times over the course of these protests...
"What they won't tell you is that St. Louis County police officers used live ammunition against unarmed American citizens in the streets of Ferguson and that 911 would respond to your phone calls with 'Will respond later.'
"You probably don't know that on the nights when the midnight curfew was enforced hours earlier, local police departments committed drive-bys using rubber bullets to bruise the bodies of teen boys who weren't afraid of tanks and armored vehicles roaming West Florissant Avenue.
"With my own eyes, I witnessed Bloods and Crips coming together to protect women and children who were too tired to run anymore from tear gas, as these U.S. citizens were merely trying to leave the chaotic scene sanctioned by the National Guard. On days where people just wanted to peacefully assemble and stand still, we were forced by sniper rifles and officers equipped with full war time gear to keep marching or be subject to arrest for the dubious charge of 'failure to disperse.'
"So what are the next steps? People, we are going to continue fighting. Young people like myself have come together under the banner of 'Hands Up United' and we are working with national organizations like the Dream Defenders to make this movement a national one. We are calling for a period of national mobilization here in Ferguson from October 9th thru October 13th. We must keep the energy going, for this is our best opportunity to receive the freedom and justice for all we always hoped for." (Taurean Russell, Hands Up United)
Police Terrorism is the Real Violence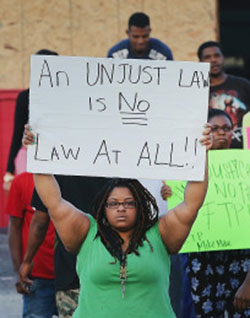 "How dare folks criticize resistance when our young folks are responding to police terrorism? Police terrorism is the real -violence! Those young men and women out there are an inspiration to the world. They are realizing that tear gas will not kill them. They have dealt with pain and street violence before so they are not scared. A young man we spoke to said, 'How am I supposed to respect a curfew if they don't respect human life?' Another young woman said: 'I've been stabbed 15 times and shot twice! My uncle just jumped off a bridge and committed suicide. You think I'm scared?' From solidarity messages from rebels in Palestine and Greece, they have learned how to deal with tear gas and fight back effectively. The monopoly on violence that the system holds has been going on for too long and they have learned how to effectively deal with it...
"These are young Black men and women who have lived and survived street gang battles. Many may have been shot at before, so they are fearless in the face of these heavily armored trucks. They have waged combat for 14 [now almost 50] straight days, and though they have been heavily outgunned and out-manned they still keep coming back. This is a resilient population that will not stop until they see Justice for Mike Brown and at this point for their whole community." (Rapper Rod Starz of Rebel Diaz)

[TOP]
---
Residents Demand Prosecutor Resign
Grand Jury for Ferguson Shooting
Suspected of Misconduct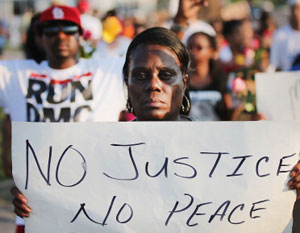 One of the people on the Grand Jury currently hearing evidence for the Ferguson police killing of Michael Brown appears to be discussing the case with people outside the proceedings. This is not permitted, is misconduct and grounds for a new Grand Jury to be impaneled. St. Louis County prosecutor Robert McCulloch is said to be "looking into" the misconduct.
Brown — unarmed and with his hands in the air — was shot by officer Darren Wilson August 9. He was an African American teenager, headed to college, who stayed to deal with the police while enabling has friend to get to cover. The community, outraged by this brutal state-organized killing, responded with daily demonstrations that are still on going in various forms, including an upcoming October 11 demonstration in St. Louis (see above).
According to twitter messages sent to the St. Louis County prosecutor's office by several users, one of the jurors told a friend that they do not think there is enough evidence to charge Wilson. That person then tweeted the information to others. The person who is friends with the juror is known to be a supporter of Wilson. So far, McCulloch has not acted to dismiss the Grand Jury.
The Grand Jury has been hearing the case since August 20 and was expected to render a decision in October or November at the latest. Instead, it has now been delayed until January 7, 2015, even though Prosecutor McCulloch claims their investigation and that of the FBI are "pretty much done."
The Grand Jury proceedings are secret, so it is not possible to know what evidence McCulloch is presenting and what is being left out. He decides what witnesses to call and what evidence to present. Given what is already known publicly, including eye witness reports saying Brown had his hands up, ballistics and autopsy reports, there is more than enough for probable cause — all that is needed for an indictment. The fact that this is in doubt has only further affirmed for people in Ferguson that the prosecutor is not doing his job, is instead defending the police, and should be removed from the case.
The Grand Jury impaneled for this case has only one African American out of 12, even though Ferguson is more than 60 percent black. McCulloch also made the unusual move of not asking for an indictment on specific charges but rather leaving this entirely up to the Grand Jury. As well, McCulloch has multiple previous cases involving police officers involved in killings where he failed to get indictments despite evidence to the contrary. A clear example is a case in 2000 where two unarmed black men were killed. Officers claimed the two had resisted arrest, shot at them, and were attempting to run them over with a car. The claim was made despite the men being unarmed and the vehicle being immobile. When questioned about the failure to get indictments, McCulloch dismissed the criticism. When asked about the victims, Earl Murray and Ronald Beasley, he said famously, "These guys were bums."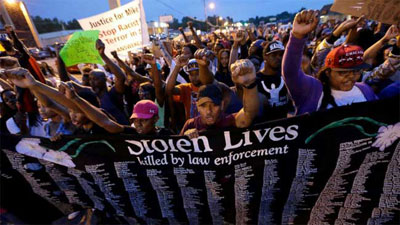 Long standing experience with government prosecutors has shown they routinely defend the police and ensure they are not charged with the crimes they commit. Many police killings are not even investigated by prosecutors but instead left to the police to decide if there was "justifiable use of force." Police, policing themselves, routinely claim this is the case, even when there is a gang of police using a hail of bullets, or tasers, or chokeholds to kill unarmed African American men. And just as McCulloch has cases where police were not charged for killing people, including those unarmed, the same holds true across the country. Police killings and impunity for them by government at all levels occurs repeatedly, as recent cases in California and New York show.
The racist U.S. state organizes these attacks and is to blame for this situation and remains a target of protests. People in Ferguson and elsewhere have no confidence in the government, including the FBI to secure justice. Instead they are persisting in their fight through actions of various kinds and refusing to concede. Their demand is for justice now and as many have said, No Justice, No Peace!
[TOP]
---