Shooting at School in Parkland, Florida
No Means No! Enough Is Enough! Students Organize for Change
Students from Marjory Stoneman Douglas High School in Parkland, Florida, those across the state and many more across the country are demonstrating and organizing themselves in the aftermath of the shooting there that killed 17 students and teachers and injured 14 more people. The students have taken the stand that No Means No, demanding no more violence at their schools or in their communities, no more refusal by government to be accountable. Enough is Enough, The Time for Change is Now, Never Again, are among their demands. To make clear that they are not satisfied with minimal measures to solve the serious problem of violence in the U.S., they are declaring, We Do Not Want Your Coins, We Want Change!
Stoneman Douglas students were supported by some 1,000 of their peers from West Boca High School. Those students walked out of class and traveled 12 miles en masse to Stoneman Douglas. Students at the school have also organized to ensure their story is told, raising funds for printing their newspaper with support from across the country.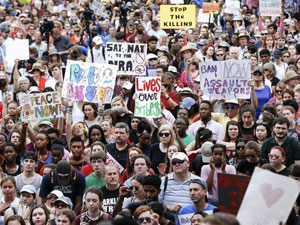 Thousands of students and teachers also rallied in the Florida capital, Tallahassee, on February 21, a week after the shooting. Students came in from schools all over the state. Sister rallies also occurred in Washington, DC and across the country, in New York, Pennsylvania, Texas, Iowa, California and many other places. Actions included walkouts at various schools, sometimes for 17 minutes in memory of those killed. Officials are branding them as actors, claiming they are "screaming kids" who are too young to know what they are talking about and threatening them with suspensions. The students are continuing to organize. A National School Walkout is planned for March 14, with students across the country planning walkouts and actions of various kinds. Parents and teachers are also participating. There is a March for Our Lives on March 24 in DC, serving as a convergence point for all those taking their stand.
The actions are all imbued with the spirit No Means No, Enough is Enough! Students have also made clear their concern is not only school shootings, but those at concerts, nightclubs, movie theaters, workplaces and police shootings in their communities. None have forgotten the 2016 Orlando, Florida shooting at a nightclub where more than 100 young people were shot and 49 died, or the Charleston church shooting, or the church shooting in Sutherland Springs, Texas, or at the Las Vegas concert. Nor have students forgotten police killings and violence in Ferguson and Baltimore and Chicago and elsewhere.
Government officials are making efforts to separate the violence by police and military, from violence like the school shootings. A main purpose is to make individuals the problem, or create categories of individuals such as the mentally ill, or those on the "terrorist" watch list. Then the measures which are provided further arm police with more powers to target and criminalize whole categories of people, while encouraging divisions among those resisting. But the students refuse to be cowed by efforts to make their demands illegitimate in this way.
The "terrorist" no-fly list is notoriously wrong and is itself a means to allow the government to brand people as terrorists without any crime committed or any charge laid or any trial. Mentally ill people are far more likely to be victims of violence than perpetrators of it. It is known that police are prone to gun down unarmed mentally ill people, claiming they were threatened.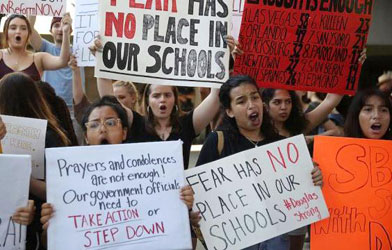 The issue is not individuals and thus the problem is not solved by arming police or military or various people with yet more means to inflict collective punishment and violence. The violence and anarchy of U.S. society is a social problem. Most significantly, the violence of the racist U.S. state and their military and policing agencies are a main source of violence in society, yet they are not to be targeted. Instead yet more police powers, yet more means to act with impunity and violence against the people, are given as answers.
For example, Sheriff Scott Israel of Broward County, where Stoneman Douglas is located, has said that his armed deputies, already in the schools, will now be armed with automatic weapons. Automatic weapons, as many school shootings like Parkland's and Newtown, Connecticut's show, are effectively weapons of war, designed for destruction. Their bullets shred organs and can leave exit holes as big as an orange. Yet the Pentagon is providing these military weapons to police forces all around the country. And now in Florida and elsewhere, in the name of security, they are threatening to have police armed with automatic weapons in the public schools.
The Parkland school already had an armed sheriff present. The school is entirely fenced in, with surveillance cameras and one entry point, like a prison. Many other schools are similar and also have metal detectors. The various laws being debated have similar measures. A current one in Florida is supposed to raise the age for purchasing guns to 21, while at the same time creating a program to arm teachers and turn them officially into police. The bill aims to put 10 armed teachers in every school. It is a plan also being promoted by Trump.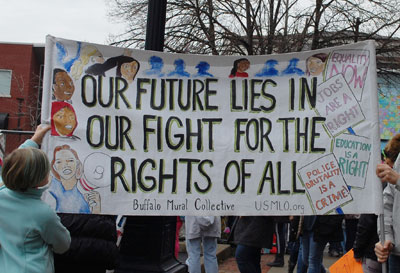 None of these measures stop shootings of this kind. They do impose collective punishment on students, treating them like criminals every time they come to school. They further institutionalize schools that are more like prisons and promote the notion that security lies in more and more arming of police and enabling them to act with impunity. Police killings already account for far more deaths than school shootings. In 2016 alone, police killed more than 1,100 people. Yet there is to be no discussion of disarming the police, which is what is needed. Another step toward limiting violence would be to outlaw the manufacture and use of automatic weapons, beginning with disarming the police and military.
It is the people, organized and fighting for their rights that provide security. This is evident in the efforts of the students, in the many actions against police killings, those of the Sioux water protectors and their supporters at Standing Rock, the strike by West Virginia teachers and many, many more. The people are perfectly capable of organizing — and armed police, in the schools or communities do not protect them. As the students are saying, Enough is Enough when it comes to the violence of the state against the people. The change needed is a new direction for political affairs that affirms the rights of the people, including their right to govern and decide. That is the way forward for eliminating the kind of social violence that prevails today.
[TOP]
---