Defy Trump's Criminal Attack on Asylum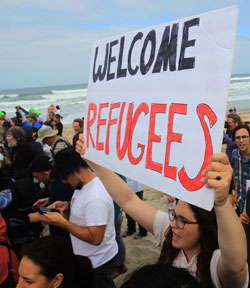 On November 9, President Trump issued a proclamation attacking the right of refugees to seek asylum in the U.S. He said that only those who enter the country at ports of entry will be allowed to apply for asylum. He did so at a time when many are already being arbitrarily and illegally turned away at the ports of entry along the southern border with Mexico.
Refugees have the right to seek asylum and to do so irrespective of where they enter the country. This is codified both in U.S. and international law, which the president is duty-bound to uphold. Trump is instead openly acting against the rights and laws, which makes the proclamation a criminal attack. It has been backed up by deployment of 5,200 armed military troops to the southern border region. Trump claimed, "This is an invasion of our Country and our Military is waiting for you!" He is using language like "invasion" that lays the groundwork for potentially declaring martial law, and having troops in place to enforce it.
Trump is attempting to justify both the proclamation and military deployment in the name of the national interest. The proclamation states: "The continuing and threatened mass migration of aliens with no basis for admission into the United States through our southern border has precipitated a crisis and undermines the integrity of our borders. I therefore must take immediate action to protect the national interest..."
The action taken is to deny refugees who do not enter at ports of entry the right to apply for asylum: "Under this suspension, aliens entering through the southern border, even those without proper documentation, may, consistent with this proclamation, avail themselves of our asylum system, provided that they properly present themselves for inspection at a port of entry...But aliens who enter the United States unlawfully through the southern border in contravention of this proclamation will be ineligible to be granted asylum." Ports of entry have now been further militarized with barbed war fencing topped with razor wire and detention camps comprised of tents under military control. The suspension is supposed to last 90 days but can be extended by Trump, as can the troop deployment.
In the proclamation Trump again emphasized, "The entry of large numbers of aliens into the United States unlawfully between ports of entry on the southern border is contrary to the national interest, and our law has long recognized that aliens who seek to lawfully enter the United States must do so at ports of entry."
Actual facts are that most of the refugees do have "basis for admission," such as a "credible fear" of persecution, torture or death if they return to their home countries. It is also the case that both U.S. and international law specifically require the U.S. to accept refugees and hear their cases regardless of where they enter the country. Trump himself also admits that "The vast majority of such aliens are found to satisfy the credible-fear threshold," meaning their claims are legitimate. Even so, many are being denied asylum both because most do not have legal counsel (the majority of people that do secure lawyers receive asylum), many are tricked and forced into signing documents used against them and because the U.S. keeps arbitrarily raising the bar. This includes eliminating domestic violence as a credible fear. The U.S. continues to act with impunity and no doubt will continue to do so regardless of court rulings.
Trump Actions Target Resistance and Defense of Rights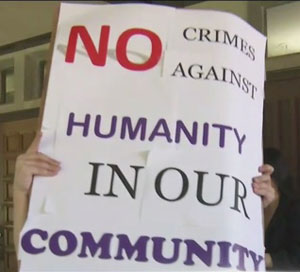 The thousands of migrants coming to the border, at least one third of them children, many more of them women and all unarmed and having traveled thousands of miles on foot, are not an invasion force. In an interview with The New York Times, Admiral James G. Stavridis, former commander of the U.S. military's Southern Command, openly called out Trump's "fictitious caravan invasion." Why then the language, the proclamation and troop deployment? Why also the threat to eliminate birthright citizenship, alongside the emphasis on "national interest?" These actions have far more to do with justifying use of force against the broad resistance to the U.S. attacks on rights taking place on both sides of the border. They are directed at the people in the U.S. and the growing sentiment that this is not the country people want. This was indicated in the broad actions against family separations bringing together people from all walks of life and various political views to say NO!
So too with resistance to the plans for mass detention camps. Nurses in El Paso reflected the stand of many demanding Do Not Do This In Our Name, Do Not Do This in Our Community. In California, when people heard of Pentagon plans for a detention camp for 47,000 people at Concord Naval Weapons Station, they refused, with signs saying No Crimes Against Humanity in Our Community! Consciousness is such that community refers not simply to the immediate community involved, but more broadly, to the community of the people of the U.S. It is a demand for that community to stand united and join in building the country they want.
Proclaiming an invasion, stationing troops and preparing to strip people of their citizenship so as to justify the denial of rights are in part aimed at blocking and disrupting resistance. As part of this there is an effort to keep people from persisting in looking at issues from their vantage point — the vantage point of the necessity for change, the necessity for a new direction and for a modern democracy that favors the interests of the people. Instead the "national interest" is that of the rich, which encourages people to join in attacking the rights of their fellow human beings.
Defend the Rights of All, Abroad and at Home!
No Crimes Against Humanity in Our Community!

[TOP]
---
Rights Groups Seek to Block Trump Asylum Order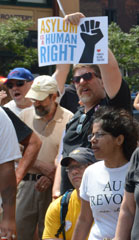 [Update: On November 20, a federal judge issued a temporary restraining order, which is supposed to block Trump from implementing the asylum ban. However, given that such court orders have been issued on issues like detention and family separation (see article below) and the government continues to implement its attacks, it is not likely that the executive will submit to this order. Being informed about facts on the ground and persisting in defending rights is needed.]
Civil rights groups have filed a federal lawsuit challenging the legality of U.S. President Donald Trump's newly announced restrictions that would effectively bar migrants who did not enter the country at a port of entry from qualifying for asylum. The Trump order is directly against U.S. and international law concerning refugees, which requires the U.S. to accept refugees and hear their asylum cases regardless of where they entered the country.
The lawsuit was filed in San Francisco federal court by the American Civil Liberties Union, Southern Poverty Law Center and Center for Constitutional Rights. It seeks an injunction to prevent the administration from implementing the asylum policy. It charges the administration with violating the Immigration and Nationality Act as well as the Administrative Procedure Act.
Trump signed a proclamation November 9 that will suspend the granting of asylum to children, women and men who do not cross the U.S./Mexico border at port of entry locations for up to 90 days. The order, which goes into effect on November 10, means that migrants will have to present themselves at U.S. ports of entry to qualify for asylum. Existing law directly states that those entering anywhere along the border asking for asylum must be given protection. It is well-known that the government has been illegally forcing people to return even when they enter at ports of entry and has also illegally detained and deported many with legitimate claims.
The civil rights groups involved emphasized that U.S. immigration law clearly allows anyone present in the country to seek asylum, regardless of how they crossed the border. "President Trump's new asylum ban is illegal. Neither the president nor his cabinet secretaries can override the clear commands of U.S. law, but that's exactly what they're trying to do. This action undermines the rule of law and is a great moral failure because it tries to take away protections from individuals facing persecution," Omar Jadwat of the American Civil Liberties Union said in a statement.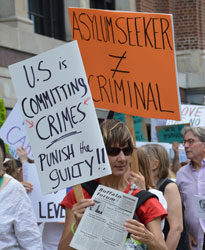 "The asylum ban, coupled with Custom and Border Protection's (CBP) widespread practice and policy of turning back individuals attempting to seek asylum at ports of entry, would effectively deny protection to thousands of vulnerable individuals. The government's blatant disregard for the rights of asylum seekers cannot stand," said Melissa Crow, Southern Poverty Law Center senior supervising attorney.
Baher Azmy, legal director of the Center for Constitutional Rights, added, "Ever since the horrors of World War II, the world's nations have committed to giving asylum seekers the opportunity to seek safe haven. The Trump administration cannot defy this most elementary humanitarian principle, in violation of U.S. and international law, with a flip of a presidential pen."

[TOP]
---
Illegal Pushbacks, Arbitrary Detention and Ill-treatment of Asylum-seekers in the United States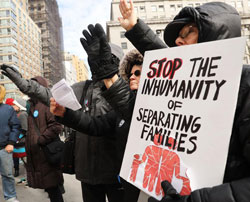 The U.S. government has deliberately adopted immigration policies and practices that caused catastrophic harm to thousands of people seeking safety in the United States, including the separation of over 6,000 family units in a four-month period more than previously disclosed by authorities, Amnesty International said in a new report released today.
The report, "'You Don't Have Any Rights Here': Illegal Pushbacks, Arbitrary Detention and Ill-treatment of Asylum-seekers in the United States" reveals the brutal toll of the Trump administration's efforts to undermine and dismantle the U.S. asylum system in gross violation of U.S. and international law. The cruel policies and practices documented include: mass illegal pushbacks of asylum-seekers at the U.S.–Mexico border; thousands of illegal family separations; and increasingly arbitrary and indefinite detentions of asylum-seekers, frequently without parole.
"The Trump administration is waging a deliberate campaign of widespread human rights violations in order to punish and deter people seeking safety at the U.S.–Mexico border," said Erika Guevara-Rosas, Americas Director at Amnesty International. She added, "The intensity, scale and scope of the abuses against people seeking asylum are truly sickening. Congress and U.S. law enforcement agencies must conduct prompt, thorough and impartial investigations to hold the government accountable and ensure this never happens again."
Approximately 8,000 family units separated in 2017 and 2018
Last month, Customs and Border Protection (CBP) disclosed to Amnesty International that it forcibly separated over 6,000 family units (a term that US authorities have used inconsistently to refer to whole families or individual family members) from 19 April to 15 August 2018 alone — more than U.S. authorities had previously admitted. CBP confirmed that this figure still excluded an undisclosed number of families whose separations were not properly recorded, such as grandparents or other non-immediate family members, whose relationships authorities categorize as "fraudulent" and do not count in their statistics. In total, the Trump administration has now admitted to separating approximately 8,000 family units since 2017.
"These shocking new numbers suggest that U.S. authorities have either misinformed the public about how many families they had forcibly separated, or they continued this unlawful practice unabated, despite their own claims and court orders to halt family separations," said Guevara-Rosas. "Congress must act immediately to investigate and establish a comprehensive record of family separations by U.S. government authorities, and pass legislation prohibiting the separation and indefinite detention of children and families," she demanded.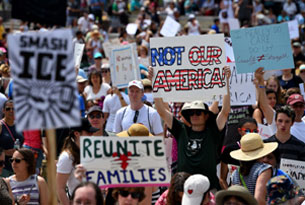 The extreme suffering that U.S. authorities purposefully inflicted by separating families constituted ill-treatment and in some cases torture. Amnesty International interviewed 15 parents and guardians separated from their children by U.S. border and immigration authorities, including 13 who presented themselves at official border crossings. Those family separations resulted in extreme anguish, and in some instances long-term trauma, for adults and children alike.
In an immigration detention facility in Texas, a 39-year-old Brazilian mother named Valquiria told Amnesty International that CBP agents separated her from her seven-year-old son, without providing any reason, the day after they requested asylum at an official port-of-entry in March 2018.
"They told me: 'You don't have any rights here, and you don't have any rights to stay with your son,'" Valquiria said. "I died at that moment. It would have been better if I had dropped dead… Not knowing where my son was, what he was doing. It was the worst feeling a mother could have. How can a mother not have the right to be with her son?"
Illegal pushbacks and arbitrary detention
In 2017 and 2018, CBP implemented a de facto policy of turning away thousands of people seeking asylum at official ports-of-entry along the entire U.S.-Mexico border.
"Every human being in the world has the right to seek asylum from persecution or serious harm, and request protection in another country," said Erika Guevara-Rosas. "U.S. border authorities are flagrantly violating U.S. asylum law and international refugee law by forcing people back to Mexico without registering and determining their asylum claim. People pushed back to Mexico may face direct abuses there or deportation and the risk of serious human rights violations in their countries of origin," she added.
Since 2017, U.S. authorities have also imposed a policy of mandatory and indefinite detention of asylum-seekers, frequently without parole, for the duration of their asylum claims. This constitutes arbitrary detention, in violation of U.S. and international law.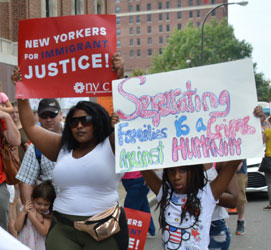 Amnesty International interviewed asylum-seekers being detained indefinitely after requesting protection, including separated family members, older people, and persons with acute health conditions and medical needs.
The organization also documented the cases of 15 transgender and gay asylum-seekers who were detained for periods ranging from several months to almost three years without parole, including two people who were denied parole despite having suffered sexual assaults while in detention. In several cases, their experiences of indefinite detention constituted ill-treatment.
Congress must act now to end the detention of children and families once and for all – and fund alternative options, such as the Family Case Management Program, which have been proven to be 99 percent effective in helping asylum-seeking families understand and comply with their immigration hearing requirements."

[TOP]
---
Constitutional Law Scholars Say Trump Cannot Eliminate Birthright Citizenship
Through Executive Action
October 30, 2018
Constitutional law scholars released the following statement October 30 arguing that there is no serious scholarly debate about whether a president can, through executive action, eliminate birthright citizenship and contradict the Supreme Court's long-standing and consistent interpretation of the Citizenship Clause of the 14th Amendment. The statement reads as follows:
President Donald Trump is reportedly considering an executive order to essentially rewrite the Citizenship Clause of the 14th Amendment to eliminate birthright citizenship. In an interview to be aired [on HBO] later this week, he explains that people are now telling him that he can do this "just with an executive order." As constitutional scholars who have studied the 14th Amendment, we write to say in no uncertain terms that he is wrong.
The Citizenship Clause — enshrined as Section 1 of the 14th Amendment to the U.S. Constitution in 1868 — states simply that "All persons born or naturalized in the United States, and subject to the jurisdiction thereof, are citizens of the United States and the State wherein they reside." The 14th Amendment, adopted in the immediate aftermath of a Civil War that very nearly ripped this country in two, established the foundational principle that all persons are entitled to due process and equal protection under the law. The Citizenship Clause contained therein was meant as a direct rebuke to the infamous decision in Dred Scott v. Sandford, 60 U.S. (19 How.) 393 (1857), in which the Supreme Court held that people of African descent born on our soil whose ancestors were slaves could not be citizens, even if they were free.
The Supreme Court 120 years ago in United States v. Wong Kim Ark, 169 U.S. 649 (1898), settled the very issue raised by the president. In that case, the Court held that with certain very limited exceptions, all children born in the United States are natural-born citizens regardless of the citizenship status of their parents. Many decades later in the case of Plyler v. Doe, 457 U.S. 202 (1982), in which the Court upheld the right of all children regardless of alienage to a free public education, the Court analogized its holding on Equal Protection Clause grounds to the settled law on the Citizenship Clause as declared in Wong Kim Ark. Specifically, the Court noted that just as undocumented immigrants are "subject to the jurisdiction of the United States" for purposes of the Citizenship Clause, they too are "within the jurisdiction" of a state for purposes of the Equal Protection Clause. (Id. at 211 n.10.)
There is today no serious scholarly debate about whether a president can, through executive action, contradict the Supreme Court's long-standing and consistent interpretation of the Citizenship Clause of the 14th Amendment. Instead, as conservative legal scholar James Ho, now a federal judge on the U.S. Court of Appeals for the 5th Circuit nominated by President Trump, wrote more than a decade ago, "a constitutional amendment is … the only way to restrict birthright citizenship." The executive branch's own lawyers have long agreed.
It took a Civil War — the bloodiest conflict in American history — to resolve a dispute about what it means to be an American — a person — in this country. The 14th Amendment, including the Citizenship Clause, is the rightly cherished result of that American tragedy.
(The statement was signed by Muneer I. Ahmad, Yale Law School; Walter E. Dellinger III, Duke University School of Law; Lucas Guttentag, Stanford Law School and Yale Law School; Harold Hongju Koh, Yale Law School; Stephen H. Legomsky, Washington University School of Law; Gerard N. Magliocca, Indiana University Robert H. McKinney School of Law; David A. Martin, University of Virginia School of Law; Michael W. McConnell, Stanford Law School; Hiroshi Motomura, University of California, Los Angeles (UCLA) School of Law; Gerald L. Neuman, Harvard Law School; Cristina Rodríguez, Yale Law School; Peter J. Spiro, Temple University Law School; Geoffrey R. Stone, The University of Chicago; Laurence H. Tribe, Harvard Law School; Stephen I. Vladeck, The University of Texas at Austin Law School)

[TOP]
---
An Executive Order Cannot Repeal Birthright Citizenship, Period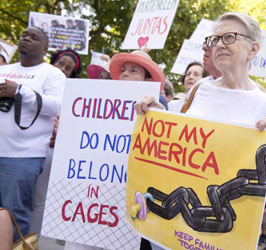 President Trump's assertion this week that he is considering signing an executive order to end "birthright citizenship" to children born in the United States to undocumented parents has created a firestorm of controversy. Rightly so. The idea should be rejected for the following reasons.
First, the law is clear. The 14th Amendment to the U.S. Constitution states that "All persons born or naturalized in the United States, and subject to the jurisdiction thereof, are citizens of the United States and of the State wherein they reside." Courts and legal scholars have consistently interpreted that language to include children born in the United States.
The Supreme Court decided this issue 120 years ago, in an 1898 case called Wong Kim Ark. The court ruled that a child born in San Francisco to Chinese parents was a U.S. citizen, even though the Chinese Exclusion Act barred his parents from ever becoming citizens. "To hold that the 14th Amendment of the Constitution excludes from citizenship the children, born in the United States, of citizens or subjects of other countries," the court said, "would be to deny citizenship to thousands of persons of English, Scotch, Irish, German or other European parentage who have always been considered and treated as citizens of the United States."
The Supreme Court's decision in Wong Kim Ark did not specifically discuss the citizenship status of children of unauthorized immigrants. Nor could it have. The concept of unauthorized immigration did not exist then. But in 1982, in Plyler v. Doe, the court ruled that undocumented children were entitled to free public education. The court relied on another part of the 14th Amendment, its equal protection clause, and it interpreted language similar to that in the citizenship clause.
The Plyler court noted in a footnote that "no plausible distinction with respect to Fourteenth Amendment 'jurisdiction' can be drawn between resident aliens whose entry into the United States was lawful, and resident aliens whose entry was unlawful."
Supreme Court's interpretation makes sense. As fellow law professor and former USCIS Chief Counsel Stephen Legomsky has noted, "Like anyone else, native-born Americans, whoever their parents are, can be charged with crimes if they disobey U.S. law. How would this be possible if the U.S. had no jurisdiction over them?"
Second, even if the law were not clear, an executive order is the wrong procedural mechanism. A constitutional amendment can only be undone by another constitutional amendment. Moreover, the U.S. immigration statute also states that anyone born in the United States is automatically an American citizen. Only Congress can repeal a law, not the President. To do so by executive decree would undermine our democracy.
Third, the practical problems in ending birthright citizenship would be huge. Would the executive order apply retroactively? If so, would that make some current U.S. citizens deportable? What would happen in split families, for example, where some children are born to undocumented parents, while younger siblings are born here after their parents legalize? And what would we do with children who become stateless? Ireland is currently dealing with this problem because it removed birthright citizenship. A 9-year-old boy there is facing statelessness and deportation from his place of birth and only home.
The United States is not alone in granting automatic citizenship to babies born in the country. NumbersUSA, a group that favors reduced immigration, compiled a list of 33 countries that grant citizenship to anyone born within their borders.
In sum, ending birthright citizenship is an overly simple solution for a complex problem: our broken immigration system. Congress needs to tackle the problem; the president cannot do it unilaterally.
It is unclear whether the President will actually sign an executive order ending birthright citizenship. His statement could well be "vaporware," intended merely as a political ploy to appeal to his base just before the midterm elections. But if Trump really tries to do this, both the court of public opinion and courts of law should immediately repudiate it and send it to the dustbin of history.
(Yale-Loehr is professor of immigration law practice at Cornell Law School. He also is co-author of "Immigration Law and Procedure," a 21-volume immigration law treatise.)