WORKERS OF
ALL COUNTRIES, UNITE!


READ
VOICE OF REVOLUTION!
Send views, news and reports to:
office@usmlo.org

Visit the Archives: 2005, 2006, 2007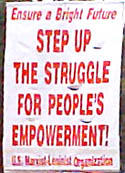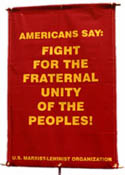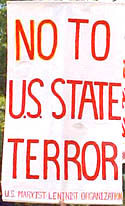 USMLO
3942 N. Central Ave.
Chicago, IL 60634
office@usmlo.org
www.usmlo.org
Fight for an Anti-War Government
PROGRAM
USMLO is putting forward for discussion the following proposal for the program for an anti-war government:
1) Outlaw any and all U.S. involvement in wars of aggression and the use of force in settling conflicts between nations and peoples;
2) No U.S. Troops Abroad;
3) Cancel the Debts of all the countries of Asia, Africa and Latin America;
4) Pay Reparations Now for all the crimes of slavery and all crimes of the U.S. government, present and past; and
5) End all support for Israel and act to end the occupation of Palestine now, beginning with withdrawal to the 1967 borders.
Articles Update - July 22, 2005
Impeach War Criminal Bush
Articles Update - May 30, 2005
25th Anniversary of Gwangju People's Uprising
• Speaking Tour of Korean Activists Warmly Greeted by the American People
• Pro-Reunification Patriotic Organizations Issue Joint Statement
• Resolution of the Buffalo, New York, Meeting, May 29, 2005, Celebrating the 25th Anniversary of the Gwangju People's Uprising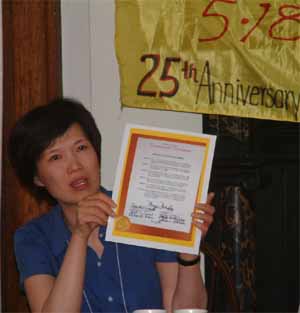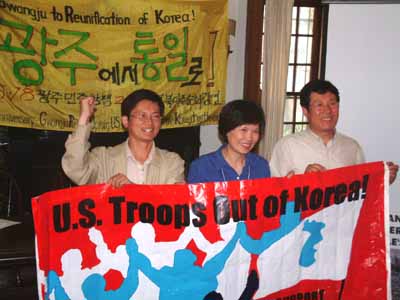 Left: Ms. Jeong reports on City of Detroit resolution opposing U.S. troops in Korea and in support of the Korean people's struggle for national re-unification. Right: This banner was given to the Tour and will be used during protests against stationing of U.S. patriot missiles in Gwangju. U.S. troops there were recently confronted by a demonstration of 10,000 demanding removal of the Patriot missiles and all U.S. troops
Messages of Greeting to the Peoples of North America
• Yu Ki-Hong, Member of National Assembly, Republic of Korea
• Song Young-Gil, Member of the National Assembly, Republic of Korea
• Heangbup Sunim, Permanent Chair, Peace Action Buddhist Solidarity (Gwangju-Chonnam)
• The Ballad of Gwangju
• Gwangju Residents Protest Deployment of Updated Patriot Missiles
Articles Update - May 22, 2005
UN Review on Nuclear Weapons
• Majority of Countries Demand Disarmament by Nuclear States
• Non-aligned States Call for Elimination of Nuclear Weapons, Binding Agreement They Will Not be Use — Malaysia for Non-Aligned States, Minister of Foreign Affairs, Syed Hamid Albar
• Caricom Demands Disarmament, Raises Concerns on Transport of Nuclear Materials in the Region — Statement by the Bahamas, on Behalf of CARICOM, by Paulette Bethel, Permanent UN Representative of the Bahamas
• Vietnam Calls for Achieving Nuclear Weapons Free Worl — UN Ambassador Le Luong Minh
• Cuba Affirms US Pre-emptive Doctrine Contradicts the NPT — Wenceslao Carrera Doral, Deputy Minister of The Ministry of Science, Technology And Environment
Views on Nuclear Weapons
• The Racism at the Core of US Nuclear Weapons Policy — David Robinson, executive director of Pax Christi USA
Articles Update - May 8, 2005
North American Speaking Tour of Korean Activists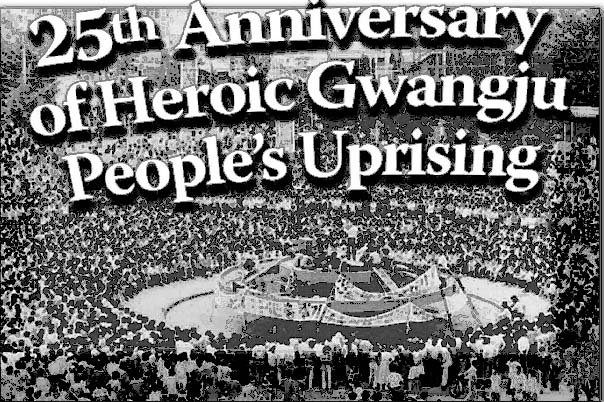 This year marks the 25th anniversary of the Gwangju People's Uprising, a pivotal moment in the movement for Korean democracy and human rights. As part of this commemoration, two activists from Gwangju will be visiting the United States and Canada on a speaking tour this May to discuss the legacy of the Gwangju People's Uprising and the prospect of peace on the Korean peninsula, as well as their current involvement in the anti-war movement against the U.S. military occupation of Iraq and Korea. Read more...
U.S. Must Disarm Now!
• Denounce Continued Provocations Against Korea
Sign the Non-aggression Pact
• Oppose U.S. Secret Plans to Build Military Capability for "Contingencies" on Korean Peninsula!
• Rumsfeld Asks Congress to Fund Research on New Nuclear Weapon
Support Korean Unification
• Peace and Reunification Guaranteed by Anti-U.S. Struggle — Rodong Sinmun, DPRK
• Tradition of Great National Unity
UN Review of Nuclear Weapons
• Statement by H.E. Dr. Kamal Kharrazi, Minister of Foreign Affairs of the Islamic Republic of Iran
• What Does Not Exist Cannot Proliferate — Foreign Ministers of Brazil, Egypt, Ireland, Mexico, New Zealand, South Africa and Sweden
• Erosion of the Nonproliferation Treaty — Former President Jimmy Carter
Articles Update - April 17, 2005
35 Years
• Communist Party of Canada (Marxist-Leninist) Celebrates Its Achievements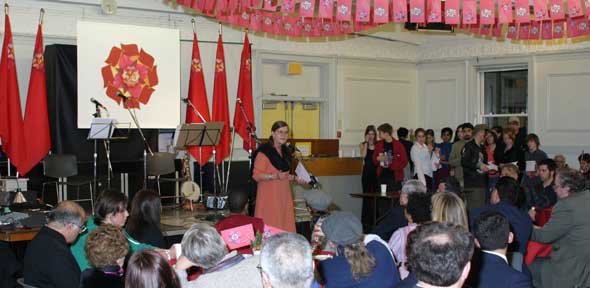 • Thinking About the Sixties by Hardial Bains Released
PLACE YOUR ORDER TODAY!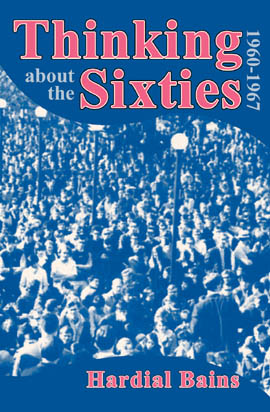 "Social phenomena are sometimes like the harnessed waters of a mighty river kept in check by the dam of history. When the dam bursts suddenly, it is not history that crumbles into oblivion. No. To the contrary, every drop of the mighty flow resulting from the radical rupture nurtures the soil from which history bursts forth. In the sixties, as today, a new world was in the making, but then it was the positive that seemed to have the upper hand, while at present it is the negative. In either situation, the outcome depends on the people. It depends on how far they see and grasp the necessity for change, the necessity to bring about the deep-going transformations demanded by history."
-- Hardial Bains

$10 ($7 for orders of 5 or more)
Send check or money order to:
USMLO
3942 N. Central Ave., Chicago, IL 60634
Articles Update - February 4, 2005
Another U.S. Election Fraud in Iraq
• All Out to End the Occupation! Days of Action March 19-20
• Arab Lawyers Association in Britain Opposes Election
• Iraqi Exiles in London Protest Election
• Iraqi in Baghdad: "The Election Was Shoved Down Our Throats" - Democracy Now! Monday, January 31st, 2005
• Election Divides a Nation - Dahr Jamail, Inter Press Service, January 24, 2005
• Here Comes "The Freedom" - Dahr Jamail, Electronic Iraq, January 27, 2005
• The Vietnam Turnout Was Good as Well - Sami Ramadani, The Guardian